BROADCAST - Alex Harris: Interview + World Premiere of 2 New Music Video's
A live one on one session with this emerging Soul Music Star, plus world premiere of 2 new music video's (Bob Davis Moderator.)
March 3, 2021 @ 8:00 pm – 9:00 pm EST
http://soul-patrol.com/event/soul-patrol-spotlight-conversations-with-alex-harris/
Do you like Sam Cooke? (THEN YOU WILL LIKE ALEX HARRIS)
Do you like Al Green? (THEN YOU WILL LIKE ALEX HARRIS)
Do you like David Ruffin? (THEN YOU WILL LIKE ALEX HARRIS)
Do you like Johnnie Taylor? (THEN YOU WILL LIKE ALEX HARRIS)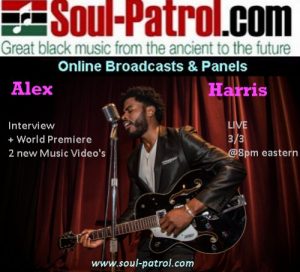 FREE...GO REGISTER AND WE WILL NOTIFY YOU 1 HOUR PRIOR TO THE START!.....TELL YOUR FRIENDS!
http://soul-patrol.com/event/soul-patrol-spotlight-conversations-with-alex-harris/
Scroll down in this week's Newsletter and you will find the following featured articles: Review of the upcoming "Summer of Soul" documentary ("Whitey on the Moon"), An announcement from "Tower of Power," A review of the Cleveland R&B Legends documentary, An introduction to Laura Rain & the Ceasers.
Be sure to leave your comments at the bottom of each page on the site or shoot me an email, call me, leave me a message on Facebook or Twitter (use the links at the bottom of the Newsletter) with suggestions, ideas, complaints etc.
Thanks (& stay safe)
Bob Davis - earthjuice@soul-patrol.com
609-491-3537