BROADCAST - 4/1 (8pm eastern) - Soul-Patrol Spotlight Broadcast – MARVIN GAYE RETROSPECTIVE
http://soul-patrol.com/event/soul-patrol-spotlight-a-marvin-gaye-retrospective/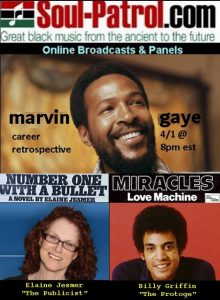 Marvin Gaye (born Marvin Pentz Gay Jr.; April 2, 1939 – April 1, 1984)
Nearly 20 years since his passing, Marvin Gaye remains a unique & visionary artist, who not only established a massive catalog of iconic music, while he was alive, but remains as an influential cultural force in America, in areas such as Soul/Funk Music, Smooth Jazz, the Black Lives Matter Movement and more. I am excited to invite everyone here to a LIVE event we are having on the Soul-Patrol website where we will be featuring two of our longtime members who both had a unique relationship with Marvin Gaye and can provide us with much needed context & perspective on Marvin Gaye:
**Elaine Jesmer - Author of the book "Number One With a Bullet," and also Marvin Gaye's Publicist.
**Billy Griffin - Lead singer of the Miracles, and also Marvin Gaye's Protégé.
Join us and be prepared to learn more about the life and legacy of Marvin Gaye, than you already know
***FREE*** REGISTER & SHARE/TELL YOUR FRIENDS
Register at:
http://soul-patrol.com/event/soul-patrol-spotlight-a-marvin-gaye-retrospective/
One More Thought on Marvin Gaye as a Transitional Artist:
I am really excited about this event and I am glad to see that you are interested. Hopefully you will sign up and attend? Marvin Gaye was truly a transitional artist. IMHO his overall impact has been underestimated in history. Let me give you an example: Back in the early 2000's I attended a doo wop concert at Queens College in NYC. Normally when I go to cover a concert, I plant myself backstage. From backstage I can easily hear the concert and I can also observe the proceedings in a manner that helps me to figure out who I want to interview after the show. In this case however, the promoter asked me to sit in the audience, because he was trying to limit the number of people backstage during the show. So he gave me a ticket and directed me to a seat. Sitting in the seat right next to me was a white woman who was maybe 10-15 years older than me (which at that time would have made her in her early to mid 60's. I introduced myself to her saying "I'm Bob Davis, co-owner of the Soul-Patrol website." She told me her name and then said; pleased to meet you Mr Davis, I have been to your website in the past. I particularly enjoyed the section on Marvin Gaye. His music changed my life and I wanted to let you know this. I said; how did Marvin Gaye's music change your life?" She said; "I grew up here in Queens, and although at the time I wouldn't have considered the way I grew up to be racist, but looking back and being completely honest it was. I lived in an all white neighborhood, went to all white schools. It wasn't that I was exactly a "Klan member," I just never really even thought about Black people and their lives. However I was always a big fan of Motown and especially Marvin Gaye." Sensing a confessional moment was about to occur, I said; "I'll bet you were a WABC-AM listener?" She said; "yes I was and when I first hears the Marvin Gaye songs from the What's Going On album, those songs forced me to acknowledge to myself for the very first time, that the lives that Black people led were significantly different from my life." She then went on to tell me how this resulted in a change in her behavior and attitude towards Black people that she would meet during the normal course of her day. Of course her story made me smile. Discussion of Marvin Gaye is good for the soul. Hopefully you can join this discussion and add your own perspective and value as well. Sign up at the following link: http://soul-patrol.com/event/soul-patrol-spotlight-a-marvin-gaye-retrospective/
Be sure to leave your comments at the bottom of each page on the site or shoot me an email, call me, leave me a message on Facebook or Twitter (use the links at the bottom of the Newsletter) with suggestions, ideas, complaints etc.
Thanks (& stay safe)
Bob Davis - earthjuice@soul-patrol.com
609-491-3537