BROADCAST - 4/15 - Freda Payne - Live Interview
http://soul-patrol.com/event/soul-patrol-spotlight-conversations-with-freda-payne-2/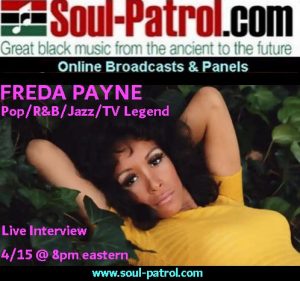 Soul-Patrol Spotlight – LIVE INTERVIEW w/INTERNATIONAL STAGE/SCREEN/RECORDING STAR FREDA PAYNE
March 23, 2021 @ 8:00 pm – 9:00 pm EST
Freda's got a new Jazz album to be released in March, featuring duets with artists like Johnny Mathis, Dee Dee Bridgewater, Kenny Latimore, etc
But of course she will take your questions about her legendary hits from the 1970's (ex Band of Gold) Invictus Records, Holland Dozier Holland, Motown & more as well as her TV career.
***FREE*** REGISTER & SHARE/TELL YOUR FRIENDS.
NOTE: Registering gives us the ability to notify you 1 hour before showtime and to notify you if there are any changes to the schedule.
http://soul-patrol.com/event/soul-patrol-spotlight-conversations-with-freda-payne-2/
RANDOM THOUGHTS
Verzuz - Didn't watch, don't care, I think the concept is BS & insulting to the artists, but I can't articulate why and I don't want to devote any brain cells to thinking about why.....lol
Derek Chauvin trial - A historic event, I've been checking it out daily on Cable TV, have you?
Corporate Amerika & Voting Rights - This seems to be a movement that is unexpected. It will be interesting to see if the economic power of Corporate Amerika will make the Republican Party stop it's drift towards Fascism/Authoritarian rule?
Vaccine Passports - I see a number of people complaining, but I think its a good thing. If you don't want to get vaccinated, I suppose that's your right. However, it's also my right not to have to sit next to you at work, school, the bus, a concert, movies, etc. It is also the responsibility of whomever owns that venue (public or private) to insure to me as a patron that their establishment doesn't allow people inside who haven't been vaccinated.
Aretha: Genius - I've noticed some folks complaining about it. I thought the history, the acting and the music were outstanding. What more did you want? Email me and let me now what you thought about it or post a reply directly to our new page on Genius: Aretha at: http://soul-patrol.com/genius-aretha/
THIS WEEK IN THE NEWSLETTER: In addition to the new feature, we have on the "Genius: Aretha" TV series. We also have new features on the passing of WAR'S legendary bass player BB Dickerson, How did Soul-Patrol first get involved with covering Doo Wop: Doo Wop Doo Doo Pt 1 (Tribute to an Old Lady from Pittsburgh), An Apology to Dr. King on the Anniversary of his passing and a video replay of the interview we did with Brian Auger Interview + Oblivion Express Live Performance (w/Brian Auger, Karma Auger, Kevin Amos and Bob Davis) a few weeks ago.
Be sure to leave your comments at the bottom of each page on the site or shoot me an email, call me, leave me a message on Facebook or Twitter (use the links at the bottom of the Newsletter) with suggestions, ideas, complaints etc.
Thanks (& stay safe)
Bob Davis - earthjuice@soul-patrol.com
609-491-3537