BROADCAST - 4/15 8pm eastern - Freda Payne - Live Interview + Exclusive Content (New Album Release)
http://soul-patrol.com/event/soul-patrol-spotlight-conversations-with-freda-payne-3/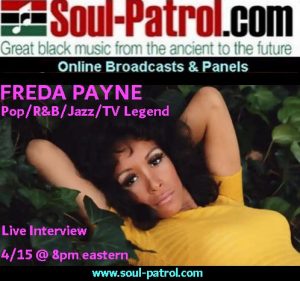 Soul-Patrol Spotlight – LIVE INTERVIEW w/INTERNATIONAL STAGE/SCREEN/RECORDING STAR FREDA PAYNE
March 23, 2021 @ 8:00 pm – 9:00 pm EST
Freda's got a new Jazz album to be released in April, featuring duets with artists like Johnny Mathis, Dee Dee Bridgewater, Kenny Latimore, etc
But of course she will take your questions about her legendary hits from the 1970's (ex Band of Gold) Invictus Records, Holland Dozier Holland, Motown & more as well as her TV career.
***FREE*** REGISTER & SHARE/TELL YOUR FRIENDS.
NOTE: Registering gives us the ability to notify you 1 hour before showtime and to notify you if there are any changes to the schedule.
http://soul-patrol.com/event/soul-patrol-spotlight-conversations-with-freda-payne-3/
Myron Ruffin - 2021 Indie Promotions Person of the Year
I didn't want this week to pass by without mentioning that our good friend Myron Ruffin has won this award. I realize this is a name that will be unfamilair to most of you. But if you are an indie artist, producer, promoter, venue operator, etc, make it your business to get to know that name before the end of the year.
Once again...Thank you to the North Star Radio Group,
Chris Clay
,
John Redding
,
Josh Whitman
,
Soul Cafe Radio
, and The Indie Soul Awards for this great honor of the 2021 Record Promotions Person Of The Year. #NowBackToMyRegularlyScheduledProgram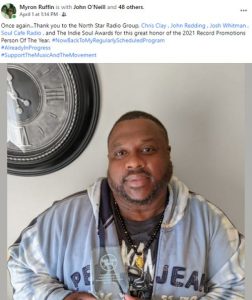 Be sure to leave your comments at the bottom of each page on the site or shoot me an email, call me, leave me a message on Facebook or Twitter (use the links at the bottom of the Newsletter) with suggestions, ideas, complaints etc.
Thanks (& stay safe)
Bob Davis - earthjuice@soul-patrol.com
609-491-3537