Soul-Patrol Spotlight Broadcast – DYANA WILLIAMS - LIVE INTERVIEW
May 18, 2021 @ 7:00 pm – 8:00 pm eastern
(NOTE THE START TIME OF 7pm eastern)
http://soul-patrol.com/webinars/sps-dyana-williams/?wspage=register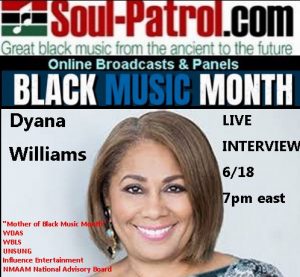 What better way to kick off BLACK MUSIC MONTH in 2021, than to have "The Mother of Black Music Month," take us to school? Although you probably know Dyana Williams best as a legendary Radio/TV personality from WBLS, WDAS, WRNB & TV ONE, she now also a member of NMAAM's (Black Music Museum) National Advisory Board. I know her best as a friend and mentor. I can tell you from personal experience, that of all the broadcasters that I know, she is a "master communicator." This session is open to all, but I would especially encourage all of the "emerging artists," reading this to register and attend, so that you can ask one of our LIVING LEGENDS the answers to your questions about the music business that nobody else seems willing to answer for you.
***FREE*** REGISTER & SHARE/TELL YOUR FRIENDS
NOTE: the registration Process Has been Improved and is now Faster!
Register at:
http://soul-patrol.com/webinars/sps-dyana-williams/?wspage=register
Thanks (& stay safe)
Bob Davis - earthjuice@soul-patrol.com
609-491-3537