BROADCAST - 5/20 8pm eastern - KEA - Live Interview + Exclusive Content (High Fidelity/High Resolution World Premiere of her new video/single "HOLLA IF YOU HEAR ME")
http://soul-patrol.com/webinars/sps-kea/?wspage=register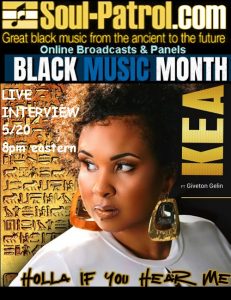 Soul-Patrol has a long tradition of introducing new artists to our audience. I'm proud to say that with your help, more than a few of these artists (ex: LEDISI) have gone on to make some real noise in the music industry, after being introduced by Soul-Patrol.
Today we are pleased to have the opportunity to introduce you to yet another artist (KEA) that I believe has the potential to do the same thing (don't just take my word for it) and I am requesting your assistance.
On May 20 @ 8pm we will be doing a very special broadcast edition of the Soul-Patrol Spotlight, featuring a young artist from Pittsburgh, by the name of KEA. We will be conducting a live interview with KEA and we will be premiering a high fidelity/high resolution (which we will deliver using our state-of-the-art technology) version of her upcoming single release called "HOLLA IF YOU HEAR ME". This video evokes both the audio and visual impact of MARVIN GAYE'S "WHAT'S GOING ON." (you watch it for yourself and tell me if I am crazy?)
Here is where you come in. I would like you to do 3 things, to assist
Go to the following link and register for the event
http://soul-patrol.com/webinars/sps-kea/?wspage=register
Attend the event, so you can meet KEA and also check out the high fidelity/high resolution video.

Send me your feedback via email to: earthjuice@soul-patrol.com (subject line KEA) I am looking for your evaluation in two categories: 1. The artist, 2. The music/video content (less than a paragraph please)
Here is that link to register again:
http://soul-patrol.com/webinars/sps-kea/?wspage=register
Thanks in advance
Bob Davis
Be sure to leave your comments at the bottom of each page on the site or shoot me an email, call me, leave me a message on Facebook or Twitter (use the links at the bottom of the Newsletter) with suggestions, ideas, complaints etc.
Thanks (& stay safe)
Bob Davis - earthjuice@soul-patrol.com
609-491-3537