HAPPY 25TH ANNIVERSARY:
SOUL-PATROL.COM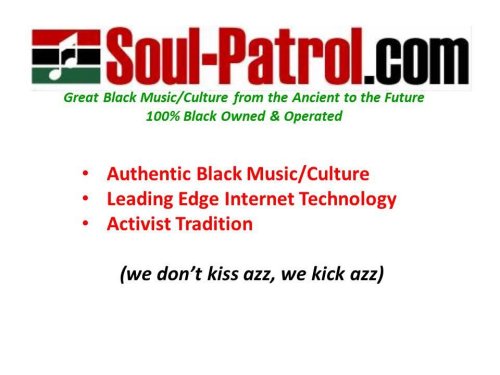 SOME DEFINITION
Generally Speaking, Here Are Some Things We Like @ Soul-Patrol ….
Doo Doo Doo Wop, Stone Cold Funk, Gutbucket Blues, Soft & Wett Slow Jams, Head Banging Rock n Roll, Jazz that's NOT "Smooth," Signs of Intelligent Life, etc
Generally Speaking, Here Are Some Things We Don't Like @ Soul-Patrol….
Corrupt Record Labels, Corrupt Promoters, Fake Groups, Fake Awards, Culture Bandits in the Media (and elsewhere,) Charts, Categories, Lists (things that marginalize Black Music, Culture or People,) Black people "fronting" for white ownership, etc
If any of this sounds like you, then you are in the right place. If none of it sounds like you, then clearly you are in the wrong place
SOUL-PATROL SPOTLIGHT (LIVE/PRERECORDED VIDEO/AUDIO) – I always said that I had a "face for radio." And doing these video interviews have proven that to be the truth. Nevertheless, we are moving forward and continuing to learn from the experience. We have a ton of them coming up in August & September that I hope you will check out. We now have nine of them in the can (posted on the site) and the plan is to begin accelerating our usage. Take a listen and feel free to give me your suggestions.
CONCERTS/LIVE EVENTS – Have you been to any recently? What has been your experience good or bad. For example, Do you think that they may have started up again too soon?
NEW SPONSOR/ADVERTISER – An old friend returns to the fold. Micheal J.Calhoun, formerly of the Dazz band and one of the best Funk guitarists around has come back on board with his new single called "SAVED." Check it out here: http://soul-patrol.com/michael-j-calhoun-saved
REST IN PEACE - Kool & the Gang co-founder Dennis Thomas & Bruce Conte of Tower of Power
Be sure to leave your comments at the bottom of each page on the site or shoot me an email, call me, leave me a message on Facebook or Twitter (use the links at the bottom of the Newsletter) with suggestions, ideas, complaints etc.
Thanks (& stay safe)
Bob Davis - earthjuice@soul-patrol.com
609-491-3537