Soul-Patrol is proud to present MANDRILL FOUNDING MEMBER: RIC "DOC" WILSON INTERVIEW + BOX SET RELEASE PARTY 2/10 @ 8pm est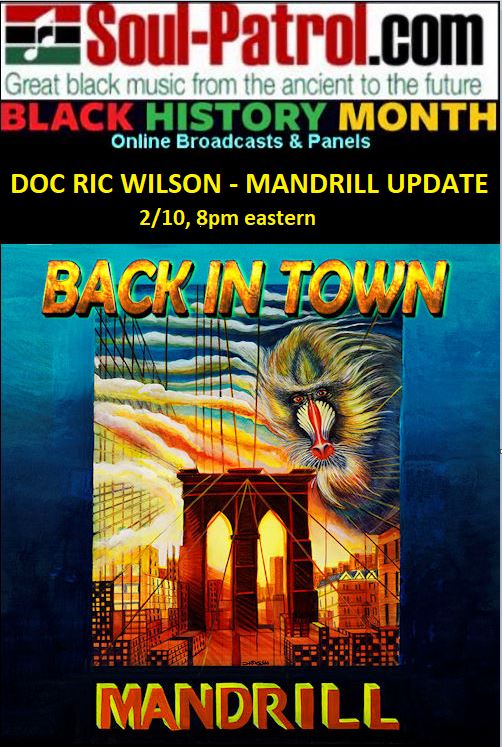 (note the date change) Mandrill formed in Brooklyn, New York City in 1968. The original band included three brothers: Carlos Wilson (trombone, percussion, vocals), Lou Wilson (1941-2013) (trumpet, percussion, vocals), and Ric Wilson (sax, percussion, vocals). The Wilson brothers were born in Panama and grew up in the Bedford–Stuyvesant area of Brooklyn. The brothers played music together from childhood, but also led diverse lives. Mandrill's long standing founder, member, and Harvard College grad, Doctor Ricardo Wilson (known as "Doc Ric") coupled his musical career with being a Cardiologist and Internal Medicine Specialist. Carlos Wilson, following his service as a Vietnam vet, was also one of the co-founders of Mandrill, bringing his Mannes School of Music writing and arranging skills to the group.
MANDRILL, who came "outta da bush" five decades ago, pushing the musical envelope with a hard-driving combination of heavy horns and heavy percussion deftly layered on a complex mix of Funk, Jazz, Latin, R&B, Rock and Afro-Caribbean sounds.
Registration Link:
http://soul-patrol.com/webinars/soul-patrol-spotlight-conversation-with-mandrill
Oh.....and we got a LOT more on tap for Black History Month (stay tuned for Michael Henderson, Screening of the new movie WVOE - Voice of Ebony - a film about Black Radio History and Sly & the Family Stone Tribute w/Everyday People & Will Power)