PEABO BRYSON & OLETA ADAMS @ KESWICK THEATER
SUN, SEPTEMBER 25, 2022
TIME - 7:00 PM
DOORS - 6:00 PM
TICKET PRICES*
$35.00 - $90.00
DAY OF SHOW $40.00-$95.00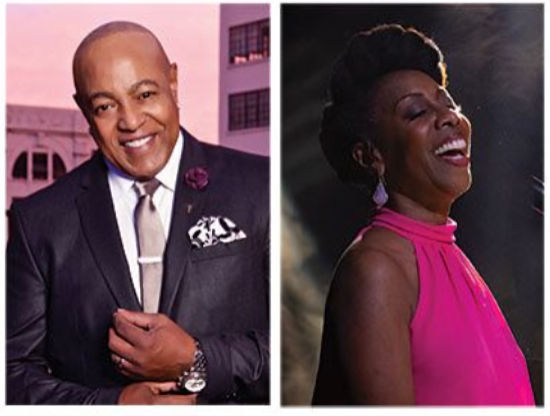 Peabo Bryson Bio
Born Robert Bryson, Peabo Bryson's love of music mostly stemmed from his mother, who gave Bryson the best education in music she could when she would regularly take her family to concerts by some of the best R&B and soul singers of the age. Schooled by seeing the likes of Sam Cooke and Billie Holiday perform live, Bryson made his live debut at the tender age of 14, and by 16, he had left home to tour the chitlin' circuit as a backing singer for Moses Dillard and the Tex-Town Display. While he was singing with that band, they secured a recording session at Atlanta's Band Records and while the band themselves didn't impress the label's head, Eddie Biscoe, he was very taken with Bryson's voice. He signed Bryson to Bang as a writer, producer and arranger, while also encouraging Bryson to work on his own solo material. After working with the label for several years, Bryson made his debut in 1976 with his debut album "Peabo".
The album didn't exactly set the charts alight, but it did secure him a record deal with Capitol Records, and his next three albums, "Reaching for The Sky", "Crosswinds" and "We're the Best of Friends" did respectable business on the charts and were all certified Gold soon after release. As the 80's dawned, Bryson became best known for his duets, most notably with Roberta Flack, with whom he had his first top twenty hit on the Billboard charts in the form of 1983's "Tonight I Celebrate My Love". A year later, he had his only solo top ten hit in the form of "If You're Ever in My Arms Again". The 90's were even kinder to him due to The Walt Disney Company tapping him to record the lead singles to their animated films, leading to huge hits and even a Grammy award for "Beauty and the Beast", which he sung with the iconic Celine Dion. Bryson tours to this very day and continues to give ballad singer the world over a very good name. For that, he comes highly recommended.
Oleta Adams Bio
Oleta Adams (born May 4, 1953) is an American singer and pianist. She found limited success during the early 1980s, before gaining fame via her contributions to Tears for Fears's international chart-topping album The Seeds of Love (1989). Her albums Circle of One (1991) and Evolution (1993) were top 10 hits in the UK; the former yielded a Grammy-nominated cover of Brenda Russell's "Get Here", which was a top 5 hit in both the UK and the US. Adams has been nominated for four total Grammy Awards, as well as two Soul Train Music Awards.
When Oleta Adams hit the Top 40 of the U.K. and U.S. pop charts as the featured vocalist behind ' "Woman in Chains" (1989), the singer, songwriter, and pianist was virtually unknown outside her native Yakima, Washington or her adopted home of Kansas City, Kansas. Following the unexpected boost to her career, which stretched back many years to her church upbringing and included self-funded recordings and a hotel residency, Adams established herself globally as a headliner in her own right. Circle of One (1990), the source of a Top Five pop, Grammy-nominated version of 's "Get Here," quickly capitalized upon on the momentum and was certified gold. This effectively cut a path for numerous tours and studio recordings throughout the subsequent decades, covering secular and gospel work characterized by Adams' resolutely stirring voice. Commercially most successful in the U.K., her additional Top 40 singles include a cover of the / composition "Don't Let the Sun Go Down on Me" (1991) and her own "Never Knew Love" (1995).
A hotel residency, which exposed her to a multitude of touring artists, proved to be more beneficial than a pair of self-funded albums independently released during the early '80s. and saw a performance during a Songs from the Big Chair tour stop and sought her to contribute piano, keyboards, and vocals to their 1989 album, The Seeds of Love. Its second single, the ballad "Woman in Chains," showcased Adams' voice and was a Top 40 hit in over ten territories, including ' native U.K. and the U.S.
Produced by fellow Seeds of Love co-producer, Circle of One was released in 1990. It topped the U.K. chart, peaked at number 20 in the U.S., and achieved gold status in both territories with the hits "Rhythm of Life" and "Get Here." The latter single, a cover, became a cross-continental Top Five pop hit and was nominated for a Grammy Award in the category of Best Pop Vocal Performance, Female. Another cover hit was scored in 1991 with "Don't Let the Sun Go Down on Me," Adams' contribution to Two Rooms: Celebrating the Songs of Elton John & Bernie Taupin. It too led to a Grammy nomination, this time in the R&B field. Adams released her second album, Evolution, in 1993. Produced by it inched her closer toward adult contemporary R&B in the vein of and fared best in the U.K., where it reached number ten. Moving On, her third and final project for, arrived in 1995 with Michael Powell the primary producer. The set was highlighted by "Never Knew Love," a Top 40 U.K. entry Adams co-wrote.
Since then, Adams has recorded for a series of subsidiaries and independents and has remained a consistent live draw across the globe. The gospel oriented Come Walk with Me, released on in 1997, saw her continue to work closely with Powell and was warmly received, earning a Grammy nomination for Best Contemporary Soul Gospel Album. Adams then continued to emphasize secular material, and during the following decade released three proper albums: All the Love (, 2001), I Can't Live a Day Without You (, 2004), and Let's Stay Here (, 2009). Following an extended break from studio activity, Adams returned during the latter half of the 2010s with Third Set (self-released, 2017), an organic recording featuring a new version of "Rhythm of Life."
NOTE: If you're going to the show, let me know!
As always feel free to email or call me with any suggestions
Let me know what cha think?
Thanks, and be safe
Bob Davis
earthjuice@prodigy.net
609-351-0154