MAYSA COMES TO THE SOUL-PATROL SPOTLIGHT (10/25/2022 at 8 pm eastern)
Registration Link:
http://soul-patrol.com/webinars/soul-patrol-spotlight-conversations-with-maysa/?wspage=register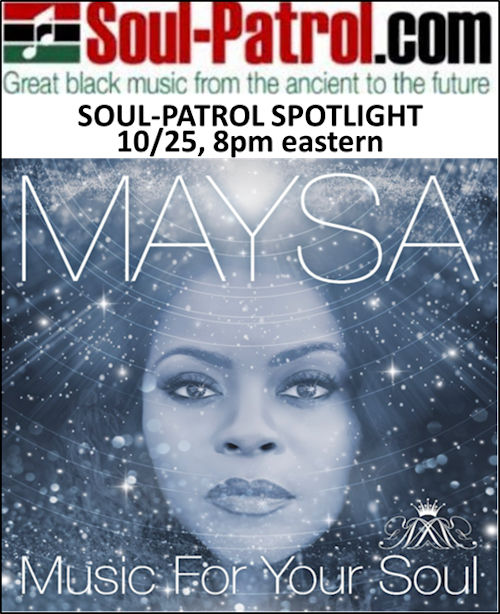 We host a long-awaited Soul-Patrol Spotlight with one of the most innovative artists on today's scene. Soul/Jazz artist Maysa. We will be discussing her new release. And of course, we will discuss her history both as a solo/indie artist, as a member of Incognito and as an internet pioneer. In addition, we will discuss the current state of Black music and the role that Maysa plays in both its legacy and its expansion (live and on recordings.) Join us. we should have a lot of fun and learn quite a bit at the same time!
(Go ahead & register for the event and we will send you a reminder 24 hrs. before start time and again 1 hour before start time!)
Let me know what cha think?
Thanks, and be safe
Bob Davis
earthjuice@prodigy.net
609-351-0154