Merry Christmas (2020)
Soul-Patrol.com Co-Founders:
Bob & Mike Davis (1967)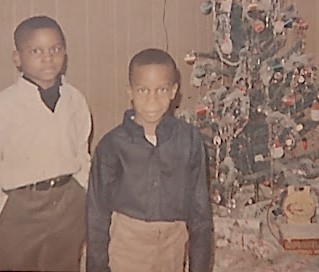 We usually like to send out a Christmas greeting to all of our subscribers. If this offends you in any way whatsoever, feel free to click away. Anyhow, there is a shot of the two of us at Christmas time in Brooklyn circa 1967.
This year we have a gift for all of you and your families. We have assembled a special web page which contains some traditional "soulful sounds," with brand new animated video's which treat the original artists with the respect that they deserve. We call it: More Revolutionary (Black) Christmas Carols and the link is: http://soul-patrol.com/revolutionary-black-christmas-carols/
Please feel free to enjoy this music with your friends and family. The songs are all quite familiar to you. However, the new videos are spectacular, IMHO.
What's really exciting (to me) about these new videos is that as you will see, they are all now designated by the record labels that own the songs as the "official videos" for the songs.
I love this as a trend. It corrects some of the mistakes of the past where African Americans have often been portrayed, either as animals, slaves, buffoons or worse in associated with these great songs. Hopefully this trend will continue.
Please enjoy and let me know your thoughts about these videos and I'll see you on the "flip side.":
More Revolutionary (Black) Christmas Carols
http://soul-patrol.com/revolutionary-black-christmas-carols/
FRIENDLY REMINDER: IF YOU ARE TRYING TO EMAIL ME SEND YOUR MAIL TO ME (BOB DAVIS) AT EARTHJUICE@PRODIGY.NET