JAMES BROWN (THE GODFATHER)
WAKE 12/29/2006 APOLLO THEATRE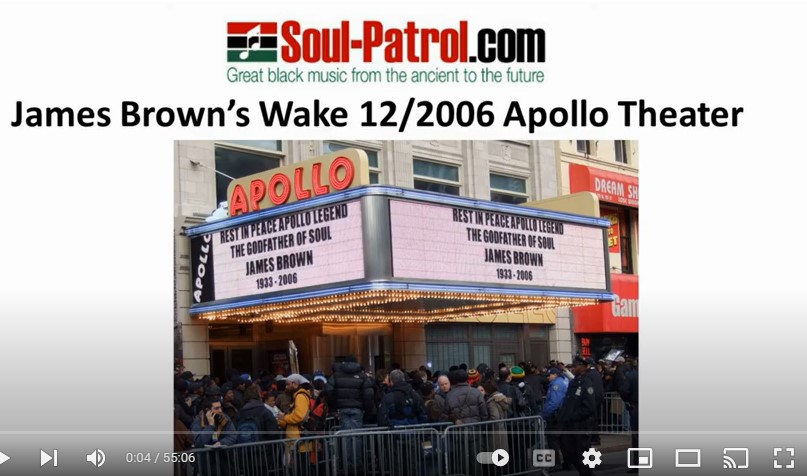 It's that time of year, for Soul-Patrol to once again return to those critical few days following the passing of James Brown
James Brown passed away on 12/26/2006. On 12/29/2006 the "Village of Harlem," in NYC threw a spectacular "wake" at the Apollo Theater and the immediate surrounding neighborhood. Soul-Patrol was there along with over 1,000,000 James Brown fans from all over the United States and around the world, to send "THE GODFATHER" off in style.
Needless to say, I was really proud to have been able to file this report, from the scene. Were you there? There were millions there that day in Harlem to see THE GODFATHER "play" the Apollo Theatre one last time!
This broadcast is approximately 1 hr long, on YouTube and consists of both interviews conducted on the scene that day along with some James Brown music. We think replaying our broadcast from that day, serves as not only a fitting memorial to James Brown, but it also serves to close out the year 2022 for us.
Content Summary
Part 1 Interview with Mr. Bobbitt, describing the last moments of James Brown

Part 2 Al Sharpton describing James Brown's definition of Funk Music (On the One)

Part 3 Al Sharpton talking about the Worldwide Impact of Funk Music

Part 4 Interview w/13-year-old Taniquia about the Impact of James Brown on her life

Part 5 Interview w/Kirby Carmichael and Ken "Spider" Webb (JB's impact on Black Radio)

Part 6 Interview with folks on 125th st waiting to get inside, including John Rozz, plus folks who traveled from, Queens, Harlem, Mississippi, Nigeria and more

Part 7 Rev Al on James Brown and Standards for Black Music

Part 8 "Doin it To Death" – From the "A Train" 42nd St Subway Station
JAMES BROWN (THE GODFATHER) WAKE 12/29/2006 APOLLO THEATRE
FRIENDLY REMINDER: IF YOU ARE TRYING TO EMAIL ME SEND YOUR MAIL TO ME (BOB DAVIS) AT EARTHJUICE@PRODIGY.NET