A Strategy worth Considering (FOR INDIE ARTISTS)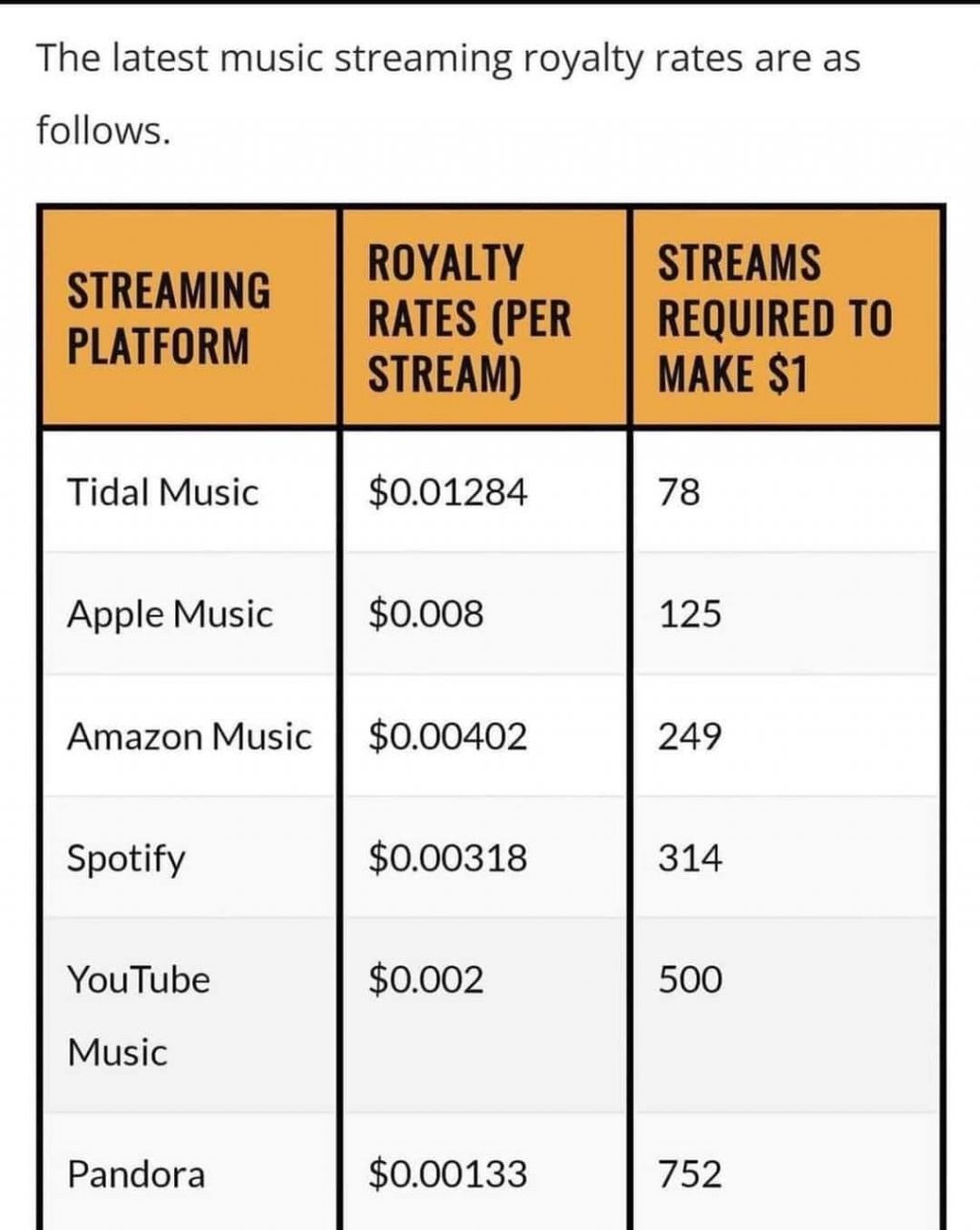 Bob Davis (earthjuice@soul-patrol.com)
Today I made a posting on Facebook using the graphic: you see at the top of this web page. I went back to its source which was posted by Chris Fox on a public music page called Helmet of Gnats. The graphic had been "shared" on Facebook 587 times.
Later today I got some questions. So, I decided to compose a few answers. You see I have been railing against these streaming sites for the better part of two years, so (as you will see below) I've actually been thinking about an alternative for, especially for DIY indie artists. My thoughts are below, and this may not be viable for label artists or artists who already have thousands of fans (ie paying customers.) (There may be "holes" in my thinking and if there are or if anything I may have stated isn't clear just let me know via email at earthjuice@soul-patrol.com) But I think that this represents a better alternative than continuing to think of the streaming sites as "e-commerce sites" pump new music into them and getting the kind of ROI that is depicted in the graphic.
Do an honest assessment – of where you are as an indie artist? For example, do you have at least 100 actual fans (who would actually pay money to come and see you perform live) in 5 different cities, within driving distance? Say if you are on the east coast, can you draw 100 people to pay to see you in NYC, Long Island, New Jersey, Philly & Baltimore/DC?
If the answer to that question is yes – then move forward. If the answer is no, then go back to the drawing board. (ex: find a less expensive hobby?)
Assuming that you are moving forward, there are a few short-term things you want to accomplish. You want to develop some infrastructure that will allow you to both market and sell, with as few costs as possible.
Go and play those 5 gigs ASAP – Make sure that you are going to make enough to cover all of the expenses of the band and of course pay the musicians and sound man. Bring all of your existing inventory of merchandise (CD's, t-shirts, posters, etc.) and sell it all at the gigs for whatever you can get for it all. (You will need to bring someone with you to work the merchandise table.) The idea is for you to return home with none of this inventory (in other words have a fire sale.) In fact, tell the audience that you are trying to sell it all. Tell them that you need the money to help finance the next phase of your career. Also tell them you to be 100 percent certain that you can contact them when you relaunch, (with a smile on your face) tell the audience nobody is permitted to leave without making sure you have their current email address.
At the end of this mini tour – You have pay the musicians, the sound man and send a thank you email to all of the fans that attended your shows (from the email address you have containing the domain name of your website) you are ready to start building that infrastructure to market and sell your product.
But not from scratch – Chances are that if you have made it this far, you already have some of this infrastructure. Now its time to start building it out and putting it to work for you.
A PLACE TO BUY STUFF FROM YOU – Chances are you already have a website that you own, with a URL that you own. You must begin to think of it as your storefront. And now you have a budget to do some remodeling. That is going to be the portal which is going to be the key to you being able to make enough money to sustain your "hobby" on a long-term basis. You should also think of it as a project that is never really completed, you are always remodeling and is always under construction. Therefore, you should either plan on acquiring a minimal set of skills (even if you have to take a class,) to do upgrades, or paying someone to do it. The first upgrade should be to take that one song you have, that you probably do live, preferably copyright free (Just like Hendrix & Marvin had the Star-Spangled Banner) that your fans would love to own a copy of and post it on your website for sale at a price of $0.99. Use PayPal for the transaction. When you email those 500 people telling them the song is available for sale, you're going to tell them that the song will only be available for two weeks and they should think of it as a collector's item and a thank you for their continued support. Now you have a place that's completely tested and trusted that you can sell stuff from going forward. You have a place that YOU OWN, that you can conduct actual business from. And you have an additional $500 (if you actually have 500 fans?) in your pocket. Don't forget to remove that particular paid download from your website, although you may be tempted to leave it up.
A MARKETING INFRASTRUCTURE – Here is a quick definition of what marketing means that you should always keep front of mind: "the activity or business of promoting and selling products or services, including market research and advertising." Two more things you should keep front of mind about marketing: A. Marketing is no different than any other type of infrastructure, it isn't free, you have to pay for it, get used to it. B. You will be tempted to do marketing all by yourself. Trust me, you can't. There aren't enough hours in the day. You need a team. You need people to create graphics, write copy, manage your calendar, make postings (online street team,) etc. Save your energy for the most important kind of marketing, radio/tv/podcasting appearances, public events where nobody should be speaking for you except for you, etc. And of course, managing and deploying the marketing budget, especially your online street team.
What's an online street team? It's a key part of your Marketing infrastructure and will consume the vast majority of your marketing budget, that you will need to manage and no you won't be hiring a publicist. Here is what it is comprised of:
Graphics & Copy – These could be you. But it probably shouldn't be. Think of these two functions as being responsible for creating content that is going to be posted on your website and/or your social media pages every day. Clear, accurate and concise text, combined with legible and sharp graphics is the objective here. You will need to allocate time to review this material on a daily basis.
Foot Soldiers – Remember that group of 500 people that you sent the email to purchase that song for $0.99. A subset of that list will be a group of people who actually made the purchase. You're now going to ask all of those purchasers to become a foot soldier on your behalf. Your going to tell them that all you want from them is to repost content from your website perhaps once/week on their existing social network (Facebook, Twitter, Instagram, LinkedIn, TicTok, etc) and to tag you when they make the postings. Most people aren't going to be interested in doing this. But a surprising number of people will. A good target would be 50 people, 10 percent of the original 500. You need this. You need updates appearing in a minimum of 50 different places across the internet and you need them to come from "regular people," not from "music business professionals." Of course, these people going forward are never going to have to pay for a ticket to see you perform live. They will be on your guest list anytime they want to come to one of your live shows, whether that show is at some dive club or at the Kennedy Center. Those updates are important, because they will give the appearance of an organic groundswell of support for your music. In fact, you will need to install one of those plug in's on your website so that your site visitors will be able to see your social media activity from your website. This is going to attract enough media attention to generate enough radio/tv/podcasting/newspaper interviews/public appearances to keep you extremely busy.
YouTube Is a part of Your Marketing Infrastructure (It isn't a Sales Channel) – Nor is any other streaming services. Many indie artists have been tricked into thinking that the various streaming services are "sales channels" for their product. THEY ARENT. That doesn't mean you can't put them to use to serve your needs. My suggestion is to use YouTube do do what I will call "test marketing." Think of it as a cost effective and low risk way for you to have a place for people to listen to your songs and for you to get feedback on them. Links to YouTube videos allow you to display video, text, graphics and sound to wherever you post them. You should also post links inside of the YouTube descriptions back to your website, so people who like the song can make a purchase. So you have to be strategic about it. You can post your songs there at no cost and for whatever reason music fans are willing to click on YouTube links. They aren't afraid of getting viruses, malware, phishing scams, etc. and no one is going to ask them to sign up for anything. Post your songs there. Post your ideas for songs there. Post snippets from your live shows there. Post messages from you to your audience there. Make sure that your street team gets these links and reposts them in a timely fashion, and of course tags you, so that you can monitor the activity. What about the other streaming services and ecommerce sites? For now, forget they exist people don't trust them and won't click on those links anyhow.
Rinse & Repeat – Get actively engaged in doing the above for at least 3 consecutive months, with your head down. Then stop and take another honest assessment, reviewing your numbers and trends. Use that assessment to tweak your strategy and keep moving forward. One thing I would suggest as a next goal, is once you have five high quality songs that have been purchased by 500 new people (customers) that you think about packaging together as a "digital album." But that's another discussion for another day.
If you have read this far and you find this information useful, drop me an email at earthjuice@soul-patrol.com. More importantly if you find any errors or if you have any suggestions on how the advice I have presented above can be improved, send me an email with your ideas at earthjuice@soul-patrol.com.
Bob Davis