Archie Bell and The Drells, Houston, Texas Funk, Atlantic Records, Philadelphia International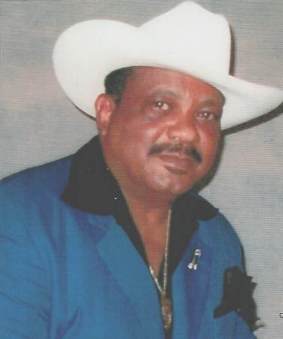 INTERVIEW/CONVERSATION – With Archie Bell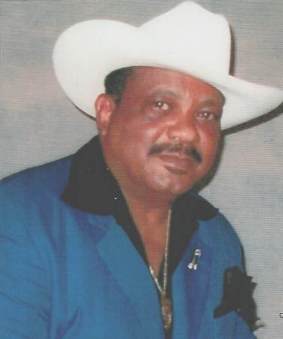 On the morning 8/20/2006I woke up early on a Sunday morning despite having been out late the night before attending the Hil St. Soul show in Philly. That's because I had the honor of interviewing the legendary…
MR. ARCHIE BELL (from Houston Texas)
at an "undisclosed location" in NYC earlier today.
Actually it's less of an "interview" and more of a "conversation" that also included Mrs. Juanita Bell and Soul-Patrol's NYC Coordinator Cheryl Russell.
Our "conversation" lasted about 1.5 hours and included the following topics…
– The TRUE story of "Tighten Up".
– Former NFL great Ricky Bell (Archie's Brother)
– Archie's Years @ Atlantic Records
– Archie's Years @ Philadelphia International Records
– Archie's Years @ TK Records
– Legendary Houston DJ/Manager Skipper Lee Frazier
– Artist Rip-offs (then and now)
– The effects of Hurricane Katrina on Houston Texas
– MFSB
– What's a "Drell"?
– Texas FUNK
– FAKE versions of Archie Bell and the Drells
– The book "House on Fire" (the story of Philadelphia Soul)
– The past, present and future legacy of Black Music
– and more
As you can imagine this 1.5 hour "conversation" was not only a whole lotta fun, but quite educational as well. Thanks Cheryl for helping out. So listen, learn and let us know what cha think???
Bob Davis:
earthjuice@prodigy.net
OFFICIAL BIOGRAPHY – Archie Bell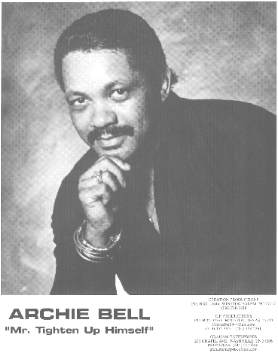 Archie Lee Bell, one of seven children born to Langston and Ruthie Bell, in Henderson, Texas. His parents moved to Houston, Texas when he was just four months old. At the age of ten he began singing professionally. Archie gives praise and credit to GOD and his mother for his unique great gift for singing and entertaining talent. His Mother is his mentor. He spiritual singing at church and home inspires him to this day.
While attending Junior High School, Archie formed a group that assumed a derivative of his own last name, called the "Drells." They were winning almost all the talent shows they entered. Skipper Lee Frazer, a local D.J. from Houston, recognized the great talent and knew this group would become a big success. He was instrumental in helping with their first record "Tighten Up" it sold 200,000 copies in just two days in New York, the record went gold and the rest is history.
The "Drells" later changed their name to Archie Bell and The Drells. Their popularity heightened and gained strength when Kenny Gamble, Leon Huff and Tom Bell produced such tunes as, "I CAN'T STOP DANCING," "THERE'S GOING TO BE A SHOWDOWN," and "GIRL, YOU'RE TOO YOUNG." The group signed with Philadelphia International Records, which was owned by Kenny Gamble and Leon Huff. They released such songs as "DANCE YOUR TROUBLES AWAY." "WHERE WILL YOU GO WHEN THE PARTY IS OVER." "HARD NOT TO LIKE IT," and "STRATEGY." With the help of McFadden and Whitehead, the group stayed on the charts year after year.
Archie Bell and The Drells gave their last performance together at Carnegie Hall in New York City. It was time for change, time for Archie to venture out on his own. He is now a solo artist, writer and arranger and producer. He operates as President of his own company, entitled, KGMA PRODUCTIONS. "Keeping Good Music Alive." Archie manages new artist and continues to perform worldwide. Archie has taken on some new Drells that also perform as solo acts during the Archie Bell Revue. As a Rock and Roll Hall of Fame personality, Archie enjoys love of all fans and participating in the grand openings of Dick Clark's restaurant chain.
During the nineties, Archie continues to be loved by venues catering to families, adult crowds and the older generation. His music has proven ro be immune to time. Archie believes in peace and happiness for all. He is a down to earth and good natured person. His loves are sports of all kinds. He is a collector of memorabilia and a lover of Mother Nature. Young children are a very deep concern of his because he is aware that children are our future. Archie highly respects the wisdom of his elders especially his Mother
Bob Davis:
earthjuice@prodigy.net
CONCERT REVIEWS – Archie Bell (w/Dansettes) @ Joe's Pub- NYC – 8/21/2006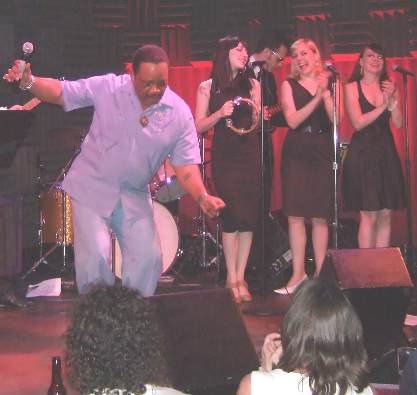 WOW!!! What a show!!! I want to thank Archie and Juanita Bell for being so kind and gracious to me and Bob during the interview/conversation we had on Saturday and for the meet and greet with us after the show last night. Juanita, it was an honor to have you sit at our table during the show.
Third – the show: The Dansettes came out first. The Dansettes are the ultimate 60's girl group (from the hairstyle, to the outfits, to the original songs). Those girls could sing and the band was tight! If you closed your eyes you were right back in 1968. Which was the perfect way to introduce Mr. Archie Bell from Houston, Texas!!?
Archie was smooth as silk and could sing! Not only that, he danced like someone 30 years younger than his 62 years. He sang so many songs, did some impersonations and had Joe's Pub on their feet the entire set! (I think Bob may have the set list – I was having so much fun I didn't take any notes). And of course, he ended the show with "TIghten Up!".
All I can say is I haven't had that much fun in a long, long time! Seriously, we had a BLAST!!!!
If Archie Bell (from Houston, Texas) is in your neighborhood, DON'T MISS HIM!!!! Archie, please, please come back to New York soon!
Cheryl Y. Russell
New York Soul-Patrol.com Coordinator
As Archie would say: Hi everybody! Bob made me promise I'd write a review but there's not much I can add to what Evan, Cheryl, Bob, and Baron have already said about Archie Bell. His performance was a total killer. Don't know when a show has ever made me happier. What a showman. The man had me and everybody else there in the palm of his hand the whole night. "Showdown" was my favorite, but there wasn't a dull moment. The way people levitated out of their seats, you could sell "Tighten Up" as an antigravity device.
A lot of people probably assume Archie Bell is an old, tired one-hit wonder working nostalgia shows to pay the bills. But man, if that's "old and tired," then "young and hip" needs to get out of the way.
Archie Bell of Houston, Texas, is a master entertainer. I felt privileged to be in that room, and to share in the pure joy.
–Greg
u ain't nevah lied. that was a night of true lost soul. 1st of all, the dansettes were great. they were a girl group who looked the part,but the lyrics didn't sound the part. instead of finding a true love,they sound like they've been kicked in head by love (ha ha). they seemed like a big group on stage,but when i saw them after the show,they seemed 2 be shorter than cheryl.
then mr drell came on stage. he started with "let's groove" in which people were moving in their chairs. then he came out with "i just stop dancing" & the place went beserk. i've been 2 joe's quite a few times & the place has never rocked like that be4. he also did "stand by me" ,"strategy", "showdown" (more dancing) "ain't no sunshine", "girl, you're 2 young" (i 4got the order) but by the time "tighten up" came on,it was ova. the whole bar was on their feet. even i got up 2 move my legs. part of it was i only had 3 hrs sleep the previous night,but i had
2 see archie bell no matter what. bob tried 2 get me 2 hang out a little bit more,but it was past my bedtime & i went home. it didn't matter,i crashed @ 2,got up @ 5 & dragged myself 2 the plantation. 2 see mr drell rock the place like that, it was worth it.
–Mad Dog of Soul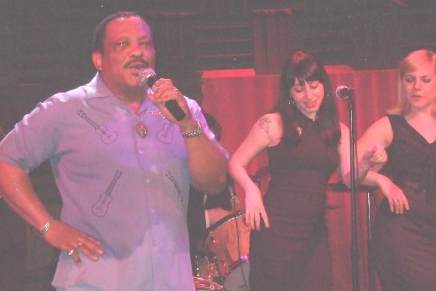 I just got back from the Archie Bell show at Joe's Pub he is NO JOKE…
ARCHIE BELL ROCKED THA HOUSE TONIGHT
I have been to Joe's Pub many times in my life. Tonight was the FIRST TIME that I have ever seen so many people dancing in the club. He turned Joe's Pub into a house party. The normally "too cool to be cool" Joe's Pub, was just like a "sweatbox in the projects" tonight. I was on my feet damn near the entire show It was quite an experience….
Remember the video… R.O.C.K in the USA? (that's what the Dansettes felt like to me)
"I Can't Stop Dancing". That's the name of the song. And when it came on, I suddenly felt really old. What flashed into my mind was the day when I brought my copy of "I Can't Stop Dancing", on 45……lol (man that was a LONG time ago…..lol)
He did "Stand by Me" it was the Spyder Turner version (including the Sam Cooke impersonation with "Cupid") Plus don't forget the Shep & the Limelites medley Archie Bell did ("Daddy's Home and "Thousand Miles Away"). He TORE UP those two doo wop classics. I never realized that he could sing so well. In fact he really impressed me when he started throwing down with that SUPER DEEP BASS (a' la Melvin Franklin of the Temptations)
Man that whole joint just went wild the moment Archie Bell fired up "Tighten Up". What more can you say? It's one of the top songs of all time. I'm mean, who dosn't dig the hell out of "Tighten Up"? Hell, I'll bet that if Dick Chaney had been there even he would have stood up and been shaking his be-hind off of "Tighten Up"…..lol
:64 YEAR OLD :::ARCHIE BELL ::::TURN THE CROWD :::::::INSIDE OUT
Ya gotta see him LIVE…
Even if someone had taped the show and put it out on a DVD, that watching that DVD will in no way, shape or form be the same as being there. It won't even be close!!!
The feeling of being in a club that's too small to dance in and dancing along with a couple of hundred other people to near perfectly executed songs that are 35-40 years old is something that technology can't duplicate
And there is absolutely no doubt in our minds, that Archie Bell would do the same thing next week, next month or 10 years from now if we SHOWED UP to observe it.
NP: I Just Can't Stop Dancing
–Bob Davis