Barbara Mason – (Happy Birthday)
When Barbara Mason sang "OH HOW IT HURTS", my pants got tighter and my heart turned to jello…What can I say…(I'm just a "slow jammin fool"……lol)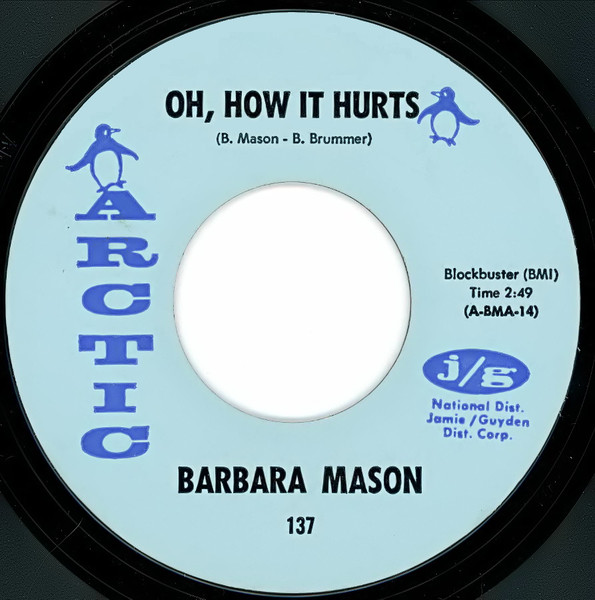 Editors Note: I assure any and all who are reading this, that I have documented far more than what you are about to read on this web page about Barbara Mason. Maybe one of these days, I'll actually put it all up here for you to read, view and listen to. But for tonight, I just want to say HAPPY BIRTHDAY TO BARBARA MASON. For those of you who don't know her, she is an extremely private individual and sometimes trying to break thru, feels like something of a mystery. But if you can get thru, even for a few minutes, you will be richly rewarded for having made the effort. I won't speculate on just why it's like that, but it is and I can live with it. The reason why is because I have been able to get thru, albeit for a relatively short period of time. It's all personal, in fact its so incredibly personal, that I hesitate to even write about it. But that shouldn't really come as a surprise, if you are a fan of her music. Her songs are performed on record and in person, in a manner that is so incredibly personal, that you are immediately sucked into what feels like a never-ending vortex of human emotions. Barbara Mason's voice has been doing that to me since I was 7 years old in the 1960's, and listening to her voice from the back seat of my fathers car, coming thru the static of his AM radio. And I got it back from the other direction, at her concert that I reviewed from Joe's Pub in NYC, as I watched her not only deliver a spectacular live performance, but also seemingly take a huge amount of pleasure in meeting my Aunt Maye, my cousin Vernon and my uncle Earnest Wright who you may know from Little Anthony & the Imperials. It was something of a family reunion, since my aunt had just recovered from a serious illness, my cousin (her son) had been living in California and the last time I had seen my aunt she was in the hospital "bandaged from head to toe." I could see Barbara Mason out of the corner of my eye, paying extremely close attention to our little "private reunion," backstage at Joe's Pub. Of course, she knew none of the details, but she knew that she had brought us all together. Now that's pretty damn "personal," isn't it?
Ok, I'll stop now. As you can see I could write volumes about Barbara Mason, her fabulous son Marc, her music, her place in the pecking order of "Greatest Slow Jam Artist of All Time" (hell yeah she's gotta be up there!) How about the impact she had on my then 13 year old daughter when she met her? Her ongoing influence on a generation of sultry Latino singers in 2023 and more. I could go down a real "rabbit hole," and never quite return. But I'll stop and come back to Barbara Mason….
–Bob Davis 8/2023
Subject: Barbara Mason – Oh, How It Hurts
"Oh how it HURTS, for me to be..
ALONE…
(and that's all right)"
This song is one in which the sheer PAIN of the singer comes thru LOUD and CLEAR!
"I KNOW YOU FOUND…
….SOMEBODY NEW…"
Barbara Mason is telling us the story of a breakup, that she KNOWS is coming, trying to take a realistic attitude towards it and NOT discussing the PAIN involved. Yes, this is a story about teenage angst, however when I listen to it now the whole theme of the song is SOOOOO DAMN DEEP that in NO WAY can I listen to it today and not begin to notice that a small tear begins to form in the corner of my left eye.
"Because I'd rather…
…END IT NOW…
…CAUSE IT'S GONNA HURT MORE AFTER A WHILE…"
what more can i say about this
…..if you haven't heard it you need to
If you haven't heard it in a long time, you need to dig it out And when you play it, please think about the person that you love and just hope and pray that you don't EVER have to go thru the pain that Barbara Mason is describing on this record.
It sounds like PURE HELL!!!!
–Bob Davis
Oh, how it hurts (oh, how it hurts)
To say goodbye, yes, it does
Oh, how it hurts (oh, how it hurts)
For me to cry, that's all right
Because I'd rather leave you now
'Cause it's gonna hurt more after while
Yes, it will (yes, it will)
After while (after while)
I know you've found somebody new
Yes, you have
You think you found your dream come true
That's all right
Because I'd rather say it now
'Cause it's gonna hurt more after while
Yes, it will (yes, it will)
After awhile (after while)
I can't take it
We can't make it
No need to feel ashamed
Why try to hide it
You can't deny it
That a new love
Has set your heart aflame
Oh, how it hurts (oh, how it hurts)
For me to be blue, yes, it does
Oh, how it hurts (oh, how it hurts)
To be without you, yes, it does
But I'd rather end it now
'Cause it's gonna hurt more after while
Yes, it will (yes, it will)
After while (after while)
And I'd rather end it now
Before it's too late after while
You Never Loved Me At All
More pain, but PAIN never sounded so beautiful, than when expressed by Barbara Mason
I used to love everything about you
I used to think I couldn't live without you
I used to fill, my whole world around you
And you hurt me so bad (you hurt me so bad)
And about you I don't feel the same, cause u never loved me at all (u never loved me
I was a fool to fall like I did
I used to wait for your phone call, but you wouldn't call me at all
I used to wait, for you late at night
I'd think you'll hurry up and come home and everything would be alright
But you never loved me at all (u never loved me at all)
I was a fool to fall like I did
You never loved me at all (you never loved me at all)
I was a fool to fall like I did
U never loved me at all
There were times that I thought you would be there for me
Then I, I would wake up it was only a dream
Cause you never loved me at all
I was a fool to fall like I did
You never loved me at all (u never loved me)
I was a fool to fall like I did (I was a fool)
No, you were pretending (you never loved me)
Now for a few bonus points, listen to this 2020 "cover" by Miriah Avila – You Never Loved Me at All (currently sitting with 2,000,000 YouTube views) and tell me that the music of Barbara Mason, isn't still relevant?
Barbara Mason Live In NYC @ Joe's Pub (2005)
It was a great show and a nice turnout of NYC Soul-Patrollers (with a few surprises, that really made my night). Thanks to Sara Hill and the staff at Joe's Pub for treating us right.
My thanks to NYC Soul-Patrol Coordinator Cheryl Russell for organizing this show as a Soul-Patrol Event. Thanks to Barbara Mason for doing a "meet and greet" with the Soul-Patrollers after the show.
The show starts…Barbara's band (including members of Billy Paul's band) started off the show with a few "smooth jazz" covers and then the fabulous Ms. Barbara Mason steps on to the stage. She starts off appropriately (since we are in NYC) with her rendition of the Drifters/George Benson's "On Broadway"
AND THEN CAME…"THA BOMB"….
When Barbara Mason sang "OH HOW IT HURTS", my pants got tighter and my heart turned to jello…What can I say…(I'm just a "slow jammin fool"……lol)
SIDE NOTE: While Barbara was singing the song, my man ISH from Nouveau Sounds is swayin like he's on "another planet". Now of course ISH (despite his youth), knows the song well, since he has worked in NYC's top Soul music record store for many years.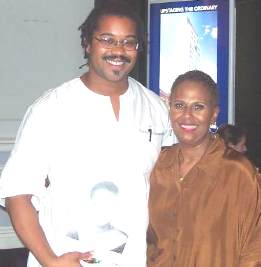 He says to me…"Bob, this sh*t is tha BOMB"
I said…
"ISH, do you realize that I am OLD ENOUGH to have actually GRINDED off of this song at blue light basement parties when I was a teenager???…LOL, It does my hear good to know that this song can still have the same impact on a young male libido in 2005".
Then I glanced across the room and looked at my cousin and my aunt and thought to myself… "Those are two people who knew me back when I was footloose and fancy free teenager, on the prowl at those blue light basement parties…lol"
Looked back over to ISH and thought to myself…."Man you have no idea what you missed out on as a teenager…."
Great stuff yall…
Next up was a cover version of Smokey Robinson's "Agony and Ecstasy", first time I have ever heard that song covered before and Barbara did an excellent job with it. This was followed by a cover of the classic "Use Me Up" (Bill Withers). Next up was "The Other Woman's Anthem ("From His Woman To You").
Then Barbara started to tell a story….
"Do yall remember a brotha named Curtis Mayfield……I went out to Chicago to do a little song with him…" And then she busted out with a super sultry/erotic rendition of her own early 70's hit song "Give Me Your Love". Next up was Barbara doing her take on the Billy Paul classic song "Me and Mrs. Jones".
Next up was a really nice little funk song called "Take Me Tonight" and with that Barbara Mason left the stage at Joe's Pub.
So what do you think happened next???
PEOPLE STARTED YELLING FOR HER TO COME BACK AND SING
:::YES I'M READY::::
Which of course she did and blew me away in doing so!!!
–Bob Davis
Barbara Mason Bio
By Dianne Washington
Barbara Mason (born August 9, 1947, in Philadelphia, Pennsylvania) is an American soul singer with several R&B and pop hits in the 1960s and 1970s, best known for her self-written 1965 hit song, "Yes, I'm Ready".
Mason initially focused on songwriting when she entered the music industry in her teens. As a performer, though, she had a major hit single with her third release in 1965, "Yes, I'm Ready" (#5 pop, #2 R&B). She had modest success throughout the rest of the decade on the small Arctic label, run by her manager, top Philadelphia disc-jockey, Jimmy Bishop. She reached the U.S. Billboard Hot 100 Top 40 again in 1965 with "Sad, Sad Girl", and "Oh How It Hurts" in 1967. A two-year stay with National General Records, run by a film production company, produced one album and four singles which failed to find success.
In the 1970s, Mason signed to Buddah Records and toughened her persona, singing about sexual love and infidelity with an uncommon frankness at the time in songs like "Bed and Board", "From His Woman to You", and "Shackin' Up" and would interrupt her singing to deliver straight-talking 'raps' about romance. She also continued to write some of her new material. Curtis Mayfield produced her on a cover version of Mayfield's own "Give Me Your Love", which restored her to the pop Top 40 and R&B Top Ten in 1973; "From His Woman to You" (the response to Shirley Brown's single "Woman to Woman") and "Shackin' Up", produced by former Stax producer Don Davis in Detroit were also solid soul sellers in the mid-1970s.
After leaving Buddah Records in 1975, surprisingly after two top ten R&B hits, she only dented the charts periodically on small labels. They included "I Am Your Woman, She Is Your Wife", which was produced in 1978 by Weldon McDougal who had produced her first major success, "Yes I'm Ready", and later in 1984, "Another Man" on West End Records.
Mason started to concentrate on running her own publishing company in the late 1980s, but continues to perform occasionally. She released a new CD, Feeling Blue, in September 2007. Mason is still performing to sold-out audiences in 2016. Her most recent show is at the Terrance Theater in Long Beach, California. Mason was inducted into the Soul Music Hall of Fame on March 1, 2016.