Berks Jazz Fest Update (Soul/Jazz/Funk/Blues) – Soul Summit, Victor Wooten, Reviews, Pheobe Snow Update, Average White Band, Boney James, McCoy Tyner Quartet, Pieces of a Dream, Take 6, Wayman Tisdale, Bela Fleck, Chuck Loeb, Special EFX, Rick Braun, Paul Jackson Jr, Bobby Lyle, Richard Elliot, Kenny Blake, Gerald Albright, Kirk Whalum, Brian Culbertson, Gerald Veasley Band, Najee, Nnenna Freelon, Joe McBride, Kim Waters, Steve Cole, Jeff Kashiwa, Steve Ferrone, the original Soul Survivors, Phil Perry, Randy Brecker, The Derek Trucks Band, David Benoit, Jonathan Butler, Severn Records Soul and Blues Revue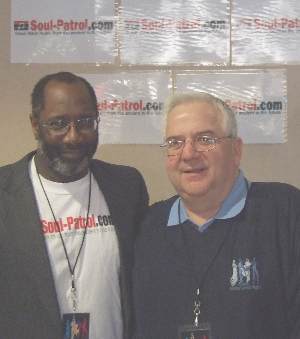 Berks Jazz Fest Update (Soul/Jazz/Funk/Blues) – Soul Summit, Victor Wooten, Reviews, Pheobe Snow Update, Average White Band, Boney James, McCoy Tyner Quartet, Pieces of a Dream, Take 6, Wayman Tisdale, Bela Fleck, Chuck Loeb, Special EFX, Rick Braun, Paul Jackson Jr, Bobby Lyle, Richard Elliot, Kenny Blake, Gerald Albright, Kirk Whalum, Brian Culbertson, Gerald Veasley Band, Najee, Nnenna Freelon, Joe McBride, Kim Waters, Steve Cole, Jeff Kashiwa, Steve Ferrone, the original Soul Survivors, Phil Perry, Randy Brecker, The Derek Trucks Band, David Benoit, Jonathan Butler, Severn Records Soul and Blues Revue

Audio Inteview With John Ernesto (General Manager of the Berks JazzFeat) 4/4/2009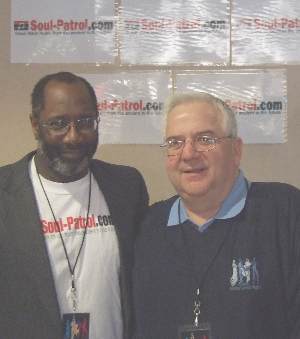 John Ernesto is the General Manager of the Berks Jazz Festival. Now I realize that is a pretty lofty sounding title, but there is a whole lot more to John than just a title. In addition to managing the 10 day, 130 concert Berks Jazz Fest. John is also the Marketing Director at the Reading Eagle Company, the parent company of the Reading Eagle. Yet another lofty sounding title.
John has been a member of Soul-Patrol for quite a while and that means most importantly he is also a music fan. A jazz fan to be more specific. Take a listen to the audio interview with john Eresto conducted by our own Kevin Amos ("tha Funkoverlord"). John and Kevin discuss the past, present and future of the Berks Jazz Festival to help us to establish the proper context for the 2009 Berks Jazz Festival.
As you can see from the photo, John and Kevin had quite a nice conversation. That is to be expected, since we had a quite a blast at the festival, Hopefully John will invite us back next year as well!!!
Take a listen at the following link or click on the picture of John & Kevin…
http://www.soul-patrol.net/johnernestoberksjazzfest.ram
Summary – The 2009 Berks Jazz Festival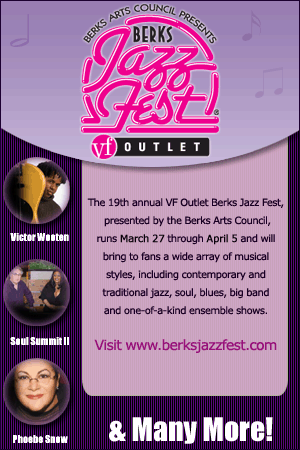 The Berks Jazz Festival, in my humble opinion, is THE best annual jazz festival in the country. It is 10 fabulous days of absolutely fantastic music, and is the epitome of what festivals should be to any "smooth" jazz fan. I was only fortunate to enjoy the last weekend of this 10-day music festival, but what I heard equaled what I missed.
I intended to just write about one of the concerts I witnessed, but my entire time there was just so fabulous, I've got to say more!
During Friday night's "Soul Summit" concert, Richard Elliot's version of Sam Cooke's rendition of "A Change Is Gonna Come" brought many to tears, as did Jonathan Butler's version of "Everything's Gonna Be All Right". You just had to be there…
One of the Friday night concerts was performed at Gerald Veasley's Jazz Base bar. Bobby Lyle on keyboards and B3 Hammond organ, and Paul Jackson, Jr. on guitar, performed a fantastic tribute to Jimmy Smith and Wes Montgomery, both of whom would have been proud to hear their music performed so well. "Bumpin' on Sunset" was so perfectly done, I thought Wes himself was on stage. Their renditions of "Blues for Dexter" and "'Round Midnight" were also superbly done. Mark Prince on drums added his own flavor to the set.
More unexpectedly was the unannounced, impromptu jam session later Friday night. Most of the artists who had already played during that day, took time out to jam at the Jazz Base late Friday night. Who showed up? Rick Braun, Richard Elliot, Jeff Golub, Maysa, and Bobby Lyle and Paul Jackson, Jr. returned, along with so many others.
The Saturday night concert with Boney James was Boney at his usual best. From the opening song "Total Experience" to "Butter" to the encore performance of "Grazin" was absolutely soul stirring. Can you say… gotta get up out yo' seat?
Saturday night's concert later back at Gerald Veasley's Jazz Base featured Chuck Loeb, Gerald Veasley, Randy Brecker and many other great artists. So much music… so little time!
On Sunday afternoon, David Benoit performed to his usual outstanding level. From "Wild Kids" to "Beat Street" to "Linus", in addition to many more unplanned songs in between, and an encore after, Mr. Benoit performed his music at its best, from old to new.
We're not done yet, folks! More music by Warren Hill came after David! Warren played cuts from his new CD, including 'La Dolce Vita'. Warren also added impromptu songs to his line-up, which is why I LOVE the Berks Festival. Artists are free to improvise, rather than be restricted to just the "standard". Also, Warren's insight into the renewal of his wedding vows on "Little Dix Bay" in Virgin Gorda and references to his shoe size, were quite amusing.
The finale concert with Rick Braun, Richard Elliot and Jonathan Butler leaves me with few words. PHENOMINAL!!
The Berks Jazz Festival is, as I said in the beginning, one of the best, almost unknown, jazz festivals to attend. Next year will be the 20th anniversary of the festival. I know it will be "Off the Chain!" All I can say is, Be There or Be Square. You won't want to miss it. If you want to know who's been there in the last 19 years, go to the website http://www.berksjazzfest.com/ticketedevents.htm and click on "Past Performers". You'll be amazed to see from where this "little" festival started!
Mark your calendars now for the 2010 festival. And sign up for your free newsletter at www.berksjazzfest.com.
Thanks again to John Ernesto and the numerous volunteers that make this event happen each year. You are the bomb!! This festival couldn't happen without your support! Thanks, again!
–Marilyn Coleman – Columbus, Ohio
Berks Jazzfest Concert Review – Sevren Records Soul & Blues Review (w/Big Joe Maher/Steve Guyger, Tad Robinson & Sevren Records All Stars) @ the Inn of Reading, 3/27/2009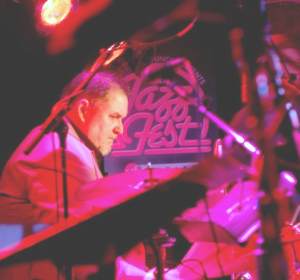 Sevren Records is an organization that I have long been familiar with, since meeting them at the Baltimore Blues Festival in 2004. I know them best as an independent record label promoting blues and soul music. I had no idea that they were really a "time machine", that transformed the live setting @ the Inn of Reading Ballroom into a a mid 1950's – mid 1960's "juke joint." This show was one that started out weak and then picked up an incredible amount of steam.
Big Joe Maher is a great modern day interpreter of the jump blues idiom led things off, backed by the Sevren All Stars. However using however using Philly blues harmonica player and singer Steve Guyger, as the front man was a mistake. Guyger tried to employ a mix of "Chicaqgo Blues" & "Jump Blues as the lead singer of this aggregation for the first several songs. Unfortunately neither his singing nor harp playing was up to the task, either on the slow or the fast songs.
Thank Goodness Big Joe Maher himself took over the lead vocals for "All Night Long." With the addition of a stank nasty horn section along with Big Joe on vocals, this group did a total "180′ and started sounding like a re-incarnation of the Tymphny Five, Big Joe sat behind his drum kit and delivered the goods. Big Joe was smokin' sitting behind his drum kit as he pounded out that back beat and sang in a manner reminiscent of another "Big Joe" (Turner) from the past, as I half expected him to start belting out "Caldonia" or "Flip, Flop & Fly" at any moment. Instead it was phat & phunky rousing versions of "All Night Long", "Since I Met You Baby", "Monkey of a Limb" (dedicated to the late "Mad Dog" Davenport) and another song I couldn't identify. All of which made me ponder "Jump Blues" as the direct pre-cursor to the creation of "Rock n' Roll."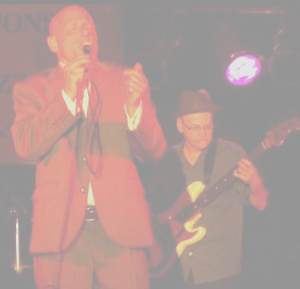 Next up was the Midwestern based "soul/blues" (southern soul?) singer Tad Robinson, an artist ("A New Point of View") that we have reviewed in the past. I was anticipating a fierce set of hardcore R&B, and I wasn't disappointed. Robinson is a multiple Handy Award nominee for good reason. Here tonight in a non descript hotel ballroom in suburban Reading, PA he gave a demonstration of just what a little thang called "Rhythm and Blues" is supposed to sound like, just in case you have been stuck listening to "terrestrial radio", and may have forgotten!
On song after song Tad Robinson is so damn good, sounding like a cross between Luther Ingram, Syl Johnson & Tyrone Davis on vocals, while the very same "Severn All Stars" minus Big Joe on drums, pounds out the mid to lat 60's Chess Records style instrumental backing. On songs like "How I Miss My Baby", "Good & Bad", "Pocket Full of Nuthin" and more, Tad Robinson kicked both his great singing voce and harp playing. Sitting there with my eyes closed, it's hard to imagine Tad Robinson being anything but a Black man. However Tad Robinson is truly an anomaly, with his "whiter than white" face & bald head. One of the complaints that I often hear whispered about "white soul and or blues singers", is that "they haven't suffered enough." Well as Tad Robinson worked the crowd and got closer to where I was sitting, I notioced a cut just below his eye and remarked to ELP (who was sitting next to me; "It looks like he got sucker punched a few hours ago, I think that he has suffered enough."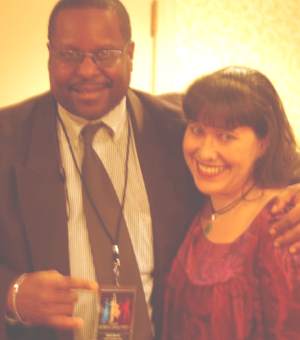 A few minutes later the familiar strains of the great Cornelius Brothers and Sister Rose hit song called "Too Late" were emanating from the band. Tad Robinson took this classic soul monster and turned this suburban hotel ballroom into a stone cold Carolina Beach dance hall to end his set.
Unfortunately ELP & I had to leave to attend a show at a different venue after Tad Robinson's set, so we missed the rest of the Sevren Records Soul & Blues Review , but I got news for all of yall,. If Sevren Records isn't on your radar it needs to be. If you want the real deal (HARDCORE R&B) you really don't have to look much further, than this tiny label out of Baltimore, that's doing a fantastic job of truly extending the legacy of R&B music into the future.
–Bob Davis
Victor Wooten + JD Blair, 3/27/2009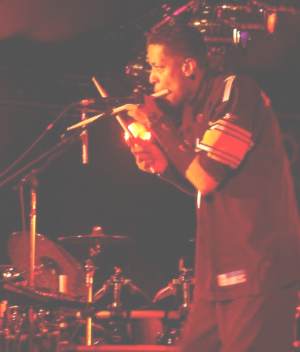 THE standout show/performance of this weekend and I daresay the entire festival would have to belong to Victor Wooten and drummer extraordinaire J.D. Blair.
Now this 'standing out' actually is for both good and bad. I'll save the best for last. I guess for me a cat like Victa, who by the way aint among the minions of fake groups and such out here, might want to inform those to whom his people are selling tickets, that this performance is part of a special tour event. This event is not your usually expected Victor Wooten thoedown with his brother and Derrico Watson et al.
This is a special duet sort-of-virtuoso type of thing you might've seen with Ron Carter and Herbie Hancock or Chick Corea and Herbie or maybe Mahivishnu John McLaughlin and Billy Cobham.
You know what to expect and those whom are interested will pay for it. Unfortunately no one expected what they saw but fortunately for Vic and J.D. there were no complaints that I could hear of.
Personally I felt it a little self-indulgent on any level. I love all of the killer basses but I never though of the bass as an instrument as a tenor guitar, responsible for melody and such. It's been said that if these cats want to play all of that melody, why don't they just play a guitar?
My sentiments exactly as far as the five six and more string nation. Victor Wooten by the way, could never disappoint because he's just that mean on his instrument. It's evident that his time spent in the woodshed paid off in spades as he is one of the greatest to ever play the instrument. He is well-respected by his peers so it's no surprise that he could pull this off.
He and J.D. had a good old time trading licks, lies, sequenced meanderings, funk shots and just whatever came into their heads since this is a performance that is spontaneous in every conceivable way. That takes courage, chops and vision. Kudos to Victa and J.D. for that. I'm just not that guy, I guess. If I knew I'm not so sure that I would've
been one to buy a ticket.
This crowd like most of Victor Wooten's shows was mostly male and musicians. Specifically this was a crowd of bass players and maybe some drummers (cause we always marvel and gush over bass players). The problem here was that the fragmented bits and pieces of genius strewn across the stage of the Crowne Hotel Ballroom never seemed to coalesce into any sort of purpose or coherence. As soon as one locked into something they were playing they'd either stop or embellish to the point of what they were playing became unrecognizable.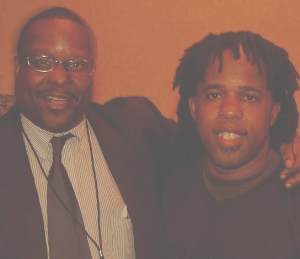 For me if there's a bassist and drummer in the house I'm looking for some nice grooves to sink my teeth into. When they start sequencing things doesn't that defeat the point? Like maybe this isn't REALLY an all bass n drum show? Maybe it's just me.
At any rate that was their performance. Full of snippets of this and that. Afterwards he informed me and Earthjuice (whom already knew this was going to be the gist of this performance) that this was the last stop of this tour. In some ways we were all gifted with improvisational genius at work and may never be privy to such ever again. For that I'm eternally grateful. It just lacked something for me. J.D. Blair is a wonderful and fully engaging cat. It seemed we could talk for hours. Totally humble and unpretentious. Victor is equally as cool and unflappable. A real loving, spiritually serene cat without being a pain in the ass about it.
He's a cat that I'd love to spend time with. He's one of those cats that when you shake his hand he pulls you into him for a hug too. Always my kind of cat.
Sorry y'all wont be able to form your own opinion about this because it's over. For most of your "Victa-teers' out there it's back to your regularly scheduled programs. For many of you that's a shame.
Hire A Band
Peace
LP

Gerald Veasely and the All-Star Tribute (Joe McBride, Nnenna Freelon, Najee & more) to the music of Stevie Wonder, 3/28/2009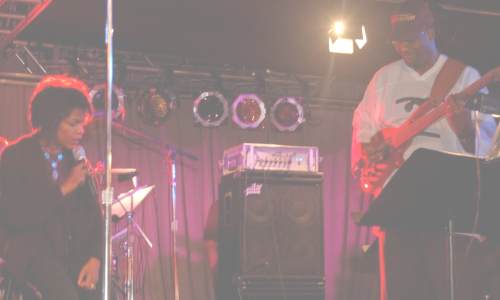 This show was more like a revue but don't think the JB or Tina Turner type revues of yore. This was far more mellow and groovy than that. It featured the likes of Najee, Nnenna Freelon, Joe McBride and of course Gerald Veasely.
Gerald is also the linchpin of this event what with his club Gerald Veaseley's Jazz Base serving as the actual home base for much of what goes on during this festival.It's located right inside of the Crowne Hotel. He also has (running concurrently with this event) a bass boot camp going on as well. Methinks that may be why the Victa thang was so well accepted in spite of it's unorthodox presentation. There were bass players to the left of me and bass players to the right of me. These cats were literally all over the place.
Mr Veasely also brought along a couple local guys whom both played integral parts in the overall scheme of this performance.
One of which was James 'Biscuit' Rouse, one of Philadelphia's most sought after drummers, and Chris Farr sax player and the apparent musical director for this aggregation of heavenly bodies. This show started promptly at 10:30 (like Victa's) and the crowd was totally different from the 2:00 Gerald Albright/Kirk Whalum experience reviewed earlier.
The fully packed house was treated to an opening of All I Do. Gerald Veasely, while not the musical director was the bandleader. This is evident because all of the tunes sort of revolved around him Say I'm a hater but I just don't expect bass solos in every tune. Just like you can't be giving the drummer some all night. Hell then we don't know how to act when folk stop giving it to us! This was a nice stomping show opener: typical of smooth jazz in it's mellow
tone and sax lead that maintains the vocal line as melody while snaking in and out seductively.
Next up was Don't You Worry Bout A Thing. Nothing special but a nice cover.
Higher Ground – another stomper but again nothing special. It's always best to stay safe with Stevie in a cover/pop/r&b setting because anything else might prove too complicated in the long run. When it comes to straight ahead jazz though all bets are off.
Where Were You When I Needed You?- Joe McBride sang this one like it was literally his own. He crushed it and the band's playing reminded me how much I miss this tune.Very nice.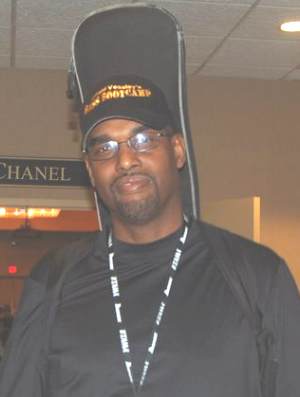 Lately- remember what I just said about 'straight ahead'? Well it was at this point that this whole thing got ratcheted up a notch. It's moments like these that these sort of events were created for in the first place. The display of jazz in a live yet intimate enough setting that all in attendance can actually feel what's going on. This is the Nnenna Freelon part of the show and it was truly wonderful. She informed me that the arrangements on the songs she was to perform were also available on CD. The flow was mellifluous. Candlelight and wine kind of music.
The Tears Of A Clown- This was a solid if not moody arrangement of the Wonder penned Smokey classic. It always tickles me to know that this song was written by Stevie Wonder. Very nicely done.
My Cherie Amour- Another smoking ace. Nnenna Freelon has a wonderfully lilting voice that captures all of the modulations that she's fond of using in her arrangements. That stuff aint easy but she nails it perfectly every time. Gerald Veasely's many solos are again more than necessary but I'll say this; his bass lines in the body of the songs are solid,reliable and strong. You definitely know he's there but not as loud as one might think.It is he that
was the mood creator all night. Not Ms.Freelon nor Joe McBride or anyone else. This tune had a nice Hubert Laws-y flute solo complementing Ms. Freelon.
Always-Najee- what smooth jazz should be. tantalizing with an excellent solo. Contusion- straight fusion. Do y'all remember this one from songs In The Key Of Life? They KILLED it. Full of solos from just about everyone. You can tell they were well warmed up now, all full of piss and vinegar. Snarling and whatnot. When was the last time you heard Stevie perform this tune?
I Wish- another long-armed funk workout featuring (finally) a truncated but very creative drum solo from James 'Biscuit' Rouse. He basically played the whole thing sans sticks.
Finale- Do I Do- the pots on, the flame's high and these cats are BURNING! Helluva intro too! Then they rolled right into a couple bars of Maxwell's Ascension which was an excellent set up for Another Star then into a rousing Sir Duke. Superstition was at this point like some religious experience (you had to be there) and it was the encore.
All in all a top notch show which I heard much of during the soundcheck/rehearsal. It was much, much better the show time around.
Hire A Band
Peace
LP

4/4 – Berks JazzFest – Oh What a Night…….(damm't Kev it's almost 4am!!!)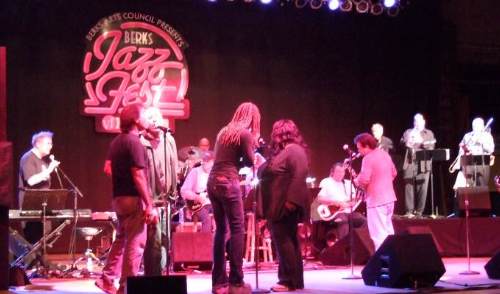 Well it's now 9am, but that's what I was saying last night as we arrived back at the hotel after dropping Marilyn off at her car in the hotel parking lot @ 3:56am…
Who is Marilyn?
Why were two elderly black men up at 3:56am, in a hotel parking lot?
Well the day actually started off driving thru a god awful storm in New Jersey, and then into Berks County, PA where the sun was shining brightly, when we arrived just in time for the Soul-Summit II Sound Check @ 2pm .
1. Soul-Summit II Sound Check – As with all of the rehearsals I have ever attended, these are where the REAL legendary performances and "moments frozen in time" occur. This "sound check" was over two hours long. and for me watching Jason Miles "orchestrating", great artists like Bob Babbitt (legendary Motown "Funk Brother"), the great song stylist "Maysa Leek, the legendary Soul Survivors ("Expressway to Your Heart"), "Simone" (the daughter of Nina Simone), Richard Elliot (the most popular sax player on the contemporary jazz scene. And then watching legendary drummer Stephen Feronne (Brian Auger, AWB, Duran Duran, etc.) stopping the action during the song "Pick Up The Pieces" and instructing everyone on how to "correctly" play the song.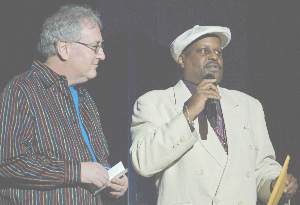 2. Introducing (& surprising) Jason Miles @ the Soul Summit II Concert – Kevin Amos & I went back and got all "pimped out" for the show. I was scheduled to introduce Jason Miles onstage to the audience, but I decided that I would add in addition to just stage announcing, to formally present to Jason all of the Soul-Patrol awards he has won over the years (Marvin Gaye, Grover Washington & Miles Davis Tribute albums, the Soul Summit albums & concerts, and the Global Noize albums & concerts. I was able to pull this off with the assistance of Jason's wife Kathy, the stage manager and several others backstage. I was able to present Jason with all 5 of his Soul-Patrol.com awards "Olympic gold medal style" and as a result he looked like Micheal Phelps, by the time I got thru with him.
3. After The Soul Summit II Concert – The show itself was off the chain and backstage the musicians were wiped out. By this time our friend Enorman and his associate Marylin had arrived from Columbus Ohio and were now backstage as well. We ran into numerous artists, producers, managers and just plain folks from around the country who know us and met others and made some new friends. Then it was back to the Reading Crowne Plaza for the the "Sax Pack", featuring Jeff Vkashiwa, Steve Cole & Kim Waters (fairly boring "smooth jazz"). We left and were about to call it a night, but then..
4. Bobby Lyle @ Gerald Veasey's Jazz Base Club – ..Then we wondered into Gerald Veasey's Jazz Base Club elsewhere in the hotel and lo & behold Keyboard/B3 master Bobby Lyle and Paul Jackson Jr. were holding forth, was at the tail end of doing a tribute to Wes Montgomery and Jimmy Smith and playing "THA REAL FUNK." Talk about givin lessons and taking no prisoners!!!
5. "The Jam" @ Gerald Veasey's Jazz Base Club – This was exactly what my concept of a jazz festival is all about. Soon after the Bobby Lyle set concluded, we decided that we were famished and wondered the hotel looking for something to eat. Unfortunately all of the restaurants in the hotel were now closed. So it was back to Gerald Veasey's Jazz Base Club, where we thought that we might be able to get some food. Instead what we got was some smoking hot "soul/jazz" featuring Rick Braun, Richard Elliot, Mitch Foreman, Jeff Golub, Maysa, Bobby Lyle, Rickey Lawson and others, served up on a silver platter called FUNK. They tore the roof off the suka with covers of songs like "Sugar", "So What", "Summertime", "Cold Duck Time" & more. All of these covers, especially as done by this group of artists was truly some "gonorrhea style burning funk.." Cold Duck Time in particular was extended into about a 20 minute extended jam and brought back memories of my parents doin the boogaloo in our living room in the projects.
6. After the JAM was over, Marilyn suggested that we hook up with some brotha's who knew of an all night diner. We went and not only found to "late night grub", but also found ourselves in a most engaging discussion about Jazz, culture, the Berks County economy and other things @ 3am that helped us all make sense of the current state of these here United States.
And that is how a couple of elderly Black men ended up in a parking lot at damn near 4am….
–Bob Davis
Soul Summit II At Berks Jazz Fest 4/3/2009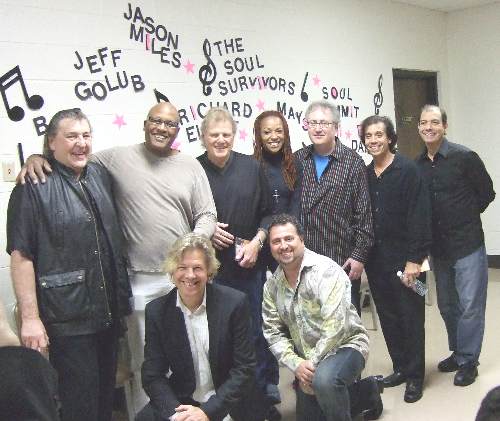 Jason Miles is an amazing individual. While I didn't get the chance to interview him, I did watch him work and interact with folks.
Putting together a performance is an art. It is not an easy thing to be a producer. The end result, which is the actual performance in front of an audience, can be a success or a flop. Execution from the performers and the excitement of the audience contribute to that.
I have sat in many rehearsals as a performer and as an observer. To watch the Soul Summit led by Jason Miles come together for the Friday evening performance at the Berks Jazz Fest is like viewing a painter working on canvas. The rhythm section, the horn section and the vocalists are truly amazing. To witness musicians melding together to reach a common goal is so exciting and the performance in Reading was no disappointment.
The Berks Horns, the Soul Survivors, Reggie Young, Bob Babbitt (my homie from Pittsburgh), Jeff Golub, Steve Ferrone, Richard Elliot, Eric Darius, Simone and Maysa along with Jason came out and smoked for a 15 tune set.
Before this all went down our own Bob Davis gave Jason six awards from Soul Patrol for his great work. Jason said to the crowd that he felt like Michael Phelps receiving all those medals! Bob also told folks about Soul Patrol and brought the band on.
Now we had brought Nightrain with us but he was hanging out with some of his old schoolmates there in Reading and was too occupied with them to make it to the show. (Some folks you can't take anywhere!)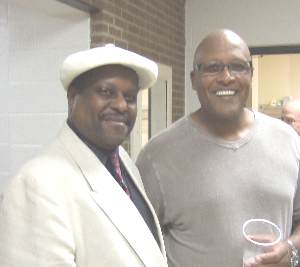 Ok, ok…the show. Starting out the set was the tune Shamading featuring Jason, Reggie and Jeff. The 900 plus audience at the Scottish Rite Cathedral was enthusiastic. Uh oh…the next tune was Dippermouth and Jason introduced alto sax man Eric Darius.
Oh lawd…Eric can blow and he did not let the crowd down. Jeff Golub took center stage on the classic Eddie Harris tune Cold Duck Time. Now a lot of folks may think that Jeff is just a mediocre player but wait a minute folks…the boy is badd!! This was the first time I had ever seen him perform live and I later witnessed him at the late night jam session. I had to pull him to the side to tell him how much I enjoyed his playing.
Now it was time for the singers to come forward. The Soul Survivors came out and had the crowd nodding theirs heads with Wrap it Up. Reggie Young and the horn section were smoking as well. Next the lovely Maysa came out with Richard Elliot and did Love/ Foolish Things. Maysa then went Old School with the band and did the classic Let's Stay Together. By now the crowd is really enjoying themselves with evidence being Marilyn, Enorman's friend from Columbus, who was setting next to me. Now we're into some classic Soul and Eric Darius returns to the stage to do Knock on Wood. One again he blows it out. Ahhh sookie, sookie now… it's now like you are back at the corner bar in the 60's as Jason, Eric and Jeff solo on Coming Home Baby.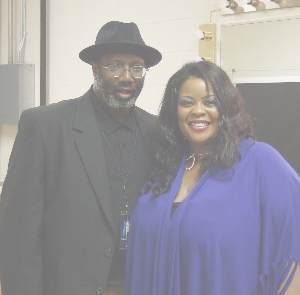 About right now you are ready for some Cold Duck, Old Granddad, Ripple or something, you know? Simone, the daughter of Nina Simone, is a very talented and capable singer. (How could she not be?) She steps up to the mike and delivers a great version of Ain't No Sunshine with Jeff Golub also taking the spotlight. Simone stirs the crowd again with Love & Happiness joined by that wicked horn section and the Soul Survivors. Now all during this set we have that fantastic rhythm section holding it down.
The crowd and the band is movin' and groovin'. At this point it's time again for Richard Elliot as he tears it up on Rock Steady, augmented by the vocalists of course. What it is what it is! Richard is another artist who I used to just play off until I saw him perform live this past summer. He steps up and does an excellent solo on A Change Is Gonna Come. The Soul Survivors who are featured on some of Angel Risoff's work take me back to when I was growing up. Jason worked in the tune Expressway to Your Heart, one of their big hits. Wow!! The maestro, Mr. Miles, did a tune dedicated to the future…our kids with a tune called Give It to the Kids and that brought us to the finale Pick Up The Pieces. The solos featured Steve Ferrone, the Berks Horns, Richard Elliot and Eric Darius. Of course it had that funky bass and guitar work too! Jason painted a great mural with the help of his friends and the crowd loved it.
Kevin Amos tha Funkoverlord

A Few Thoughts on The Berks JazzFest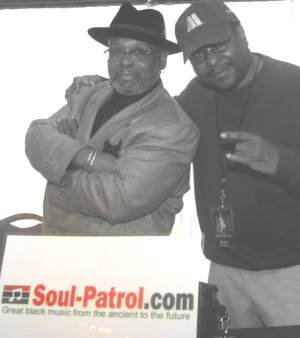 As you all are aware last weekend, Soul-Patrol covered the first weekend of the Berks JazzFest last weekend. This event is probably the largest jazz festival in the United States, running for 10 days, over the course of 2 days, featuring both big name and yet to become big name artists of course playing to big crowds. Just take one look at the artist line up at the following link & you will see what I mean: http://www.berksjazzfest.com/ticketedevents.htm
We will be back this weekend to do more of the same. In fact we will be doing even more, simply because yours truly will be the emcee of the "JASON MILES PRESENTS: SOUL SUMMIT" show on Friday April 3 @ Scottish Rite Cathedral (featuring: featuring Maysa, Simone, Richard Elliot, Jeff Golub, Eric Darius, Bob Babbitt, Reggie Young, Steve Ferrone, and the original Soul Survivors, plus the Berks Jazz Fest Horns).
We are glad to be on board, that's because we aren't just there to write reviews or to conduct interviews. Folks that we know and folks that we don't know stop by the booth, to talk music, to talk about the website or simply just to talk. Soul-Patrol is there as a major presence at the festival and our presence is a part of something much larger than the text/audio that results from our presence.
The term "Jazzfest" is something of a misnomer for two reasons:
1. Most of the "jazz artists" at the event are really "smooth jazz artists" and depending on your perspective, may not actually be "jazz artists" at all.
2. Probably about 1/3 of the artists can't even be called "smooth jazz artists", they are truly R&B (ex: AWB) or Funk (ex: Victor Wooten) or "Pop" (ex: Phoebe Snow) or "Blues" (Severn All Stars) artists.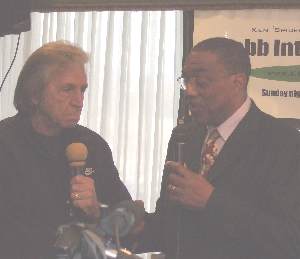 Therefore the line up af artists is "musically impure", at least based on the title of the event. Rather than use the term "JazzFest" a more accurate title would be something along the lines of "A Contemporary Overview of Popular Music Originated By Black Americans." Given that description, Soul-Patrol's presence becomes completely understandable and in fact absolutely required.
The Berks JazzFest will be celebrating it's 20th year next year and in many respects it's successful track record has to be viewed with some level of amazement, especially given it's location in Berks County PA. Reading, PA is an area that I have personally been involved with for almost 35 years, given that my in-laws reside there. Taking a drive thru the city, visually it is one of the most economically depressed areas that one could imagine, not unlike ghettos found in places like Camden or the South Bronx. Taking a drive thru the suburbs, the familiar suburban sprawl of shopping malls, fast food joints, etc. is much the same as any other suburb in the United States. Go just beyond the immediate suburbs, but still within Berks County and you will find yourself in what is actually a part of what city guys like me call "Pennsylvania Dutch Country" (the home of the Amish.)
So Berks County PA is really a microcosm of America. It is "urban", "suburban" and 'rural" all at the same time, since you can drive from one end of the county to the other in about 30 min.
Most of the venues for the festival are concentrated in the suburban area of Berks county, not far from the world famous VF Shopping Outlets (also the prime sponsor of the Berks JazzFest). Therefore the festival itself can be thought of as a place where the "urban", "suburban" and "rural" components of the United States are brought together not only musically but also culturally as these three components of the American society come face to face with each other in a positive environment. I'm not sure if this was the intent of the JazzFest organizers, however that is the result. That result is all good, creating situations like a couple of "city slickers" ordering chicken wings from an "elderly Amish waitress." 🙂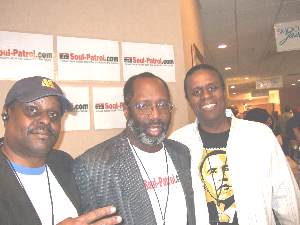 Make no mistake about it, this is a total community effort, fuled not by "big government", but instead by literally hundreds of volenteers (just plain folks) who can be seen wearing their yellow t-shirts, providing everything from directions to security all over town. It's a "community" that I suppose that Soul-Patrol is now a part of.
My view is that America has been segregated for far too long, and it's time for that segregation to end. I realize that we have laws to prevent it, however what I am talking about goes beyond laws. George Wallace once said that "you can have all of the laws you want, but white people will always enforce segregation in their hearts."
The musical content of the Berks JazzFest isn't "musically pure" and neither is the cultural content. It brings together musical elements that may not always be presented together and it brings together people who may not always be used to sitting next to each other. It kinda/sorta looks like the 2008 Democratic National Convention, populated by the "urban", "suburban" and "rural" components of the United States. Make no mistake about it, we have seen many integrated families & couples not just at the JazzFest, but all over town. It looks a whole lot more like the America of the future as opposed to looking like the America of the past.
It's the biggest/baddest jazz festival in the United States. It's held in the boondocks, yet it's focus is 100 percent on Black music, it's put on by a bunch of country folk, the crowds are integrated and friendly. It's full of anomalies at every turn. It's been around for 20 years and very quietly it's been doing what our politicians & business leaders have failed to do. It has achieved integration of "urban", "suburban" and "rural", done so in an economically depressed area and it uses Black music as the method of doing so. The end result is a "grand social experiment" that succeeds mostly because they don't bother to tell anyone that they are a "grand social experiment." They just do the work, get the results and let others sit back and wonder what to make of all of these "anomalies."
Clearly this is a community that is thought of as being "backwards", but is actually far more "progressive" than anybody would normally give it credit for. And at the end of the day, that is why it is so important for Soul-Patrol to be a major part of this movement. We respect the music/culture of the past, however most of our focus is on the music of the future. We want to be proactive in shaping exactly what that music is going to be. We want to have a seat at the table. That is the reason why we do much of what we do. Clearly that is also the intent of the Berks JazzFest. And we are happy to participate and help to facilatate this "grand social experiment", disguised as a "jazz festival."
–Bob Davis
http://www.berksjazzfest.com/ticketedevents.htm
Click here to enter your suggestions