Bill Graham
In the near quarter century since Graham was killed in a helicopter accident, his legacy, like so many critical figures in music, has largely been swallowed up by larger corporations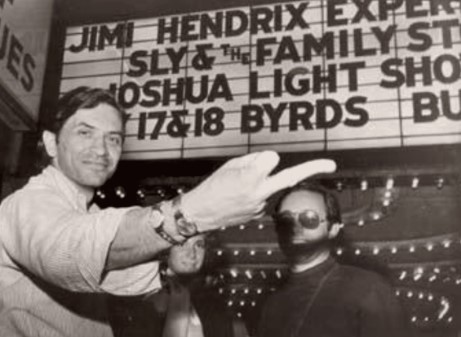 Editor's Note: As a teenager growing up in NYC, Bill Graham's voice was one that I heard frequently on the radio. Of course, as a regular listener to the Alex Bennett Show (first on WMCA and then later on WPLJ,) Graham was on the air incessantly. Back then I just thought of him as someone who was a highly opinionated "patron of the arts," as the owner of the Filmore East. What I didn't realize at the time that he was a master promoter," who had figured out how to use the media long before everyone else did. If he were around today, no doubt he would be known as an "influencer" of the first order! (Bob Davis)
"A bunch of years ago a couple of geniuses put on something called Woodstock Festival. It was a tragedy. Groups recognized that they could go into larger cattle markets, play less time and make more dollars. What they've done is to destroy the rock industry."
Bill Graham, NME, April 1971.
Today will be the day when the rock 'n roll intelligentsia celebrates birthdays for the usual suspects, Elvis Presley, "Little" Anthony Gaurdine and David Bowie, as well it should. HOWEVER, I wish to call attention (again) to an absolutely CRITICAL rock 'n roll birthday that shouldn't go unacknowledged.
Born Wulf Wolodia Grajonca, he was an escapee from Nazi Germany during the Holocaust at 10 years old, one of the One Thousand Children (OTC), those mainly Jewish children who managed to flee Hitler and Europe, and come directly to North America, but whose parents were forced to stay behind. He came to the states and settled in a Bronx foster home, where, using a phone book, changed his name to who we all came to know as "Bill Graham" (he kept his nickname "Wolfgang" throughout his career). He graduated from Dewitt Clinton High School and got a business degree from City College. He was drafted into the United States Army in 1951, and served in the Korean War, where he was awarded both the Bronze Star and Purple Heart.
After a brief time waiting tables in the Catskills, he left NYC to manage the radical San Francisco Mime Troupe. The troupe leader was arrested on obscenity charges and Graham organized a benefit concert to cover legal fees. The success of the concert set him in motion to continue promoting concerts and political events such as peace movements, civil rights, farm workers and other causes. Early events were hosted at rented venues until Graham partnered with Charles Sullivan, African-American owner of the master lease at San Francisco's famed Fillmore Auditorium (to much legal contention from the Fillmore community), and history was made.
The Fillmore would become the launchpad for San Francisco's counterculture and many of the most iconic figures in all genres of American popular music and culture: Jefferson Airplane, Big Brother & The Holding Company, Country Joe & The Fish, Lawrence Ferlinghetti, The Committee, The Fugs, Allen Ginsberg, The Grateful Dead, Paul Butterfield Blues Band, Santana, and Tower of Power, among many others. Along with the long defunct Fillmore East in Manhattan's East Village, Graham had a hand in many of the nation's most iconic pop music festivals, performers and performances in the history of modern music (including the legendary, idiosyncratic pairing of Neil Young & Crazy Horse with Miles Davis' debut appearance with his electric ensemble). Graham was the prototype of everything the business of rock 'n roll has long since become (for better AND for worse).
In the near quarter century since Graham was killed in a helicopter accident, his legacy, like so many critical figures in music, has largely been swallowed up by larger corporations (the remnants of Bill Graham Presents are in the bowels of Live Nation). Today's rock 'n roll fan would probably have no connectivity to a Bill Graham outside of his name on the rechristened Civic Auditorium in San Francisco or, perhaps, the proliferation of the brand "Fillmore" on several Live Nation venues. But his fingerprints on MUSIC are indelible. His dedication to MUSIC undeniable. he is everything I aspire to be as a music producer (without the stranglehold monopolies and innumerable conflicts of interest). This demands respect…
He would have been a landmark 90 years old today. Blessed born day, Mr. Graham…