Billy Stewart – REVIEW – Fatboy: The Billy Stewart Story
Billy Stewart – REVIEW – Fatboy: The Billy Stewart Story….PBS..8-26-22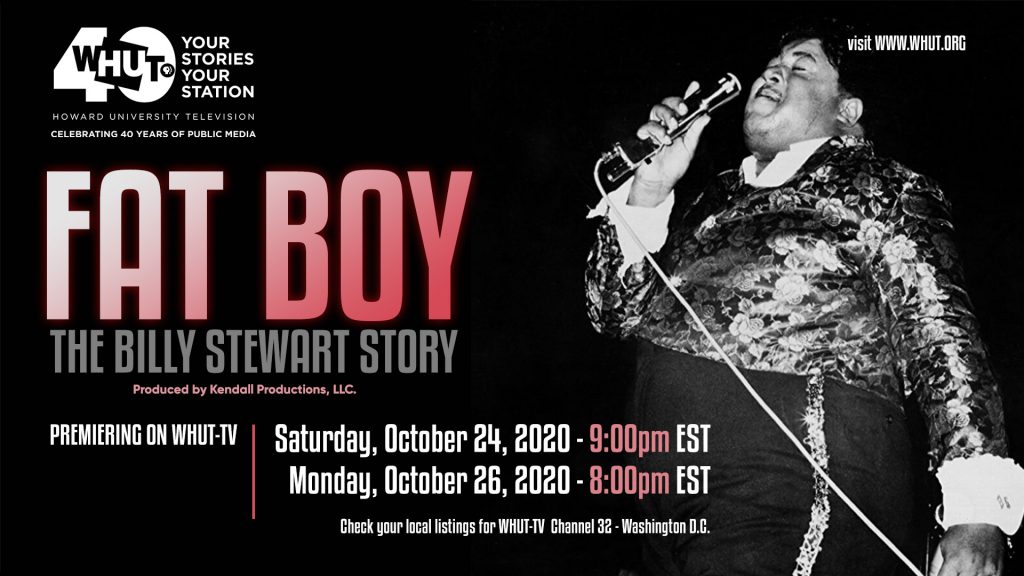 REVIEW – Fatboy: The Billy Stewart Story….PBS..8-26-22
By Lawrence Perry
Last night I had the pleasure of watching the PBS documentary on the life of Billy Stewart.
It was well produced and reminded me of the cable show Unsung.
Unfortunately, available audio and video on Mr. Stewart is evidently scarce and this program suffers a bit in spots for it.
However, the content well makes up for any lack archivally speaking.
Let me take a moment here to shout out some of the great Black broadcast voices of Philadelphia.
This production was narrated by the great Charlie Neal, former WDAS air personality.
He along with the likes of Gerry Wells, Gary Shepherd and Jimmy Bishop's son James Bishop are the voices you often hear either narrating or providing voiceover for many broadcasts we view, never thinking about who's narrating.
Mr. Stewart like Marvin Gaye was born and raised in Washington DC and similarly got his start singing Gospel Music in church under the guidance of his mother.
He combined with his brothers to form The Stewart Bros. and they performed at all the local church and Gospel music events locally.
In fact, they were so good they had a weekly show on Black radio station WUST.
He was a bit of a prodigy beginning to play piano at 8 yrs old.
By the time he was 18 he was playing piano in Bo Diddley's band and worked with him for 7 years
It was during this time that Diddley took Billy on the road, taking him to Chicago where he introduced him to Leonard Chess and his Chess record label.
While Billy's earliest Chess records efforts were fruitless, it was when he met and blended his talents with Chess A&R man Billy Davis his career began to take off.
We are all familiar with the hits like Summertime and I Do Love You.
But how would you describe his unique scat-a-tat-tat vocal attack?
Well, our old friend Mike Boone the Chancellor of Soul describes it succinctly; 'word doubling combined with the influences from his love of calypso music…'
His style was original and unlike anyone else singing R&B at the time.
His shows were exciting and he always had a full band. He may not have had performances like a James Brown or Jackie
Wilson but his bands were well rehearsed and tight as a fist.
His leadership was exacting.
Unfortunately, Mr. Stewart's problems with obesity and the attending illnesses like diabetes plagued him throughout his life.
This led to poor self-esteem and insecurity so palpable it found its way into the lyrics of some of his tunes like Fat Boy, A Fat Boy Can Cry and Cross My Heart.
I think Mr. Stewart unwittingly gave a lot of plus sized brothers hope with his tunes.
One thing's for sure the Latinx community has surely been influenced not only by Billy Stewart but by the sexy Soul of Philly International as well.
Paul Benavidez of the Latin Funk band Malo and Trish Toledo are ardent supporters of Mr. Stewart's music and both have recorded covers of his music.
Even James Funk of Go-Go Band Rare Essence is in on the love.
Some things come full circle as Billy Stewart represents Washington DC Doo Wop/Gospel/ Soul/R&B of yesteryear and James Funk represents the same today through Go-Go music.
Mr. Stewart died young in a tragic auto accident on his wa to do what he loved most: performing.
Aside from The Chancellor there's a rare sighting of the great Sugar Pie Desanto discussing tunes she wrote for Billy as well as her take on his super soulful singing and word doubling technique.
I believe you'll be entertained as well as educated by this excellent documentary
Billy Stewart – Fat Boy Documentary Trailer
Press Release – "Fat Boy: The Billy Stewart Story"
Washington, DC, September 4, 2020- The charismatic and electrifying Billy Stewart is considered one of the most prolific and stylish rhythm and blues singers of the 1960s. "Fat Boy: The Billy Stewart Story", a documentary,
produced for PBS broadcast will premiere on WHUT-TV Howard University Television (PBS) on Saturday, October 24, 9:00 p.m. Encore broadcasts are scheduled for Sunday, October 25, 1:00 a.m. and Monday, October
26, 8:00 p.m.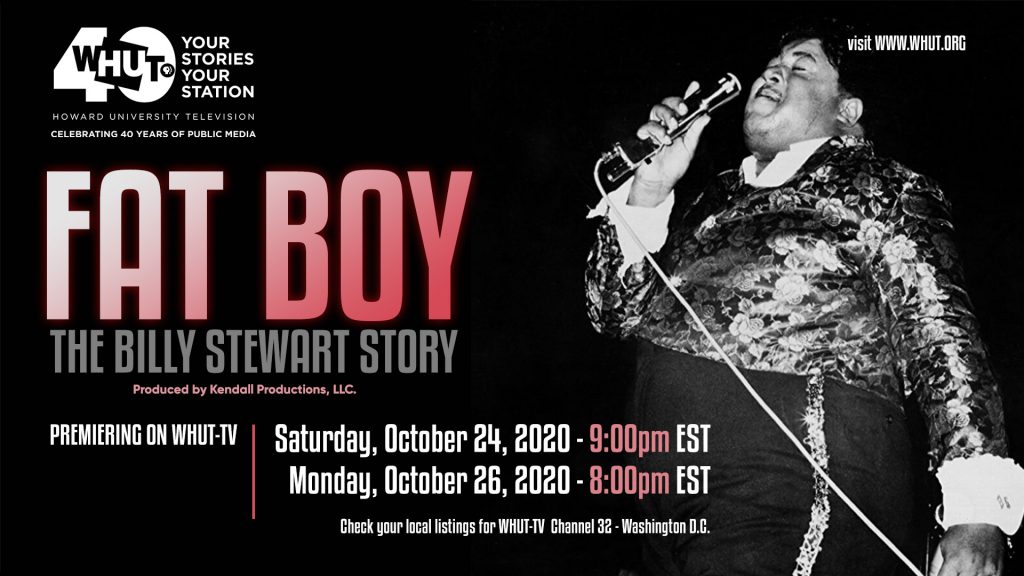 The documentary explores the journey of this incredible singer from his days as a young piano player to a famous R&B balladeer. His electrifying and unique style of singing was untouchable as he mastered word doubling and scatting throughout his songs and performances. His original hits include "I Do Love You", "Sitting in The Park" and his masterful remake of the Gershwin tune "Summertime".
Produced and directed by Emmy award winning documentary filmmaker Beverly Lindsay-Johnson through her company Kendall Productions LLC, under the fiscal sponsorship of the African American Music Association
(AAMA) of Washington, DC, the documentary is filled with exuberant imagery and actual footage from Billy Stewart's early years, including a special interview with "Little Anthony" of Doo-Wop legends, Little Anthony
and The Imperials, who recounts the 30-day cross-country concert tour he and Billy Stewart performed on the Dick Clark Caravan of Stars in the 1960s. An amazing and original talent gone too soon. Mr. Stewart was
tragically killed, on January 17, 1970 in route to a performance in Smithfield, North Carolina. He and 3 of his band members plunged into the Neuse River, killing all occupants as the car sank. "Never before seen" clips of 8mm films of Billy Stewart with his family, performing in various night clubs as well as his funeral service will be included.
A special closing segment titled "Keeping the Legacy of Billy Stewart" describes the influence Billy Stewart and his music of the 1960s has on contemporary artists of R&B, Hip Hop and Go-Go music
About Kendall Productions, LLC: A multimedia production company providing professional services in film,
video, entertainment management and consulting, and public relations.
Beverly Lindsay-Johnson is President of Kendall Productions, LLC located in Washington, DC. Beverly Lindsay-Johnson has 24 years as a seasoned documentary producer. She received the 2006 Emmy Award as Producer of the documentary "Dance Party: The Teenarama Story" (PBS). She has received 24 media awards for Broadcast Excellence for her productions at WHUT-TV Howard University Television in Washington, DC, and
her independent productions.
About the African American Music Association: AAMA was established to preserve, protect, promote and to foster the continued development of African American music and the legacy of those who compose, record, and
perform the music.