Black Ivory, Continuum, Classic Soul, Patrick Adams, Leroy Burgess, Dont Turn Around, You And I, New York, Today Records

Black Ivory, Continuum, Classic Soul, Patrick Adams, Leroy Burgess, Dont Turn Around, You And I, New York, Today Records

Album Review: Black Ivory – Continuum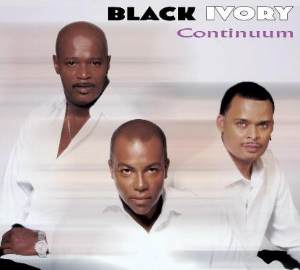 Some 40 years ago (damn! has it been that long?), I added, BLACK IVORY as one of the groups I came to enjoy in style and substance. "I'll Find Away" is among my all-time favorites of 'ALL' of the songs I like to listen to even today. The 'Industry' can be cruel to recording artists and thus, cruel to the fans of recording artists. They set their own criteria for what they are willing to support, I suppose, based on a bigger picture. I'm being kind. They kick to the curb what 'they' don't want or think is viable to their business 'objectives'. We have seen it repeatedly.So BLACK IVORY was yet another casualty of this 'process'. But NOW….
"CONTINUUM by BLACK IVORY" has come into being. A 'reunion' of sorts of the three young men, Stuart Bascombe, Leroy Burgess and Russell Paterson we embraced some 40 years ago. They have come a long way from, "Don't Turn Around", but in many ways, this album is reminiscent of the style of vocals and harmony that their followers and fans were drawn to.
TRACK LIST….
Like Fallin'
Lucky Tonight
Don't Need No Rehab
He Said, She Said
Win At Love
Ghost
Lookin' For Love
Get Down
Back Home
O Just Wanna Live.
As I am prone to do when 'The Juice' asks me to do a review on an album, I stick it in the car for a few days. When I'm 'impressed', I take it out of the car and put it in my CD tray in the computer while I 'go about my domestics'. This is what happened with this album. In part because I always liked Black Ivory, but mostly because I liked the songs and the singing. We don't get to hear so much 'group harmony' as we did back in the day and "I" will always gravitate to that. In the 'tradition' that is Black Ivory, there are colorful vocals, applying some 'studio razzle dazzle' with overdubs of expanded vocals with counterpoint and fuller harmony structure. It's 'easy on the ears'.
It would appear that even though they weren't 'on the scene', they were still being creative. Some of these songs sound as though they had been written and arranged a little while back. This isn't a bad thing. The 'focus' is on the group. The music and the arrangements are 'supposed' to be in support of the 'group'. It's there'.
Some classic artists try to sound 'contemporary' with sounds that their fans may not appreciate and the 'young-uns' aren't even going to listen to. Aside from a short 'rap' portion in, "Lucky Tonight", the men have stuck to their 'vocalist guns' and the musical standards that their fans will accept, appreciate and maintain the identity they established that made them
popular.
They were best known for their 'Slow Jams', but they did a good mix in of up tempo dance tunes. I like the 'kick' in "Don't Need No Rehab" and "Get Down". Along with those are some more 'moderate tempos' that groove along nicely, and at the forefront, Black Ivory harmony.
There is a sort of 'campy/novelty' song in "Lookin' For Love" that talks about a 'blue dress' that was in the news some 15+ years ago. Just thought I'd mention it.
If there is a song that might be considered 'traditional Black Ivory', it is 'Back Home'. I tend to 'look' for that thread to origins when I listen to classic artists. This tune did it for me. I could of course relate to the story as it is about an artist who was on tour for a while and was eager to get back to his woman. But more than that, it is Black Ivory as we remember them some 40 years ago (damn! Has it been that long?)
"CONTINUUM by BLACK IVORY" is an album that the fans of Black Ivory will find a nice refreshment of a familiar sound. Putting aside the fact that we have become accustom to the 'canned drum sounds', and some of these tracks would have been fatter with a 'live' drummer, "CONTINUUM" doesn't go far astray from what we appreciated in BLACK IVORY. Strong lead vocals and lush background vocals sit well out in front, reminding us of what 'Vocal Groups' was all about.
Now…I have some 'runs' to make and I am putting CONTINUUM back in the car. I still love good vocals!
–Earl Gregory
–Bob Davis
609-351-0154
earthjuice@prodigy.net
Co-Founder www.soul-patrol.com
Blues, Hip Hop and Soul Music Director www.radioio.com

Comments From Stuart Bascombe
I'm not sure who first made the mistake but it seems to be perpetuated everywhere the history of Black Ivory is written. Maybe this can be the first site to start making the correction. The original name of the group Black Ivory was the Mellow Souls not the Mellow Sounds. As an original member of the group you can trust this information.

Stuart Bascombe
Additionally, Leroy Burgess is the oldest remaining member of the original group, later joined by Stuart Bascombe and lastly by Russell Patterson. The group was first founded by Lawrence Newkirk, Vito Ramirez and Michael Harris all of whom attended Power Memorial High School in NY. (The same school Kareem Abdul Jabbar AKA Lou Alcindor attended.) Leroy Burgess and Stuart Bascombe, both friends of Lawrence, joined separately and shortly afterwards.
If memory serves correctly, their association with Patrick Adams started the same day Stuart joined after Patrick listened to a rehearsal over the phone. During the following year Michael left the group, the name changed and the group started performing at talent contests and block parties. Vito was replaced with Russell Patterson and the Larry left to attend college. The resulting trio shortly thereafter signed with Perception/Today Records and released their first single Don't Turn Around.
The rest, as they say, is history.
Hope this is helpful.
Stuart Bascombe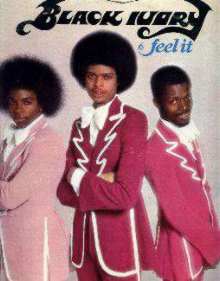 Black Ivory Overview

Mmmmmmmm…… The sounds of sweet soul music stirring in the taste buds of hungry music listeners. Around the early 70"s, there were quite a few of these wonderful sweet soul groups such as, The Delfonics, The Chi-Lites, The Stylistics, The Fuzz, Chocolate Syrup, Soul Generation, First Class, Continental Four, and The Main Ingredient, and so on, to satisfy our desires, and to have our musical souls sweetened. Well, this group that hails from New York City, decided to add their magic touch to create a yummy ingredient for tasteful soul. Sweet soul fans,
I give you………… Black Ivory !!!!!

Black Ivory was formed in 1969 by fellow members, Russell Patterson, and Stuart Bascombe. Later they asked their friend Leroy Burgess III to join and sing lead. They called themselves Mellow Souls. While shopping around for labels to get a deal, they met a songwriter / producer named Patrick Adams, who was in a group called " Sparks". Patrick of course was no stranger to the music industry, knew the tricks of the trade and took the group under his wing. He took the group to a newly formed label named " Today". The Today label was a subsidiary of the sister label, " Perception", which at time featured " The Fatback Band" and great poet " Wanda Robinson", who would record her first LP on the label, using Black Ivory's music as a background, during for her poetry reading. Patrick Adams didn't care for their name " Mellow Souls" and changed it to the name "Black Ivory".
The group recorded their first hit for the label entitled, " Don't Turn Around" in 1971. The song became an instant smash, hitting No 38 on the R&B charts. An LP of the same title would surface around late 1971, and it's a sweet soul masterpiece !!!
The LP " Don't Turn Around" would release 2 wonderful smokers such as, " You and I" which hit No 32 on the R&B charts and " I'll Find A Way". The Lp contains more classics featured such as, " Find The One Who Loves You", " She Said That She's Leaving" and " If I Could Be A Mirror". During this time in 1972, the would make personal appearances around the country, gaining fans from all over. In early 1973, the group released their second LP entitled, " Baby Won't You Change Your Mind".
Another beautiful masterpiece single would be released from the LP named " Spinning Around" b/w " Find The One Who Loves You". The single became a doubled A sided hit around May of 1973. " We Made It" which was never featured on the LP was released along with " It's Time To Say Goodbye".
Even though Black Ivory released some great singles during the 1971-73 period, their label Today Records was going though some financial problems, so the group vowed to get out of their contract. After being released from their contact in late 1973, the group signed with the newly formed " Kwanza Records label in early 1974. " Kwanza" was a subsidary of Warner Bros. They recorded a funky get down single called "What Goes Around ( Comes Around)" and released it around the spring of 74,along with an appearance on tv's Soul Train. The label would fold very quickly, which prompt the group to sign with Buddah records in early 1975. They recorded a LP," Feel It" and release another great ballad, " Will We Ever Come Together". They continued to record for the label until their last LP in 1977, " Black Ivory". By then steam was running out for the group and Leroy Burgess left the group, leaving Bascombe and Patterson to form Black Ivory as a duo. Their last hit as a twosome was a dance club favorite named, " Mainline" in 1979. They split up in early part of the 80's.
Leroy Burgess went on to become a successful songwriter / producer in the
80's with his own groups such as Aleem Twins and Fonda Rae, who had a classic club hit in the summer of 1982 with, " Over Like A Fat Rat". In the later years of the 90's, Black Ivory would reunite and perform once again by popular demand of sweet soul groups coming back to tour all around the country because of the generation of fans outpour of purchasing their re-release music on CD.
Black Ivory is definitely a very talented group that should not be overlooked of forgotten in a world of classic sweet soul. They had made great contributions in the power of love, such as candlelight dinners, walks though the park with someone you love, or a day or evening of just sitting back, just maxin' and relaxin' with your headphones or playing your stereo, and just reflecting on how true love can be so wonderful and sometimes painful.
Don't Turn Around soul fans because, Black Ivory just might be
Gaining up on you every time you miss them.
Enjoy !!!!!!
Mike Boone
(Chancellor of Soul)


Black Ivory Discussion
DONT TURN AROUND Today Records 1972

1. Dont Turn Around(P.Adams)
2. Surrender(P.Adams/Black Ivory)
3. I'll Find A Way(P.Adams/L.Burgess)
4. I KeepAsking You Questions(P.Adams/Black Ivory)
5. She Said That Shes Leaving(P.Adams)
6. If I Could Be A Mirror(L.Burgess)
7. You And I(S.Bascombe/L.Burgess)
8. Our Future(P.Adams/T.Phillips)
9. Find The One Who Loves You(P.Adams/Black Ivory)
10. Got To Be There(E.Wolinsky)
I remember back in college when some of my buddies turned me on to Black Ivory. I remember how you and Barry would react when their name was mentioned!!

Black Ivory were from NY, they were about our age and the girls would go wild over their huge Afro's. The main reason I liked em so much was that nobody would turn ya down for a grind when a Black Ivory song would come on !!
They had same cool slow jams like "Don't Turn Around" !! I think they may have also been big in Philly too, and that makes sense since the women from Philly really knew how to grind !!

Most of you who read this topic know that the album collection that I amassed during the 70's went 'poof'. However I've got a whole bunch of old tapes that I made back then that are all of questionable quality by today's standards. Some were taped off the radio, some from scratched up records. All are unlabeled so I don't really know what's on them till I listen to them. Today I found a real gem…..Black Ivory's "Don't Turn Around" !!

For those of you who have never heard of them, Black Ivory was a great example of the "east coast groove", serious "slo jammin music" !! They were also a group that hailed from… …..NYC, they were teenagers, had HUGE 'fros' and all of the young ladies in my neighborhood swore that they would eventually marry a member of Black Ivory….I just dug their music !!
"Till you find the one who loves you…."
Hey I'm a big Leroy Bugress fan myself,was he the lead singer of Black Ivory??Also I brought a black ivory cd expecting it to sound kinda like Aleem,but that was not the case.

I have and old Black Ivory Album. Yes wax. and it is great. I wish you would print the words to Don't Turn Around for me. I loved that song when it cam out and I still do.
The album I have was after that onw I think. I am not sure.
They were great and you know a lot of females had a major crush on Leroy Burgess. I know I did. I thought he was all that. The Afros were always so neat. Their suit colors were a little blah to me but their sound was great.

Do you happen to know what happened to them. They seem to have faded out like so many other artists from the 70's. Is it a bad disease or just a coinsidence that so many groups that we use to listen to back then have just disappeared never to be hear again. We knew better about good music than the record companies did.

Sometimes Black Ivory makes apperences here in the northeast along with Blue Magic, Delfonics, Moments, Intruders, Manhattans, etc.
They are usually promoted as part of a package.

You all have hit upon a subject near and dear to me…what happened that all the really good groups just kinda faded away mean there where those like.. The Detroit Emeralds ..The Continental 4..The Dynamic Superiors. .These groups had 1 or 2 good songs.. then poof.. no more. .hmm I
think some of those record execs should have come to some of our parties.. then they would have known what was really on !!!
These songs may be old. but they are classics and you can still "get yo groove on "…

I need to move to the NE so I can catch all the good concerts. All of the ones we have here are always to far for me and the ones that are near I can't catch them. You know I don't travel at night alone. Oh well as long as I can hear them on the radio I will be fine.
You know I am still waiting for you to post the lyrics of a Black Ivory Song.

You are so right. Those music execs. didn't know what real music was. They would release one song from an album and we would listen to at least 6 out of 9 at a party and get off. We should heve run the companies. Those groups would still be around and we'd still be partying. We still party but it is not the same as it use to be. Parties use to be safe and the music you didn't need an interpreter to tell you what the musicians were singing. Now you don't know what half of them are saying. And not only that back then when groups like Black Ivory, Detroit Emeralds, and the Ohio Players didn't sing songs that belittled women. Of course I heard a female rapper on TV say once that the reason some rappers dog women so badly is because when they finish shows there are always groupies waiting in the hallways at the hotel with overnight bags hoping to spend the night with them. Some have lied to their parents telling them they are spending the night at a friends house and the friend is with them and has lied to their mother telling them they are at the other friends house spending the night after the concert. If that is really the case I can understand some of what they say but not all of it and they don't have to be so vulgar about it. Give me my music from the 70's and let me be happy with real music.

I know just what you are talkin bout….I tried to keep an open mind and listen to what I hear on the radio.. but so much of it is ..shall we say….ummmmmm. ..overrated and leaves much to be desired…as for those who must use the B**** and the M*****F***** words throughout the record ..well they need to take another listen to those who came before.. those whose music they are using samples of now. .maybe they might learn something.

You're right. There were so many of those groups that had success with that "Big Hit", cut a couple of releases to follow, and then mysteriously drop out of sight. It never has made too much sense to me why this is done in the record industry to so many great artists. Many had struggled for years to get to the charts and have this chance and what happens is all of a sudden the group or solo artist is not marketable after selling enough units to make a profit for the company. That is why we need to own our own labels and for artists to have more control of their business. Just a few thoughts on that.

What happened to your record collection ?

Back in the 70's I had a record collection of 10 milk crates of albums. It was comprised of 60's & 70's soul/funk/jazz/rock. In 1980 ALL of it with the exception of about 20-30 albums walked out the door………..
Since then I have delt mostly with tapes and of course since 1984 CD's.
I still hasn't recovered….:(
"You & I…oh we had an understanding that's so true…"

You were asking for the lyrics to "Don't Turn Around" & I have a special surprise for you. I have been in contact with the author of the song & he sent me a copy of the lyrics via email…….enjoy !!
DON'T TURN AROUND
words & music by Patrick Adams

recorded by Black Ivory 1971 on Today Records and E.U 1989 on Virgin Records
DON'T WALK AWAY
I NEVER MEANT TO HURT YOU
AND YOU ALWAYS SAID YOU'D BE MY FOOL
NOW THAT IT'S DONE
BELIEVE ME GIRL i'M SORRY
AND YOU KNOW I'LL MAKE IT UP TO YOU
SO….
DON'T TURN AROUND
CAUSE NOTHING IN THE PAST WILL CHANGE
DON'T TURN AROUND
LETS LOOK AHEAD AND ALWAYS STAY
TOGETHER, FOREVER
IT'S ALWAYS HARD
TO LOVE THE ONE THAT HURTS YOU
AND FORGIVE THEM FOR THE WRONG THEY DO
BUT GIVE ME A CHANCE
THIS TIME I SWEAR I'LL BE TRUE
NO ONE WILL KEEP ME AWAY
FROM YOU…
DON'T TURN AROUND
CAUSE NOTHING IN THE PAST WILL CHANGE
DON'T TURN AROUND
LETS LOOK AHEAD AND ALWAYS STAY
TOGETHER, FOREVER
(C) 1971 PAP MUSIC/PATRICK BRADLEY MUSIC(ASCAP)
Thanks, Good Luck
Sincerely,
Patrick Adams
Thanks for the lyrics. I owe you dearly for this. Now that's what friends are for.

Click here to enter your suggestions