African American Music Association presents "A DooWop in DC" public discussion (7/9)
FREE AND OPEN TO THE PUBLIC – NO REGISTRATION REQUIRED (be on time for a good seat)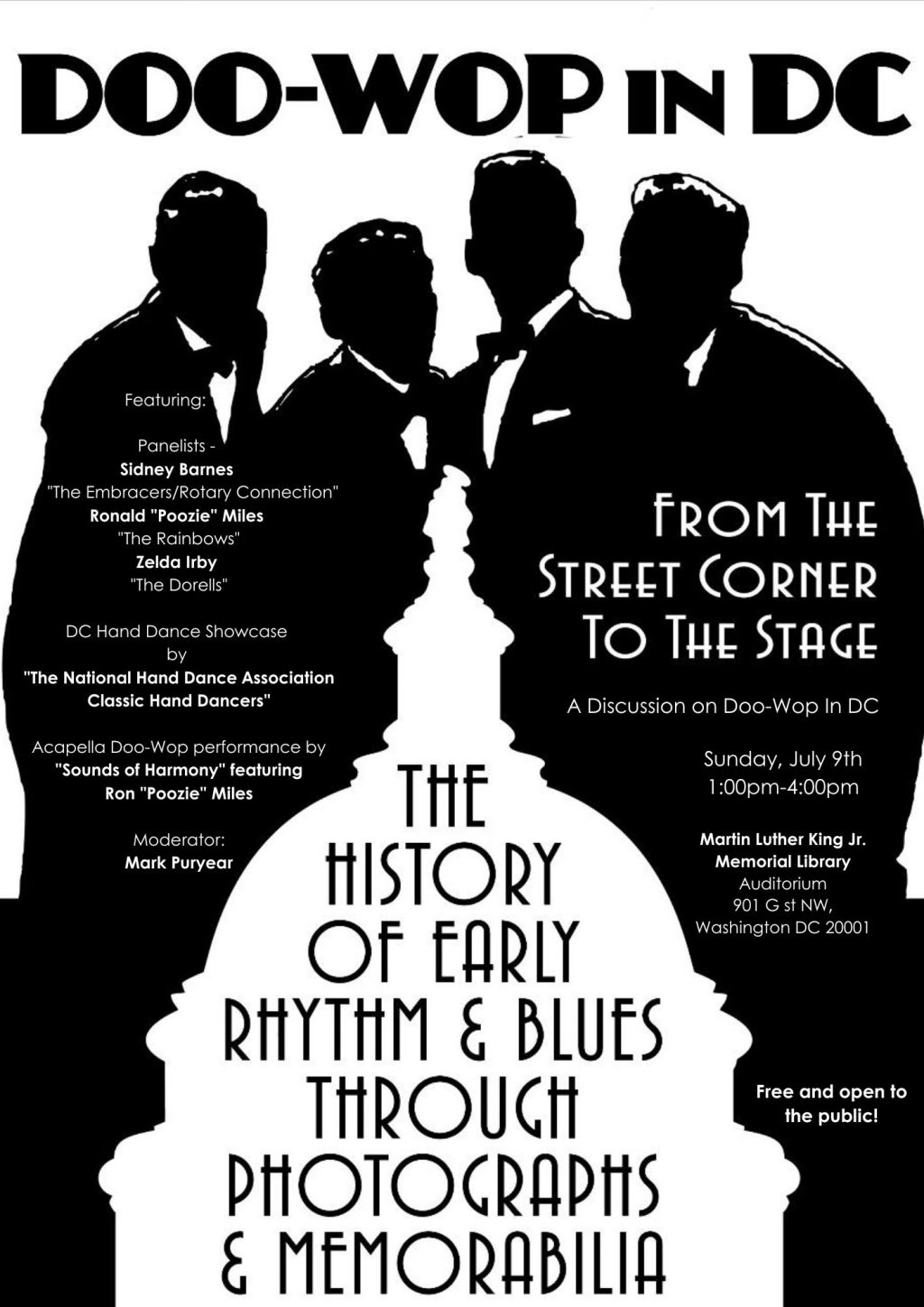 DON'T MISS THIS FANTASTIC PROGRAM ON DOO-WOP MUSIC IN WASHINGTON, DC!
The African American Music Association presents "A DooWop in DC" public discussion on Washington, DC's contribution to DooWop music in collaboration with the "Doo-Wop In DC" photography and Memorabilia exhibit.
Sunday, July 9
1:00 p.m. – 4:00 p.m. (doors open at 1:00 p.m.)
Martin Luther King Jr. Memorial Library
901 G Street, NW, Washington, DC
Auditorium
A Panel discussion with DC Doo-Wop legends Sidney Barnes (The Embracers/Rotary Connection, "Wait"), Ron "Poozie" Miles (The Rainbows "Mary Lee") and Zelda Irby (The Dorells "Maybe Baby"), DC Hand Dance showcase (The National Hand Dance Association Classic Hand Dancers) and a live acapella Doo-Wop performance by "The Sounds of Harmony featuring Ron "Poozie" Miles of The Rainbows".
Discussion Moderator: Mark Puryear
DJ Scooter Magruder
Program Director and Curator: Beverly Lindsay-Johnson
FREE AND OPEN TO THE PUBLIC – NO REGISTRATION REQUIRED (be on time for a good seat)
Black Music Month – Doo-Wop Music Celebration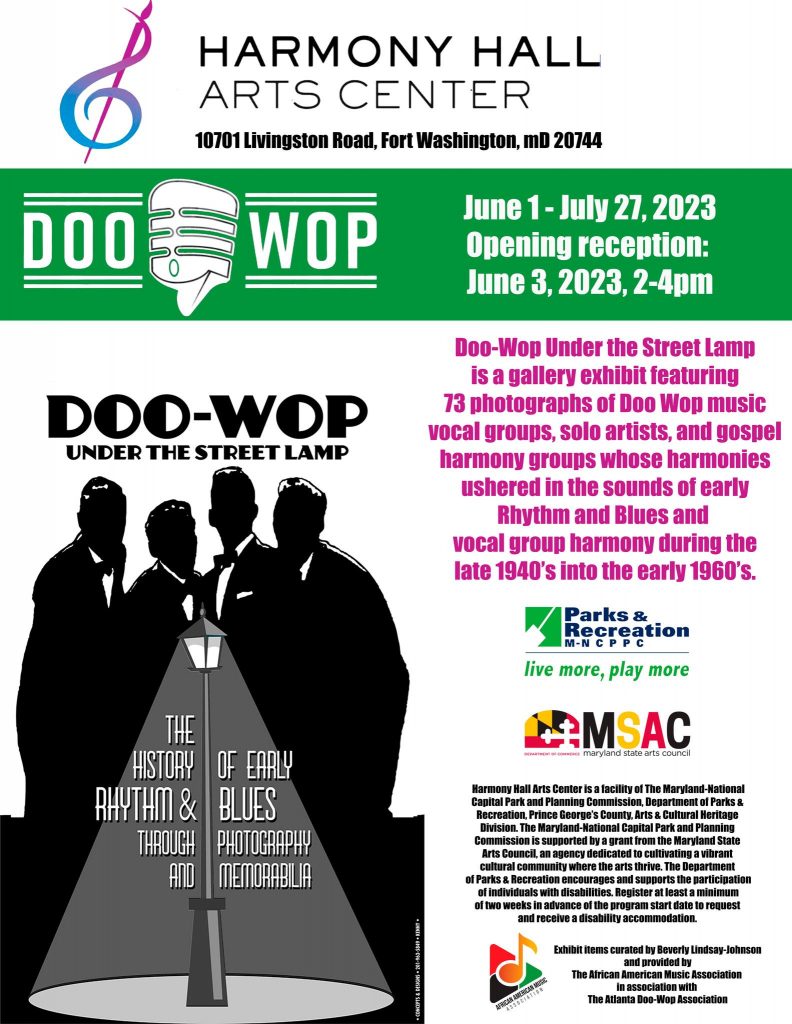 The history of vocal group harmony through photographs and memorabilia. The African American Music Association in association with the Atlanta Doo-Wop Association and Harmony Hall Regional Arts Center presents DOO-WOP UNDER THE STREET LAMP: THE HISTORY OF EARLY R&B THROUGH PHOTOGRAPHS AND MEMORABILIA includes more than 80 rare photographs of national Doo-Wop legends and lots of memorabilia to include outfits worn by legendary Doo-Wop and early R&B artists, albums, original sheet music, promotion billboards, collected items and more.
Gallery Exhibit Dates: June 1 – July 27, 2023
Location: Harmony Hall Main Art Gallery, 10701 Livingston Road, Fort Washington, MD 20744
On Display: Monday – Saturday (closed on Sundays)
Curator: Beverly Lindsay-Johnson
OPENING WELCOME RECEPTION: Saturday, June 3, 2023
2:00 p.m. – 4:00 p.m.
Opening welcome, Guest Speakers, "Talk with The Curator", special guided tour, giveaways, refreshments, and more Doo-Wop. FREE AND OPEN TO THE PUBLIC. NO RESERVATIONS NEEDED.