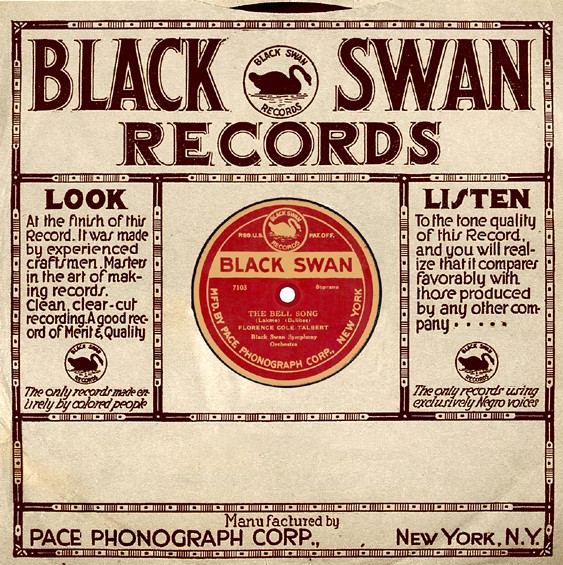 In order to fully appreciate the significance of Black Swan's impact on the record industry and what that meant to Black folks in America, you'd have to view it from the social factors leading up to the emergence of Black Swan Records in 1921.
In the 1920s America was called, "The Jazz Era".
Since the inception of this country and the colonization of "New World," American music can be defined by certain dichotomies.
As the phrase signifies, "new world" implies that there was an old world; and that world would be Europe for most young Americans.
The word colonize and colonization refers to even another dichotomy; namely the world before the colonizers came and the world after their colony was founded.
Colonize means, to send a group of settlers to another land to exert political control over its' indigenous people by appropriating some, or all of the land for the settler's utilization.
Of course, this defines the dichotomy and relationship between the early settlers and natives: the Europeans and the indigenous peoples (the Native Americans previously called American Indians).
Another dichotomy resides in what the colonists did to establish the country and what cultural items they brought with them.
Musically, the colonists brought their cultural music from Europe here with them. Within their music there's some further classifications:
A straight-laced, mainstream style called, Classical—favored by clergy, kings, nobility—as well as the very rich versus the ethnic indigenous sound of the "folks".
The music the upper class brought to America was the Classical music from various European lands. Classical music in Europe served as both religious music and music commissioned by nobility—and later years—the bourgeoise.
Among the orchestra were waltzes and other danceable tunes; often employing adaptions from various European folk melodies. The music of the regular folks was labeled folk music, which included jigs and other such dance tunes. These styles represent the European sound in the new world.
The new world was populated with indentured servants who worked for the rich for a number of years; in lieu of their transportation cost to get here. Some very rich colonists ventured into human trafficking—mainly for the free labor…
Most of the American Black population came into the New World this way; and with them came knowledge of music and familiarity with similar-type instruments. The relationship was a subjugated relationship; including using Black musicians to make money for their slave owners. . .
Between1863-1865, after slavery Blacks were set free without any form of repatriation.
Blacks had to find ways and means of taking care of themselves without lucrative means of doing so.
Our story here focuses on these musicians.
Naturally, since Black people are different culturally speaking, the sense of music and dance will be different; but mind you—Blacks were doing music during those times to solicit employment. They tailored a lot of their ingenuity towards mainstream mass appeal. They had to go where the money is.
Therefore, it should come as no surprise that Jazz appealed to mainstream America first, before any other aspects of Black music. . .
If you think about it—during slavery—the violin/fiddle was a very popular instrument for musical entertainment, at least in the early formative years of the United States.
If there is a festivity—and it was in the country—a fiddler could single-handedly entertain a crowd of that nature as it was done many times during slavery.
In a book marking such a historical event, "Twelve Years A Slave" by Solomon Northup; its author, Solomon Northup, was hired to play for the Epps family for a family gathering—as slaves often did for such types of festivities: Oft-times jigs and buck-and-wing dances, and other times to perform popular tunes (as radio was not yet invented).
The Emancipation Proclamation happened at the end of the Civil War in the United States. Black people had learned American culture as a matter of survival; to replace the cultural vacuum left by the ravages of instituting slavery.
After the Civil War, North Americans became fond of marching tunes. During this time there were many parades. The marching bands are a modification of a classical orchestration with marching syncopation as a show of patriotism.
If you were to ask, what is the most common instrument used in classical music, it would be strings, particularly the violin, cello and double bass.
If you were to ask what is the most popular instrument duo in Classical music—it would be violin and piano.
Our people performed what was most popular, but our personal proclivities led to improvisation. Mainstream America called Black music adapted to Classical, Jazz.
During the 1860s, Stephen Foster became an American household name.
Stephen Foster (Stephen Collins Foster), American composer of sentimental ballads and minstrel songs, wrote several popular tunes during the 1860s:
Down Among the Cane-Breaks, Old Black Joe, Virginia Belle, Oh! Susanna, Jeanie with the Light Brown Hair, Camptown Races, My Old Kentucky Home and over 200 more songs.
Stephen is said to have a liking for "Ethiopian" (dog-whistle for Blacks within America of African descent) and minstrel songs.
Foster also incorporated European ethnic music—such as Irish melodies, German songs and Italian operas into his music compositions. . .
Minstrel shows are a stage form of entertainment including songs, comedic routines, and dances founded in stereotypical portrayals of Black folks; usually done by White actors in Black face.
Foster's songs also included Black dialect with plenty of hateful racial ideas, often performed in Black face—yet Stephen Foster gained a very honored place in American music for his many, many works.
Previously to this time period, mainstream America was (for the most part) still listening and dancing to Classical music; still listening to opera and ethnic European folk music. Composers of the 1860s, made their fortunes by forming publishing companies and selling copyrighted sheet music to the populace. After the Civil war, marching band music was making an impact. . .
The earliest recording known to exist was a recording of The Lost Chord an Arthur Sullivan composition in 1888; but this breakthrough did not immediately effect music publishing as the main form of composer income.
This is important for the readers to understand, because we come from a world where radio and live performances leads to record sales and Billboard ratings. . .
Stars and Stripes Forever the official march song for United States, was composed by John Philip Sousa in 1896. Stars and Stripes is a rousing tune played by marching bands for many Fourth of July festivities. Plenty of composers were publishing sheet music of this type during the late 1890s.
Tony Pastor (Antonio Pastor), an American organizer/financier of concerts, plays and operas is considered the father of the French satirical song craze, Vaudeville in America in 1880. From the 1880s, well into the 1920s Vaudeville was the main form of entertainment for mainstream America. Vaudeville included music, comedy, minstrel shows, acrobatics, and dance. Vaudeville also amused with magic, trained animals and puppets.
Minstrel Shows were stereotypical representations of Black people by White actors, dressing in Black painted face. Society, during that time, made fun of our difficult social conditions; yet Blacks participated in Vaudeville, as a means of making an income after slavery.
Marching style compositions began to waft its' way into the Vaudeville melodies and the scene was set for the founding of a new music, Ragtime.
The term, Ragtime, during this time—referred to instrumental music, dance and vocalists. The World's Columbia Exposition in Chicago during 1893 greatly boosted this new aspect of Black music. Pioneers like Scott Joplin, Ben Harney, Jesse Picket and minstrel entertainer, Johnny Seymour attended the event.
The music was said to have originated in the dives (shabby bars) along the Mississippi and Missouri rivers.
The new music, generated from mainstream's preoccupation with marching band orchestration—coupled with the need of synchronicity and improvisation (most evident in the danceable elements in Black music). Ragtime music is mainly driven by piano (whose compositions are usually written) and a rhythmically steady bass rhythm section.
Drawing from the off-beat syncopation of the Cakewalk (a musical representation that accompanied the popular dance of its' time) with African American banjo styles—as well as European orchestra and marching compositions; the music culminated into a "ragged-time" signature-type of orchestration.
Ragtime replaced earlier forms of Classical music in the mainstream, mainly through the popularity of Vaudeville and minstrel shows; that is, where Ragtime tunes were often featured. Ragtime music soon became the rave in a segregated America. Whites listened to Black performers but only on their terms (in exclusive clubs for Whites only).
Many Black musicians were able to gain employment performing this new dance music and earned a living, but with various societal restrictions.
The composers were able to earn an additional living off the publication of their sheet music, since the sales of pianos for home use also rose along with this new music.
Scott Joplin was eclectic. Known as the King of Ragtime, Scott combined waltz with various African American rhythms in this music. It also incorporated salon-like light Classical music with a march-like piano rags, which caught on very well. Oft timed called, The King of Ragtime, Scott published the "Maple Leaf Rag, the most accomplished of his early rags, in 1899.
Scott Joplin met Tom Turpin in St. Louis, Missouri who also was a Ragtime musician. Ragtime created instrumentals of a musical sophistication, employing various technical dexterity and skill in order to perform.
Many Ragtime pianists traveled to various dives in areas between the Missouri and Mississippi, showing off their dexterity and influencing other future published pieces.
Later Jazz stars like Eubie Blake, Jelly Roll Morton, Fats Waller, and Irvin Berlin wrote and later recorded many of the most popular Ragtime pieces.
Primarily a music for piano completely written out, this music could be performed by orchestras, since it tapped from Classical and marching band scores with dance syncopations incorporated in the mix.
But as instrumental as Ragtime was for the formation of what would later be called Jazz music, for mainstream Americans of European descent—the style of Black music was nothing more than a passing fancy for American Whites.
Therefore, when Dixieland appeared in New Orleans as a new art form, American mainstream took an interest. Black musician had to follow where the popularity leads to secure their livelihood.
Dixieland was created in New Orleans as another modulation of military marching-style syncopation, featuring driving percussions and strong brass emphasis showcased by local New Orleans musicians like Louis Armstrong. This sound included improvisation and Blues and other effects showcased in Chicago. The roaming Black Ragtime pianist followed suit in this trend and a new quasi-music was formed.
In 1901 Louis Satchmo' Armstrong, with the Original Dixieland Jazz Band of New Orleans, was the first ensemble band to record this type of music.
Immediately, the mainstream vultures began to creep in and tried to change the narrative; forming bands and playing the music—trying to stake claim. But the underlying off-beat syncopation and African American banjo styles, brought over by Ragtime—along with musicians like Jelly Roll Morton and Louis Armstrong—made such claims extremely weak.
Some say, in the early days, the banks issued a ten-dollar bank note with the words "Dix" (French for ten) printed on the currency; which became popular.
The place where this currency came from began to be referred to as the Land of Dix, aka Dixieland.
Others say the nickname belongs to the Confederate States in the American south, anything south of the Mason-Dixon Line.
Despite these implications, Black musicians continued to enrich its' excellence, furthering the style.
Swing has its' root in 1920s dance music orchestras began using new styles of written arrangements, using rhythmic innovations pioneered by Louis Armstrong, Coleman Hawkins, Benny Carter and other Jazzmen.
Earlier groups of the times, called themselves orchestras, although the size of these groups became smaller and more efficient than the marching bands or their full orchestra counterparts.
Through a slight modification, the Ragtime syncopation manipulated in Dixieland, becomes Swing; and the jazz era was on the way; improv and all.
"Once they called it ragtime…and it had its fling
It's the same old syncopation
Now they call it swing
Then they played it jazz time…to a buck-and-wing
Once again it sweeps the nation
Now they call it swing
When singers used to sing…they would go "Hot-cha"
But with this modern thing
Now they go, "Dru-do do, Dra-da-da"
Rhythm has its seasons…summer, fall and spring
But for seven silly reasons
Someone pulled the string…and they started dancing
Now they call it swing."
               —"Now They Call It Swing" Billie Holiday
It doesn't take a weatherman to know which way the wind blows; nor does it take a rocket scientist to know why Billie Holiday wrote such lyrics. She wanted to make sure that the true narrative got out. Those were hard times; but every picture tells a story, don't it? And a picture is worth a thousand words. . .
During the turn of the century, there was many negative portrayals of Black people in America. Selling and recording Black music by Black musicians and other such opportunities was extremely limited.
Major labels, such as Columbia, Paramount, Victor (known as RCA Victor), Edison and Aeolian—which were White-owned, recorded few Blacks at the time, other than minstrel and novelty tunes. This is former European people securing their own new world interests at the near exclusion of everything else. . .
Jazz originated in New Orleans in the early 1900s.
During their celebrations, various styles of Black music was played to entertain the dancers throughout the city. Jazz evolved as a means of musically celebrating the Black people's heritage of "integrating" into American society.
While string bands were somewhat entertaining, this new music coming out of New Orleans provided impromptu changes the scripted piano syncopation of Ragtime did not. The sheet music of Ragtime suited its' Classical counterpart; but improvisation gave New Orleans' new music its' own niche.
The racism of the South, the shutting down of the red-light district in New Orleans, the flu epidemic of the time period—with the search for lucrative business, were all good reasons for musician's migration out of New Orleans in 1917.
Chicago was a major railroad hub. Its' railroad system made it easy for the Southern musicians to travel up north to Chicago; for a reprieve of the social pressures of living a Black American lifestyle.
Chicago is home to various types of people; this affords various opportunities for creative expressions and interpersonal relationships to be infused into the music. The South Side of Chicago had many clubs for Jazz musicians to "gig" (work/perform) at, blending Mississippi Delta and Dixieland styles.
By 1920, the Chicago experience was becoming less popular for Blacks playing Jazz, most of the flavor was out of the gum—so many of its' kats migrated to New York, to experience new horizons.
Okeh Records was among the first White labels to break the mold. Founded by Otto K. E. Heinemann, a Berlin merchant and German immigrant, established his own studio and gramophone record pressing facility in NYC in 1918. Using his own initials to form his own brand, Otto began establishing for posterity Vaudeville skits, popular songs and dance numbers for early American audiences. Experimenting further, Mr. Heinemann focused on music neglected by mainstream recording companies, like German, Swedish, Yiddish, Polish, Czech and Africans in America.
Around the time of the Harlem Renaissance, Jazz in New York City was jumping; from 110th Street straight down to 155th Street. Harlem's dance halls and night clubs were cookin'—like the Lincoln Theatre and Edmond's Cellar. The streets were loaded with big stars like Fats Waller, Eubie Blake, Ethel Waters and Florence Mills.
When Jimmy Walker became mayor, the Big Apple loosened its' collar; allowing speakeasies (illicit nightclubs for the sale of liquor) to flourish, and with this the New York Jazz scene became hot!
The 1920s is known the Jazz Age with Louis Armstrong and Duke Ellington leading the way for New York's flossing on the Jazz scene. The Harlem area was originally designed to be an upper-class White neighborhood near the turn of the century, but due to overdevelopment there were vacancies. An influx of Black middle-class families from the Black Bohemia moved into Harlem and other such Black families followed suit, often coming from the South; due to the natural disasters leading up to the Great Migration.
Harlem was home to the Cotton Club, (142nd St & Lenox Ave) formerly owned by Joe Louis, where Duke Ellington frequently played to "Whites only" audiences, due to segregation policies of the times.
This led to a turning point in Black cultural history. The influx of local Black artists, writers and musicians, along with the discrimination practices of the time; led to a movement that assisted Black artists gain more control over their presentations of Black arts as a cultural experience. This movement was known as the Harlem Renaissance.
Henry Pace came into New York with his business partner, W.C, Handy, dubbed, "Father of the Blues"—which he and Handy owned the Pace & Handy Music Company, specializing in published sheet music by Black composers; including Handy's own works.
Harry Pace was sure they'd be a huge profit in Black people producing and disseminating music for Black people. Black Swan Records is the first Black owned recording company which sold popular Black Jazz and Blues music; along with Classical works (opera, arias and spirituals); performed by Black musicians to the Black population.
Black Swan was established in the Spring of 1921 by a music publisher, who was also a professor of Greek and Latin, Harry Pace, as a division of the Pace Phonographic Corporation. Pace's record company was named after Elizabeth Taylor Greenfield, an African American opera singer—the Black Swan.
The news was announced in black newspapers all over the country with the motto, The Only Records Using Exclusively Negro Voices and Musicians.
Black Swan Records Board of Directors included Dr W.E.B DuBois (sociologist and activist, editor of the Crisis and part of the Niagara movement and the NAACP), Truman K. Gibson (African American businessman, boxing promoter, attorney and government advisor), John E. Nail (New York realtor), Dr. Godfrey Nurse, Dr. Matthew V. Boutte, Dr. W.H. Willis, John P. Quander, Viola Bibb.
W.E.B. DuBois was not only an activist and sociologist; he was a mentor to Harry Pace. Pace belonged to and was Vice President of the Atlanta, Georgia chapter. Harry Pace was also a member of the Urban League and mentored John H. Johnson, who would go on and create the Negro Digest and JET Magazine.
Black Swan's recording director/composer was none other than the famous bandleader, Fletcher Henderson. The music director and arranger was William Grant Still, a classical composer.
Black Swan's first recording was a release which included, "At Dawning" (on side A) and "Thank God for A Garden" (on side B) by Revella Hughes, soprano.
During the first initial 78 rpm releases was a first recording a spiritual which became the Black national anthem: "Lift Ev'ry Voice and Sing" written by James Weldon Johnson & J. Rosamond Johnson.
Ethel Waters' "Down Home Blues" was the among the label's first successes.
She was the label's star, and when the record was released, in six months it sold one hundred thousand copies. Ethel Waters was "like oxygen in the room" with her smooth sophisticated voice, tall eloquent look, and graceful dancing abilities.
Ethel Waters is a Blues and Jazz singer brought up in the Blues tradition; and she was multitalented. Ethel had a slow vibrato, wide ranged full-bodied voice. Growing up poor, her voice told the tale. She was billing as "Sweet Mama String-bean" at 17 and singing professionally in Baltimore Maryland, when she became the first woman to sing W.C. Handy's "St, Louis Blues" on stage before her recording of "Down Home Blues."
The Black Swan Troubadours included Fletcher Henderson and Ethel Waters, they toured the Southland promoting the Black Swan label; seemingly an auspicious opportunity to develop—since nationwide segregation was not making the Black artist/musician recording evolution possible.
Gus and Bud Aikens, Don Redman, Joe Smith, Garvin Bushell, and Ralph Escudero—all important Jazz musicians in their own right; were studio musicians on many of Black Swan's recordings.
James P. Johnson recorded some of his first solos on the Black Swan label.
Inspiring the Black community was what Harry Pace was all about. Showcasing Black greatness and talent in every aspect was Harry Pace's goal: Not just jazz and Blues which is well documented in his accomplishments above. Black Swan Records was meant to be far reaching range of the African American experience through music.
It seemed the time was right. The message represented by the Harlem Renaissance was starting to take root within the Black community. The cultural arts and businesses were rising up all over the country. At the same time, in places like New York, Memphis, and Tulsa—Greenwood district in Oklahoma; Black success was encountered with White violence like the Tulsa Race Massacre in 1921.
In 1920, Okeh Records tapped a lesser-known market for the Otto Heinemann Phonograph Corp. by releasing Ralph Peer's recording of Black Blues-singer Mamie Smith, at the petition of Perry "Mule" Bradford, which became an instant success. The song was called, "Crazy Blues," which opened up the possibilities of a lucrative market for Black music to be sold to White audiences in the 1920s…
This was going to present a problem later. Soon, White-owned record companies began to flood the market with Black talent, cutting into Black Swan's market.
Mr. Pace tried to counter the market by brokering an economic arrangement with Olympic Disc Record Corporation; a White-owned business. But being a small fish in a big pond with predators—along with the conflicts his board members W DuBois and John Nail with the Honorable Marcus Mosiah Garvey; proved too much intrigue for company's survival.
In the United States, the music industry is predominantly White. They have the resources, money and power.
The music during the 1920s was rapidly expanding, including not only Ragtime, but Jazz (which the 1920s was nicknamed after) also Blues, various forms of dance music and creative works of African Americas during the 1920s era. With the economy doing well, incomes increased, and the prosperity produced more leisure time—and in the 1920s the pastime expanded and somewhat shifted from watching live shows, attending live musical performances into cuddling up and listening to the radio.
Radio was more effective an expression than the newspapers and the printed word and television was not present to compete with radio for style, language, culture, social thought beyond just plain entertainment. Radio also included news, the weather, and sports.
Listening to radio, in effect, brought the entire nation together in terms of communication and social interaction.
The leading Radio show around the country was a stereotypical situation-comedy show called, Amos 'n' Andy. The broadcast featured a taxicab establishment run by Amos Jones and his side-kick friends, Andrew Hogg Brown (Andy) and George "Kingfish" Stevens.
Amos 'n' Andy was performed by White artists, promoting various Black negative stereotypes which was often imitated by many, many radio broadcasts across the country; during the decade with no popular counters appeared, until Chicago's WSBC broadcasted the All-Negro Hour, the first all African American variety show showcasing Black entertainers in 1929.
The idea that Radio with its' live Broadcasts were also becoming popular—coupled with the fact that the first Black radio stations did not appear until 1949 [WERD of Atlanta, Georgia]—meant that Whites controlled the narrative of that medium as well, which did not abode well for a Black owned record company.
This also meant the ruling class in American society has been controlled by their critics, and they determine what is and isn't American music during the Jim Crow Era.
Judging from the year 2000 standards, one would have believed that the birth of radio would have promoted more record sales, but in the 1920s; radio did not. The birth of radio did exactly the opposite.
Broadcast radio sent shockwaves that reverberated throughout the recording record industry. Record sales fell sharply during this time and that proved to be the last straw that broke the camel's back.
Black Swan artists were being lured away from the record label during these turbulent times. Alberta Hunter, William Grant Still and Fletcher Henderson fled the label; as did Black Swan's original star Ethel Waters.
Black Swan records declared bankruptcy in December of 1923 and sold Black Swan's catalogue to Paramount Records (a White owned label) in March of the following year.
Adding insult to injury—although Harry Pace found success as in the insurance business and later became a Chicago attorney; his death in 1943 (age 59) was enshrouded in a mystery.
The 1930 Census lists Mr. Pace as Black man, but the 1940 lists him as a White man. It took 60 plus odd years, for his family to prove his ethnicity and set the record straight. So, we could reveal the groundbreaking success Swan Records made as the first African American record label in the mainstream American music industry during an age of such opposition.
Whether we're talking about VeeJay Records, Motown Records or Philadelphia International Records, Harry Pace laid down the groundwork for an owned and operated business that is Black-owned and specialized in Black excellence. Black Swan Records was the first Black business to add itself and our music onto the American Tapestry.