Bo Diddley – I'm A Man, Hoodoo You Love….a Civil Rights Pioneer, Rock n Roll Icon
He sounds really primitive and RAW (I can see why it was initially called…."jungle music")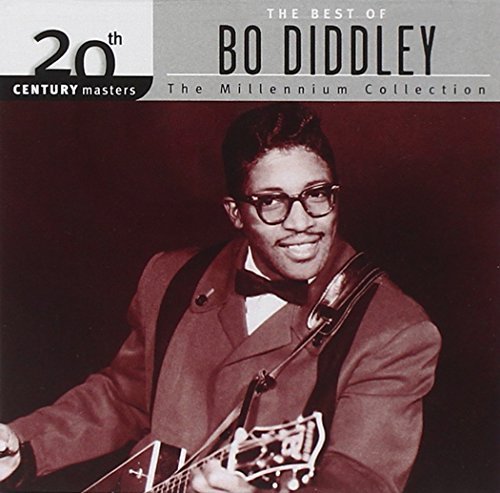 LISTEN TO SOUL-PATROL'S TRIBUTE TO THE "THE ORIGINATOR" BO DIDDLEY: I'm a Man, Bo Diddley, Diddley Daddy, Fat Boy (Billy Stewart), Diddy Wah Diddy (Fab. Thunderbirds), Who Do You Love?, I'm Sorry, Dearest Darling, Say Man, Crackin' Up, Don't Let It Go (Hold on to What You Got), Roadrunner, You Can't Judge a Book by Its Cover
One of our "chat hosts from outer space" submitted this album review for Black History Month. Rest assured we have now placed this so called "chat host", back into his cage….
NightTrain: u like Bo Diddley?
NightTrain: the young man from Mississippi named Ellas McDaniel who renamed himself after an African drum . Bo Diddley played the guitar like he was beating a drum and became a Rock n' Roll legend!
NightTrain: (another Black history fact)
NightTrain: "now i'm a MAN May 21, you know babbaye we can have a whole lotta fun…"
NightTrain: "I'm a man…. spelled M-A-N…"
NightTrain: "I'm goin back down to Kansas soon, bringin back a cousin, named Little-John-de-Conk-Lou…"
NightTrain: lol
NightTrain: i have always dug Bo Diddley
NightTrain: most Black people people my age think he is an uncle tom…
NightTrain: he's a baddd MF
NightTrain: Named himself after an African drum, he knew what the deal was
NightTrain: Most people our age think he, Chuck Berry and Little Richard are Uncle Toms
NightTrain: NO WAY, these are the men who invented Rock n' Roll against ALL  of the odds, they just didn't get PAID for it!
NightTrain: Bo Diddley's "Who Do You Love", comes STRAIGHT from the "Hoodoo religion" (these boys were NOT f–king around AT ALL
NightTrain: (this is some of the kinda s–t I like to talk about online)
NightTrain: and really with anyone who is interested
NightTrain: hey…. been a long time since i was listening to some music while i was typing to a chat room
NightTrain: especially something brand new
NightTrain: i just pulled the cellophane off of that CD
NightTrain: It's Bo Diddley
NightTrain: lol
NightTrain: He sounds really primitive and RAW (I can see why it was initially called…."jungle music")
NightTrain: he has no band on some of these songs, it's ALL just him playing the guitar, sometimes beating it like a drum, sometimes making it sound like a bass
NightTrain: Now a DOO WOP style slow jam (totally bizzare….lol)
NightTrain: sounds something like Sun Ra
NightTrain: now on this next song he is singing like an alligator
NightTrain: he's also actually got a piano player and a drummer on this song
NightTrain: but he is singing like an alligator
NightTrain: I wouldn't mind meeting him (and sharing a jar of moonshine)
NightTrain: "hold on to what cha got and don't let it go…"
NightTrain: "I'm a roadrunner baby, and you can't keep up with me…"
NightTrain: "you can't judge an apple by lookin at the tree, you can't judge honey by lookin at a bee, you can't judge a daughter by lookin at the mother, you can't judge a book by lookin at the cover
—————————————————————-
Here is the actual track listing for the album Bo Diddley: the Millennium Collection, for those of you who are interested.
(one of these days I'm gonna have to teach that boy how to write a proper album review)
—————————————————————-
1. Bo Diddley
2. I'm A Man
3. Diddley Daddy
4. Who Do You Love?
5. Mona
6. I'm Sorry
7. Dearest Darling
8. Say Man
9. Crackin' Up
10. Don't Let It Go (Hang On To What You Got)
11. Road Runner
12. You Can't Judge A Book By It's Cover
–Bob Davis
At The Dawn of the American Civil Rights Movement, in 1955….a young man from McComb, Mississippi…… MAKES A POWERFUL STATEMENT…
Now when I was a little boy, at the age of five
I had somethin' in my pocket, keep a lot of folks alive
Now I'm a man, made twenty-one
You know baby, we can have a lot of fun
I'm a man, I spell M-A-N, man
All you pretty women, stand in line
I can make love to you baby, in an hour's time
I'm a man, I spell M-A-N, man
I goin' back down, to Kansas Stew
Bring back the second cousin,
Little Johnny the cocheroo
I'm a man, I spell M-A-N, man
The line I shoot will never miss
The way I make love to 'em, they can't resist
I'm a man, I spell M-A-N, man
Bo Diddley - I'm A Man (1955)
Lyrics by: Ellas McDaniel (Bo Diddley)


BO DIDDLEY'S OFFICIAL BIOGRAPHY
Taken from his OFFICIAL Website
ELLAS BATES was born on Sunday December 30th 1928 on a small farm near the town of McComb, Mississippi, USA, in rural Pike County, close to the Louisiana border, the only child of Ethel Wilson and Eugene Bates. He had 3 half-brothers and a half-sister. He was adopted by his mother's cousin, Mrs. Gussie McDaniel, along with his cousins Willis, Lucille and Freddie, and adopted the name ELLAS McDANIEL. In the mid-1930's the family moved to the south side of Chicago. Soon after, he began to take violin lessons from Professor O.W. Frederick at the Ebenezer Missionary Baptist Church. He studied the violin for twelve years, composing 2 concertos for the instrument. For Christmas in 1940, his sister Lucille bought him his first guitar, a cheap Harmony acoustic. It was at this time that he acquired the nickname "BO DIDDLEY" ("…BO DIDDLEY is me; to tell ya the truth, I don't know what it (the name) really is…") from his fellow pupils at the Foster Vocational High School in Chicago.
The newly-named BO DIDDLEY had long been fascinated by the rhythms that he heard coming from the sanctified churches. A frustrated drummer, he tried to translate the sounds that he heard into his own style. Gradually he began to duplicate what he did with his violin bow by rapidly flicking his plectrum across his guitar strings. "I play the guitar as if I'm playing the drums….I play drum licks on the guitar."
He continued to practice the guitar through his early teens. Shortly before leaving school he formed his first group, a trio named The Hipsters, later known as The Langley Avenue Jive Cats, after the Chicago street where he lived. Upon graduation he pursued a variety of low paid occupations including truck driving, building site work and boxing, playing locally with his group to supplement his income. Around this time he married his first wife Louise Woolingham, but the marriage did not survive. A year later he married Ethel "Tootsie" Smith, a marriage that lasted just over a decade. In 1950 maracas player Jerome Green joined the group, followed a year later by harmonica player Billy Boy Arnold.
After more than a decade of playing on street corners and in clubs around Chicago, BO DIDDLEY finally got the chance to cut a demo of 2 songs that he had written: "Uncle John" and "I'm A Man". After various rejections from local record labels, (most notably Vee-Jay), in the spring of 1955 he took the recordings to brothers Leonard and Phil Chess, owners of Chess Records, with studios located at 4750-2 South Cottage Grove Avenue in Chicago. They suggested that he changed the title and the lyrics of "Uncle John" to more reflect his own unique personality. The 2 songs were re-recorded at Bill Putnam's Universal Recording Studio at 111 East Ontario in Chicago on Wednesday March 2nd, 1955, and released as a double A-side disc "Bo Diddley"/"I'm A Man" on the Chess Records subsidiary label Checker Records. It went straight to the top of the rhythm'n'blues charts, establishing BO DIDDLEY as one of the most exciting and original new talents in American music.
Inspired by musicians ranging from Louis Jordan to John Lee Hooker and from Nat "King" Cole to Muddy Waters, BO DIDDLEY was now set to help shape and define the sound and presentation of rock music for all time. From Elvis Presley to George Thorogood, from The Rolling Stones to ZZ Top, from The Doors to The Clash, from Buddy Holly to Prince, and from The Everly Brothers to Run DMC, all acknowledged the unique influences of BO DIDDLEY upon their styles of music:
* his pounding and hypnotic Latin-tinged beat,
* his oblong, square, pointed, fur-covered, leather-bound, rocket-tailed, custom-built Gretsch electric guitars,
* his innovative use of special effects such as reverb, tremolo and distortion to make * his guitars talk, mumble and roar like jet engines,
* his use of female guitarists and musicians, including LADY BO, Duchess, Cookie and, most recently, Debby Hastings and Margo Lewis,
* his distinctive all-black outfit complete with hat and over-sized eagle badge,
* his hopping and strutting around the stage, playing his guitars with his teeth, over * his head, between his legs, and every which way…
Taken from his OFFICIAL Website