40TH ANNIVERSARY EDITION OF BOBBY WOMACK'S THE POET AND THE POET II REMASTERED EXPANDED EDITIONS SET FOR RELEASE THIS SPRING
40TH ANNIVERSARY EDITION OF BOBBY WOMACK'S THE POET AND THE POET II REMASTERED EXPANDED EDITIONS SET FOR RELEASE THIS SPRING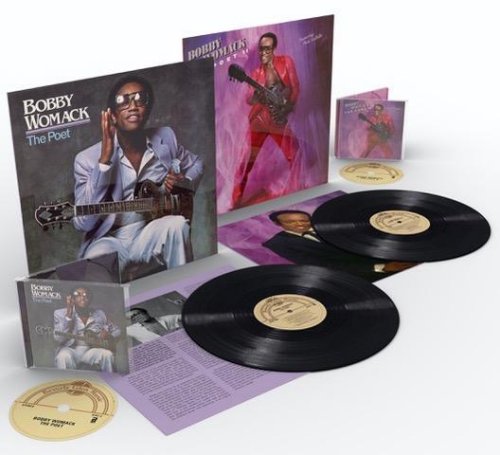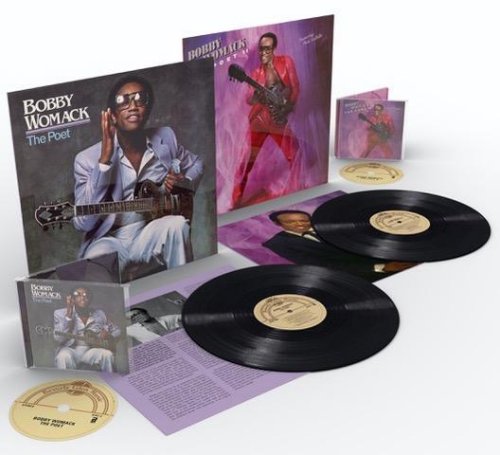 This year marks the 40th anniversary of the initial release of The Poet, the Bobby Womack album that served to relaunch his career and established him as a renewed force to be reckoned with in the urban music field in the 1980s. That album was followed by The Poet II which further solidified Womack's position as the industry's leading exponent of traditional soul that he maintained until his passing in 2014. Now, for the first time, these classic albums have been remastered from the original tapes.
Long believed to be lost, the original tapes have been recovered and are sourced for the remasters of The Poet and The Poet II. To offer the best possible listening experience, both The Poet and The Poet II will be pressed on heavyweight (180 gram) vinyl, making the albums available in the vinyl marketplace for the first time in decades. The historic albums packaged on LP and CD with extensive liner notes by R&B scholar Bill Dahl will release on March 19 in the US and Canada with concurrent worldwide HD digital availability. The rest of world territories will release CD and LP on April 30th 2021.
Shortly after its release, The Poet, produced by Womack, rose to the #1 slot on Billboard's Top R&B Album chart and thus provided commercial validation for his musical posture that was so removed from the disco trend of the era. As illustrated in the newly penned liner notes by Bill Dahl, "The Poet was split into two distinct musical moods. The first side of the album placed Bobby in up-tempo settings and let the infectious grooves flow freely. Side two cast Bobby as the romantic balladeer, a seductive image that had long sent his legion of female fans into a frenzy."
"If You Think You're Lonely Now," the album's leading single, went to #3 on Billboard's Hot Soul Singles chart and stayed there for four weeks. Decades later, a major sample of "If You Think You're Lonely Now" provided the basis for Mariah Carey's #1 hit "We Belong Together." The album also yielded two additional chart singles, "Secrets" and "Where Do We Go From Here." It went on to become the biggest selling full-length album of Bobby Womack's career.
The massive success of The Poet set the stage for the recording of The Poet II in 1983. As with its predecessor, The Poet II found both commercial and critical success on both sides of the Atlantic with the UK's New Musical Express naming it Best Album of 1984. Among the album's highlights are three duets with Patti LaBelle including "Love Has Finally Come At Last" which was a presence on Billboard's Hot Soul Singles chart for 17 weeks, ultimately rising to #3. Jazz guitarist George Benson is also heard on the album; his presence is something of a favor returned. Womack was the composer of "Breezin'," the instrumental that served as Benson's major label breakthrough. The Crusaders' Wilton Felder was featured on the set as was drummer James Gadson of Watts 103rd Street Rhythm Band renown. He along with Andrew Loog Oldham and Womack comprised the album's production troika.
Official Lyric Video for "Through The Eyes of a Child: https://rb.gy/v2bbgy
Bobby Womack was inducted into the Rock and Roll Hall of Fame in 2009 by Ronnie Wood of The Rolling Stones. Bobby Womack's lengthy association with ABKCO dates from his early career mentorship by Sam Cooke. ABKCO Music serves as music publisher for the catalog of Womack's most notable compositions including "Across 100th Street," "Woman's Gotta Have It," "That's The Way I Feel About 'Cha," "Breezin'," "It's All Over Now" and "American Dream."
The Poet track listing
1. So Many Sides of You
2. Lay Your Lovin' on Me
3. Secrets
4. Just My Imagination
5. Stand Up
6. Games
7. If You Think You're Lonely Now
8. Where Do We Go From Here
The Poet II track listing
1. Love Has Finally Come at Last
2. It Takes A Lot of Strength to Say Goodbye
3. Through The Eyes of a Child
4. Surprise, Surprise
5. Tryin' To Get Over You
6. Tell Me Why
7. Who's Foolin' Who
8. I Wish I Had Someone to Go Home To
9. American Dream
Bobby Womack – Rest In Peace ("That's The Way I Feel About Cha")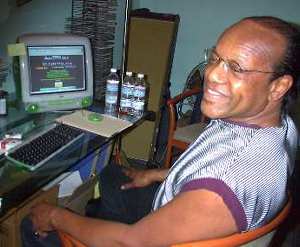 RIP is one of those acronyms that over time has ceased to even be an acronym anymore. Over time it has become a word. I suppose that it is a matter of convenience. After all it is much easier to simply type three letters than to type out what is essentially a short sentence…
REST
IN
PEACE
For me Bobby Womack is a total and complete enigma, despite the fact that I spent 2 weeks daily conversation with him back in the 1990's.
For me it was a wonderful 2 weeks, that at the time was probably the most important thing going on in my life at that time. But today almost feels like a blur. Almost like it never happened.
Whets most interesting about that is that for two weeks of something that today feels almost like it never happened, there is in fact a very tangible thing that exists, that was the end result of the two weeks that I spent with Bobby Womack. We did a chat session with him and afterwards, we produced and posted the transcript.
A seemingly archaic and obsolete artifact, from an earlier time in the history of internet. However at that time it was a unique and supersonic concept. To take a musical icon like Bobby Womack, put him into an internet chat room with 50 hardcore musicologists from all over the world, and have a freewheeling "meta discussion," about the highs & lows of his life and music.
If you go to Bobby Womack's Wikipedia page you can find all of the basic facts about his life and career. You can learn all about his musical accomplishments, his basic biography, the artists that he worked with, the artists he influenced, the artists that influenced him, chart listings for his albums/singles, his family and more.
What I got during those two weeks I spent with Bobby Womack was the "un-sanitized" version of what you would find on his Wikipedia page. And I got it all in his voice. And it is his voice that is for me the most valuable "artifact," from those two weeks. Have you ever had occasion to have a normal conversation with a famous person whose "voice" is burned inside of your mind? The first time I had a conversation with Bobby Womack, what registered in my mind was; "I'm actually talking to Bobby Womack…..LOL."
We talked about Sly Stone, Rolling Stones, Sam Cooke. We talked about his songwriting, and his guitar playing. We talked about crooked/honest record labels, music executives, concert promoters, radio executives, music journalists, film producers. We talked about "sex, drugs & rock n' roll." I mean, damn it, I am after all supposed to be a "musicologist" myself. I want to know about all of those things myself. Maybe one of these days I will write about all of that stuff?
However I also had to focus on all of the "dots I had to connect," both online and offline in order to pull off the chat session. As the "producer" of the chat session, it was truly a test of all of my "PMP Trained Project Management Skills," from a business, technology and operational perspective.
In short there were many things that could go wrong, and cause the whole thing to result in failure. And if any of those things happened, they would be MY FAULT. And of course the details of that failure would be public knowledge.
And one of the things that I had to do within that process was to talk to Bobby Womack, multiple times per day, every day for two straight weeks.
The chat session turned out just fine. And it was a major accomplishment for Soul-Patrol.com. It was written about in most of the major music publications on the web at that time.
You see that was one of the things most important to Bobby Womack. He knew that was going to happen. It is one of the things that he told me. He said that it was very important to him that Soul-Patrol get as much recognition as possible since there were so few successful Black owned entities in the music business, he saw that as a part of a personal obligation for himself. He reminded me of the promise/vision that Sam Cooke had for SAR records and his involvement in that legacy. Bobby told me that he saw a parallel between that and what my brother & I were doing with Soul-Patrol.
One of the key results that resulted from the session is the photo of Bobby Womack, sitting in front of a PC/keyboard, with the Soul-Patrol.com website displayed on the screen. That photograph exists because it was Bobby Womack's idea. A few hours before the chat session was to begin, Bobby called me up and said; Hey Bob, I'm not sure how all of this will go, but could you use a picture of me sitting at the computer?" I said; "of course, what did you have in mind?" Bobby said; "nothing complicated, just a picture of me and the computer showing Soul-Patrol. It would be something like an album cover of the chat session, proof that it actually happened." He had the picture taken and sent to me via email. Again, a much bigger deal back then, as opposed to today, when camera enabled smart phones make this a task that can be done in a matter of seconds
Of course Bobby was completely, 100 percent computer illiterate. Keep that in mind, because coordinating how someone who didn't even know how to turn on a computer was going to participate in a LIVE online chat session would prove to be yet one of many challenges of all of my "PMP Trained Project Management Skills." (we had someone relay the questions to Bobby via telephone and someone else type for Bobby.)
In the end all turned out well.
About 50 people showed up for the actual chat session, some quite well steeped in the details of Bobby Womack's career, and some who were "star-struck" at being in the same "space" with Bobby Womack. It was a BIG HIT.
When the chat transcript page went up a week or so after the session.
Bobby called and thanked me.
I thanked him.
We continued to stay in touch.
But not daily.
Soon not weekly.
Then not monthly.
Eventually not really at all.
Yesterday afternoon when there was some confusion about if Bobby Womack had passed, a number of people contacted in and out of the media me for information. They simply had to know IMMEDIATELY if Bobby Womack had passed. And they HAD TO KNOW NOW!
I don't understand this particular "compulsion" that folks on the internet have to know if a person that they didn't even know is dead or alive.
I can tell you this much, Bobby Womack is no doubt having a huge laugh about all of that right now. Inside of my mind I can hear his voice right now saying something along the lines of…
"Good, those mf's can't even figure out if I am dead or alive, good for em, none of them gave a shit about me anyhow…"
So….to Mr. Booby Womack
"That's that's the way I feel about cha"
And it is my sincere hope, that you are indeed…
"RESTING IN PEACE"