Black Rock Coalition (BRC) – Official Response to Jann Wenner's thoughtless misogynistic and racist statements in the New York Times 
Wenner only confirmed and re-emphasized how mass media outlets have—and to continue to—whitewash the artistic accomplishments Black folks have made to Rock 'n Roll and ALL American popular genres, and marginalize women, people of color and gender non-binary people
EDITORS NOTE: "Sometimes the pen is mightier than the sword!"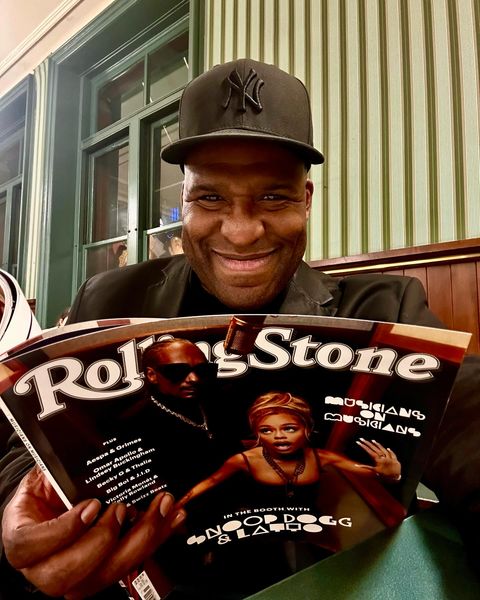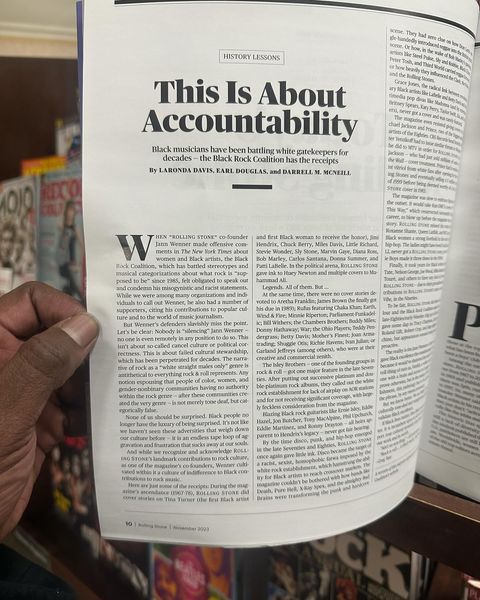 I don't want you to buy it. But in case you hear about it, I can confirm that it's true. If you will recall about a month ago, the Soul-Patrol Newsletter published the official Black Rock Coalition (BRC) response to the racism & misogyny on RRHOF board member Jann Wenner. Particularly disturbing was Mr. Wenner's admitting to applying his own personal racist & misogynistic philosophies to his voting for new inductees to the RRHOF.
LINK TO BRC RESPONSE:
http://soul-patrol.com/brc-official-response-to-jann-wenners-thoughtless-misogynistic-and-racist-statements/
Long story short. In their latest issue, Rolling Stone has republished that official BRC response.
I don't want a single one of you to go out and buy that issue. (they can't buy us off or resolve the historical injustice that cheap!)
I do want you to pay a visit to your local newsstand, find the latest issue of Rolling Stone, open it to the page of the response (so you know it's real.)
As you start walking away from the newsstand, start smiling. (Just like you see BRC Executive Director Earl Douglas doing)
Feel free to drop me a line either here or via email at earthjuice@prodigy.net . (Tell your friends & neighbors that sometimes the pen is mightier than the sword!)
Greg Tate (RIP)

LINK TO BRC RESPONSE:
http://soul-patrol.com/brc-official-response-to-jann-wenners-thoughtless-misogynistic-and-racist-statements/
–Bob Davis (Editor)
THIS IS ABOUT ACCOUNTABILITY
The Black Rock Coalition emphatically and wholeheartedly condemns Jann Wenner's thoughtless misogynistic and racist statements in the New York Times ("Jann Wenner Defends His Legacy And His Generation," September 15, 2023, NYT) regarding women and Black artists. While his comments were beyond reprehensible, they are no major revelation to Black artists who've struggled with the White rock establishment from Day One: Wenner only confirmed and re-emphasized how mass media outlets have—and to continue to—whitewash the artistic accomplishments Black folks have made to Rock 'n Roll and ALL American popular genres, and marginalize women, people of color and gender non-binary people seeking pride of place in the rock genre.
None of us should be surprised. Black people no longer have the luxury of being surprised—we haven't for some time. It's not like we haven't seen these adversities that weigh down our culture before—it is an endless tape loop of aggravation and frustration that sucks away at our souls. What's off-putting is Wenner's presumption of normalcy and acceptability in his rationale of White, cisgender masculinity as a summit citadel, unassailable to non-White, non-male, non-gender binary creatives. And while we recognize and acknowledge Rolling Stone's landmark contributions to rock culture, as one of the magazine's co-founders, Wenner cultivated within it a culture of indifference to Black contributions to rock music, leading a coterie of rock media platforms that have fomented this attitude: CREEM, Circus, Hit Parader, et. al.
Here's just some of the receipts:
During the magazine's ascendence (1967-1978), Rolling Stone did cover stories on Tina Turner (the first Black artist and first Black woman to receive the honor), Jimi Hendrix, Chuck Berry, Miles Davis, Little Richard, Sly Stone, Marvin Gaye, Diana Ross, Bob Marley, Carlos Santana, Stevie Wonder, Donna Summer and Labelle. In the political arena, Rolling Stone gave ink to Huey Newton and multiple cover stories for Muhammad Ali.
Legends. All of them. But…
At the same time, there were no stories, much less cover stories, devoted to Aretha Franklin, James Brown (he finally got his due in 1989), Rufus featuring Chaka Khan, Earth, Wind & Fire, Minnie Riperton, Parliament-Funkadelic, The Jackson 5, Bill Withers, The Chambers Brothers, Buddy Miles, Donny Hathaway, WAR, The Ohio Players, Teddy Pendergrass, Betty Davis, Mother's Finest, Joan Armatrading, Shuggie Otis, Richie Havens, Ivan Julian, Garland Jeffreys (among others), who were at their creative and commercial zenith. The Isley Brothers—one of the founding groups in rock and roll—got one major feature in the late 70s. After putting out successive platinum and double platinum selling rock albums, they called out the White rock establishment for not getting airplay on AOR stations nor getting significant coverage, with largely feckless consideration from the magazine. Blazing Black rock guitarists like Ernie Isley, Eddie Hazel, Jon Butcher, Tony McAlpine, Phil Upchurch, Jef Lee Johnson, Eddie Martinez and Ronny Drayton—all heirs apparent to Hendrix' legacy—never got fair hearing.
Rolling Stone all but ignored Shirley Chisholm's Presidential run, the historic election of Barbara Jordan to the U.S House of Representatives, Carl Stokes and Andrew Young becoming the first black mayors of Cleveland and Atlanta respectively, and Jesse Jackson's efforts with The Rainbow Coalition and Operation PUSH. And the magazine was practically oblivious to civil unrest in major urban centers until the Rodney King uprising threatened to rend the city of Los Angeles apart.
By the time disco, punk and hip hop emerged in the late 70s into the 1980s, Rolling Stone once again, gave little or no lip service. "Disco" was the target of a racist, sexist, homophobic fatwa imposed by the White rock establishment, which hamstrung the ability for Black artists to reach crossover markets. The magazine couldn't be bothered with how bands like Death, Pure Hell, X-Ray Spex, and the almighty bad brains were transforming the punk and hardcore scene. They had zero clue on how Don Letts single-handedly introduced reggae into the British punk scene. Or how, in the wake of Bob Marley's passing, artists like Steel Pulse, Black Uhuru, Peter Tosh and Third World carried the reggae art form forward, or how heavily they influenced Rolling Stone darlings like The Clash, The Police, and The Rolling Stones. Grace Jones, the radical link between revolutionary Black artists like Labelle and Betty Davis, and multimedia pop divas like Madonna (and, by extension, Britney Spears, Katy Perry, Taylor Swift, Sia and others), never got a cover and was rarely featured.
The magazine resisted hip hop from the outset. Despite having a formidable presence on MTV for three years, it would take Run-DMC's 'Raisin' Hell' album—with their cover of "Walk This Way," which resurrected Aerosmith's flagging career—to totally blow up before Jann green lit a RS cover story. Rolling Stone missed the train that saw Roxanne Shante, Queen Latifah, MC Lyte, giving Black women a strong foothold in the early days of hip hop. The Ladies might have loved Cool James, but LL never got a Rolling Stone cover, yet The Beastie Boys made it three times in the 1990s (despite Cool J putting Rick Rubin, The Beasties guru, on the map).
Wenner resisted giving covers to Michael Jackson and Prince, the two biggest selling artists of anyrace, especially in the 80s. CBS Records head honcho Walter Yetnikoff had to issue similar threats to Wenner as he did to MTV in order for Rolling Stone to give Michael Jackson—who just sold 20 million units of Off The Wall—cover treatment. Prince had to endure racist vitriol and pelting from White fans opening for The Rolling Stones (documented in Billboard in December 1982) and sell 4.5 million copies of 1999 before being deemed worthy of a Rolling Stones cover in 1983.
To be fair, Rolling Stone did show Living Colour and the Black Rock Coalition some love in the late 80s/early 90s (big up to David Fricke for holding Jann's feet to the fire), gave some dap to Tracy Chapman, Lenny Kravitz, Roland Gift, Robert Cray, and Rage Against The Machine, but it appeared more reactive that proactive. Had Jann bothered to do a deeper dive, he would've discovered dynamic acts such as Fishbone, Sophia's Toy, 24/7 Spyz, Meshell Ndegeocello, Urban Dance Squad, Kenna, Tasmin Archer, Tamar-Kali, Jean-Paul Bourelly, Kudu, Simi, Georgia Mulgrew, Stew & The Negro Problem, TV On The Radio, The Family Stand, Screaming Headless Torsos, and the late, great, sadly missed Sekou Sundiata, among many, many others.
We can go on ad infinitum, using various parts of various timelines, but the reality is the Jann Wenners of the world never gave Black excellence the consideration it demanded, because it would've shattered the myth of this rock n' roll thing of ours as, frankly, a White construct. Anyone with a brain and access to Google could easily prove otherwise, but this notion has to be held up, pardon the phrase, by any means necessary.
But we know better. Again, Black people no longer have the luxury of being surprised—we haven't for some time. Which is why we no longer have time for culturally tone deaf and vainglorious gatekeepers like Jann Wenner to validate Black excellence—they never have and they never will. If Black lives matter, then Black culture must matter. It is incumbent upon us all to elevate and support true cultural stewards who know and respect our work and its worth and call all others out on their self-serving contrivances. To quote our late elder, Gil Scott-Heron, this ain't no new thing.