BRC Tributes (Curtis Mayfield concert – NYC 11/5/2022)
11/5 In honor of Curtis Mayfield's 80'h b-day. Big concert in association the Black Rock Coalition, feat BRC Orchestra w/featured guest performers: Donnie, Kendra Foster, Melvis Santa, piano, Rhodes, vocals, percussion, Vernon Reid, guitar, Corey Cornell James Glover, vocals, Carl Rux, poetry, vocals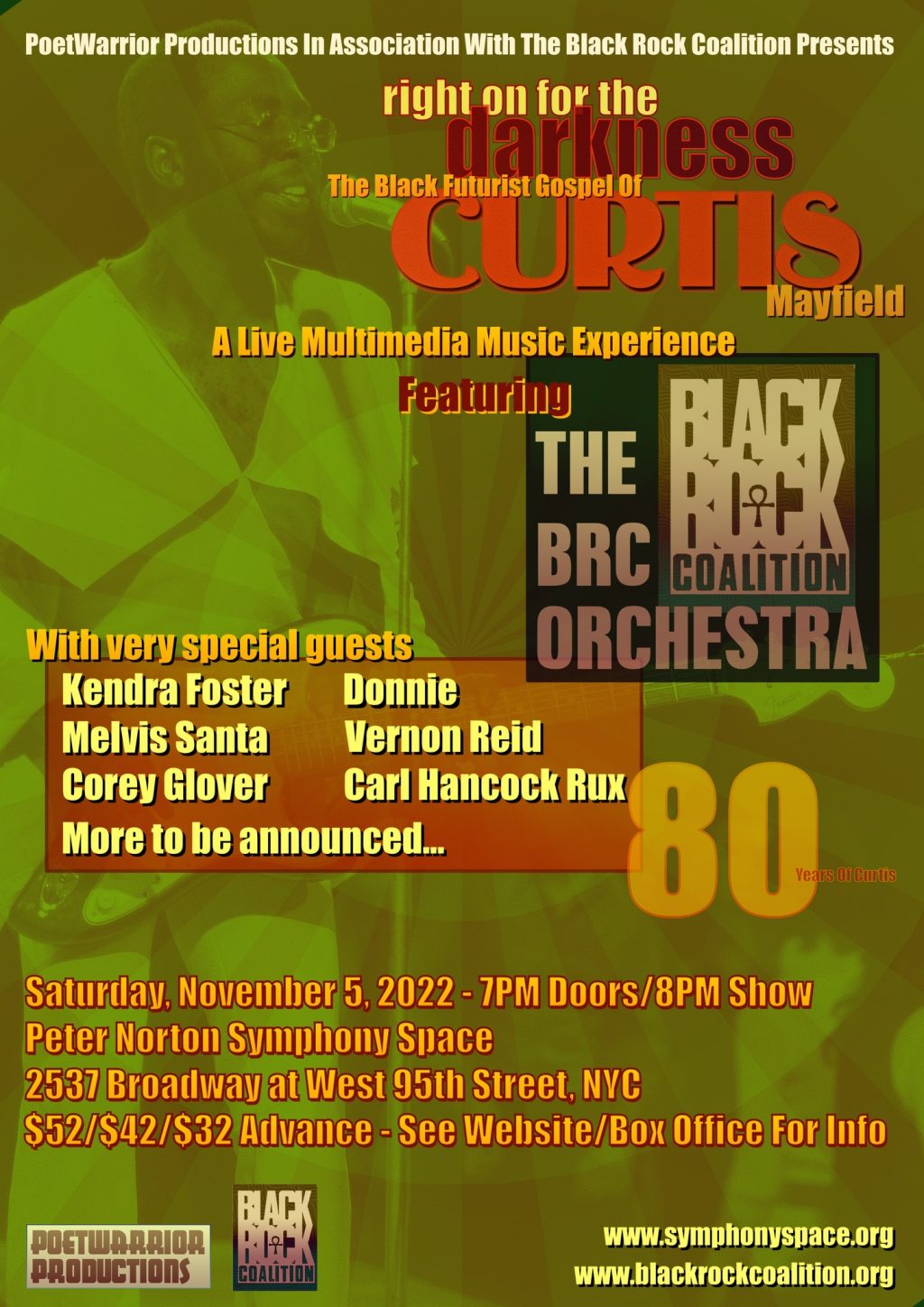 Curtis Mayfield
The work to date…
We're about a month from the target. The behind-the-scenes hustle and grind continues, but things are gradually coming together, despite unexpected curveballs. We stay on task. So this is the first official announcement of the Orchestra lineup along with a partial lineup of the featured performers:
The BRC Orchestra, at Symphony Space, November 5 (NYC): "Right On For The Darkness," a Black futurism multimedia musical retrospective of the work of Curtis Mayfield in recognition of his 80th birthday. Conceived and produced by Darrell McNeill, developed and directed by Darrell McNeill and LaFrae Sci, and conducted, using Lawrence D. Butch Morris's principle of improvised conduction, by LaFrae Sci.
The performances will be accompanied by an audio/visual presentation illustrating the continued resonance of Mr. Mayfield's music with our current times…
The BRC Orchestra for "Right On For The Darkness" is:
LaFrae Sci, drums, electronics, co-MD
Fred Cash Jr., bass
Gordon Nappyg Clay, percussion
Leon Gruenbaum, keyboards, samchillian, etc.
Marcus Machado, guitar
V Jeffrey Smith, saxophones, horn arrangements
JS Williams, trumpet
Fiery String Sistas: Yoojin Park + Charisa, The Violin Diva + Nioka Workman
Nikara Warren, vibraphone
Kelsey Warren, vocals
Shelley Nicole Jefferson, vocals
Bruce Mack, vocals
Darrell McNeill, bass, co-MD
With featured guest performers:
Donnie
Kendra Foster
Melvis Santa, piano, Rhodes, vocals, percussion
Vernon Reid, guitar
Corey Cornell James Glover, vocals
Carl Rux, poetry, vocals
And more to be announced in coming days…
Information and tickets available at www.symphonyspace.org.
There is more work to do, but we are on task. We really hope to see you in November…