Carlos Santana
COMPLETELY UNFUCKWITABLE!!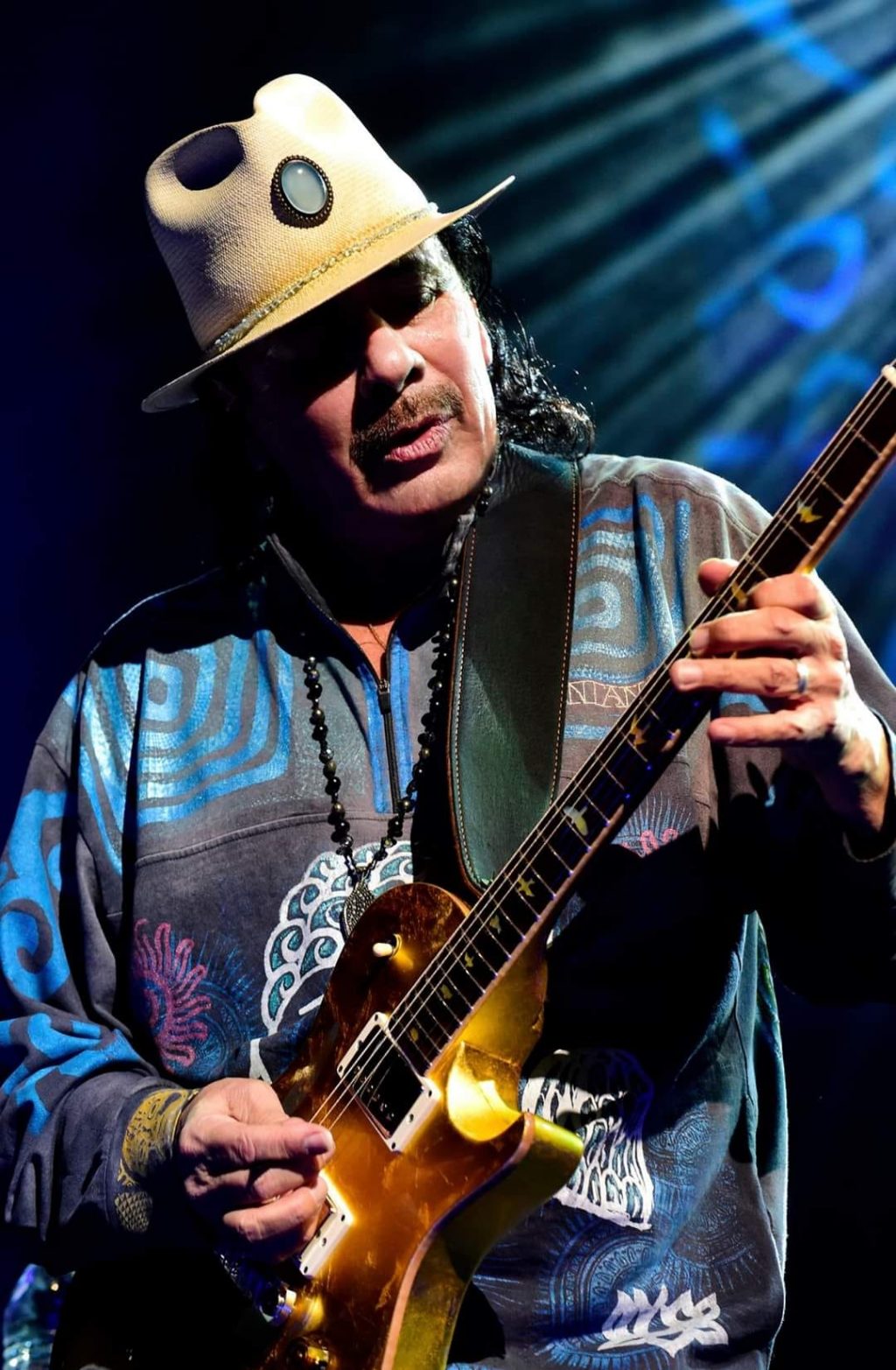 Editor's Note: "SupaBaddAzzKickinMoFoJazzSoulFunkBluesVoodooSpiritual" Obviously there is a whole lot more that could be said on this web page. But you have to agree, this is a nice start?
–Bob Davis
By Dianne WASHINGTON
COMPLETELY UNFUCKWITABLE!!
Carlos Santana, (born July 20, 1947) is a Mexican and American guitarist who rose to fame in the late 1960s and early 1970s with his band, Santana, which pioneered a fusion of rock and roll and Latin American jazz. Its sound featured his melodic, blues-based lines set against Latin and African rhythms played on percussion instruments such as timbales and congas not generally heard in rock. Santana continued to work in these forms over the following decades. He experienced a resurgence of popularity and critical acclaim in the late 1990s. In 2015, Rolling Stone magazine listed Santana at number 20 on their list of the 100 Greatest Guitarists. He has won 10 Grammy Awards and three Latin Grammy Awards.
Santana was born in Autlán de Navarro, Jalisco, Mexico. He learned to play the violin at age five and the guitar at age eight under the tutelage of his father, a mariachi musician. His younger brother, Jorge Santana, would also become a professional guitarist. Young Carlos was heavily influenced by Ritchie Valens at a time when there were very few Mexicans in American rock and pop music. The family moved from Autlán de Navarro to Tijuana, the city on Mexico's border with California, and then San Francisco. Santana moved to San Francisco and, in October 1966, started the Santana Blues Band. By 1968, the band had begun to incorporate different types of influences into their electric blues. "If I would go to some cat's room," remembered the guitarist of the band, "he'd be listening to Sly [Stone] and Jimi Hendrix; another guy to the Stones and the Beatles. Another guy'd be listening to Tito Puente and Mongo Santamaría. Another guy'd be listening to Miles [Davis] and [John] Coltrane… . To me it was like being at a university."
Around the age of eight, Santana "fell under the influence" of blues performers like B.B. King, Javier Bátiz, Mike Bloomfield, and John Lee Hooker. Gábor Szabó's mid-1960s jazz/gypsy guitar work also strongly influenced Santana's playing. Indeed, Szabó's composition "Gypsy Queen" was used as the second part of Santana's 1970 treatment of Peter Green's composition "Black Magic Woman", almost down to identical guitar licks. Santana's 2012 instrumental album Shape Shifter includes a song called "Mr. Szabo", played in tribute in the style of Gábor Szabó. Santana also credits Jimi Hendrix, Mike Bloomfield, Hank Marvin and Peter Green as important influences; he considered Bloomfield a direct mentor, writing of a key meeting with Bloomfield in San Francisco in the foreword he wrote to a biography of Bloomfield, Michael Bloomfield: If You Love These Blues – An Oral History in 2000. Between the age of 10–12 he was sexually molested by an American man who brought him across the border. Santana lived in the Mission District, graduated from James Lick Middle School, and in 1965 from Mission High School. He was accepted at California State University Northridge and Humboldt State University, but chose not to attend college.
Santana was influenced by popular artists of the 1950s such as B.B. King, T-Bone Walker, Javier Batiz, and John Lee Hooker. Soon after he began playing guitar, he joined local bands along the "Tijuana Strip" where he was able to begin developing his own sound. He was also introduced to a variety of new musical influences, including jazz and folk music, and witnessed the growing hippie movement centered in San Francisco in the 1960s. After several years spent working as a dishwasher in a diner and busking for spare change, Santana decided to become a full-time musician. In 1966 he was chosen along with other musicians to form an ad hoc band to substitute for that of an intoxicated Paul Butterfield set to play a Sunday matinee at Bill Graham's Fillmore West. Graham selected the substitutes from musicians he knew primarily through his connections with the Butterfield Blues Band, Grateful Dead, and Jefferson Airplane. Santana's guitar playing caught the attention of both the audience and Graham.
During the same year he and fellow street musicians David Brown (bass guitar), Marcus Malone (percussion) and Gregg Rolie (lead vocals, Hammond Organ B3), formed the Santana Blues Band. Playing a highly original blend of Latin-infused rock, jazz, blues, salsa, and African rhythms, the band gained an immediate following on the San Francisco club circuit.
Santana's band was signed by Columbia Records, which shortened its name to simply "Santana". It went into the studio to record its first album in January 1969, finally laying down tracks in May that became its first album. Members were not satisfied with the release, dismissed drummer Bob Livingston, and added Mike Shrieve, who had a strong background in both jazz and rock. The band then lost percussionist Marcus Malone, who was charged with involuntary manslaughter. Michael Carabello was re-enlisted in his place, bringing with him experienced Nicaraguan percussionist Jose Chepito Areas.
Santana became a naturalized U.S. citizen in 1965.
Santana married Deborah King in 1973. She is the daughter of late blues singer and guitarist Saunders King. They have three children: Salvador, Stella and Angelica. Together with wife Deborah, Santana founded a not-for-profit organization, the Milagro ("Miracle") Foundation, which provides financial aid for educational, medical, and other needs. On October 19, 2007, Deborah Santana filed for divorce citing "irreconcilable differences" after 34 years of marriage.
Santana became engaged to drummer Cindy Blackman after proposing to her during a concert of the Universal Tone Tour at Tinley Park in suburban Chicago, Illinois, on July 9, 2010. The two were married in December 2010. They live in Las Vegas.