Classic Soul – Barry White: Love Unlimited, Glodeen White, Classical, Satin Soul, Disco, 1970's, Maestro, Deep Bass

RIP: Barry White


Click Here To Listen to a special audio tribute to Barry White, featuring music and commentary. The music featured is taken from the newly reduced CD called… The Best Of Barry White [20th Century Masters/The Millennium Collection] The show features the following songs from the newly released CD… I'm Gonna Love You Just A Little More Baby, Never, Never Gonna Give you Up, Can't Get Enough Of Your Love Babe, What Am I Gonna Do With You, It's Ecstasy When You Lay Down Next To Me, Playing Your Game Baby, Practice What You Preach and Staying Power

Dear Juice & Lurkers,
A truly great person has gone home. Not only a great artist, but a warm, kind gentleman. I first saw Barry White in the car next to me early one morning in Cleveland. He had performed the night before and was heading toward the airport. I wave,and he waved back. I never had a clue that our paths would cross and he would become a changing force in my life. When I got to Los Angeles in 1980. I wanted to become a producer. My friend JJ was a good friend of his and introduced us. I told Barry I wanted to become a producer because all the records I had, and was recording with Sly, Slick & Wicked ,I didn't have the chance to produce. He said 'I want you here at my house everyday'. The O'Jays taught me how to lay vocal tracks, Barry taught me how to lay music tracks. I sang Background vocals on 'The Beware' album and The Barry & Glodean album under strict guidance from him.
I once asked Barry , 'Why don't you have a huge fence around your house '?
He said 'The people made me..!
.. If they want to see me… they can knock on my door' . You could really walk right off the street and knock on his backdoor. We became good friends.
I will miss him ……..
Peace
John [ Sly] Wilson
NEW "BEST OF" COMPILATION FROM THE LATE GREAT BARRY WHITE INCLUDES "Can't Get Enough Of Your Love, Babe," "I'm Gonna Love You Just A Little More Baby," "Never, Never Gonna Give You Up" and more late-night love songs
Barry White died July 4, 2003, just as this collection was going to print….He knew his music best, and he was involved in anything with his name on it, including this disc….Although he had been ill, we never thought his legendary voice would be stilled. And it isn't. His songs and grooves live forever.
from the liner notes, The Best Of Barry White
Barry White's impossibly deep and sexy voice, one of the most recognizable in music, and his satiny late-night love songs not only brought stardom to the singer-songwriter-producer but turned him into a pop culture icon. He became one of music's most beloved, and unlikely, sex symbols. Co-produced by White just before his death, The Best Of Barry White edition of 20th Century Masters/The Millennium Collection (Island/UM), released August 19, 2003, brings together 12 of his biggest hits from 1973 to 1999, each digitally remastered.
 White stepped in front of the microphone to make his national recording debut in 1973. In just his first two years he scored four gold Top 10 pop singles, three of which are heard on The Best Of Barry White: "I'm Gonna Love You Just A Little More Baby" (#3 pop/#1 R&B), "Never, Never Gonna Give You Up" (#7 pop/#2 R&B) and "Can't Get Enough Of Your Love, Babe" (#1 pop/#1 R&B). Mid-decade brought "What Am I Gonna Do With You" (#8 pop/#1 R&B) and "Let The Music Play" (#32 pop/#4 R&B).
In 1977, "It's Ecstasy When You Lay Down Next To Me" (#4 pop/#1 R&B) went gold, the jazzy "Playing Your Game, Baby" was #8 R&B (and today is a staple of sampling hip-hoppers) and "Oh What A Night For Dancing" went Top 30 pop and Top 15 R&B.
After an early '80s chart slowdown, a still-creative period represented here by the Top 30 R&B "Love Makin' Music," White began his resurgence in 1987 with "Sho' You Right" (#25 R&B). He would later return to the top of the charts with 1994's gold "Practice What You Preach" (#18 pop/#1 R&B), co-written by second-generation star Gerald Levert. BW's revival, reflected in his songs and appearances on the popular TV series "Ally McBeal" and "The Simpsons," further boosted the power of his spotlight. New albums, including 1999's Staying Power, with its Grammy-winning title track, and even an autobiography followed.
Barry White had a lot of love to give–and he gave it all in his music.
The Best Of Barry White [20th Century Masters/The Millennium Collection] :
1. I'm Gonna Love You Just A Little More Baby  
2. Never, Never Gonna Give You Up   
3. Can't Get Enough Of Your Love, Babe  
4. What Am I Gonna Do With You   
5. Let The Music Play  
6. It's Ecstasy When You Lay Down Next To Me       
7. Playing Your Game, Baby       
8. Oh What A Night For Dancing       
9. Love Makin' Music       
10. Sho' Yor Right       
11. Practice What You Preach       
12. Staying Power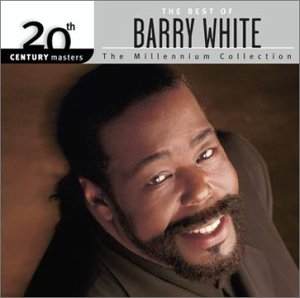 Click Here To Listen to a special audio tribute to Barry White, featuring music and commentary. The music featured is taken from the newly reduced CD called… The Best Of Barry White [20th Century Masters/The Millennium Collection] The show features the following songs from the newly released CD… I'm Gonna Love You Just A Little More Baby, Never, Never Gonna Give you Up, Can't Get Enough Of Your Love Babe, What Am I Gonna Do With You, It's Ecstasy When You Lay Down Next To Me, Playing Your Game Baby, Practice What You Preach and Staying Power