Classic Soul – CAMEO-PARKWAY RECORDS REUNION SHOW, feat: Charlie Gracie, Dee Dee Sharp, the Orlons and Tymes @ Cannstatter's Crystal Ballroom. Sat. February 13th 8:00pm – 11:30pm

Classic Soul – CAMEO-PARKWAY RECORDS REUNION SHOW, feat: Charlie Gracie, Dee Dee Sharp, the Orlons and Tymes @ Cannstatter's Crystal Ballroom. Sat. February 13th 8:00pm – 11:30pm

CONCERT REVIEW: CAMEO-PARKWAY RECORDS REUNION SHOW, feat: Charlie Gracie, Dee Dee Sharp, the Orlons and Tymes @ Cannstatter's Crystal Ballroom. Sat. February 13th 8:00pm – 11:30pm
(Rock n' Roll)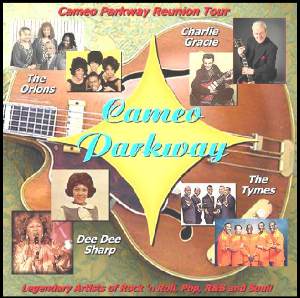 The first thing that I need to do is assure everyone reading this is that the show I attended at Cannstatter's Crystal Ballroom featuring Charlie Gracie, Dee Dee Sharp, the Orlons and Tymes, was seriously tight & on point. It was equal parts, night out on the town and sock hop featuring the REAL DEAL.
By that I mean the REAL ARTISTS, performing the REAL SONGS and doing them the RIGHT WAY. No fakes no make believe, it was a night of real/honest to goodness Philadelphia Rock n' Roll. I was singing & boppin the whole night and so was everyone else who was there.
All of the artists were in fine voice and I just simply felt that I had died and gone to musical heaven. The Orlons looked & sounded as smooth as any Motown group. Charlie Gracie looked & sounded a rock n' roll star on the Ed Sullivan show. The Tymes looked and sounded like the missing link between 1960's Rock/Soul to 1970's Funk/Disco. And Ms. Dee Dee Sharp looked and sounded like the timeless triple threat diva that she is as she sung, danced & played the keyboards.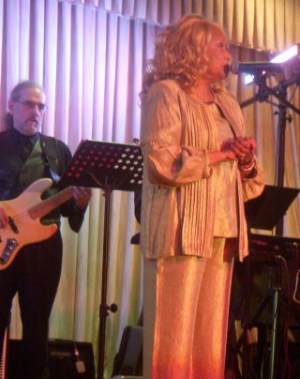 As the brand spanking new music director of the 50's & 60's Rock n' Roll Channel on radioio.com I have been trying to take a fresh look at the music of that period.
Rock n' Roll was truly an American institution of significance whose historical & cultural impact has been marginalized over the past few years. One of its significant characteristics is/was the way that it developed slightly differently from region to region, while still maintaining a set of common features in every city where it developed.
I moved to the "Delaware Valley" (Philadelphia & it's suburbs) back in 1991 and since that time I have been more than just a casual observer of it's overall music scene, an I have been honestly fascinated by it.
One source of that fascination has been the Philadelphia Rock n' Roll scene of the 1960's. And as a native New Yorker ("Mistah Know-It-All"), I am always surprised when I discover that my initial hypothesis is usually wrong.
The history of Philadelphia's 1960's Rock n' Roll scene has been well documented on TV with shows like "American Bandstand," movies like "The Idolmaker," and of course the Cameo-Parkway record label.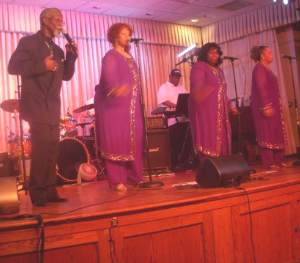 Cameo-Parkway's roster included artists such as Charlie Gracie, the Rays, John Zacherle, Applejacks, Bobby Rydell, Chubby Checker, Dovells, Orlons, Dee Dee Sharp, Tymes, Question Mark & the Mysterians and others. They were both a regional & national powerhouse independent label. The sound of Cameo-Parkway was R&B based Rock n' Roll for the pop audience and was quite successful.
Here where I live in the Delaware Valley, even today in 2010 I hear Cameo-Parkway music everywhere I go and when I do, it makes me smile. Songs like Butterfly, 99 Ways, Mashed Potato, The Bird, The Wahtusi, South Street, So Much In Love, Wonderful, Wonderful, Miss Grace and more are all songs that I heard on the radio when I was a little boy growing up in NYC. I know the lyrics to them all, no different then I know the lyrics to nursery rhymes.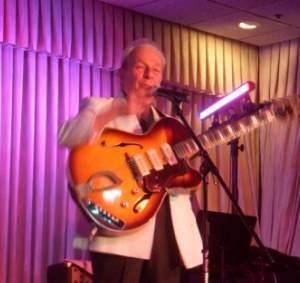 As I sat in Cannstatter's Crystal Ballroom, in Northeast Philadelphia Sat. February 13th it was like being in a time warp for sure and a very pleasant one indeed. Watching & listening to Charlie Gracie, Dee Dee Sharp, the Orlons and Tymes perform felt just like listening to an AM radio in my father's car in say 1963. All that was missing were the goofy commercials.
One of the things that I noticed when I first moved to the "Delaware Valley" in 1991 was a little TV show that came on Sunday nights. It was a dance show, sorta like American Bandstand, except that none of the dancers appeared to be under the age of 50 and all of the music was from the 50's & 60's (including mucho/macho Cameo-Parkway stuff.) It was an oldies dance party on TV; it was hosted by someone named Jerry Blavat. However, the thing that struck me the most was that THE DANCERS WERE INTEGRATED (INCLUDING SEVERAL INTEGRATED COUPLES). The first thought that came to my mind after observing this was; "this Philadelphia is sure a whole lot different than NYC."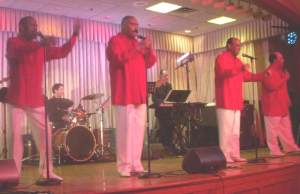 The Cameo-Parkway Reunion show at Cannstatter's Crystal Ballroom had the feel & vibe of what Philly must have been like in the 1960's. This was the time before we all could have ever imagined that a President could have been assassinated on television. It was an era where all of the greatness that we could have ever imagined that this country could not only aspire to, but actually achieve, was more than possible.
The only complaint that I have about the show at Cannstatter's Crystal Ballroom featuring Charlie Gracie, Dee Dee Sharp, the Orlons and Tymes is that someone forgot to set up a dance floor. I am positive that had there been one, everybody in attendance would have been up on the floor. All of that positive energy that filled the room that ight should have been channeled on to the dance floor.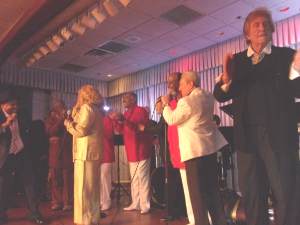 All in all the evening was quite a nice history lesson for this young man from NYC. But even more it was a fun night, filled with fun music and nice people.
It is also a clear demonstration of what can happen when independent artists (Charlie Gracie, Dee Dee Sharp, the Orlons and Tymes) work together as a team.
Now that I have had a chance to experience some of that early 1960's "Philadelphia Groove," I want to get some more of that positive energy and all that goes along with it. There are some rumors floating around that the "Cameo-Parkway Reunion show," might just evolve into the "Cameo-Parkway Reunion Tour." And if that should happen, maybe there will be a stop in your city and you can catch the positive groove for yourself. In fact, I'll even go one step further and say that if the entire country could somehow catch this positive Philly Groove of the pre-JFK assassination period, it might just be what this country (and it's young President) need to get it's act together in 2010?
—————–
Bob Davis
earthjuice@prodigy.net
609-351-0154
——————
Co-Founder www.soul-patrol.com
Hip Hop and Soul Music Director www.radioio.com
——————-

Click here to enter your suggestions and feedback