Classic Soul – Chuck Berry, Chuck Berry, Chuck Berry, Chuck Berry, Chuck Berry, Chuck Berry,

Subject: RIP JOHNNIE JOHNSON
Fans may be interested to know that condolences to the family of the late rock & roll piano legend Johnnie Johnson, who passed away on Wednesday aged 80, can now be sent by signing the Guestbook at Johnnie's official website at
http://www.johnnie.com
Where arrangements have been made for his family to view the messages.
Visitation will be held next Thursday (April 21st) at the Ronald L. Jones Funeral Chapel followed by a funeral service on Friday (April 22nd) at St. Paul's Lutheran Church in St. Louis, MO. He will be buried at Jefferson Barracks National Cemetery, 2900 Sheridan Road in St. Louis. A memorial service will be held at a time and a place to be announced.
This year's annual Big Muddy Blues Festival held at Laclede's Landing in St. Louis in September each year, was slated to feature a special tribute to Johnnie Johnson. He had already been consulted on the event and had been asked to provide a list of artists that he'd like to see involved and these had included Bo Diddley, Dr. John, Taj Mahal and Koko Taylor. It is not known at this time if the tribute will still be going ahead or what form it will now take.
It is also reported that Chuck Berry is planning to stage a tribute concert to his former piano player and collaborator at the Edward Jones Dome in downtown St. Louis at a date to be confirmed.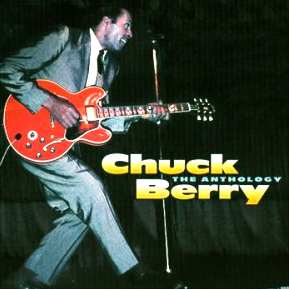 Subject: Chuck Berry Anthology [ORIGINAL RECORDING REMASTERED]




Something new from Chuck…
Are you a person who had the "Great 28" or "Chuck Berry's Golden Decade" on LP and are looking for a CD replacement?
Or perhaps you are a younger person who just wants to find out what all the fuss is about Chuck Berry?

Well, look no further than this new CD, it's a fairly complete retrospective of his career…

Disc: 1
1. Maybellene
2. Wee Wee Hours
3. Thirty Days
4. You Can't Catch Me
5. Downbound Train
6. No Money Down
7. Brown Eyed Handsome Man
8. Roll over Beethoven
9. Too Much Monkey Business
10. Havana Moon
11. School Day
12. Rock & Roll Music
13. Oh Baby Doll
14. Sweet Little Sixteen
15. Guitar Boogie
16. Reelin' and Rockin'
17. Johnny B. Goode
18. Around and Around
19. Beautiful Delilah
20. House of Blue Lights
21. Carol
22. Jo Jo Gunne
23. Memphis
24. Sweet Little Rock & Roller
25. Little Queenie
26. Almost Grown

Disc: 2
1. Back in the U.S.A.
2. Do You Love Me
3. Betty Jean
4. Childhood Sweetheart
5. Let It Rock
6. Too Pooped to Pop
7. I Got to Find My Baby
8. Don't You Lie to Me
9. Bye Bye Johnny
10. Jaguar & Thunderbird
11. Down the Road a Piece
12. Confessin' the Blues
13. I'm Talking About You
14. Come On
15. Nadine
16. You Never Can Tell
17. Promised Land
18. No Particular Place to Go
19. Dear Dad
20. I Want to Be Your Driver
21. Tulane
22. My Ding-A-Ling [Single Edit][Live]
23. Reelin' and Rockin' [Live]
24. Bio

Subject: CHUCK BERRY DISSCUSSION

Why do you suppose it is that the man who invented Rock & Roll gets almost no respect ??


(Just askin)

Crediting one man with the invention of rock 'n roll is like pinning down the invention of bebop, or all of jazz, to one person–but, yeah, Chuck was on the cutting edge. So anyway… I'd say that Chuck does get a lot of respect from those who really care about '50s rock, but you're probably talking about the fans who think music began with the Beatles and James Brown–or maybe Hendrix and P-Funk. I think the reason Chuck isn't worshipped as a God by post-'50s fans is because he never developed his music beyond his early style, a style which is no longer explicitly influential in contemporary pop music.


I think that if you were to ask "Mick or Keith" they would tell you a thing or two about the influence of Chuck !!
The man is simply fantastic if you ask me and he is a national treasure. All rock & roll fans should take the day off from work on his birthday !!!
As far as not giving one person credit for the invention of Rock & Roll…….why not Chuck ??
The "mainstream" media seems to want to credit Elvis for… ….inventing it….SO WHY not Chuck ???
After all it was he who found a "perfect fusion of country & blues" that you could dance to !!!


Right, Chuck was a huge influence on the 2nd wave of rock bands like the Stones–and even on certain punk groups like the Clash. But you don't hear an explicit Chuck Berry influence in much contemporary pop. Of course, Chuck is a big part of the roots and all–but how much current music really sounds like a Chuck Berry knock-off? Maybe you know of more such bands than I do. Nothing against Chuck–I just think he would be more widely revered if he had ever been able to develop his sound beyond his early style. Like James Brown did, like Curtis Mayfield did, like Miles did, etc.
And why not credit Chuck w/ inventing rock? Because he's just not the first guy to play rock music. "Sh-boom" by the Chordettes (or is it Chords? I can't look it up now) is usually cited as the first rock 45 rpm recording. But certainly the style was kicking around even before then.
Little Richard likes to claim that HE invented rock 'n roll, and why not? But I think fans of even earlier artists like Louis Jordan could make an even more legitimate claim–some people like to call Jordan's music "jump band" music, but it sure sounds like rock 'n roll to me.
Again, nothing against Chuck. He's definitely a great artist who was on the cutting edge in his heyday. I just wouldn't say that he's the one guy who started it all.

What it actually is , is racism pure and simple. If Chuck's skin had been white it would have been a completly different story. And not some fantasy on an Alan Freed movie either!!

Did you ever notice that Allen Freed takes half the writting credit on Chuck's songs ???
Somehow I doubt if ol drunken Allen Freed had much to do with writing …."Maybelyne" ???
Check out "The Great 28" !!


You ever check out some of Robert Cray's music ?? I can hear some Chuck Berry in there !!

All right. If racism accounts for Chuck's lack of respect, how do you account for almost everybody these days talking and writing about James Brown as if he were a God?
Racism probably hurt Chuck's record sales back in the '50s, but just about everyone who digs '50s rock these days gives Chuck plenty of credit for being a major player of the era. I don't think Chuck is lacking respect from these fans.
But the question was, why Chuck isn't more known and respected by today's music fans in general–right? And my opinion is that '50s rock as a whole is not all that well-known or influential on contemporary pop anymore. Elvis still has a large following because he had a tremendous impact on white culture back in the '50s, as a personality as well as a performer, and we continue to feel repercussions to this day. He's become an icon. But what other '50s rock musician has that level of popularity? Everyone else I can think of–white or black or brown–is at best a cult star now. Still, when people who know the music talk about the artists who count the most, Chuck seems to always be included.


Yeah, I like Robert Cray. You can hear Chuck Berry in his music, as well as Stax/Volt and traditional blues.
But Cray hasn't had much mainstream exposure since "Smokin' Gun" came out–what, almost ten years ago? No doubt there
are more than a few musicians around who play styles of rock and r&ampb w/ direct links back to '50s rock, but how many still get exposed to a mass, and especially young, audience?
I think most contemporary music that young people dig has lost direct links back to '50s rock–which is why I reason that Chuck is not widely revered like James Brown is.
But regarding the debate on whether Chuck should be considered the inventor of rock 'n roll, I have been thinking that he just might be the first rock 'n roll "guitar hero." First one that I can think of, anyway. So he may have at least invented that role. What do you think?


Alan Freed took songwriting credit on alot of R&ampR songs. It was just business as usual for the record producer to get song writing credit,50% publishing,kickbacks,etc. Freed had the advantage of also being a disc jockey so that he could also get payola. Remember that payola wasn't illegal back then and Freed help break R&ampR in Cleveland and then onto NYC. As far as Chuck Berry is concerned I think that he hasn't helped is status as a rock pioneer by being extremely hard to deal with and insisting that he do shows with local pick-up bands. He has no clue who he is and how important—his place is on the R&ampR throne.


I'm going to have to disagree with you on this one.


1. In Chuck's autobiography he makes it pretty clear that he knows EXACTLY who he is and what his "position" is.

2. The reason why he is difficult and insist's on using "local" talent when he does live gigs is because hes has learned his lessons well after being ripped off and having to spend time in prison on trumped up charges. At this point I would say that Chuck just wants what's due him.
What more would you have him do at this stage of his life ?
(u can't undo the past)

Click here for more on Chuck Berry

Click here to enter your suggestions and feedback