Classic Soul – Four Tops, Levi Stubbs, Lawrence Payton, Obie Benson, Duke Fakir
Four Tops lead, Levi Stubbs Passes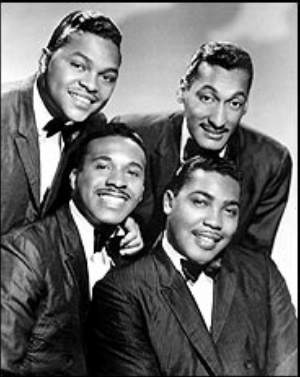 Levi Stubbs ……..No Greater Lead Singer, in ANY Group. I'll just be damned. You couldn't have known a better man. We loved the "Tops"
–mmdells
What else can I say about the great Levi Stubbs?
Even through the 'Tops' weren't bringing the steppin or even the real heavy doo-wop harmonies of so many of their predecessors and labelmates they brought so much more to the table. They were (similar to the Pips in this way) so much more polished and professional WITHOUT Motown's 'artist development' folk. They were always sort of an adult act in comparison with the others and Levi's bari was the quintessence of pop/soul singing. Let's face it the man could sing anything and often did.
I always liked watching and listening to him. It took me until my adult years to recognize the rest of the Tops as being worth anything because I was always riveted by cool-ass Levi Stubbs. As a boy he was the artist that I sort of wanted to grow up and be like. As much as I loved JB, Jackie, Wicked, Joe Tex and all of those guys, Levi was always just cool with his stuff. He seemed to look good AND be able to sing his ass off. The honies were always at his feet.
My favorite chumpie that made me go back and start listening to all of the background harmonies on their records was Still Water (Love). That's right I dug the slow intro side much better than the actual hit (Peace) because it showcased the vocal talents of these cats in an almost sacred way. Still Water (Love) was like an anthem of sorts with it's dirge-like somber tones.Almost like their contribution to the Marvin Gaye/ Flyin High In The Friendly Skies concepts of the day. As always Levi was the anchor holding things down.
Another of my favorites was a sort of obscure album called Night Lights Harmony. There were two really nice cuts on there that I remember striking me as very special. One was a nice breezy little tune called We All Gotta Stick Together. Another was the powerful Let Me Know The Truth. The latter had an MFSB/Something For Nothing majesty and orchestration to it. Also how bout their version of Hey Man /We Gotta Get You A Woman that was a fave for the Soul Train line back in the day?
My condolences to the family of Mr. Stubbs. Abdul Fakir is the last in one helluva line of lions. –LP This is sad news 🙁 May he RIP…I am glad that I did see the Four Tops once, live in Vegas during a visit in the early 1990's. It was a fabulous show, and they sang almost all of their hits. I "swooned", too, seeing this handsome fellow, with the rest of the Tops, from a distance after the show, as they waited for their limo.
–Debra
This one hurts. Maybe if had just read the report and went on about my day instead of putting some "Tops" on, I wouldn't feel like I just got kicked in the head.
Levi Stubbs is one of the most unique stylists of that Motown era. There was "something" about his voice and the way he delivered those H-D-H lyrics. I remember the first time I heard "Baby I Need Your Lovin' ". I still get that "rush" all through my body NOW as I did then. You know the feeling. You hear a song and it just engulfs you. Everything disappears and it's just "you and that tune".
"Shake Me, Wake Me" is my all-time favorite "Tops" tune but they had so many great songs and sometimes have taken for granted their place in the fabric of the 60's and the Motown Era. Quietly and consistently rolling out hit after hit,classic after classic. Sad day for "me"…
–Earl Gregory
This is indeed a sad day for us all with the passing of Mr. Stubbs "The Keeper of the Castle".That song among others that the Tops did sums it up for me of who he was.
I met Mr. Levi on several occasions here in Pittsburgh. One was the "Beat Birthday Bash" and the other time was for one of those PBS specials done by TJ Lubinsky. I got to talk to him and told him how much that song inspired me.
May condolences go out to his family and to the remaining members of the "Tops"
–Kevin Amos tha Funkoverlord
It was fall 1964…and I had just written and produced a single for a truly great Philly group called "The Good Guys"..We took them on a cross-country tour and when we got to Detroit.
We were booked at a huge CKLW radio record hop across the river in Windsor. There's a tunnel between the two cities and we were due on at 8..but got delayed in tunnel traffic. We arrived at 9….to the I N C R E D I B L E  sounds of "BABY..I NEEEEEEED YOUR LOVIN.PLAYING OVER A HUGE SOUND SYSTEM WITH THAT CHOIR BEHIND THE TOPS FILLING THE ROOM WITH A SOUND I WILL REMEMBER FOREVER.
The Good Guys panicked when they heard this, and saw the awesome uniforms and the footwork of the Tops, and wanted to leave……When the Tops went off, Levi came up and SAID HI..HE KNEW ME FROM THE uPTOWN AND WAS ALWAYS NICE. I INTRODUCED HIM TO THE GOOD GUYS AND HE SAID "get out there and kick their ass…"…..They did…and were VERY well received. To this day Artie and the guys can say they followed THE best there was….AND survived it. He, along with so many of the "fathers" Bob and I discuss often as leaving far too soon.. WILL N E V E R  BE REPLACED…… SING ON IN HEAVEN, BROTHER LEVI.
–Giant Gene (Terry too)


Listen To a Soul-Patrol.Net Radio Exclusive:
FourTops: Breaking Thru Album + Greatest Hits- Same Old Song,I'm Falling For You, Stll Water, This Can't Be Love, On The Street Where You Live,Gee Baby Ain't I good To You,The Way Nature Planned It, Nice and Easy, Maybe Today, Stranger On The Shore, Young & Foolish, Function At The JunctionHosted by "nightrain"
THE FOUR TOPS RETURN TRIUMPHANT WITH RELEASE OF NEW SINGLE "EAST COAST WEST COAST" ON JENNY JENNY RECORDS!


(First New Music in 20 years from the Motor City icons)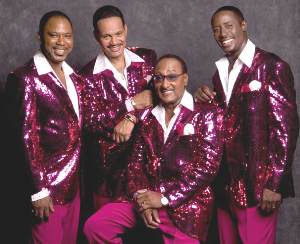 (DETROIT / LOS ANGELES) – Jenny Jenny Records is delighted to announce The Four Tops long-awaited release, "East Coast West Coast". In early 2008, Jenny Jenny Records will also release a full-length album of new Four Tops music – the first new music from the Hall-of-Famers in two decades.
Click & Listen to the Four Tops Fabulous New Single, via Soul-Patrol.Net Radio – "East Coast West Coast"
The classic R&B group, known for its vigorous touring and exhilarating stage show, has thrown its peerless energy into these new studio recordings. The first single, "East Coast West Coast", was co-written by original Tops member Duke Fakir, current Top Lawrence Payton Jr., (son of original member Lawrence Payton), and Paul Hill, who also produced the track. Performing alongside Fakir and Payton Jr. are Theo Peoples (Grammy-nominated as lead singer of The Temptations, best known for "Stay" and "Promise) and Ronnie McNeir, whose story is the stuff of music legend. When original lead singer Levi Stubbs became ill at a sold-out concert in 2001, the group was ready to cancel the show. Saying "Put me in a tux!," Ronnie strode out onstage and proceeded to finish the sold out concert to rave reviews, securing his spot as a permanent member of the group.
Click & Listen to the Four Tops Fabulous New Single, via Soul-Patrol.Net Radio – "East Coast West Coast"
"East Coast West Coast" will be available on CD in selected retail outlets and directly from Jenny Jenny Records September 18, with digital distribution to follow. The company plans to release a second single in October 2007, and full-length CD in early 2008.
Click & Listen to the Four Tops Fabulous New Single, via Soul-Patrol.Net Radio – "East Coast West Coast"
Jenny Jenny Records was founded in 2002 in Los Angeles by entrepreneur and industry insider Jenice Smith. The label focuses on artist-driven projects from legendary acts like The Four Tops. The company differs from other labels, relying on time-tested expertise to control costs and create efficiently, producing great new records, happy artists, and thrilled fans.
http://www.myspace.com/jennyjennyrecords
FOUR TOPS
Obie Benson, was a life time friend of The Dells, and a good friend of Johnnie Carter. Obie loved life, and lived life to it's fullest. The Dells and 4 Tops bonded many years ago, because The 4 Tops worked "Idlewild" Michigan with Billy Ecstine, and The Dells worked with the late Dinah Washington. At this particular time, neither one of us were singing R&B, we were aspiring to become jazz singers such as The 4 Freshman, and The Hi-lows. There was a musical genius out of Chicago named KIRK STEWART who became the vocal coach for both The Tops, and The Dells. This is where this mutual admiration began, and endures to this day.
This is truly a sad day in our lives….. Lawrence Payton passed, Levi Stubbs is ILL, and Obie has passed, life, and time has destroyed one of the GREATEST GROUPS EVER, and as great as Luther was, and I do mean GREAT, less not forget how long The Tops were GREAT.
mmdells
www.themightydells.com
LISTEN TO SOUL-PATROL'S TRIBUTE TO THE FOUR TOPS…
Four Tops: 50th Anniversary Anthology track listing:
Disc One
Baby I Need Your Loving
Without The One You Love (Life's Just Not Worthwhile)
Ask the Lonely
I Can't Help Myself (Sugar Pie Honey Bunch)
It's the Same Old Song
Something About You
Shake Me, Wake Me (When It's Over)
Loving You Is Sweeter Than Ever
Reach Out I'll Be There
Standing in the Shadows of Love
Bernadette
I Got a Feeling
7-Rooms of Gloom
I'll Turn to Stone
You Keep Running Away
Walk Away Renee
If I Were a Carpenter
Yesterday's Dreams
I'm in a Different World
What Is a Man
Don't Let Him Take Your Love From Me
It's All in the Game
Still Water (Love)
River Deep Mountain High
Just Seven Numbers (Can Straighten Out My Life)
In These Changing Times
MacArthur Park (Part II)
Disc Two
A Simple Game
I Can't Quit Your Love
(It's the Way) Nature Planned It
Keeper of the Castle
Ain't No Woman (Like the One I've Got)
Are You Man Enough
Sweet Understanding Love
I Just Can't Get You Out of My Mind
One Chain Don't Make No Prison
Midnight Flower
Seven Lonely Nights
We All Gotta Stick Together
Catfish
H.E.L.P.
When She Was My Girl
Tonight I'm Gonna Love You All Over
I Believe In You and Me
Back to School Again
I Just Can't Walk Away
Mean Green Mother From Outer Space
Indestructible

Click here to enter your suggestions and feedback