Classic Soul – Wilson Lambert's BLUE philly MAGIC (Formerly Known as Loves Magic)
But is also something that I witnessed live (and in living color) this past Saturday night inside of a ballroom at a 3 star hotel in Exeter, PA along with about 200 other folks courtesy of a band called LOVE'S MAGIC"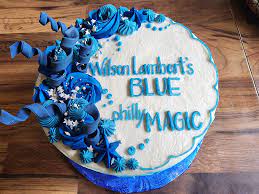 New name, same game!
This is badd. It's The (REAL) Sound Of Philadelphia (TSOP) courtesy of our good friend, Lambert Wilson. It's been a minute since I checked in with him (my fault not his.) You can imagine my surprise when I cruised past his Facebook page tonight and found this gem…Wilson Lambert's BLUE philly MAGIC covering The Ethics Classic Think About Tomorrow. SMOKIN
You will recall in the original by the ETHICS (1966) the ORIGINAL, from THE ETHICS (FEATURING Future Temptation Ron Tyson!)
Classic Soul – CONCERT REVIEW – "Love's Magic – "The Future Of Classic Soul?" (February 12, 2011)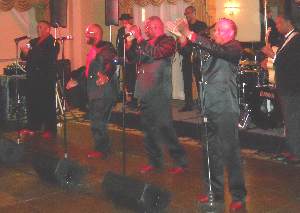 …
Well at least a part of it…and for me thinking about the future of Classic Soul is of paramount importance during Black History Month 2011!!!
We already know that a big part of the future of Classic Soul is going to be young white artists (like Amy Whinehouse, Meyer Hawthorne, etc.) completely dominating the scene their own versions of regional Black music sounds, featuring with retro Chicago, Detroit, Philly, etc. grooves. We already know that young white kids will eat that stuff up.
Same thing with the deluge of technically correct white funk bands like Black Joe Louis and the Honeybears, Sharon Jones and the Dap Kings, etc. being fronted by powerhouse Black singers that sound as greasy as a fatback samich at 5am.
However inside of the explosive period of GREAT BLACK MUSIC that we are about to enter, (perhaps being ushered in by Mick Jagger Sunday night?) there is room for so much more…
–Even in an age where rappers and bluesmen seemingly have not a thing in the world to complain about (despite the world wide economic, social & healthcare crisis,) there is room for something else…
–Even in an age where "neo soul" artists seem to want to be as disconnected from that which they are supposed to be "neo" about as they possibly can, there is room for something else…
–Even in an age where jazz has suddenly become even more boring than watching grass grow, there is room for something else…
And I am here to tell yall that the something else is EXACTLY what Mick Jagger did last night at the Grammy Awards, when he paid tribute to the late Solomon Burke and TORE IT UP, fronting an ALL BLACK BAND!!
But is also something that I witnessed live (and in living color) this past Saturday night inside of a ballroom at a 3 star hotel in Exeter, PA along with about 200 other folks courtesy of a band called LOVE'S MAGIC"
Love's Magic only does one thing. They don't try to capture everything in a bottle. However, that which they do was just as inspirational for me as what Mick Jagger did last night at the Grammy's. In fact it was EXACTLY the same thing, the did a magnificent job of "covering" some BLACK AMERICAN STANDARD MUSIC and they did it during Black History Month…LOL
—LOVE'S MAGIC IS A BLUE MAGIC COVER BAND.
–ALL THEY DO ARE BLUE MAGIC SONGS
They have 4 singers, back by a STANK six piece band (including a horn section)
More appropriately they should be billed as a "TED MILLS TRIBUTE BAND"
(cuz they sounded a whole lot better than Blue Magic itself has sounded in the past 10 years…..LOL)
–Never Gonna Get Over You
–Welcome to the Club
–Tear it Down
–Stop To Start
–Spell
–Look Me Up
(and more from Blue Magic's catalog)
Yeah the band was a tad too loud, however it didn't take away from the singing. In fact lead singer Wilson Lambert, approaches Tel Mills, in both sonic clarity and feeling.
Soon all of the greats of Classic Soul will no longer be here with us. It's a sad reality of the passage of time.
However it is good to know that there are REAL BANDS like "Love's Magic" (Blue Magic), Inca (Santana), "Everyday People" (Sly & the Family Stone), "Clones of Funk" (P-Funk), John Conklin (Moments) and others that we have reviewed here on Soul-Patrol.com…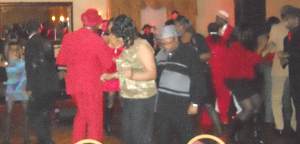 Mind you….I'm not talking about FAKE AZZ BROKEN DOWN groups out there who are "perpetrating a fraud" on the public (and their wallets.)
I'M TALKING ABOUT GENUINE TRIBUTE ACTS…WHO ONLY DO ONE THING, BUT DO THE HELL OUT OF IT
We need more of these types of artists….That's cuz we are going "back to the future." And these type of artists are going to be a big part of providing the transportation that gets us there!!!
And why not? White folks have been using "tribute bands" for hundreds of years as a mechnism for "keeping their music alive" for hundreds of years (ever been to the symphony to check out some 200 year old classical music, not being performed by the "original artists?") I don't see any reason why Black Americans shouldn't have new/talented artists doing the same thing with "Black American Standard Music."
Hmmm…If I were to ever stage a modern day version of the TAMI show, Love's Magic might just be a part of it. (since Mick Jagger probably wouldn't be available to me…..LOL)
AND SUDDENLY I FEEL INSPIRED…..SIGN ME UP!!!!
(sorry for the low quality of the pictures, yall know that I am a terrible photographer….LOL. However there were plenty of Soul-Patrollers in the house, maybe one of them will send me a decent picture of Love's Magic on stage that I can use on the web site)
—————–
Bob Davis
earthjuice@prodigy.net
609-351-0154
——————