Classic Soul – Marvin Gaye What's Going On, Lets get It On, Here My Dear, Marvin Gaye Stamp

Classic Soul – Marvin Gaye What's Going On, Lets get It On, Here My Dear, Marvin Gaye Stamp

CD of the YEAR!
Marvin Gaye "Let's Get It On" CD Deluxe

Album Review: Marvin Gaye – Here, My Dear [Extra Tracks] [Original Recording Remastered]
(The Godfather of Nu Soul)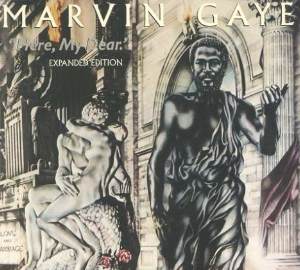 Perhaps some of you out there will recall an old movie called "The Big Clock" starring Ray Milland and Charles Laughton? In the movie Ray Milland is hired by Charles Laughton to find a murderer. Of course the big twist at the end of the movie is that the murderer is the very same person who hired him in the first place, Charles Laughton!!!
Sometimes, as I go thru my own "detective work" in the arena of Black music, I feel like Ray Milland's character must have felt at the end of "The Big Clock."
Today is yet another one of those days.
When it comes to questions about Black music, the at least a part of the answer for me always seems to come back to the tortured genius of Marvin Gaye.
And how fortunate we are at this time in the history of Black music, a critical time it is indeed to be presented with an album of new music from our friend Marvin Gaye. This is a time for Black music to reinvent itself and we have been in the midst of that reinvention for most of this decade. We now have what is fundamentally a new album from Marvin Gaye to use as a reference point to insure that the framework for the construction project being undertaken by today's artists (especially those who claim Marvin Gaye an influence) is adhered to properly.
"Old headz", won't like this album.
There is absolutly zero "nostalgia value" here.
This is an album that isn't about the past.
It's about the future…
Today's male artists always claim a holy trinity of influence: "StevieWonderDonnyHathawayMarvinGaye".
They recite it almost as if it's a singular "Web 2.0 phrase". The reality is that what most of them do is to pick the most boring (& least challenging) aspects of Stevie Wonder & Donny Hathaway, mimic those and call it a day (ex: John Legend). Zzzzzzzzzzzz
There is good reason why artists avoid the essence of Marvin Gaye.
To enter the world of Marvin Gaye, means that you must be willing to create art that might be dangerous to you not only on a musical level, but on a personal level as well. Marvin Gaye was a genius, but he was also "crazy" and he lived on the edge to such an extent that the very same personal issues he spoke of so eloquently in his music are no doubt the same issues that caused his early death. Attempting to create art in a similar mode, might just cause a similar end result? This is an artistic challenge that few "sane" people are willing to undertake.
Tonight I have been listening to Marvin Gaye – Here, My Dear [Extra Tracks] [Original Recording Remastered].
I'm sure that many of you remember the original album. It was the last and least commercially successful album created by Marvin Gaye during his period of creative brilliance of the 1970's, starting with the "What's Going On" album. The album was infamous, because it's probably the only time that an album was used to finance a divorce settlement (thus the title "Here, My Dear").
This new package contains two discs:
Disc #1 – The original "Here My Dear" album, digitally remastered Disc #2 – New songs & remixes
Universal Music (via Harry Weinger) has done an excellent job of re-releasing the albums of Marvin Gaye from the 1970's. They not only have recreated the original albums intact, exactly how we remember them, but these reissues are like no others that you have ever heard before. That's because they all have as an overt purpose to help us to truly understand the genius & visionary that Marvin Gaye actually was. By including both remixes & previously unreleased tracks, they also help us to understand the complexities & contradictions that made up the totality of Marvin Gaye and how he overlayed those complexities & contradictions directly on the music in a way that gave the listener such insight into his mind.
Never before or since had an artist laid his own soul bare for all who bothered to pay attention to absorb. He is both confident and confused about his own personal & musical reality, at the same time. If there ever was a "divided soul", it was Marvin Gaye, an artist who simultainiously both created & sabotaged his own greatness. As such his life & career stand clearly as a metaphor for the internal struggle of Black American Males in our society. This is the reason why we relate so well to Marvin Gaye, despite his superstar status, he really does seem like a "regular brotha w/issues."
For the purposes of this exercise, I will focus on Disc #2 ("the new stuff"):
Here are the song titles
1. Here, My Dear alternate mix by Mocean Worker
2. I Met a Little Girl alternate version mixed by Easy Mo Bee
3. When Did You Stop Loving Me, When Did I Stop Loving You alt version mixed by Leon Ware & Gerry Brown 4. Anger alternate extended mix by Marcus Miller
5. Is That Enough? (Instrumental) alternate version mixed by Montez Payton
6. Everybody Needs Love alternate version mixed by Prince Paul
7. Time To Get It Together alternate extended mix by DJ Smash
8. Sparrow alt version mixed by The Randy Watson Experience (Ahmir "?uestlove" Thompson & James Poyser)
9. Anna's Song (Instrumental) alternate version mixed by John Rhone
10. A Funky Space Reincarnation alternate extended mix by John Morales + Paul Simpson
11. You Can Leave, But It's Going To Cost You alternate extended mix by John Rhone
12. Falling in Love Again alternate version mixed by Salaam Remi
13. Original 12-inch: A Funky Space Reincarnation (Instrumental)
Now if you know the basic Marvin Gaye story, it's obvious that these songs are autobiographical and deal for the most part with the pain of his relationship with Anna Gaye (Berry Gordy's sister). But what the song titles don't tell you is the emotional pain and sadness that Marvin Gaye is pouring into these songs that listening to them does.
The other thing that you can see from these song titles is that these songs have been "touched" by modern day producers. However unlike other efforts of this type, it seems to my ears like these producers realized very clearly that their role was not to implant their own vision into the proceedings (a' la the Motown Remixed album), but instead to extend the vision of Marvin Gaye into 2008. And for this I applaud them, because in doing so they allow us the ability as listeners to impose that vision & framework directly on the artists of today, who claim Marvin Gaye as an influence
Now here is the twist, all of this pain and sadness is riding on top of some of the smoothest, slow burnin & uptempo jazz-funk grooves (a' la "You're the Man") that you would ever want to hear. In between we hear African drumming & chants that at first sound like they are emanating from the motherland, but then you quickly realize that those sounds of the motherland are coming to us, filtered by Marvin Gaye's street corner doowop days in Washington DC (with Marvin serving as his own background singers, as usual).
As this is going on there are more twists, for example the guitar solos on the instrumental "Is That Enough", sound like they are straight off of a mid 70's George Benson CTI album or are perhaps leftover from the "Trouble Man" soundtrack.
Marvin thrashes, taunts (including describing how he has now found someone else to love) and talks junk to his soon to be ex wife for this entire album. It's gut wrenching, it's sad and yet the groove is sooo f-u-n-k-y that I don't know if I'm supposed to smile or cry.
And as I listen to this album coming towards it's conclusion, I start to remember that almost all of our current day male "Nu Soul" artists cite "Marvin Gaye" as a key influence. And they are correct, however what those artists haven't quite nailed yet is how to balance the kind of contradictions and complexities that Marvin Gaye was dealing with as elements of art. You see it's not just having the complexity within the music & the lyrics, it's also in how to achieve a perfect kind of balance so that that complexity becomes a balanced and fully formed artistic vision. The good news is that there are some male artists of today (ex; Marlon Saunders, Eric Roberson, Sonnyboy, Nadir, Mike Calzone (Calhoun), Rahssan Patterson, Mark Broussard, Donnie & others) who are attempting to operate in this mode from both a lyrical and musical perspective. It's going to be exciting to watch & listen as these men attempt to fill in the framework that Marvin Gaye provides for them.
And it's also going to very clearly separate "the men from the boyz", moving forward!!!!
It's jazz
It's funk
It's soul
It's doowop
And most importantly for the future, it's "Nu Soul"
It's where we have come from.
It's where we are going.
It's the "right album at the right time."
It sets a standard for Nu Soul.
It raises the bar.
It's a GREAT album
And it is essential listening for anyone who cares about the future of Black music!
I suppose that I could make my "detective work" a whole lot easier (just like Ray Milland could have done?), by simply turning to Marvin Gaye for the answer, cuz his name always seems to come up, one way or the other?
But that wouldn't be as much fun….
–Bob Davis
Look for these songs playing as as "buzz cuts" on Nu Soul @ RadioIO.com

LET'S GET IT ON: CD DELUXE

 


LET'S GET IT ON: CD DELUXE

I will go out on a limb and suggest to Soul-Patrol that this CD Deluxe set is the BEST release of the year 2001!
(and yes, I know that the year isn't over with yet)

There has been a LOT of really good music released this year and I have been privleged to hear quite a bit of it.
But I'm tellin yall…
right here, and right now….
…..This is the BEST package of music that you can possibly spend your hard earned dollars on right now
You actually get 4 Marvin Gaye Albums with this CD Deluxe set

Here is a quick synopsis…

DISC: 1

(ALBUM #1) * "THE ORIGINAL LET'S GET IT ON ALBUM"
Just as you remember it, only digitally remasered

1. Let's Get It On
2. Please Stay (Once You Go Away)
3. If I Should Die Tonight
4. Keep Gettin' It On
5. Come Get To This
6. Distant Lover
7. You Sure Love To Ball
8. Just To Keep You Satisfied

(ALBUM #2) * "SESSIONS"
A bunch of alternate takes of songs that you are familiar with from other Marvin Gaye material that you are already familiar with something "completely unexpected" for you fans of the Miracles 🙂

9. Song #3 (Instrumental)
10. My Love Is Growing
11. Cakes (Instrumental)
12. Symphony – Undubbed Version
13. I'd Give My Life For You – Alternate Version
14. I Love You Secretly/The Miracles
15. You're the Man – Alternate Version
16. You're The Man – Alternate Version 2
17. Symphony – Demo vocal

DISC: 2

(ALBUM #3) * "DEMOS, ALTERNATE MIXES & MORE"
It's an "alternate" version of the original album and includes something VERY special for those of you who are collectors

1. Let's Get It On – Demo
2. Let's Get It On (Part III) A.K.A. Keep Gettin' It On – Complete
3. Please Stay (Once You Go Away) – Alternate Mix
4. If I Should Die Tonight – Demo
5. Come Get To This – Alternate Mix
6. Distant Lover – Alternate Vocal
7. You Sure Love To Ball – Alternate Mix
8. Just To Keep You Satisfied – A Cappella w/Alternate Vocal
9. Just To Keep You Satisfied/The Originals (1970)
10. Just To Keep You Satisfied/The Monitors (1968)

(ALBUM #4) * "WORKING THE GROOVE"
Imagine if you will for a moment that we were living in a "parallel universe" of some kind.
A "parallel universe" where Marvin Gaye had NEVER made the "What's Going On" LP, but instead had continued to record what would have been the next logical stage of the pop music he was making for Motown in the late 60's. So it's a look at what Marvin Gaye would have sounded like during the 1970's, if he had continued to make "standard pop music".
This may well be the most interesting of the "four albums"

11. Where Are We Going? Alternate Mix
12. The World Is Rated X – Alternate Mix
13. I'm Gonna Give You Respect
14. Try It, You'll Like It
15. You Are That Special One
16. We Can Make It Baby
17. Running From Love (Instrumental Version)
18. Mondata (Instrumental)
19. Running From Love (Instrumental) – Version 2
20. Come Get To This – Live From Oakland

–Bob Davis

What could be better than the What's Going On: CD Deluxe?
The LET'S GET IT ON: CD DELUXE


 

Peeps:


On a much needed lighter note, I picked up the ' new ' Marvin Gaye last week.
In light of the past weeks events, I really needed a break. Man, was this it and then some! I heard about this release back in July, so there I was, as usual, at the midnight release session at a local store. If anyone out there knows me, you'll know just how big of a Marvin fan I am. Period.

I LOVED this year's release of The Deluxe Edition Of ' What's Going On'; at that time I said that it was one of the most important releases of the past decade. After many,many repeated playings, I still feel that way.
Now, The Deluxe Edition of ' Let's Get It On ' will take you to another plateau. What can I say? I think I'd probably buy a Marvin Gaye album with just him reciting the Yellow Pages.

This new cd features roughly 27 ( yes 27 ) 'new' joints, even if a few have made their way onto other releases, these are different, or alternative mixes. For example, one of my all time faves, ' You're The Man'. Since it was first released as a single, back in tha day, I must have jammed this a gazillion times or more. The 'new' disc features 2 new versions, and WOW! I think I like the alternative version ( # 1 ) even better! Incredible! I wonder if it would have been better received if released commercially like the version included here. If you even remotely like this joint, I promise you'll love the new version. Funny, as it is with other Marvin Gaye joints, you can listen to the words on ' YTM ', and they are just as applicable today as they were when first released, back in the early 70's.

Then, there's the alternative versions of ' Symphony ', another all-time fave. All I can do is hake my head.Marvin was truly one of a kind, so please spare me the "….this cat/dude/hommie/boy is the next Marvin Gaye." There will NEVER, repeat, NEVER be another Marvin Gaye. End of story.
There's also the instrumental jams, too. Fantastic stuff. And, there's the alternate version of ' Where Are We Going? ' . I just picked up the two CD 'Best Of ' that just came out over month ago, just for this joint. Now, there is another version on this disc! I LOVE it! And there are the alternate mixes of the cuts from the original lp. Like the lush, string filled intro to ' If I Should Die Tonight '. Beautiful. Listen to that, then compare it to the garbage that's on the radio and in videos today. I rest my case. It's a trip, but ' Symphony ' , version 2 is actual ' What's Going On ' !

Oh, the enclosed liner notes, essays, and pictures are well thought out, and provide a glimpse into the making of this masterpiece, and pay a wonderful homage to Marvin.
All in all, this is simply a must have for Marvin Gaye fans, or anyone who truly appreciates great music.
Now, I'll keep my fingers crossed so that the folks at Deluxe Editions are eyeing a ' Trouble Man ' and ' Here My Dear ' release………..soon !!!

GOD Bless and keep you and your families safe. Be proud of who you are and what you stand for. This is a new day for us all, cherish those you love and hold dear. Live life to it's fullest!

One Love,

–JimmyJam

Click here to enter your suggestions and feedback
CD of the YEAR!
Marvin Gaye "Let's Get It On" CD Deluxe

The 2001 Marvin Gaye Birthday Special!
What's Going On: Deluxe Edition
 


WHATS GOING ON

TWO CDs, each about 76-77 minutes in length

DISC 1
– Tracks 1 through 9: the original LP, 24-bit remastered from the ORIGINAL masters (you will be able to see the image of those original tape boxes inside the package), as recorded in Detroit (w/minor overdubs in L.A.) and mixed in L.A. – Tracks 10 through 18: the same tracks, but as originally mixed in Detroit by the same engineer who had mixed the 'What's Going On' single.
Earthier, different viewpoint, more percussive, missing the later overdubs and on several tracks the 2 Marvin voices we are accustomed to hearing overlapping each other are instead in 2 separate channels (!).
Fascinating. It's like getting a new album.
– Track 19: a new instrumental mix of "What's Going On" – mostly rhythm & strings, very trance-like. Something I am personally happy with and while it was originally intended to showcase bassist James Jamerson and the string arrangement of David Van DePitte, I am also hoping radio picks up on it.

DISC 2
– Tracks 1 through 12: The live concert version of the album,. It was Marvin Gaye's first live show in nearly 4 years, backed by some of the original musicians on the LP, on 'Marvin Gaye Day,' Washington D.C. (his hometown), May 1, 1972. A miracle event.
– Tracks 13 through 15: original single versions of "What's Going On" (mono, very different, w/false fade), "God Is Love" (mono, ballad version, different than LP) and "Sad Tomorrows" (different version of "Flyin' High In The Friendly Sky," backed by The Originals)
– Track 16 – a surprise. Something Marvin cut when Motown had rejected the original "What's Going On" single in the fall of 1970. Listen carefully. Marvin later changed the words to create a completely different song.

Includes 28-page booklet, with UNSEEN PHOTOS FROM THE ORIGINAL PHOTO SESSION BY THE ORIGINAL PHOTOGRAPHER – unusual, since in 30 years no one has ever seen anything but the front and back LP cover shot of MG in the wet snow, and one or two outtakes that have been used in magazines.

Essays by Ben Edmonds of Detroit, who's doing a book on the LP, and yours truly.

–Harry W.

EVERY PERSON ON THIS PLANET WHO CALLS THEMSELVES A FAN OF SOUL MUSIC SHOULD OWN THIS….
………PERIOD


 

1. Alternate takes…as most of you will recall, Marvin Gaye originally recorded "What's Going On" in Detroit, using Detroit studio musicians. He submitted this to Berry Gordy for an album and Gordy initially rejected it.
Marvin was asked to report to Motown studios in Los Angeles to begin work on another album.
In the meantime, Gordy changed his mind about "What's Going On" (after the single was released and became a hit) and told Marvin to re mix the album is Los Angeles, which he did and it is the so called "LA Mix" that became the album that was eventually released that we all know and love.
To my ears, the "Detroit mix" is a little more FUNKIER and less "polished" than the "LA Mix".
When you hear the album, then you can judge for yourself
Both versions appear on the 2 CD Deluxe set

2. Live Concert….Took place at the Kennedy Center in Washington DC., around the time when it first opened.
It was the first time that Marvin Gaye had done a live concert since Tammi
Terrell had collapsed in his arms 4 years earlier.
This concert, is AWESOME
If I am not mistaken, it's the only time that he perfomed ALL of the songs
from the album "What's Going On" live!
I am not going to talk about it too much here.

However I will say this much.
I have had this album in my hands for about a month.
I have listened to it almost every day since then.

The music is DEEP and the message is even DEEPER

I have been a fan of Marvin Gaye's since I first started listening to music in the mid to late 1960's and over the years i have purchased most of his recordings.
He is probably one of my top 5 artists of all time. I thought that I knew him and his music quite well

After listening to this 2 CD set, I discovered how little I actually knewabout Marvin Gaye….

–Bob Davis

Click here to enter your suggestions and feedback