Classic Soul – Moments (aka Ray, Goodman and Brown: A MOMENT WITH FRIENDS)

Classic Soul – Moments (aka Ray, Goodman and Brown: A MOMENT WITH FRIENDS)

NYC/NEWARK: AL GOODMAN TRIBUTE CONCERT (BUY A TICKET EVEN IF YOU CANT GO)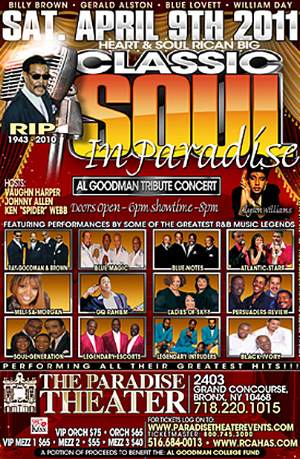 Yeah…..strange as it might sound I want you to give some consideration to buying a ticket to this show no matter where you live. Even if you can't attend the show itself….
I want you to consider buying a ticket…for a concert that is designed to raise money for a SCOLARSHIP FUND IN THE NAME OF AL GOODMAM.
http://www.ticketmaster.com/event/0000454CA1C37E02?artistid=1513084&majorcatid=10001&minorcatid=202
Of course if you can go to the show, you should. Many of the artists who will be there will also be at the Soul-Patrol Convention in Philadelphia on July 23 2011. I have no doubt that the shows in NYC & Newark will be worth attending if you can.
Soul-Patrol.com for me right from day one hasn't really been about the music. In that respect it is really and truly something of a "Trojan Horse." The name Soul-Patrol was meant to be taken as a group of people who were "on patrol," looking for great music. However that was just a superficial description. At the end of the day it was really about a group of people who loved the same culture, looking for each other, to try to discover a methodology to save that culture from destroying itself.
I first met Al Goodman sometime back in the late 1990's. It happened at the studio of Cliff Perkins, the leader of the Soul Generation on a Sunday afternoon in Jersey City, NJ. On that same day I also met Billy Brown the "Brown" in "Ray, Goodman & Brown" and Gerald Alston the lead singer of the Manhattans.
The meeting had been called by Cliff Perkins. He wanted to introduce the concept of Soul-Patrol to his partners and more importantly he wanted to introduce them to me. As it turned out, I ended up not only getting introduced to some of my musical heroes, but more importantly became introduced to a set of ideas that would later force me to become much more than a fan of the music or a fan of the artists, but would instead force me to become an activist in helping to save the culture from destroying itself.
They told me about their own efforts in trying to put together various recording projects, live shows and more that were oriented in extending the culture that they all had been very much involved in creating back in their heyday. They were very much interested in what I was doing on the internet and how it could be connected to what they were doing. On that day we all agreed to be supportive of each other. Of course at that time I knew that they were going to provide me with far more support than I could ever give back in return.
Al Goodman's inspiration in both words & deeds is one of the key factors in my own personal transformation from a "fan" to an "activist." One of the things that I learned on that day in Jersey City, was that Al Goodman was in fact the leader of a movement that didn't have a name. But it was in fact the very same movement that I had described in my writing as "a movement to help Black culture save itself from itself."
Al Goodman wasn't just about talk, he was a man of action who truly believed in this mission. For example, I am not embarrassed to tell you all that Al Goodman personally reached into his pocket and funded Soul-Patrol's operations at various points in time when we were flat broke.
He did that so that I could keep on writing and so that we could keep on sending what I had written about via email at a time when NOBODY on the internet was willing to do battle with the multi-national corporations who controlled the radio & record businesses. He did this because he wanted me to be able to continue to have the freedom to one moment talk about the injustice of the Mighty Dells nor being in the Rock n' Roll Hall of Fame and then the next to be able to tell the Neo Soul & Rap artists to get their sh*t together because they were squandering their legacy, the next to tell jazz to stop being so damn "smooth/predictable" and return to being "raw/improvisational," writing essays trying to get more Black folks to stop ignoring Blues music, or writing essays to get Black folks to tell their sons to pull up their pants and stop making so many damn babies, etc.
Al didn't say much here online if he did it was never more than a one liner, always written in ALL CAPS like "GO GET EM BOB." More often there would be a phone call from Al, encouraging me and often giving me some "inside info' on the topic, dropping me some names, phone numbers, etc to follow up.
You see there is a very big difference between being an activist and being a fan. Most of us are fans and are quite comfortable being that. But to be an activist it means that you are a fan, however you also understand that you have a responsibility to serve a much higher purpose and put far more at risk than what is required to be a fan.
–In order to be a fan, all you have to do is be willing to buy a ticket, buy a recording and allow your mind to be open to the possibility that the music may be great.
–In order to be an activist, you must be willing to put whatever you have built on the line for the sake of making a point and with that point potentially improving the overall environment so that more people can become fans.
Al Goodman is one of the people who made it possible not only for Bob Davis to continue to be a fan of "the culture that is trying to do everything possible to destroy itself." But he also is one of the people who made it possible for Bob Davis to become an activist for "the culture that is trying to do everything possible to destroy itself." He isn't the only "patron" that Soul-Patrol.com has had. But he was one of the first who saw it as being something that was important enough to sustain. And he did so at a time when it wasn't exactly popular to do so. There were many who hate what we stand for and would just as soon see us cease to exist. And of course that is still the case today…
In fact one time my brother Mike saw Al at an event and Al went to a dogone ATM machine and withdrew money from it, gave it to Mike, just to insure that I could keep on writing.
And that's why I want you to buy a ticket, even if you can't attend the show, even if you live thousands of miles away.
I want you to become an "activist" even if only for a few moments, by going into your wallet, pulling out your credit card and clicking on following link and ordering a ticket.
http://www.ticketmaster.com/event/0000454CA1C37E02?artistid=1513084&majorcatid=10001&minorcatid=202
That's the link for the Newark show, but it doesn't matter…..the money ends up in the same place! Then go back to being a fan.
But know that someone that you have probably never met named Al Goodman. The bass singer for the Moments/Ray, Goodman & Brown, one of the top ten Black American Activists of his generation is probably looking down on you and smiling.
I was a "fan" of Al Goodman's music….Yet he became my "patron."
Now I ask that you become his "patron."
And of course feel free to pass along this idea to anyone that you can think of who might just care about such a thing.
Thanks in advance for the consideration (and for reading)…
–Bob Davis
609-351-0154
earthjuice@prodigy.net
Co-Founder www.soul-patrol.com
Blues, Hip Hop and Soul Music Director www.radioio.com

Arrangements for Al Goodman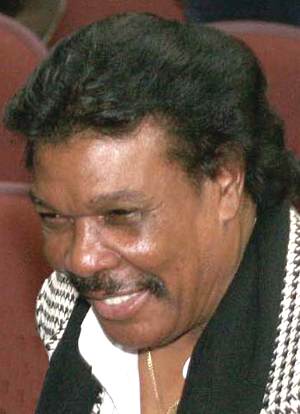 Obviously this has been a very sad week here at Soul-Patrol. We have lost one of our most dynamic and influential members, someone that I will personally miss a great deal. However it occured to me that perhaps I have been just a littlke bit to personal with respect to Al Goodman and in doing so may have minimized his actual impact & influence in the world of music. We don't ever want to do that with respect to the legacy of The Moments/Ray, Goodman & Brown. So I thought that I would put something together that was a bit more traditional to mark his passing. QAt the end is the information about Al's services, which will be this Monday morning in Englewood, NJ…
Al Goodman Passes
Leader of the Moments/Ray, Goodman & Brown
(Mar 31, 1947 – July 26, 2010)
Al Goodman, the leader of one of the most profound vocal groups of the Classic Soul era, passed away on Monday, July 26th. He lived in Englewood, NJ and his death is mourned his wife Henrietta, children and millions of music fans around the world.
The Moments/Ray, Goodman & Brown Chart Summary:
–Moments/Ray, Goodman & Brown had 4 Top 40 Pop hit singles; Look At Me (I'm In Love), Sexy Mama, Love On A Two-Way Street, and Special Lady
–Moments/Ray, Goodman & Brown had 31 Top 40 R&B hit singles; Girls, Gotta Find A Way, Lucky Me, Lovely Way She Loves. My Thing, Inside of You, Happy Anniversary and others
Mr. Goodman was the longtime leader of the group first known as the Moments during the 1970's. THE MOMENTS started off the 1970's with a bang, having their song "Love on a Two Way Street reach #1 on the R&B charts and #3 on the Pop charts. During the 1970's they built a reputation as legendary R&B performers both on record and in concert. Since the 1980's the group formerley known as THE MOMENTS has been known simply as Ray, Goodman and Brown, after settling a naming dispute when they changed record labels. Despite the name change, Harry Ray (d.1992), Al Goodman and Billy Brown, managed to not only retain their signature "sweet soul" sound, but also expand it into a new audience with the crossover smash "Special Lady" in 1980, reaching #1 on the R&B charts and #5 on the Pop charts.
Over the past 30 + years, Ray, Goodman and Brown has toured the United States and the world with some popular R&B artists such as; the O'Jays, Whispers, Chi-Lites, Stylistics, Dells, Unifics to name a few.
Mr. Goodman led the group during the past 20 years of changing musical tastes and technology landscape that was not particularly kind to veteran artists. Despite these obstacles, Ray, Goodman and Brown embraced these changes and unlike some of their peers were able to overcome and sustain their careers.
In the new millennium, Ray, Goodman and Brown found themselves on the cutting edge, by forming their own independent label called Defourovus Music, releasing highly acclaimed music done in the style which made them famous such as "A Moment With Friends," where they covered great hit songs by their friends (Blue Magic, Delfonjics, Manhattans, Main Ingredient, Chi-Lites, Escorts and others) and using the internet to reach fans and drive sales. In addition to creating their own new music, the music of Ray, Goodman and Brown appeared on some of the biggest hits of the 2000's from artists such as Jay Z, Alicia Keys and others.
Mr. Goodman was well known through the music industry not only for his willingness to help younger artists, but also for his fierce commitment to the music itself. In the NYC area in recent years, Mr. Goodman could be seen working with notables such as Rev. Al Sharpton in an effort to convince local radio stations in the NYC area to shift away from "negative programming" and be more responsive to community needs.
Arrangements for Mr. Albert Goodman
Service: Monday, August, 2, 2010
Location: John Harms/Bergen PAC Theatre
30 North Van Brunt
Englewood, NJ 07631
Phone: 210-816-8160
Service Hours:
Wake: 9AM – 11AM
Service: 11AM- 1PM
–Bob Davis
609-351-0154
earthjuice@prodigy.net
Co-Founder www.soul-patrol.com
Blues, Hip Hop and Soul Music Director www.radioio.com

Goodbye Al Goodman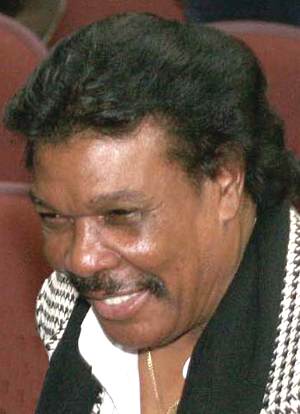 I will never say goodbye to Al Goodman of Ray Goodman & Brown a.k.a The Moments and this is why
First, I need to apologize to Mrs. Henrietta Goodman; I was so very selfish with your lost. I honor you, Al's "Special Lady" for 34 years. My heart, hugs and my prayers are with you and your children and grandson. Saying goodbye to one of the nicest guys in the world is not easy. I struggle still with Harry Ray being gone, but I never got to befriend him like I did Mr. Goodman. The phone conversations we had are treasured in my memory forever. How did I, no one famous, not even the daughter of anyone famous, get to talk to Mr. Goodman on the phone? It was simple; I went to the Ray Goodman & Brown website, clicked contact and dialed the number. Now I did spend 15 years in the music business, but that was back in the 1990's. I met a lot of entertainers but never the pleasure of Ray Goodman & Brown. So during this conversation the person on the phone kept saying "we," I think to myself, I am so glad not to be in such a business when ego's fly higher than birds. So I politely ask the person on the other end of the line, "sir, you keep saying we, what do you mean we?" and in his friendly baritone voice he says "you are speaking to Al Goodman" just like that! Little did he know who he was talking to…a fan, an admirer? No, my love for Ray Goodman & Brown a.k.a The Moments goes deeper, they saved my life.
You see I never had dreams as a child of what I wanted to be when I grew up, that didn't happen until I was 44 years old. You see my dream is to be a writer and I had this story idea, and in the research process I had taped a Soul Train episode. On this particular show it was The Moments, Sylvia and Ecstasy Passion & Pain. At first after Don Cornelius made his announcement of the guest, I said to myself, oh, I remember the name "The Moments" but what did they sing? I was in elementary school in the 1970's and our house was filled with soul and r&b music with a touch of rock n' roll. I did everything to the beat of music, I did my homework, cleaned the house and I could not fall asleep unless the radio was on. And at the early age of 11, I enjoyed the red-light parties. We partied like adults as much as our young minds would allow, we knew and felt the power of that 1970's soul/r&b music, it had us in a constant spin the bottle trance. It was all we knew. So the Soul Train dancers did their thing to a few numbers, Sylvia was up first, I was bedazzled by her pink outfit! The dancers do their thing again and then Don introduced them. This introduction was so filled with admiration; I thought wow, Don really digs them. So the camera moves over to the stage, I see 3 white pairs of shoes, as the camera moves up to a wider angle, I see 3 men in powder blue outfits that had something that seem to sparkle on them, the front of the shirts are cut wide and low showing their bare chest, the camera is still at a wide angle shot and I scream "OH MY GOD, OH MY GOD, OH MY GOD!" The vision of the 3 of them along with this smooth, beautifully sexy music was then accompanied by this perfect voice by the one in the middle, "here we go baby, time to get down," the one in the middle sang.
Without me being aware of my actions my body left the couch, I was now 2 inches away from my T.V. set. Now the camera comes close up on the one in the middle, I scream again. The camera pulls out to a wide angle again and now I can see all three. I sat there frozen, in shock, in awe, in love. On this night, at this moment my mind, my spirit and my body was taken over by The Moments later I would come to know them as Ray Goodman and Brown. For the next 3 months as soon as they finished singing "Sexy Mama" I would carefully rewind the tape, not realizing they came on two more times. I finally saw the end of the show only when I had a guest come over and anyone who could hear my voice heard me speak about them and it was mandatory to watch this Soul Train episode in my house. So one time, not to embarrass myself, I allowed the tape to play til the end I had no idea they had came back on two more times! They sang "Sho Nuff Boogie & What's Is Your Name." I wanted to be so very careful not to hit the wrong button and lose this episode. But, I am not ashamed to tell you that I stayed up all night watching it over and over. At the time, I did not have a home computer, so I went to work, after I watched it for breakfast of course and I spent the next 8 hours looking up everything "The Moments." The one in the middle & singing lead on "Sexy Mama" was Harry Ray, he and I had gotten married in my dreams and Al Goodman & Billy Brown were my two brothers. I have now spent the last two years of my life creating a Ray Goodman & Brown/The Moments museum. If I found it, I bought.
I worked two jobs but my cable was turned off for 2 months, I learned to love Top Ramen Noodles again all because it was my life's mission to know and have them and everything associated with them. I would set my alarm to win a bid on EBay at 3a.m., if I had to, knowing I had to be a my full-time job by 8a.m.. I would call off work at my part- time job if the bid time ended while I was scheduled to work. Nothing was impossible for me when it came to The Moments a.k.a Ray Goodman & Brown. My love for them boarded on me maybe selling my soul to the devil if it meant I could get another record. And I mean records as in albums, 45's, and cd and just because it was The Moments, I even have an 8 Track Tape of their greatest hits that came out in 1971. The fact that my part-time job was at Amoeba Music in Hollywood, California only turned me into…well my co-workers nick-named E.Moments, they said all of my conversations started and ended with The Moments/Ray Goodman & Brown.
They would often tease me, because they would say "didn't you buy that record or cd yesterday?" and I would reply "well I only have 5 copies of it, what if something happens to the other 4 copies?" This made perfect sense to me! I still felt no shame when we had an earthquake and my first reaction was to grab my Moments/Ray Goodman & Brown collection. And don't think I stopped at just their music! So with all this being said, this is beyond 3 very handsome men, with voices that make the sun shine, the flowers grow and if the snow is falling…well just pick any slow jam or even an up tempo it won't matter because The Moments a.k.a Ray Goodman & Brown is what Soul, R&B, Pop and a little bit of country, yeah I said country, take another listen to the 1980, RGB II album or cd, or however you like to listen to good music, "Sweet Sexy Woman" written by Harry, Al & Billy with the help of L. Walter, and country stays on the list. The combination of God given talent, style, sexiness and class has proven to be too much for this world, their level of harmony can only been heard by the keen ear, heart and mind. If you really listen, they take over your spirit & body you are at their mercy. I will continue to surrender! So forgive me please, Mrs. Henrietta Goodman for being so selfish, you shared your husband with me and millions of believers all over the world. I believe The Moments a.k.a Ray Goodman & Brown's music should be studied in universities because they are in a class by themselves. Mr. Al Goodman, I miss you much and always will, say hello to my husband in my dreams Harry Ray. I know God welcomed you home so you and Harry could sing and write beautiful music just for him and I, like your wife don't mind sharing you!
Forever The Moments a.k.a Ray Goodman & Brown!
–Evelyn Marie Shelburn a.k.a E.Moments

The Moments – one of my all-time favorite slow jam groups, only had one major pop hit with "Love on a Two Way Street", but they had many years of successful singles on the R&B charts and at one point were actually something like James Brown in that you could always hear a Moments song being played on Black radio.
They must have at least 20 singles that scored on the R&B charts. Any of their Greatest hits CD's is VERY STRONG 'road test material".
This is another group that I could build a strong case to say they belong in the Rock n' Roll Hall of fame!
Are the Moments a "one hit wonder"?
HELL NO!!!!!!!!!!!!!!!!!!!!!!!
–Bob Davis
The Moments on CD (A Mixed Bag?)
Listed bellow are two CD compilations that I own by the Moments.
There are several problems with them both…
1. The reason that I own both is because neither is even close to complete. Between the two I have most of the Moments songs that were near and dear to my heart. However NEITHER one has Just Because He Wants To Make Love (Doesn't Mean He Loves You)
2.The sound quality on BOTH CD's is terrible
3. However, despite these issues, what's a funkateer who is in need of some "3 am FUNK" supposed to do?????? (therefore I own them BOTH)
–Bob Davis
The Moments Greatest Hits – The Moments (Sequel Records)
. Lovely Way She Loves
. My Thing
. If I Didn't Care
. Nine Times
. To You With Love
. Girls
. Jack In The Box
. Gotta Find A Way
. All I Have
. Sexy Mama
. Love On A Two-Way Street
. With You
. Life and Breath
. I Do
. Not On The Outside
. Lucky Me
. What's Your Name
. Dolly My Love
. Girls (French Lyrics)
Moments Greatest Hits – Moments (K West Records)
. Dolly My Love
. Rain In My Backyard
. Nine Times
. Girls (Moments & Whatnats)
. Jack In A Box
. Sexy Mama
. I Do
. Sunday
. Look at Me (I'm In Love)
. All I Have
. I Don't Wanna Go
. Somebody Loves You Baby
So Just Who Are Ray, Goodman and Brown?
Let's start with the group name. When the
Moments left the Stang/All Platinum label, they couldn't keep their name because Sylvia Robinson (yes, "Love Is Strange" and "Pillow Talk") and her husband Joe owned the record label.
So when the guys landed their deal with Polydor Records, they simply used their surnames: Harry (Ray), Al (Goodman) and Billy (Brown).
Moments Bio
Sweet soul ! Ahhhhhh……. The sound of it ! You know, some of that sweet soul sounds were coming right from the heart of Hackensack, NJ in the late 60's.
The sweet mellow sounds of ………….The Moments !! The original line up of the Moments were, Mark Greene, Ritchie Horsey, and John Morgan. They were discovered by legendary singer / songwriter Ed Townsend in 1968. Sylvia & Joe Robinson who were married in 1964, formed their own record company in the summer of 1968 entitled, " All Platinum", located in Englewood, NJ. The first artist to be signed on the label was Leslie Valentine who recorded the company's first hit entitled, " I Won't Do Anything" released in August of 1968. Soon a few months later, Sylvia & Joe would form a subsidiary label named " Stang" named after Joe Robinson's 1967 Mustang. Later 2 more subsidiary labels would be added like, " Turbo" after another car that Joe would buy in 1971, and "Vibration" named after the vibration of both cars that Joe owned. The Moments were signed on the newly formed, " Stang" label in 1968.
The group's first hit, "Not On The Outside", sold a half million records by the end of 1968 !! Soon afterwards, Ritchie Horsley and Johnny Morgan would be replaced by Al Goodman and Billy Brown.
Billy Brown was from the group the Broadways, who had a classic hit in the summer of 1966 called, "Going, Going, Going" on the MGM label.
In 1969, the group was on a roll with a string of classics such as the lovely, "Sunday", " Lovely The Way She Loves" (with the voice of Sylvia Robinson on the bridge of the song). "I Do", "Somebody Loves You Baby" and " I'm So Lost"
In the spring of 1970, the Moments would release a song that is considered to be the mama and daddy of the blue light soul masterpiece of the early 70's, "Love On A Two Way Street". The song was originally recorded by Leslie Valentine, then later on the Moments. It was suppose to be a album filler for their second LP entitled, " The Other Side Of The Moments". It's on Side B, last cut on the LP. Sylvia & Joe released the song in the spring of 1970, hit No 1 on the R&B charts for 5 weeks becoming an instant million seller for the group !!! " Love On A Two Way Street", features the great sounds of Willie and The Mighty Magnificents with Willie Feaster on the guitar, Arnold Ramsey on drums, Val Burke on bass. Burt Keyes did the beautiful string arrangements that was overdubbed 3 times, as well as played piano on the session.
The B side was Leslie Valentine's hit, " I Won't Do Anything". In the summer of 1981, Stacy Lattisaw would record a stunning version of the classic, hitting No 2 on the R&B charts on the Cottilion label.
From 1970 to 1973, the Moments would continue to present to the soul world, another string of more classic R&B masterpieces with, "All I Have" and "Lucky Me" written and produced by Sylvia Robinson and the legendary George Kerr, who at the time was producing label mates The Whatnauts.
A wonderful remake of the Ink Spots' 1939 classic, " If I Didn't Care" in which by the way, is Harry Ray's first lead song in the group.
"Gotta Find A Way", another beautiful dreamy masterpiece hit with Harry Ray running though the airport like O.J. Simpson, trying to persuade the girl he loves to come back in his life."
"Just Because He Wants To Make Love" and the up tempo, "My Thang" both released in 1972 are also soul classics.
During the latter part of 1973, the group's musical arrangements began to become to change some. Beginning with their classic hypnotic mind blowing, "Sexy Mama", Harry Ray's echo seductive slick lead trying to lead his lady into loveland, would hit No 3 on the R&B charts during the spring /summer of 1974.
Also doing this period, the Moments (really Harry Ray) would team up with Sylvia Robinson to record, " Sho Nuff Boogie" with a touch of sophisticated arrangements during the early part of the R&B disco era.
More teaming up would take place in the later part of 1974, with the Moments and the Whatnauts on their hit "Girls". The song was a hit the minute the DJ's dropped the needle on the wax. Legend has it that the Whatnauts don't appear vocally on the song, that it's just the Moments singing. Regardless, it's still a smoker, chalked up by the group or groups.
The smooth, "What's Your Name" is one of my many favorites sung by the Moments also released in 1974.
Fast forward to 1975 where in the spring of 75, the group would release the gorgeous, "Look At Me (I'm In Love)". Harry Ray's soft quiet melodic lead with the group's great harmony background, and with it's 12 strings and brass and French horn arrangements, makes you want to fall in love, even if you're not in love !
The arrangements of the song was done by the late great Sammy Lowe ( who did the string arrangements on James Brown's classic hit of 1966, " It's A Man's Man's Man's World" and many other hits).
"Look At Me" hit No 1 on the R&B charts for one week. Al Goodman composed the tune on his kitchen table in his home in Hackensack, NJ.
The following year of 1976, two more hits would occur. "Nine Times" and another blue light basement smoker, "With You", along with a few disco cuts the group would release on the label.
After 30 single releases and 11 LP classics such as, "Not On The Outside", "Live At New York State Women's Prison", >"The Other Side Of The Moments", "Those Sexy Moments", "My Thing", "Moments With You", " On Top", "Sharp", " Look At Me", " Live At The Miss Black America Contest", and, " The Moments Greatest Hits", the group would leave the " All Platinum" label in 1979.
With legal matters and hassles pertaining their name which was owned by Sylvia & Joe Robinson, the group renamed themselves after their last names, Ray, Goodman & Brown. They signed with Polydor Records and recorded their first No 1 hit in 5 years!!
"Special Lady" released in the spring of 1980, presented us music lovers with a masterful musical time capsule piece from the great doo-wop era of the 1950's into the early 1980's.
Their next release, "Inside of You" taken from their gold LP "Ray Goodman & Brown" is another blue light 80's smoker !!
Another LP entitled, "Stay" would feature another classic, "Heaven In The Rain" with a great story line opening when a young woman's car becomes sick in the pouring rain, so it's Billy Brown to the rescue, it's love at first sight for the both of them and stay together a year after the incident. Absolute true classic !!
More hits would arrive with " Take It To The Limit" from the LP of the same title, " Ray Goodman & Brown 2″, " Mood For Lovin", would also be released during their mid chart run of the 80's.
Their last classic " Our Anniversary" would be released and Harry Ray left by this time to go solo. He was replaced by Kevin Owens who backed up Luther Vandross and is featured on a live LP with Goodman & Brown released in 1991. Sadly, Harry Ray would enter the gates of soul heaven on Oct 1,1992.
The Moments / Ray Goodman & Brown gave us soul fans some of the greatest music ever presented on wax / CD. They are wonderful examples of why we as fans of this music, must fight to keep it alive in everyway possible.
The sweet soul sounds came from the heart and soul of these talented brothers.
So if your in the mood for true love, slip on the Moments/ Ray, Goodman & Brown, and I'll guarantee, you'll be in a moment of pleasure…….moment of thoughts………… Moments of love………… and Moments of continuing melodic beautiful eargasms for your ears of listening pleasure………..!!!
With the Moments……………Listening is easier than breathing………..!!!
Enjoy !!!!!!
Mike Boone
(Chancellor of Soul)


Click here to listen to a Soul-Patrol.Net Radio WORLD PREMIRE. The LEGENDARY MOMENTS (oops I meant to say Ray, Goodman and Brown) singing their interpretations of some of the BADDEST SLOW JAMS of all time! La la Means I Love You, Break Your Promise, Didn't I Blow Your Mind, Side Show, 3 Ring Circus, Spinning Around, I'm So Proud, Ooo Baby Baby.
FROM THEIR NEW CD: A MOMENT WITH FRIENDS

CD Review:
LOOK AT ME/LIVE AT THE NEW YORK WOMEN'S PRISON
(2 perspectives)Wonder B told us about the availability of this two LP's on one Compact Disc a few weeks ago, so yall KNEW I had to go out and pick up on it.
The Moments are literally the soundtrack of my "misspent youth" and they are one of my all time favorite groups.
However they were NOT an "album group".
The Moments were a group that during my HS and College years seemed to have a 45 out on the R&B charts constantly, nearly as often as James Brown! At any "Blue Light party you could ALWAY depend on hearing a new song by the Moments.Despite this, their albums usually were not very good and despite a few shining Moments here, I can't recommend this set.
You are MUCH better off buying their compilations (despite their terrible sound quality) if you really want to know what this SUPER GROUP outta New Jersey was all about.Anyhow, here is my review of this 2 LP set…LOOK AT ME
——————-
1. Look At Me (I'm In Love)
This song was a big hit in my neighborhood and was a good one to disappear into a corner with someone that you had been "gamin on" all night long2. Got to Get to Know You
3. I Feel So Good Again
4. I've Got the Need
5. Come Away with Me
These songs are a waste of time!6. Girls (French)
7. Girls
"I'd like to be on and Island, with 5 or 6 of them fine ones
As long as they're good lookin, there the one's who do the best cookin
Gimmie one with a lotta money
Give me two with a lotta honey
Give me 3 that do them FREAKY things
Give me 4 or 5 mamas that like to swing"
–"Girls" – MomentsIn ANY language, this joint is the stuff that fill the dreams of young men
in the ghetto from all over!8. When the Morning Comes
Believe it or not, our boys sound a little bit like the Beach Boys on this
song. Excellent harmonies!9. Just Having Your Love
Throwaway Disco cut10. Look At Me (French)
What is it with these guys and this "french stuff"?
(I won't speculate here……lol)
All I remember is grinding with some young lady and whispering the words in
french, in her ear while i was dancing.
Sometimes it worked 🙂
Sometimes they started laughing…..lol11. Beautiful Woman
More filler12. Dolly My Love
Another throwaway Disco cut.
I think that the Moments at this time were trying to emulate Blue Magic, by attempting to extend their sound into the land of up tempo Disco, which their voices were suited for, however they weren't able to duplicate what Blue Magic was able to!
They really should stick with the …
s-l-o-w j-a-m-s
(where they are MASTERS!!!)LIVE AT THE NEW YORK WOMEN'S PRISON
——————-
Doesn't this concept sound GREAT?
Too bad the reality of it doesn't meet (at least my) expectations13. More Today Than Yesterday
14. Yesterday
15. Wichita Lineman
16. Letter
This medley is a complete waste :(17. Medley: Here I Go Again/O-O-O baby, baby
Here they decide to "mess with Smokey" and the results aren't bad at all. O-O-O Baby, Baby is worth the price of admission!
I imagine that this must have gone over quite well with their "captive audience"?
LOL18. Overture
The emcee is telling the audience that the Moments will stay and perform for 15 more minutes19. I Do
This song is BADDDDDD
One of my favorite cuts by the Moments.
This song is a REAL "push em up against the wall grinder".
Harry Ray drives these women in jail WILD on this song20. Sunday
21. Not on the Outside
More badd azz "doo wop style" s-l-o-w j-a-m-m-i-n
I love this song, done live it's a classic!"From the tip of my toes, my love for you steadily grows…"22. Going in Circles
Nice cover version of the classic hit from the Friends of Distiction, it's got a truly haunting B3 Organ with a really smooth guitar.
I like it :)Hopefully someone will decide to put together a compilation album on the Moments (with cleaned up sound) similar to the DELLS ANTHOLOGY.
The Moments are a GREAT group that deserves to have their legacy preserved much better than what is currently available on them!–Bob DavisOh, Grand Listmeister:I gotta disagree with you. I enjoyed the "Look At Me" album, as well as an earlier Moments album, "My Thing." I think "I Feel So Good Again," and "Come Away With Me" are beautiful songs! Matter of fact, I remember having these two songs (along with "Look At Me" and "When The Morning Comes") on a tape I made that also had tunes from Lonnie Liston Smith's "Visions of a New World:" "Love Beams," "Sunset," "Colors of the Rainbow." (It was my "bachelor pad" tape I made when I was "watching" my aunt's apartment for three weeks during the Summer of 1975–Yeah, it worked!!!!!! LOL!!!!!!!!!!)You'll never find it now, but I think "My Thing" may have been their best album as The Moments. It contained "Girl, I'm Gonna Miss You," "Girl, Don't Go," "Baby I'm a Want You," "Gotta Find A Way," the title tune, and "Look What You've Done," a great song that perhaps should've been a single!!!!The "French thing" that you referred to was simply a "sign of the times." I remember the New York City thing was to appear "tres chic," along with French-cut suits, etc. I was never a part of that "movement"–but it was a large part of New Yorkers' "attitude" in their club hanging at that time.–Charles DukeMore on the FRENCH THANGI tried getting the lyrics from the song! I wanted to get them all for you to get some more shivers out of your dancing partner instead of laughs for your next basement party under the black lights! LOL LOL LOL LOL But unfortunately (as you'd guess LOL) they are very hard to get for a frenchman (pronounciation)!!!
I got you most of the chorus though! Use it sparingly to keep the surprise and mosturizing effect to it's maximum LOL LOL"Vous êtes le soleil
Jolie Girl
Je suis comme un loup
Amoureux de vous
Vous me rendez jaloux………." Hey Hey Hey!!!!!It's funny when I think of it, R'nB singers rarely sing in Croatian,
Russian, German or Dutch… LOL Why is that there are so many french words or songs?? Can U remember any?
'Summer Lady' by Narada Walden! or 'My Chérie Amour' by Stevie.
The Three Degrees with 'La Chanson populaire' who was written by the same guy who wrote 'My Way' (althought the english lyrics were later penned by Paul Anka).
Any other suggestions….?–Wonder B



Click here to listen to a Soul-Patrol.Net Radio WORLD PREMIRE. The LEGENDARY MOMENTS (oops I meant to say Ray, Goodman and Brown) singing their interpretations of some of the BADDEST SLOW JAMS of all time! La la Means I Love You, Break Your Promise, Didn't I Blow Your Mind, Side Show, 3 Ring Circus, Spinning Around, I'm So Proud, Ooo Baby Baby.
FROM THEIR NEW CD: A MOMENT WITH FRIENDS

The Late Mr. Harry RayThe Moments AKA: Harry Ray, Al Goodman & Billy Brown made records until the untimely death from a stroke of Harry Ray On October 1, 1992 he was 45.Harry Ray, Jr.-he passed away about 7 years ago, but this former lead singer for The Moments is definitely in the Hall of Fame! His falsetto style was smoother than silk and lighter than a feather. For those not familiar with his lead vocals, here they are: "Sexy Mama", "Girls", "Happy Anniversary" and "Look At Me (I'm In Love)". F.Y.I., for his own wedding in the early 80's, Mr. Ray sang "Look At Me" to his bride and I believe Rev. Jesse Jackson officiatedThe Moments after Harry's passing tried to regroup with such artists like Wade Eilliot that I think my still be with them & Kevin Owens in his own right one of the best falsetto voice next to Harry's, I have the Luther Vandross Live from Wembley concert on lazer disk and the background singers do a medley of songs which Kevin does a few lines of the Moments soulful hit "Love on a two way street) It brings down the house and always gets me every time I hear it!The last LP they recorded as a Group I think but I am not sure was Ray ,Goodman & Brown's STAY 1981 Polygram Records please correct me if I am wrong on any of the info I gave you :-).PS. The Moments aka: Ray , Goodman & Brown CD LP and tapes without being a Greatest hit type project like so many of the old school artists music, is hard to find esp in good condition, but I have had a lot of luck at rummage sales collectables type Vinyl stores in finding there music ,but most of all thank God that I was a D.J. that kept his Vinyl and did not chuck my collection out the back door in thinking that I would one day be able to get all my music back on CD.
If your looking for a nice collection of there music on CD you should check out The Best Of The Moments(Love On A Two Way Street) On Rhino Records, most big and many mom and pop type record stores should have this collection of there hits.Mr. Sammy LoweIt is the same man. I wasn't aware that he had passed.A really great (and funny!!!!) man, and a former neighbor in the Riverton Apartments until he, his wife, and son moved to Teaneck, NJ around 1968-69. Mr. Lowe (as noted) also worked with my uncle Jimmy Mitchell (tenor sax, vocals) in the Erskine Hawkins Orchestra as the arranger and pianist.Before they moved, I remember speaking to Mr. Lowe about The Moments (you'll notice his name as an arranger on a lot of their earlier singles and albums). He was really excited about their prospects, and envisioned them going the route they eventually went as Ray, Goodman, and Brown–playing Vegas, doing a lot of upper-crust night clubs (Copacabanna, etc.–there was no "Atlantic City" as we know it today, then).Now to vision that back then was to REALLY know something; I think to that point, The Moments were primarily a "Black radio singles" group, and they hadn't done their biggest crossover hit, "Love On a Two-Way Street," at that point. (A further inspection of their albums of the period would reveal that they DID do songs like The Ink Spots' "If I Didn't Care," and other standards of an earlier generation).Sammy, Jr. (his son) and his wife were also great people. Matter of fact, Mrs. Lowe knew more about baseball than any other woman I knew (except for one of my aunts), as we would always discuss the Mets and their opponents (she always had a particular fear when the SF Giants came to town–hated to see Mays and McCovey come to the plate–especially against that horrible Met pitching of the early-mid 60s–LOL!!!!!)–Charles Duke#1 Sexy Mama – The Moments"When the subject of slow jams comes up, no one ever mentions the cut that I chose #1 by the Moments. That's (My Opinion) the most underrated slow Jam of all time."TETC-US4@webtv.net"C'mon, c'mon, c'mon, c'mon
Do it to me now, baby
C'mon sexy mama
Just lay back and let me soothe you
Take it easy baby, and let me do what I wanna do to you,
I wanna open up the love gates to my heaven…
This afternoon I know you like me…By tonight you're gonna love me
I think in just a moment there's gonna be a little explosion
Go ahead and let your jones get really funky, ooh…"



Click here to listen to a Soul-Patrol.Net Radio WORLD PREMIRE. The LEGENDARY MOMENTS (oops I meant to say Ray, Goodman and Brown) singing their interpretations of some of the BADDEST SLOW JAMS of all time! La la Means I Love You, Break Your Promise, Didn't I Blow Your Mind, Side Show, 3 Ring Circus, Spinning Around, I'm So Proud, Ooo Baby Baby.
FROM THEIR NEW CD: A MOMENT WITH FRIENDS





Click here to enter your suggestions and feedbackClick Here To Return To The Classic Soul Homepage
Subject: THE MOMENTS
(aka Ray, Goodman and Brown)



CHAT SESSION WITH RAY GOODMAN AND BROWN IN THE SOUL-PATROL CHAT ROOM ON 2/52003 AT 10 PM EST
(aka THE MOMENTS)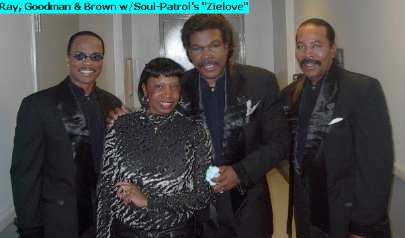 That's right, we will have
Right here online with us to help Soul-Patrollers kick off BLACK HISTORY MONTH in style!
We will be listening to their brand new CD 'A Moment With Friends', (online via Soul-Patrol.Net Radio) as they take us to school about the past, present and future of the MOMENTS (oops……I mean Ray, Goodman and Brown)
So join us on 2/5/2003 at 10 pm est in the Soul-Patrol Chat Room and be sure to bring someone you love….



Click here to listen to a Soul-Patrol.Net Radio WORLD PREMIRE. The LEGENDARY MOMENTS (oops I meant to say Ray, Goodman and Brown) singing their interpretations of some of the BADDEST SLOW JAMS of all time! La la Means I Love You, Break Your Promise, Didn't I Blow Your Mind, Side Show, 3 Ring Circus, Spinning Around, I'm So Proud, Ooo Baby Baby.
FROM THEIR NEW CD: A MOMENT WITH FRIENDS