Coming to the Ardmore Music Hall (Philly) – MESHELL NDEGEOCELLO, BREAKWATER, AVERY SUNSHINE
Coming to the Ardmore Music Hall (Philly) – MESHELL NDEGEOCELLO, BREAKWATER, AVERY SUNSHINE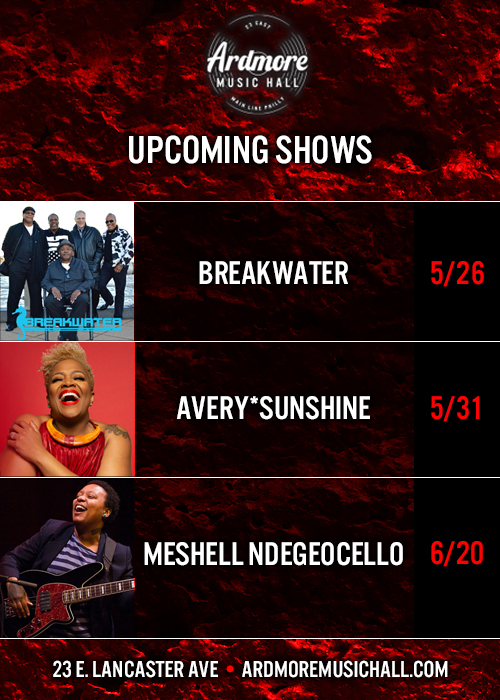 Coming to the Ardmore Music Hall (Philly) – MESHELL NDEGEOCELLO, BREAKWATER, AVERY SUNSHINE
3 SLAMMIN SHOWS!
Breakwater:
The band, originally from Philadelphia was formed in 1971. The original members of Breakwater consisted of Gene Robinson, James Gee Jones, Lincoln 'Zay' Gilmore, Steve Green, Vince 'Garnel' Dutton, Greg Scott, John 'Dutch' Braddock, and Kae Williams, Jr. They were signed to the Arista label in 1978. Their second album Splashdown, which was released in 1980 has been referred to by Tom Bowker of the Broward Palm Beach New Times as a funk masterpiece.
The sound of Breakwater's music is normally that of slow jams, but they have been known to incorporate rock music and funk styles into their songs, much like their song titled "You". "Release the Beast" is best known by non-funk music fans, and the band's sound can be closer compared to that of Con Funk Shun or Earth, Wind & Fire.
MORE INFO: https://bit.ly/Breakwater-NHN_AMH
Avery Sunshine:
Denise Nicole White, known professionally as AverySunshine, is an American singer, songwriter and pianist. While working at the St. Paul AME Church, White met Dana Johnson, a guitarist, producer and songwriter who had previously worked with India.Arie. In 2003 Wilson was cast in a Broadway production and she left for New York. White then adopted the name AverySunshine. Her stage name is derived from the characters Shug Avery from The Color Purple and Sunshine from Harlem Nights. In 2005, White and Johnson recorded "Stalker", a neo soul song, which a friend, Chris Brann, set to a house beat. The track became a dance hit on a Japanese record label, which led to a series of live dates in Japan. White and Johnson began work on what became AverySunshine's self-titled first album, released in 2010 on their own label, BigShine. Recorded mainly at White's home with ProTools, the record included guest appearances by the pianist Takana Miyamoto, the vibraphone player Roy Ayers and Christian McBride. From 2010 until late 2013, AverySunshine toured consistently, and developed a following throughout the United States,[19] the UK, Europe and Africa. They began recording a second album, The Sunroom, in November 2013, which was released in May 2014 through a partnership with Shanachie Records. In 2017, she released her third album, Twenty Sixty Four.
MORE INFO: https://bit.ly/AverySunshine_AMH
Meshell Ndegeocello:
Meshell Ndegeocello (/mɪˈʃɛl əndɛˌɡeɪoʊˈtʃɛloʊ/ mish-EL ən-deg-AY-oh-CHEL-oh; born Michelle Lynn Johnson on August 29, 1968) is a German-born American singer-songwriter, rapper, and bassist. She has gone by the name Meshell Suhaila Bashir-Shakur which is used as a writing credit on some of her later work. Her music incorporates a wide variety of influences, including funk, soul, jazz, hip hop, reggae and rock. She has received significant critical acclaim throughout her career, being nominated for eleven Grammy Awards, and winning one. She also has been credited for helping to "spark the neo-soul movement"
MORE INFO: https://bit.ly/MeshellNdegeocello_AMH