BLACK MUSIC MONTH KICKOFF – (New Date) 6/1 @ 8p est DAWN SILVA BOOK READING + INTERVIEW, LIVE on Soul-Patrol
Dawn will read selections from her new book: THE FUNK QUEEN (600 pages including 300 pictures.) And of course, we will also interview her.
Register at the following link:
http://soul-patrol.com/webinars/soul-patrol-spotlight-conversations-with-dawn-silva/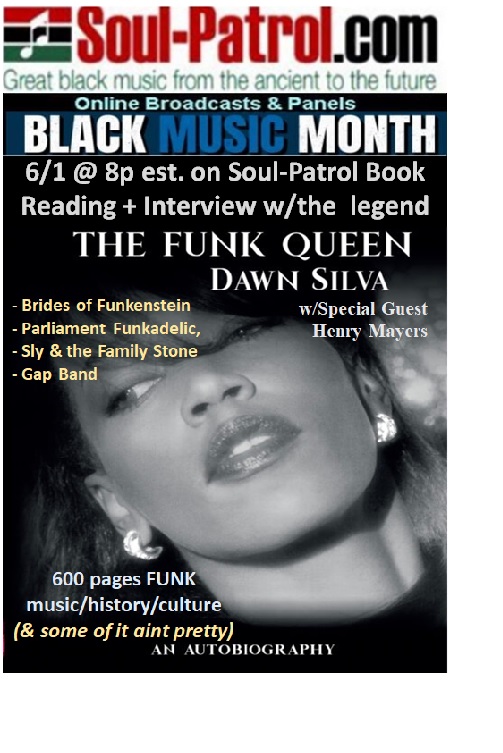 The 600-page EPIC Funk Music/Culture first-hand account (coffee table sized book,) covering Dawn's career as a key member of the following legendary groups:
– Brides of Funkenstein
– Parliament Funkadelic,
– Sly & the Family Stone
– Gap Band
Trust me, if you are looking for a "liner notes style history of the funk" (this is the wrong place for that.)
This book covers some of the basic turf that you might expect, from a musical perspective.
But it also covers all of the details, "behind the music," such as:
– The "corrupt" recording deals.
– The "corrupt" concert promoters.
– The "corrupt" radio operators & promoters.
– The "stolen" copyrights.
– The racism.
– The lies.
– The sexual misconduct.
– The drugs.
– The child exploitation.
– The sexism.
None the less, it is a history of the Funk music era, the good, the bad and the ugly, as told by someone who was a first hand participant as an artist and a whole lot more.
I promise, you will learn a lot from this session and Dawn is geared up for it. Trust me, this whole thing falls into the category of "you don't know, what you don't know."
Dawn is going to be joined by special guest Henry Mayers who will provide some additional insight on the events on the promotion side of things during this era.
Register at the following link:
http://soul-patrol.com/webinars/soul-patrol-spotlight-conversations-with-dawn-silva/