Delfonics – RIP William "Poogie Hart + Interview
Commentary + Interview) "Yall can talk about Smokey, Eddie Kendricks, Johnnie Carter, etc all you want, but Poog was the one that all the falsettos that came after him was trying to imitate." (ELP)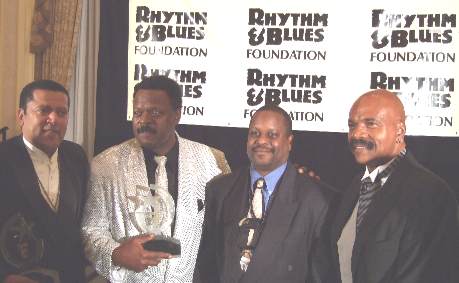 Intro:
So it has come to this. In the mid 1990's, I created the very first webpage on the internet about the Delfonics. I had been asked by Wilbert Hart to put together an "official" website for the Delfonics. So in many ways this page is like coming full circle for me. I spent about 2 weeks staring at old pictures of the group, trying to figure out which ones I would scan in and conducting interviews, which would later become the "copy" for the website. Despite the picture you see here of me along with the Hart Brothers & Randy Cain, I am nothing if not an unabashed fan of their music. I have been since the first time I ever heard them on the radio, when I was in jr high school. The rest of what you are about to read was not written by me. It was written by our friends C Be'erla Hai-roi Myers & Carlton J. Smith and it's all the way live! Finally, be sure to check out the 16 min interview I did with William Hart backstage at the Beacon Theater in NYC. (Bob Davis)
For The Love That I Gave To You (A Story of Philly's own Delfonics)
by C Be'erla Hai-roi Myers
Bob, I got the news the other day from LP, William "Poogie" Hart had returned to essence.
For those who don't know LP is short for Lawrence Perry—drummer extraordinaire, also friend to both Bob Davis and I; and he knew how I felt about the loss of such an icon.
As a Black musicologist, there's a lot that can be said about the impact the Delfonics had on the Philadelphia musical scene, but this lost strikes a personal chord for me, so I'm going to tell this in a personal way.
I'm from a younger generation of falsetto listeners—Black Ivory, Blue Magic, Stylistics and the like; but their arrival marks a time when all of this was about to end; much to my chagrin.
One thing can be said about, Be Bop, Doo Wop, and Hip Hop: Those are music styles which comes from Black neighborhoods; usually from an urban setting.
It exudes the attitudes, sentiments, and phraseology from inner-city, demonstrating a kind of wittiness and posture found in the people that produce it.
Others may like it and often imitate it, but for the real ones—it runs through their veins and exudes through their pores; it's their steed and signature:
"And oh, she's gonna love me; You're gonna wanna hug me And squeeze me
For-the-love-that I-give-to you …Oh, baby,
For the love-that I give-to you Ooh, baby (hey baby)…"
That was Poogie.
He and his brother, Wilbert Hart useta' sing under the main bridge that carried expressway traffic into center city on the north side of town—their stomping grounds.
Randy Cain came from out West.
The Delfonics typified a style, on the Philly Groove label, that captivated audiences from the very first with, "He Don't Really Love You."
Amore, amour and admired; the Delfonics delivered lyrics in the way we Philly "bois" (boys) wanted to "talk to girls."
They said the things we either kinda' said or wanted to say to the young girls—as they were our contemporaries (or at least my older brother of three years).
We respected them and sung their songs on street corners, with sounds echoing down the alleyways; expressing how we feel.
And that is music for us, a part of our cultural upbringing.
Poignantly, it tells our tale.
I am one of six boys and three sisters in a household with then one TV and one "hi-fi component system (floor model combination record player, pre-tuner, tuner, amplifier with built-in speakers.
During those days there were no SONY Walkman's or cassette tapes yet; we had reel to reel, little transistor radios with the built-in tiny single speaker with the white monaural single earphones.
No "Boom-boxes" yet. The larger portable radios came in sienna or saddle brown leather cases and were much more expensive.
Some folks with substantial loot rocked those radios at the beach, or field day outings, maybe in the kitchen with mom. But we all shared the Hi-fi (although it may have not been stereo then) . . .
Needless to say, we heard each other's music (corny or not) and you learned to appreciate each other's taste.
My older brothers and sisters had social clubs about them and fan clubs, signet, and class rings; pennants and stuff like that (to tell you younger folks socially where we were at).
Hand-me-downs, appreciation, and observation was high back then—folks were more socially conscious back then.
We followed the trends of what came before; my older siblings were the example…we tried to get away with what they got away with. . .
Poogie and his group, the Delfonics, appeared on the scene in 1964. That was pre-adolescence for me, but my sister, this was the beginning of her teen-age—hormones and everything!
"Does he love me? How would I know. . ."
We watched, we heard, we saw. . . we youngsters even spied on our sister and brother, and we learned more "about this thing called "love." We learned that besides Smokey Robinson, William "Poogie" Hart was quickly emerging as a romantic writer, in this relatively new style of Black music called, Falsetto.
The Delfonics are said to release their so-called first single, "La-La Means I Love You," which rose to number 4 on the Hot 100, and #2 on the R&B.
This was done on the newly formed Philly Groove label, with Thom Bell (whom we later see with the Stylistics), writing the music and playing most of the instruments himself; helping to forge the Philadelphia Soul sound.
However, my favorite, "He Don't Really Love You" was dropped a year earlier on the Moonshot label to test the waters before Sam Watson stretched out with Thom Bell to form Philly Groove.
All I know is his music was played by my sister, Theresa and my brother Frank on a heavy rotation; until I got interested in girls and knew all the lyrics to Poogie's songs (yeah they played them on the radio too but how long does that happen in R&B world).
Everybody I knew bought 45s and had several record adapters, with that automatic arm to assist in the rotation. . .
Poogie said just the right things for a romantic "bleeding heart." He knew the North Philly male adolescent process. He said the things that sound cool and fly to females. . . So much for a foregone era.
Doo Wop proceeded R&B and Falsetto falls squarely before Motown put a "patent" on that sound. They were responsible for our street corner symphonies—because for the first-time music was being made by the youth for youth.
But as my uncle Clyde Edmond once said, "You trace a R&B artist in long-standing status (like Gladys Knight, Curtis Mayfield, Smokey and Otis of the Temps) and the Doo-Doo-Wop gets funky in there too".
Yet, this Falsetto stuff, set its' own signature and tone. . .
Those kats were giving Black music the sound of classical instrumentation within a strictly ethnic environment—with strings and things. All our own spin on such things. And our man Poogie wrote in such a theatrical way:
"Many guys have come to you, with a line that wasn't true;
And you passed them by (Passed them by)
Though you're in the center ring, and their lines don't mean a thing;
Why don't you let me try? (Let me try. . .)"
Wow! Like Shakespeare or opera. . . And those drums in all Delfonics tunes; right from the start of the record: Awesome! Those isolated suspended voices and background vocal whispers. . .
The French horns in "Didn't I…" Man! That's too much…
Falsetto style was on some other far-out frequency…and I liked it; especially coming from the Delfonics.
We have drummer Earl Young and engineer Joe Tarsia to those give props to, for their monumental accomplishments.
They taught us young folks to appreciate delicate vocals and lovely passages, pastoral sounds, and tender moments.
And let's not forget the later work of Thom Bell on Philadelphia International Records or Thom Bell & Linda Creed. . . Grammy award winning stuff.
Truly spectacular sound performances.
My young ear was hearing all this. . .
For all the diversity Black Music (so-called Race Music) culturally represents for us, when Doo Wop forged its' way in from the grassroots aspect music of our folks called Blues in the 1940s; it acted as a switchboard for the whole of what Blues does for much of our music-conglomerate.
Gripping and holding a firm hand on shaping a lot of what was to become the Rock and Roll connections of the 50s and Rhythm & Blues of the 60s—laying bare its' tentacles for all the world to see.
With its' myriad of styles and subterranean aspects; while leaving only Be Bop to complete the switchboard set of interrelationships between the secular or worldly aspects of the Black music conglomerate in Jazz—while allowing the spiritual aspect to be tied in by Soul.
Yet the Falsetto hybrid did something incredibly different. It sprung from the Rhythm & Blues; even wrapped itself into Soul and rhythms from the street like Blues often does—but it favored our interpretation of European Classical music without the improvisations which Jazz does.
Falsetto achieves its' effect by producing an emphasis on a false soprano range and a usage of voice similar to Opera—yet distinctly different; much like theatre: Compare, "The Beginning of My End" by the Unifics with its' Soul and Gospel accents or Curtis Mayfield's "Gypsy Woman," with all its' Soul and mystique.
Yet no one does what William "Poogie" did, with the use of the strings from an electric guitar accompaniment in the opening of "For The Love That I Gave To You."
A superb use of a Classical style and an end to an era.
In my world, all Black Music runs concurrently.
Yet as eclectic as I am, I have to face facts; William "Poogie" Hart is no more.
But as the sunsets on a brilliant vocalist and songwriter; I can hear him say:
"I know you done the best you could;
If you could give me your heart, I know that you would, listen… (would)
And I can't say for myself that I've been good. . .
But oh, you're gonna love me—You're gonna need me;
You're gonna wanna hug me—Baby, baby, and squeeze me. . .
For the love that I give to you. . . Oh, baby
For the love that I give to you. . . Ooh, baby, hey, baby. . ."
The Tragedy of the Delfonics
By Bob Davis
Disclaimer: I am in a unique position to make this commentary/analysis. Starting in the mid 1990's I became the webmaster of the Delfonics website. In fact many of the pictures that you have seen floating around the internet in the wake of the passing of William Hart, were originally scanned in by me. Many of the words that you have seen being quoted on the internet were originally written by me. I mention this not seeking any credit, financial or otherwise, but only to provide enough background to establish context for the commentary/analysis I am presenting today.
How Come the Delfonics are So Important?
Being the webmaster of that website not only allowed me access to a mountain of archival information about the Delfonics, but access to them and their classic soul peers as they (multiple versions of the Delfonics) did shows here on the east coast. As a result, I got to see both Wilbert Hart and William Hart's version/vision for the Delfonics as "legacy artists," many times. That was important to me. In 1970, when I first became aware of the music of the Delfonics, I was 13 years old and a part of their "target audience." Needless to say, I was also a huge fan of their recordings and was quite honored to be a part of creating their legacy online.
The songs of the Delfonics are about "the neighborhood." The music of the Delfonics connects together, the 1001 Black neighborhoods around the country in which the situations described in the songs are taking place on a 24/7/365 basis. The topics of these "news reports," by the Delfonics are the same topics that a certain "Ms. Wilona Woods," from the projects in Chicago was accused of running her mouth about.
"He Don't Really Love You"
"You've Been Untrue"
"La-La (Means I Love You)"
"I'm Sorry"
"He Don't Really Love You" (re-release)
"Break Your Promise"
"Ready or Not Here I Come (Can't Hide from Love)" (A-side)
"Somebody Loves You" (B-side)
"You Got Yours and I'll Get Mine"
"Didn't I (Blow Your Mind This Time)"
"Trying to Make a Fool of Me"
"When You Get Right Down to It"
"Hey! Love" (A-side)
"Over and Over" (B-side)
"Walk Right Up to the Sun"
"Tell Me This Is a Dream"
"Think It Over"
"I Don't Want to Make You Wait"
"I Told You So"
This list of songs includes everything from Grammy Award winners, #1 pop hits, R&B chart/radio hits, Basement party hits, etc. All fondly remembered by a whole generation of people, who knew that "neighborhood" well and knew the Delfonics role as "town crier" for that neighborhood, of its most important news. The news of its residents!
And the outpouring of love for those 50-year-old songs have been coming out all over the internet, since the passing of William Hart, from people who don't even know who William Hart was. No surprise there, most music fans rarely know who the individual members of singing groups are. And when they do, they can rarely identify them by name, only by sight and/or voice.
Back in the 1980's, Chuck D called Public Enemy the "CNN of the Black Community." But 10-15 years before Public Enemy, the Delfonics we're the "CNN of the Black Community."
The sad part is that it didn't have to end. Most histories on the group say; "the hits dried up for the Delfonics, once Thom Bell was no longer their producer and that once he became the producer of the Stylistics (a similar sounding Philly group,) that the hits of the Stylistics should have been the hits of the Delfonics." That is most likely true, however more significantly the Delfonics we're also victims of mismanagement. Thom Bell left because he and William Hart had a falling out, leading William Hart to take over completely. His suicidal mismanagement of the group was largely responsible for their demise first in the 1970's, that would continue into the 2000's.
Unfortunately, over time William Hart also lost the magnificent power his singing voice was once the model for. Even worse, over time, William Hart lost sight of what the Delfonics we're supposed to be and represent.
He thought that the Delfonics we're "3 well-dressed tall empty suits in front of microphones, with himself and only himself out front."
And while it's true, William Hart really did write those words 50 years ago and communicate them like he was the person who wrote them (since he was.) I was also true that he could no longer sing them with the authority he once could. Unfortunately for him, he didn't realize that the authority his voice once contained, was just as important as the words themselves
I say the Delfonics, need to be those "3 tall & well-dressed Brothas," as well. But in addition, they represent the unified harmonic sound & content of that "neighborhood," being presented by 3 poetic black men whose purpose in life is to make certain that you (the audience) get the real deal on the neighborhood. There is no ambiguity because the 3 poets are always on the same page. So when you hear them say something like "when you get right down to IT…" or when they say "didn't I blow your mind THIS TIME." … (that he really did blow her mind 1,000 times before.) The fact that this information is being presented by men, is no small factor and removes it from the realm of "gossipy females." Take another look at that song list. If you are a person (such as myself) who grew up with these songs and know the lyrics, then you know, just as I do, just what their impact was back then and continues to be to this day!
But his brother Wilbert did understand the short/long term impact of BOTH the songs and the singing, and over time he realized that without the power/authority of the voice, that the lyrics of the songs would be rendered hollow.
Wilbert Hart even went so far as to make sure that his group sounded like the original, when he took that sound into the world of hip hop,
Therefore….
The Wilbert Hart version of the Delfonics always sounded exactly like the original.
The William Hart version of the Delfonics always sounded like a bad imitation of the original.
I got to observe this stark difference "over and over again" (excuse the pun!)
Don't believe me? Check out the following YouTube Videos
Delfonics – La La (Means I Love You) – Live 1971
DELFONICS-La La Means I love U (Live 70's soul jam Ft William Hart)
"La La Means I Love You" The Delfonics Ft Eban Brown
This was not exactly a secret. It was observed and commented on relentlessly by the other artists and sound men, support people & others at the concerts and by some of the fans. Unfortunately, most of the fans at these concerts didn't care. They mostly cared about the songs themselves and their nostalgic value.
Any to compound matters, William Hart was granted legal ownership of the name "Delfonics," a fact that he chose to "weaponize" against his brother for many years. I won't speculate on how this may have poisoned the relationship between the two brothers. I'll leave that analysis to others.
How big could the Delfonics have become if they were not so badly mismanaged?
That's hard to say. But I will tell you a little story, that may help you to figure it out for yourselves…
Sometime in the mid 2000's I covered an event in Wildwood, NJ called "The Vocal Group Hall of Fame Awards."
One of the participants at the event was Al Jardine of the Beach Boys.
I was excited, because I knew that I would get to meet Al and I knew that when I met him, that there was a piece of music that I wanted to get his feedback on.
I had my little tape recorder with me and when I met Al Jardine, I played for him a portion of a then new hip hop song produced by Wilbert Hart, where his version of the Delfonics are covering a Beach Boys song. When I played it for Al Jardine, at first, he thought that it was a sample of the Beach Boys. When I told him that it wasn't a sample at all but was in fact the Delfonics covering the Beach Boys.
He didn't seem surprised.
In fact he said; "Bob that makes perfect sense to me, after all, we always considered the Delfonics to be the world's SECOND BEST singing group…"
And that in a nutshell is the tragedy of the Delfonics.
–Bob Davis
Interview w/William Hart
We lost a real one y'all.GOD BLESS AND KEEP WILLIAM "POOGIE" HART
by Carlton J. Smith
– lead singer of the legendary Delfonics.If you don't know who the Delfonics are or who William Hart is or what legendary songs he's written….this is exactly what Google and YouTube were invented for.I'm not going to spend time here running down the man's legendary resume.I'd much rather spend time telling you about the first time I laid eyes on him and his brother.
It was a Saturday afternoon and I made my usual sojourn up to 125th and seventh avenue to go to the mecca – the Apollo theatre. One the greatest theatres in the world for live entertainment. Below is a picture of the marquee for the show I saw that week. That's William and Wilbert Hart standing in front of the marquee.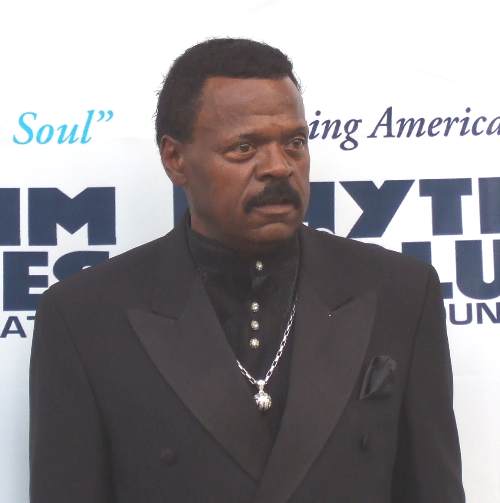 The line up that afternoon?
The INDEPENDENTS – Scepter recording artists that hit big with "Leaving Me". The lead vocalist was Chuck Jackson. Not Chuck Jackson of "Any Day Now" fame, but Chuck Jackson who along with Marvin Yancy co-wrote every hit record that ever came out of Natalie Coles mouth. He is also the brother of famed politician The Reverend Jesse Jackson.
The MANHATTANS – They were hot on the charts with "One Life To Live" and were well on their way to being one of the stalwart legends of R&B. You could ALWAYS count on the Manhattans to have a couple of lovely slow jams in any given year, led by the magnificent voice of Gerald Alston.Now here is where it gets historic.
LOVE UNLIMITED – were three zoftig, sexy chocolate mommas with wigs and hips aplenty. They were the epitome of the term "bold soul sister". They looked wonderful and sounded even better. We were all in love with them due to their sexy hit single, "Walking In The Rain With The One I Love". As they went through their set leading up to the moment we were all waiting for, I couldn't help but notice a big, heavy set, dark complexioned man with a pimp hairdo on the keyboards sweating profusely and constantly winking at the lead singer Glodean. He even did the deep voice part of that record when she is talking to her boyfriendSix months later I saw his face on an album cover….Barry White had arrived y'all.
Kool and the Gang OK now it was time to get funky. There are those of you, especially in foreign countries that when you hear the name Kool and the Gang you think of, "Fresh", "Emergency", "Cherish", "Celebrate" and dreck like that. But alas I know of another Kool and the Gang who were second only to the mighty JB's (James Browns band) when it came to laying down hard hitting, horn driven funk. The early 70's era of Kool and the Gang saw them as nothing to play with. When they hit the stage in their brightly colored polyester jumpsuits with capes and platforms they peeled paint off the walls and this night was no exception. They were riding high with, "Love The Life You Live" and to all of my friends in Finland and Norway…go slow…this may be too much funk for ears that are accustomed to "Joanna". But believe me when I tell you this night they were operating at peak form and it was a funk session the likes of which you just didn't see unless James was in town. Which leads me to the headliners…the Delfonics. I HAD NO IDEA WHO THESE GUYS WERE! They were my older sisters generation….slow jams in the basement with red lights on while you slow dance against a wall with a girl. My getting girls game wasn't operating at full capacity yet.I was still looking at breasts in the National Geographic mags in the school library. So when they were announced and the girls ran towards the stage like maniacs…I figured these guys were on to something. They came out twirling wearing burgundy velvet suits and long flowing cream colored capes with suns and moons on them. The girls were literally going out of their minds and they hadn't sung a note yet! There were only two of them – William and Wilbert, the Hart brothers. Original member Randy Cain had just left and Major Harris who was still a member of Nat Turners Rebellion (one of the most counter productive group names ever) had yet to join the group. Major would join and then go on to solo stardom with "Love Won't Let Me Wait". But this night belonged to the Delfonics, most notably the heavenly falsetto of William Hart who unashamedly copped all of his phrasing from Little Anthony of the Imperials.
We all have our favorite super group falsetto singers. Eddie Kendricks of the Temptations is pretty much the standard bearer for the genre. But you've also got: Ron Banks – The Dramatics Russell Thompkins – The Stylistics Eugene Record – The Chi-Lites (Listen to Eugene on the Chi-lites hit single, "(For Gods Sake) Give More Power To The People" and you'll see where the Bee Gees Barry Gibb got his style from! Ted Mills – Blue Magic Johnny Carter – The Dells The seldom heard William Powell – The O'Jays and there are a few more…
But we must NEVER forget William Hart who not only sang heavenly but wrote most of what he sang. Brother Hart…you go on and rest…you served. Mightily.