Dick Gidron
"Dick Gidron paid his debt to society," Sharpton told Bob Kappstatter writing in the New York Daily News in 2006. "GM needs to pay its debt to Dick Gidron."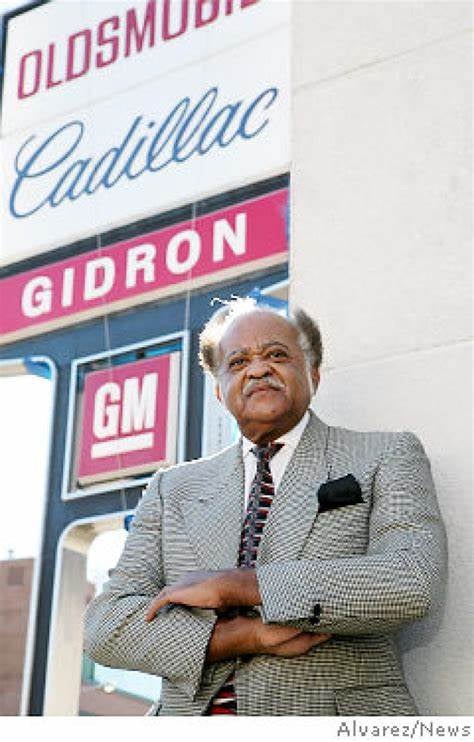 Editor's Note: A few of you outside of the NYC area, might be wondering just who Dick Gidron is and those of you in the NYC area might be wondering why we would be featuring a car dealer on Soul-Patrol. However, those of you who are longtime listeners to radio stations WLIB AM and WBLS FM already know exactly why Dick Gidron belongs on Soul-Patrol. It is often said that "ADVERTISING IS THE MOTHERS MILK OF RADIO." If that is a true statement, then Dick Gidron was the "Mother's milk" of WBLS & WLIB. Not only did his commercials for his car dealership dominate the radio airwaves of Black New York for a generation, Black New Yorkers came to think of Dick Gidron almost as a "Civil Rights Leader." And don't let someone park their car with a "Dick Gidron Cadilac" nameplate in the back. Then that person almost became thought as a "Civil Rights Leader."
By Dianne Washington
Richard "Dick" Gidron was one of the most celebrated African-American auto dealers in the United States during his heyday in the 1970s and 1980s. His Cadillac dealership in the New York City borough of the Bronx brought him the lifestyle of the rich and famous as he acquired a mansion, a yacht, and an array of friends that included boxer Muhammad Ali, New York Governor Mario Cuomo, and a host of New York political and entertainment personalities. "A stop at Gidron Cadillac for an oil change often meant a chance to hobnob with the local glitterati," noted Rachel L. Swarns in the New York Times in 1996. Gidron fell on hard times toward the end of his life—partly because of the decline of the Cadillac brand and partly, he alleged in a lawsuit still pending at the time of his death in 2007, because of systemic racial discrimination.
Gidron was born in Chicago, Illinois, on October 10, 1939, and grew up on the city's South Side. His father died when he was about seven years old, after which he was raised by his mother and grandmother. Gidron avoided Chicago's gang culture: He told Douglas Martin in the New York Times in 1990 that he could see there was "no future there." He was fascinated by the Cadillacs he saw on Chicago's streets. "It was the ultimate dream," Gidron told Swarns. "But the idea of a young black American like me owning a Cadillac? It seemed too far-fetched." He did the next-best thing, landing a $90-per-week job at a Chicago Cadillac dealership moving cars around the sales lot. At night he attended Bryant & Stratton College.
Steadily working his way up through Chicago's Cadillac hierarchy, he landed a parts-department job and then, at age twenty-six, a spot as Cadillac's first black salesman. By the time he left Chicago in 1972 he was one of the company's top salespeople. When General Motors Corporation (GM) decided to open a potentially lucrative new Cadillac dealership in the Bronx, vocalist Sammy Davis Jr. and baseball home-run king Hank Aaron stepped up with bids. But GM, impressed by his track record, picked Gidron instead. He was the first African-American Cadillac dealer in New York, and only the second in the United States.
GM's judgment was vindicated. By 1980 Dick Gidron Cadillac was racking up annual sales of $45 million and was one of the top ten Cadillac dealers in the country. The dapper Gidron purchased not only Cadillacs but also three homes and a yacht. Gidron married, and he and his wife raised a daughter, Bridgett, and a son, Richard Jr. Gidron was heavily involved in the community machinery of the Bronx, serving as president of the borough's chamber of commerce for more than ten years and also heading the Bronx County Democratic Committee. Several prominent members of the Bronx judiciary owed their posts, it was said, to Gidron's influence. When business dictated it, however, he would direct contributions toward the Republican side of the aisle; for instance, he contributed to campaigns by U.S. Senator Alfonse d'Amato and New York Governor George Pataki.
In 1983 Gidron started a new Bronx Ford dealership, Dick Gidron Ford, and he later opened other dealerships in towns north of New York City: Yonkers, Mt. Kisco, and Mahopac. Even after becoming one of the top dealership executives in the country he kept a hand in on the sales floor: "It seems downright magical," Martin wrote in 1990, "how he starts out chatting about a broken alternator and within minutes has a man agreeing to cancel his contract to buy a Plymouth and look at Fords." Gidron's easy way of communicating with others made him friends in high places—friends such as Ali, New York Yankees owner George Steinbrenner, and New York Mayor David Dinkins. On the walls of Gidron's office hung pictures of him shaking hands with President Ronald Reagan and even the humanitarian missionary Mother Teresa of Calcutta.
By 1990 Gidron was riding high, planning a giant new dealership in the Bronx that would feature some three hundred different auto models and thinking about running for Bronx borough president. But sales of American cars were in decline by the early 1990s, and no brand took a stronger hit than Cadillac. In the New York metropolitan area, sales and leases of new Cadillacs declined from 15,045 in 1986 to 5,923 in 1996. As Gidron's flagship business deteriorated, he fell behind on state and federal corporate taxes. He ran afoul of the Internal Revenue Service, which seized some of his corporate assets. By the summer of 1995, Gidron Cadillac had closed its doors, and the windows of its once-opulent Fordham Road showroom lay smashed.
Cadillac's loss of appeal was partly to blame. But so, Gidron claimed in a $357 million federal lawsuit, was GM, which had failed to support his dealership with rent and renovation subsidies. Gidron's team of lawyers, which included Dinkins, pointed to the settlement that GM had offered to a nearby Cadillac dealer in similar straits. Gidron alleged that his dealership had been targeted for elimination because he was black. "General Motors' actions here amount to nothing more than the racial redlining of an entire community," Dinkins told Black Enterprise. The company denied the charges, pointing to Gidron's tax problems as a reason for its having withheld subsidies.
As the case wound its way through the court system, Gidron's legal situation worsened. In 2002 he admitted to evading $1.6 million in New York state taxes (far less than the $12 million he allegedly owed the state), accepting a plea deal that kept him out of prison but specified that he could travel only to work, to church, or to a medical facility. Soon, however, new charges arose: It was alleged that Gidron and his corporate underlings had run scams at some of his remaining dealerships, pocketing money customers paid toward taxes or toward the fulfillment of loans outstanding on vehicles they had traded in. Gidron tried to have the trial moved to friendlier territory in the Bronx, but to no avail. In 2005 Gidron was ordered jailed by a judge moved by testimony from a Gidron customer who claimed that he had been bilked out of $5,000. Gidron entered a guilty plea that reduced a possible six-year sentence to one to three years. He was released in 2006 after serving about a year.
Gidron renewed his legal campaign against GM, charging that the company had reneged on a promise to back his renovation of an auto-repair facility. This time he found high-profile support not only from Dinkins but from the Reverend Al Sharpton, New York NAACP head Hazel Dukes, and other civil rights leaders. "Dick Gidron paid his debt to society," Sharpton told Bob Kappstatter writing in the New York Daily News in 2006. "GM needs to pay its debt to Dick Gidron." Gidron also blamed New York politics for his rough treatment: He had refused to testify against a Bronx politician, State Senator Guy Velella, in a bribery case, and Gidron told radio interviewer William O'Shaughnessy (according to the New York Post in 2006), "they came down on me like a ton of bricks." Before the merits of his lawsuit could be decided, however, Gidron, a giant of the African-American auto industry, died on October 11, 2007, at the age of sixty-eight