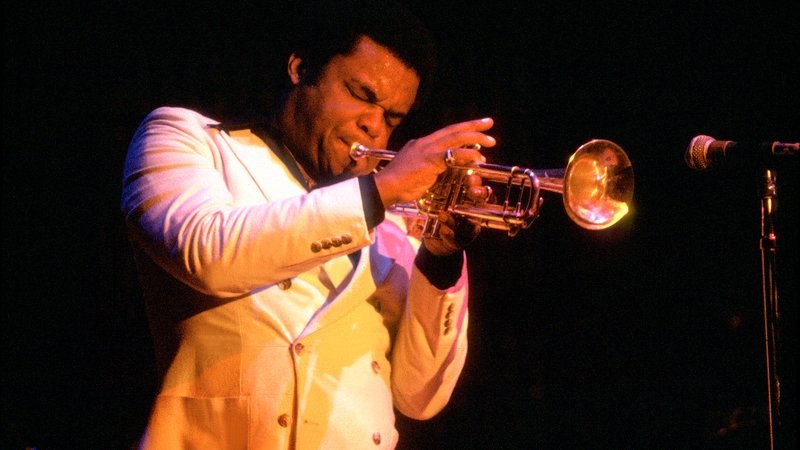 Freddie Hubbard, 1938-2008
I really used to dig Freddie Hubbard. A totally different kind of a trumpet player than Miles. I guess I first got turned on to Freddie Hubbard, via Quincy Jones "Walking in Space", with his NASTY trumpet solo on "Killer Joe"
Nothing too deep on all of those great CTI albums ("Sky Dive", "First Light", "Red Clay", etc). But always something quite "tasty". I always thought that he was kinda like the "heart and soul" of the CTI label?
As I am typing this I am listening to "First Light".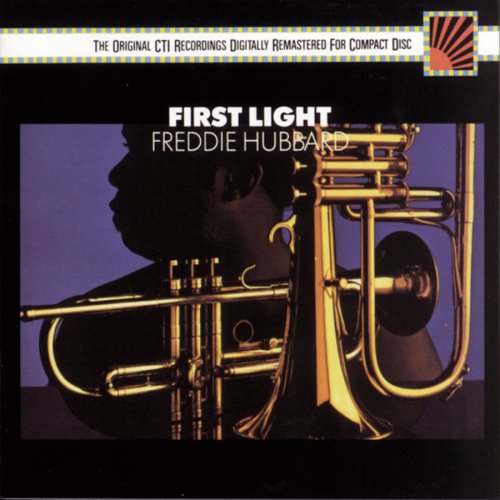 Man, oh man….He was a giant of not only Jazz, but of Black music period in the 1970's. In fact, he accomplished what Miles set out to do but couldn't as a trumpet player. He was able to reach the mainstream Black audience, including teenagers such as myself in a way that Miles Davis never could.
Here is a question:
The one thing that Freddie Hubbard could have done that he didn't (that I would suggest) was to get a vocalist to front him. He should have done it because his music is made for vocal interpretation. That's why his version of "Killer Joe" is the definitive one. His melodic trumpet combined with the erotic voice of Valerie Simpson is magic. Look what vocalists have done over the years with "Red Clay", for example. Imagine if Freddie Hubbard had paired up with someone who was a great singer, that wouldn't have overshadowed him, say for example someone like Phyllis Hyman or Minnie Riperton or even Valerie Simpson, and did vocal interpretations of his instrumental "hits?"
Thanks in advance for your consideration…
Bob Davis – Soul-Patrol
earthjuice@soul-patrol,com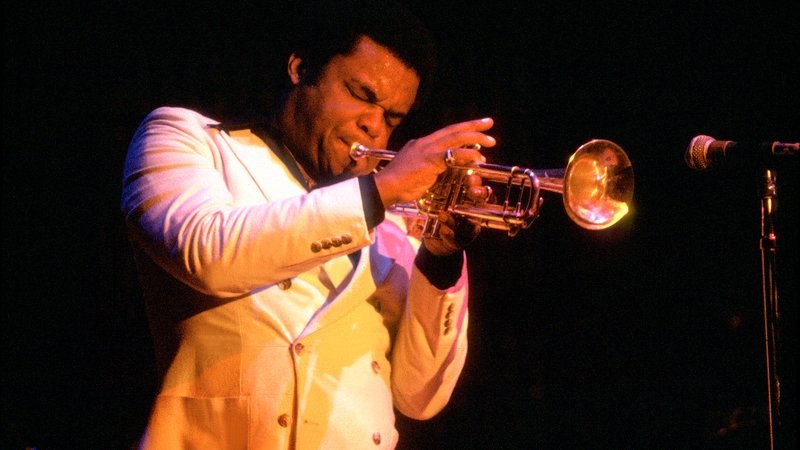 Freddie Hubbard Commentary
(The Professor)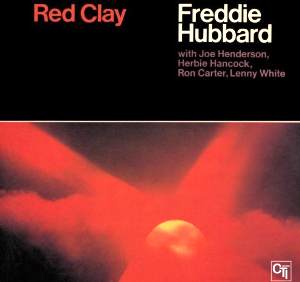 Here is some commentary on the late Freddie Hubbard, from "THE PROFESSOR", who for the time being shall remain anonymous.
I met Freddie when he came to my hometown, Milwaukee to play. I think I have a cassette of him jamming with the local guys at the Equals Club. His pianist at the time was George Cables.
It was from Freddie that I learned that even the top musicians did not pass up a chance to play with the local guys. When guys like Freddie were in town, they would come to the clubs and lend their star power to inspire local players like me to see what the upper echelons of jazz are all about. Seeing guys like Freddie, George Benson, Eddie Harris and Stanley Turrentine up front and personal in the relaxed setting of a local haunt was great.
I can tell you he was all they said he was and more. More fire and groove that Miles. A greater range of the trumpet than Diz. But because he was outspoken and considered arrogant, he never got his just do. Freddie on a flugelhorn is magic. We always hung out when he was in town.
Suggested listening:
Red Clay the album that turned me from R&B toward jazz.
First Light George Benson's brilliant song on the title tune was the first indication of his brilliance. It is as perfect a solo as you can hear.
Uncle Albert/Admiral Halsey – on the First Light album. That whole album is a must-have.
Camel Ride on one of the albums he did for Columbia. Funky and smooth before CD 101.9 (not available)
Too High The best version of Stevie's song I every heard. (not available)
People Make the Round Go Round- on Milt Jackson's "Sunflower" album. I played that song many nights in the clubs. People would be dancing to jazz.
Maiden Voyage- Freddie is all over Herbie Hancock's big album.
Little Sunflower- Freddie's signature song that I played so much I still am amazed at how it brings out the best in musicians. Best version, on the Milt Jackson album.
Killer Joe– Freddie's solo on Quincy Jones album has been studied and transposed as one of the greatest trumpet solos ever. Generations on trumpet players imitate that tone.
Lonely Town great ballad
Here's that Rainy Day- my favorite version
That will get you started. I am a super critic about the music. If you get past me , you are good. But when you grow up listening to guys like Freddie you understand why. Freddie will be in the top ten of any list the the World's Best Trumpet Players. I was listening the that wannabe Chris Botti and he has stole so much of Freddie, he should be locked up for copyright violations. On a recent PBS show, he took Freddie's "Keep Your Soul Together" and just plain ripped it completely off.
But sadly, Freddie will never be known as well as Chris Botti. Freddie was no angel; he could be egotistical and abrasive. But on that trumpet, he was magic. When CBS closed the whole jazz department, it was because guys like Freddie wanted their respect. He never recovered from their "white-listing".
It taught me a lesson. I never signed with label because I will give no one that kind of control over me. I own my career. I owe nothing. CBS, Warner/Atlantic nor any other label has not been able to stop what I am doing. It is shame that the politics are the way they are.
I just checked Amazon; you can't get his Columbia funk stuff. Luckily, I have the LP. I will have to make it digital. They want to keep Freddie back in the days when they could control him and they didn't dance to the grooves. Sad, we have to take back control of the music.
Feel free to share your "oral tradition" about Freddie Hubbard. The Fender Rhodes solo on Red Clay is what started me on my quest. Freddie Hubbard.. a great composer , great musician and of a quality, we do not produce these days.
–The Professor
Freddie Hubbard Commentary
(Kevin Amos tha Funkoverlord)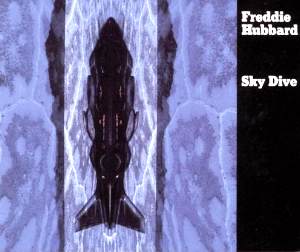 Of course I have recollections of hearing his music and playing his music on the air down through the years. My good friend the late Buck Brice loved his music and was good friends with him. Buck actually introduced me to him when we were on the air at WYEP in the 70's.
My other story goes back to my days and Pitt with some of the original Soul Patrollers, Bob, Aaron, Pete, Wicks and Ray. You see Aaron had a trumpet and when we were sitting around "entertaining" ourselves listening to music, many times one of the many LP's we would listen to was "Red Clay" and "Sky Dive". I was determined to teach myself the trumpet phrases. Guess what…I got them down and can still remember how to play it. Aaron would say, "Damn man…you got it." I would smile, proud of my months of trying to get it down. Of course Bob and the fellas went through and lot of torture listening to me blowing sour notes, but I got it. When I met Mr. Hubbard I told him how I would always try to play those passages. He just smiled.
Bob earlier reminded me of how the fellas didn't like the "Liquid Love" LP on Columbia and his performance on "Walking in Space" on the tune "Killer Joe". I also have memories of all those other session on CTI and other labels.
If you ever get a chance pick up the CTI CD of "Red Clay" that has a live version of the song.
Wow…another one of the great ones has passed. May he rest in peace.
–Kevin Amos the Funkoverlord
Freddie Hubbard Commentary
(Charles Duke)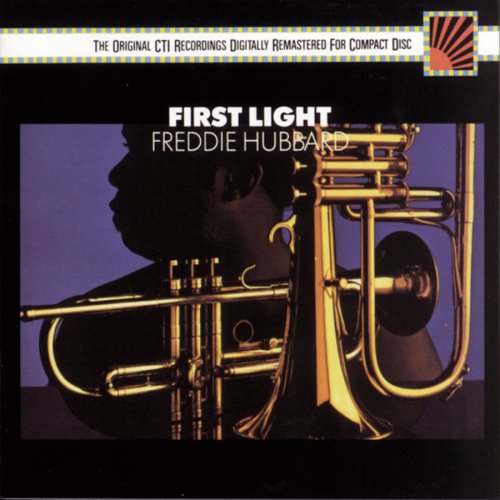 Brother Bob: First of all, Happy Holidays, my Brother!
How coincidental…Here it is the next morning, and I'm reading your response……and I, too, am listening to "First Light."
(An aside: Right now, Benson's great guitar solo on that track is playing; and it speaks to a point you made–that I'll address in this post–about "singing." For those of us who appreciate a musician's virtuosity in playing an instrument, I sure wish–in a sense–that "This Masquerade" never happened. I'm sure Benson does NOT feel the same–LOL!!!).
Brother Bob, you've raised a very interesting point; quite frankly, one I've never thought of. Thinking back, one reason Freddie DID accomplish it–where (dare we say it, even) Miles didn't–is his song selection.
Around the same time that Freddie was doing CTI, Miles was into the "On The Corner," "Big Fun", and "Get Up With It" phase of his career. Very rhythmically-oriented, improvisational…but not as pop/melodically-oriented. One couldn't easily "sing along to it."
Freddie not only did stuff like "First Light," but also covered popular pop tunes of the day, such as The Stylistics's "Betcha By Golly, Wow," "People Make The World Go 'Round," and Paul McCartney's "Uncle Albert/Admiral Halsey." Songs, along with his other things, that were very melodic–and lent themselves to two-three chord "riffs" in the body of the track where soloists could "stretch out" in their solos. In "First Light," for example, a LOT of the solo space takes place over a simple A-flat minor/B-flat minor chord riff.
Miles, on the other hand, had so much stuff going on in his tracks (meter changes, rhythms, non-conventional keyboard voicings, stops-and-starts, etc.) that, for those ears not attuned to it, would be the equivalent of someone saying "TOO MUCH INFORMATION!!!"–LOL!!!
But, because of Freddie's song selection, did he really need a female vocalist? I'm not too sure it would've pushed his popularity any further. In 1982, McCoy Tyner did an album on a major label with Phyllis Hyman called "Looking Out," albeit about a decade after the CTI heyday–but it didn't do much in the way of McCoy's career.
I don't care how you slice it: eventually, a singer overshadows an instrumentalist (which, personally, appalls me). And, by that time, Freddie's built too much of a career to be "the afterthought" or "second banana." Benson got away with it because Benson COULD sing.
Keep in mind we're also talking about "the world of jazz," and with that, we're talking not only radio–but the critics, Down Beat, and jazz clubs. The critics? In jazz, they were pretty powerful back then. If they said something wasn't "hip," then it just wasn't "hip." And the critics, through their reviews in Down Beat, the New York Times, and other publications, were a prime source of marketing for jazz artists. Many of those critics would pan not only Miles's efforts of that period, but the later post- George Benson's "Breezin'" commercial jazz period of the mid-late 70s. A lot of Freddie's Columbia work was commercial; even when there were straight-ahead (non-commercial) tracks on those Columbia albums, he would be panned by the critics. Unless you were "doing Eddie Jefferson" or "Ella" or "Sarah" or "Anita O'Day" during that period–you weren't considered a "jazz singer" by these critics, and that would lead to further "panning."
A lot of artists didn't want to have their artistic integrity considered compromised by the jazz critics–apparently, Freddie included. See this excerpt below from Peter Keepnews's obituary appearing in today's New York Times:
"In the 1970s Mr. Hubbard, like many other jazz musicians of his generation, began courting a larger audience, with albums that featured electric instruments, rock and funk rhythms, string arrangements and repertory sprinkled with pop and R&B; songs like Paul McCartney's "Uncle Albert/Admiral Halsey" and the Stylistics' "Betcha by Golly, Wow." His audience did indeed grow, but his standing in the jazz world diminished...
"…His first albums for the label, notably "Red Clay," contained some of the best playing of his career and, except for slicker production and the presence of some electric instruments, were not significantly different from his work for Blue Note. But his later albums on CTI, and the ones he made after leaving the label for Columbia in 1974, put less and less emphasis on improvisation and relied more and more on glossy arrangements and pop appeal. They sold well, for the most part, but were attacked, or in some cases simply ignored, by jazz critics. Within a few years Mr. Hubbard was expressing regrets about his career path."
Your (or any other's) thoughts?
–Charles Duke