Review – George Porter & the Runnin' Pardners at the Ardmore (7/23)
Did you ever wonder whatever happened to George Porter of the legendary band THE METERS, who not only backed up artists in the 70's like LaBelle (Lady Marmalade) Dr John (Right Place, Wrong Time) Pointer Sisters (Yes We Can Can) + their own 70's hits like "Cissy Strut" here is a review of what George Porter is doing now…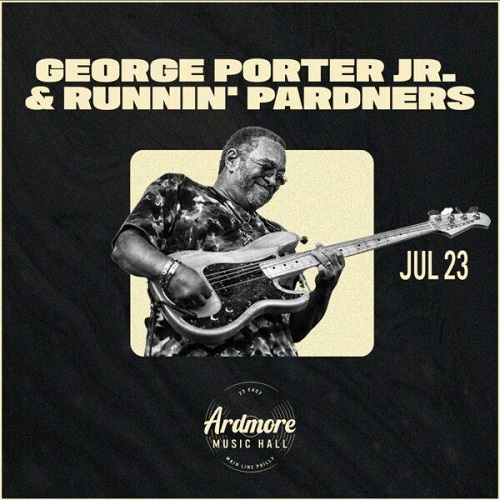 BY Habibah Abdul-Shaheed
Master Musicians are a Unique Breed who Genuinely acquire & absorb real spiritual Gifts through the Element of Sound and do far more than simply play instruments. They share the vastness of their depths & expand them through arranging then extending their collection … ultimately presenting the culmination in a beautiful artistry that's an uninterrupted, explosively pleasing blend!
When a person has such incredible talent, and they mesh it with business savvy & wisdom, We find a refreshingly successful, charismatic giant like Goerge Porter Jr.!!!
Many Moons have passed since My first witnessing of the Smooth yet Thunderously Powerful/Rich/Deep, Louisiana Funk of this Dynamic Man during his days with The Meters & his Goal-Producing accompaniment with LaBelle (featuring Patti LaBelle, Nona Hendrix & Sara Dash)! His distinctive/selective ride across the Cells of Sound have always been impressive to the ears & an ephemeral dance to the Soul. Comparing someone of this magnitude to any other Bassist is like comparing gems … Amethyst to Amber, Emeralds to Jade, Rubies to Opals, Diamonds to Diamonds & Diamonds …. The richness has a variable & a Regal presence that is a deserving distinction in its existence! As his enlightening tones lift the Spirit, one can't help but Feeeeel the Stimulus of the Magnificence he Magnanimously offers while the Universe Pulsates with his Rippling Funk!!! This Man has been spectacular since Day One, his growth & development has proven that his artistry has not been a game, but a Game Changer!!! He shows Us that Time Is & Has been His Beneficial Friend, and there's Strength in Endurance!!! George's Mastery & warmth sweeps over the audience, includes them & embraces them … Rockin' the Funk like it Aughta Be!!!!! Personal & Simultaneously Universal 💥
George Porter Jr & His current flow, His Runnin' Pardners, brought "Run on Ya & Keep Ya Rockin' Funk" to The Ardmore Music Center, in Ardmore, PA, Sunday, July 23, 2023 … It was a Blast that the place will Never Forget!!! The crowd was pumpin' from the time he hit the stage, and they continued on throughout the parking lot … well after the venue was empty!!!! The exhilaration shared had numerous Ones (MySelf included) seriously looking forward to his return, whenever that may be!!!
The Members of Our 12/26 Capricorn Brother George's Runnin' Pardners are:
George Porter Jr. – Bass & Vocals,
Michael Hemmler- Keyboard & Vocals,
Terrence Houston- Drums & Vocals,
Chris Atkins- Guitar & Vocals
This R&B/Funk/Blues/Jazz Fusion Band's CD "CRYING FOR HOPE" has such an stupendously melted sound … Cooking with a brilliant blend of today, yesterday, intimacy & ringing out from the greatest expansion of open-ness the mind can imagine!!! Songs from the show included "Funkify Your Mind", "Everytime I Think About You (I Get High)", "The Devil He Bite Me" … A few cuts brought memories of The Meters, yet this present day sound is slick, refreshing, and another kind of ease in the funk!!! When watching the body language, it was like delighting in a meal one's been happily tossing in their mind! Seeing an artist as they treasure the love they share through their music is often an unexplainable joy!!! During the Meet & Greet I introduced MySelf to George & let him know how I've appreciated his Mastery, that I was Blessed to see him at Sylvie's on 5th & Pike in Philly on a show that also had Zulema & Chocolate Milk. His facial expression showed that the mention of that event was a beautiful step in Time. He also recalled performing in the company of Mandrill some time ago!!! I'm so thankful I was & am Gifted to enjoy this kind of experience! It's a means of witnessing the Angels as they light the skies!!!!!
The itinerary has George & His Runnin' Pardners scheduled for at least another dozen performances bouncing across the country in a multitude of locations … Colorado, Louisiana, NY & several other States … some of them have them sharing the stage with The Parliament-Funkadelics and many others!!!!! I can't wait!!!!! The Ardmore staff were tremendously pleased by the turnout (and rockin' their toes as well), and they extended a heartfelt invitation for The Band's return as well as the guests!!! This has been such a bangingly cool evening!!!! Take a listen!!!!! George Porter Jr's & His group, The Runnin' Pardners …..
George & His Runnin' Pardners were POPPIN' ….. They gave a FANTASTIC performance …. Something You Dont Want to Miss!!!!!
I'm signing off …
Habibah Abdul-Shaheed