Greg Tate – RIP
Two Essays on Greg Tate: One from our friend Rickey Vincent and another from artist Doria Roberts.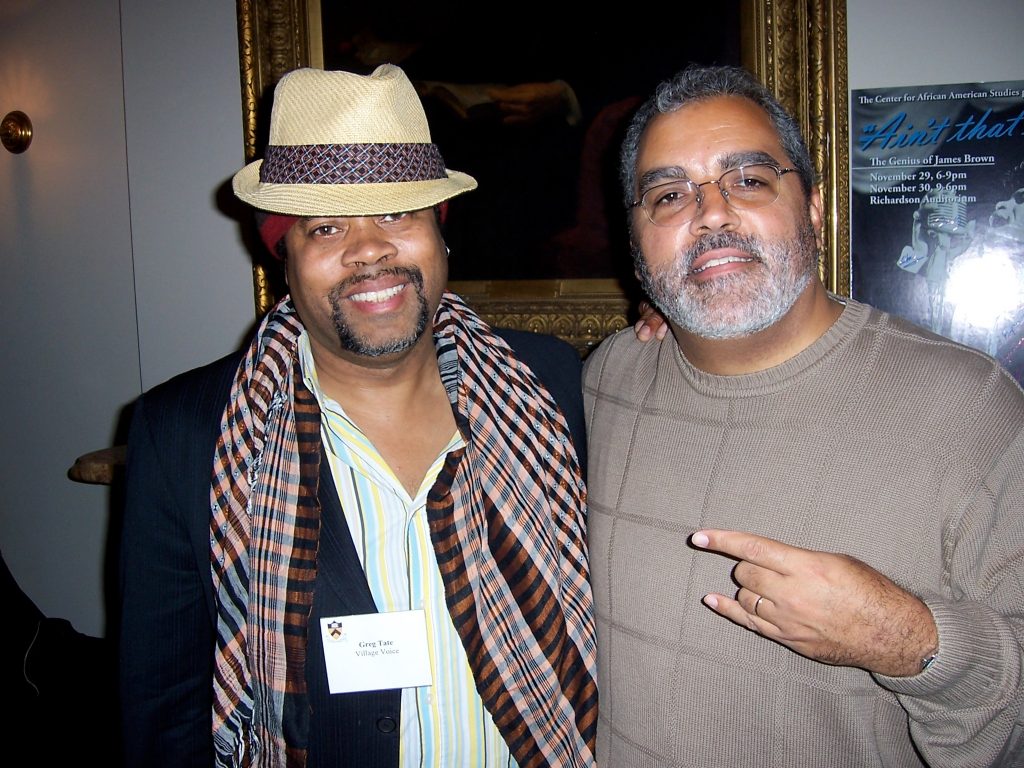 Out-of-the-box funky black fire (Rickey Vincent)
This one is really tough. The unexpected passing of Greg Tate has created a void that may never be filled. Some people defy categorization. Some people defy quantification. An elder once told me that our lives are always under construction, and only at the end of one's life is the scaffolding taken away and we can finally see the entirety of the person, and take a measure of them. But damn, Tate wasn't finished, and we are not ready for this. Not with years of practice and preparation could one presume to measure the depth and breadth of Greg Tate's presence, or his influence on the liberated thinking of so many milennial Black Lives.
I was one of his invisible disciples as early as 1986, when Howard Pinderhughes turned me onto Tate's essay "Cult-Nats Meet Freaky-Deke," the modern-day black bohemian manifesto. That work unwrapped the constrictions on black nationalist thinking, creating space for the untethered imagination to inhabit an arena once considered stoic, static, and sacrosanct. Tate's work gave so many of us permission to be black and absurdist, to be black and exotic, to be black and inspired, to be black and unbound. It inspired me to establish and write a weekly column at the Daily Californian I called "Below The Funk," and to pursue black music history on my own terms at SF State, and to finally write "Funk: The Music, the People, and the Rhythm of The One."
Greg Tate was heir to the combustible jazz writing tradition of Amiri Baraka, whose ferocious prose was matched by a ferocious love of blackness. Like Baraka his words were backed up with activism – cultural activism – co-founding the Black Rock Coalition, and agitating in real time, in real life for Black cultural liberation. As a writer, Greg Tate could tap the uncontained and uncolonized essence of the Young, Gifted and Black. He was called the "Godfather of Hip Hop Journalism," because he allowed us to "hear" our urban creations with a historicity that could invoke our rhythm-driven ancestors, from Harlem to Harare.
A native of Dayton, Ohio – "the funk capitol of the world" – Greg Tate was equally at home with contextualizing the sonic monstrosity of P-Funk, as he was with the intricacies of John Paul Bourelly's guitar fingerings. Tate was a jazz critic, but that's only the cornhusk on the outside of the spicy dish. Some of us could tell he would be measuring great art-works as echoes of the wildlife inhabiting Charles Mingus' "Beneath the Underdog," or thru the prism of the anti-colonial espirit of Ishmael Reeds' "Mumbo Jumbo." To be reviewed in print is always a thrill. To be reviewed by Tate is an event one won't ever forget.
Tate was capable of speaking the language of dissonant splank, that amalgam of abstraction and blackalicious fury that only a jazz-freak funkateer could combinate.
Greg Tate was at once to me a peer and a hero. We both sought to write with out-of-the-box funky black fire, and still get paid doing it. Like myself, Tate straddled the fence between the academy and the community, never drifting too far, and always remaining a moving target. But I would continue to pursue him. I would seek out and drink his words, guzzling them down like a thirsty pilgrim on a quest.
As smooth as he was, Tate carried himself as if he was the center of a world that he alone had created, with his trademark scarf and head wrap resembling a Keffiyeh, perhaps to inspire his own revolution. Yet everything he did – everything – was to give to us his gifts, his African historical wisdom, his engagement and encouragement, his deep musical immersions, his deep family ties, and his creative license to truly be black and – truly original.
There was only one of him, he belonged to no category as he belonged to so many, and we will be struggling to account for all of his unselfish gifts to us for generations to come.
He saw me as an artist before I saw myself as one (Doria Roberts)
This is Greg Tate, Brother Tate to most, music critic, cheerleader, son, brother, father, grandfather, and, now, ancestor, and…
He was here.
I don't want to crowd the room occupied by people who knew him better and best, but I'm desperately trying to process the news of his sudden passing and want to offer some words to the ether in his honor and in his palpable absence…
It's hard to imagine living in a world without someone who "saw" you when others did not or, simply, chose not to. I know he was a god amongst men in the world of art criticism, but (for me) he was simply someone who actively and consistently engaged me as an artist and human since I first met him in 1996 at the National Black Arts Festival in Atlanta.
I remember very clearly piling into Big Red, my very hot, very air conditionless '78 Volvo station wagon, (in the time before ubiquitous cell phone documentation) with (mostly unbeknownst to me) the creme de la creme of black rock royalty: Greg, Vernon "In Living Color" Reid, Jared Nickerson telling me about his "Wear Moshood, Wear Yourself" ensemble, Tamar Kali, the self-proclaimed Geechee-goddess-cum-composer-extraordinaire and…
Me: an ad hoc, wide eyed chauffeur show hopping in my adopted hometown, unironically debating the virtuous and political import of Freaknik happening amidst the gatekeepers of our movement and the cultural necessity of wildin' out in the Lion's Den of respectability politicians.
I remember coming out to these found fast friends in the dim and din of a crowded club and they still let me in. I was now somehow part of their not-so-secret club, which was a beacon and oasis for rag tag, blue haired little sisters with too-big guitars bouncing around a world that couldn't care less.
Fast forward…
I also remember very clearly getting a call some months later asking if I wanted to play at the (also unbeknownst to me) Tracy Chapman backed, Buddhist priest run Kokobar in Fort Greene, allaying my very real fears of playing my nascent brand of folk music in predominately brown spaces.
And, like clockwork…
I hit a note, shattered a glass, and was called "shrill" by some mocha sipping asshole in the back and Greg…took out his sword, changed a letter, flipped the script and, therefore, the scripture of Book One of the Gospel According to Doria Roberts and called it "a thrill", christened me a punk for finishing the set, alone and visibly shaken but not broken.
My Epistle Apostle.
He saw me as an artist before I saw myself as one.
Then, fast forward again (like the time travelers we are, Sun Ra's chirren), another phone call, another potential collaboration for the Atlanta Music Fest and my "Black Rock and Blue Eyed Soul" panel. Long talks conferring wisdom and insights about our melanated musical brethren and sistren, the outsized outliers, pugnacious punks, feral folksters, all too hype for hyphenated labels, too down so deemed too uppity by those who would like to box us in, put a bow on us and go about their business.
Then…
Mostly quiet as life took its toll, skies and hairs graying in the passing days, our heated, brainiac conferring confined to the spaces of Facebook where we furiously typed our comments and opinions on young boys catcalling grown ass women, naming the stages of grief for our beloved Prince Rogers Nelson, and virtually screaming to each other: "Don't say it, Kay!", our love of that "Sicilian thing, those insomniac late night film fests of The Godfather, cementing us, an unlikely bond.
But, still…
He managed to throw my name out (IN PRINT NO LESS) in a Wire UK magazine article about our dear avant garde grandfather Lonnie Holley.
Reverse name-dropped and Called me "Atlanta's reigning Afro-folk diva".
Meant it.
Forced eyes upon me.
Did not let them turn away, deny, or redefine the space I painstakingly, heartbreakingly carved out.
That is how I knew him.
Inexplicably in my corner "from jump".
Ultimately a champion for us all.
So…
This is Greg Tate, a maker (never a breaker) of men, master of words, wielder of swords, changer of letters and worlds, a giant who humbly fraternized with us mere mortals in a time too short, and…
He was here.
❤️💔