Grover Washington
It also represents a shift in African American consciousness in the middle 1970's as we shifted ever so slightly from "Black Militancy" to "Affirmative Action."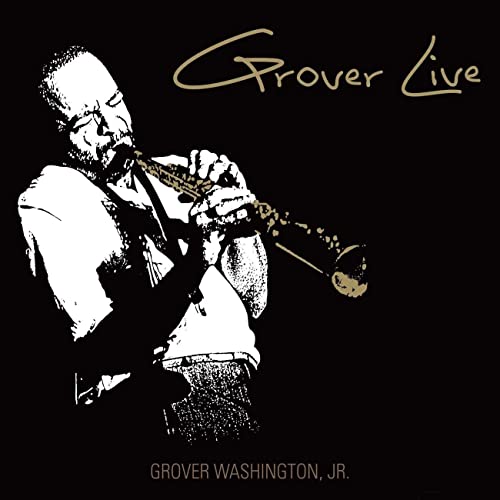 Grover Washington Jr – A Cultural Awakening
by Bob Davis
Note: originally written as an album review for the "Grover Live" album. But it's really much more (as you will see}
And I know that those of you who might be inclined to ask that question will tend to fall into two categories:
Category 1 – People who are too young to understand the big picture importance of Grover Washington Jr in the larger historical cultural context.
Category 2 – Longtime Grover fans who may feel that you already have everything that you need from him.
So let's say that you are a person who may fall into "category 1″…
Grover Washington Jr is the person who almost singlehandedly invented what we refer to today as "Contemporary Jazz." Trust me, he did exactly that. Oh, you don't wanna trust me?. You are absolutely positive that Kenny G invented "Contemporary Jazz," because the guy on the "smooth jazz" station said so? Take a look instead at this description, taken from Amazon.com:
"America's greatest R&B-funk and soul-jazz saxophonist, Grover Washington, Jr., (December 12, 1943-December 17, 1999) was one of the first musicians to successfully fuse R&B, pop, funk, blues, and jazz. "Grover Live" is a previously unreleased live recording. Captured on June 7, 1997 in Peekskill, NY, this album reveals Washington and his famous backing band blowing the roof off the sold out 1,500-seat Paramount Center for the Performing Arts."
That is perhaps the "rolling stone magazine version," of a phenomenon that is almost impossible to describe using text.
In my view Grover Washington Jr walked that fine line between multiple genres and created music that was timeless. This live album, composed of songs which in some cases were already 25+ years old, was recorded in 1997 and today in 2010 still sound like a revelation, especially when compared to the elevator music that at times passes today for "Contemporary Jazz."
His music exploded upon the scene and was the driving force in catapulting a tiny indie record label called CTI towards mainstream & international success. Grover's music was played everywhere from disco's to barbecues to TV, radio and more. People across "marketing categories" actually danced to the music of Grover Washington Jr.
I was fortunate enough to have been a wide eyed 18-year-old college student in 1975 when the album "Mister Magic" – Grover Washington Jr was first released. I first heard the song "Mister Magic" inside of a slammin NYC disco. I grabbed a young lady and we danced up a storm. While we were dancing, I was captivated by the groove. It was jazz, but it was also super funky. When the song was over, I went over to the DJ and asked him about the song, and he told me who the artist was and showed me the album cover. It had a picture of the artist in a swimming pool. The picture had a high-resolution look and feel to it, in fact the album cover felt almost like glass. The next night I went to a house party in Jamaica Queens and heard the song again. It was played right before the song "Love Is the Message" by MFSB (The Brooklyn National Anthem). The following Monday I brought the album "Mister Magic." It only has 4 songs on it; Earth Tones, Passion Flower, Mister Magic, and Black Frost If you were the type of person who brought the Mister Magic album because of the Mister Magic single, expecting the rest of the album to sound just like it, and be able to just "run it" for non stop disco action, you might be disappointed. However, when I first listened to it, I recognized exactly what it was. Each one of the 4 songs are a metaphor for the four seasons of the year (and perhaps the four seasons of life?) Over the years I would listen to it over and over again, absorbing not the dance beats, but came to regard "Mister Magic" as almost an updating of "A Love Supreme," but done in a fun way, almost tricking you into absorbing the deep spirituality, eroticism and sax playing. It's a perfect album for simply listening and exploring not only the music, but the inner recesses of your own mind.
Then of course there is that album cover. Much like John Coltrane's "A Love Supreme," the album cover was a thing of stark beauty. It pictured Grover Washington Jr emerging from what appears to be pool of water. The resolution of the photography is so high, it looks like you can actually see every single individual bead of water on Grover's face. One is immediately drawn to explore the detail. Staring at the album cover closer, causes one to ask more questions than answers. For example, it isn't really clear if it's really a swimming pool or some other water bearing vessel. It also appears that Grover himself may be completely naked. Is this photo being used as a metaphor to somehow depict birth? And just who is "Mister Magic" supposed to be? Is it supposed to be "Grover?" or is "Mister Magic" supposed to be me, now that I have been empowered by Grover Washington Jr and his spiritual/soulful/funky/mystical/erotic jazz, that I originally thought was supposed to be disco? Plus, it didn't feel like an album cover, it felt like a piece of glass, it was smooth to the touch. Which meant that it could not be used for the second most important activity involved with listening to a great album in the middle of the night back in 1975 🙂 The album cover was so beautiful to look at and to touch that in many dorm rooms across the United States, it was treated by its owners as a piece of art and you would actually see it hanging up on the wall, not only never having been soiled by marihuana stems, but used instead as a piece of art by people who not only "don't like jazz," but also by "people who don't like art."
In other words, the album "Mister Magic" was a totally empowering experience, contained inside of a cardboard envelope that cost $2.99 for an 18-year-old Black man/boy in 1975. It provided a way to encapsulate just about everything that I was interested in (or should have been interested in) at that point in my life. Musically it's influenced in equal parts by Motown, Miles Davis, Duke Ellington, Pink Floyd, James Brown and everything else in between. It also represents a shift in African American consciousness in the middle 1970's as we shifted ever so slightly from "Black Militancy" to "Affirmative Action." The album allows you to embrace both Funk music and the historical legacy of Jazz in such a way that it enables one to embrace the artistic greatness of your own heritage and use it to empower yourself, to move forward in a positive manner. Or if you aren't ready to get quite that deep yet, just use it as party music, or music to seduce your girlfriend by and some free art for your dorm room wall 🙂
So let's say that you are a person who may fall into "category 2″…
You need this album so that you will be well positioned to facilitate the kind of "growth experience" I described above (which probably also happened to you as well) to some well deserving younger person that you are in a position to impact. Or if you aren't interested in "empowering/inspiring" others and you are just a nostalgic old fart who wants to re-capture a portion of your own youth, a time when the world was wide open with possibilities and you were ready to embrace all of those possibilities, in a way that would ultimately change your world view forever. Then you need to own the final live recorded performance of the man who not only changed the worlds of jazz & soul forever, because it will help you to remember some of the things that you thought that you forgot about yourself. That's because not only will you have the music to remind you of that, but in between some of the songs you also get the voice of Grover Washington Jr himself explain to you why you need to remember. This release is owned by the family of Grover Washington Jr , so that means the profits won't end up in the hands of any corrupt multinational companies either. Oh and btw, the album art, liner notes and photography are just as classic as it was back in the day
Bob Davis