HEY BROTHA: Sly, Stone, Sly and the Family Stone, Family Stone, BB Kings, NYC, Phattadatta, Larry Graham, Little Sister, Jerry Martini, Freddie Stone, Rose Stone, Greg Enrico, Cynthia Robinson, Phunk Phamily Affair, Steve Reese, Skyler Jett, Lisa Stone, Carter Baron, Anahiem, Open Letter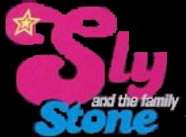 HEY BROTHA: Sly, Stone, Sly and the Family Stone, Family Stone, BB Kings, NYC, Phattadatta, Larry Graham, Little Sister, Jerry Martini, Freddie Stone, Rose Stone, Greg Enrico, Cynthia Robinson, Phunk Phamily Affair, Steve Reese, Skyler Jett, Lisa Stone, Carter Baron, Anahiem, Open Letter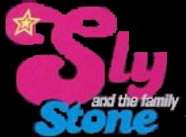 Album Review: Rose Stone – "Already Motivated"
(Soul/Funk)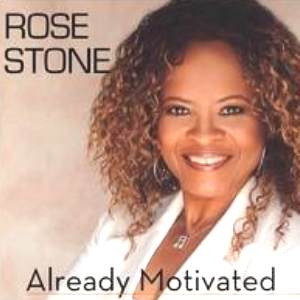 For those of you, who were disappointed by the recent debacle at BB Kings in NYC last fall, can now understand just why Rose Stone declined to participate. That's cuz she had this gem of an album waiting for us. Rose Stone for those of you who may have forgotten or are too young to remember is in possession of one of the most glorious voices in the history of Black music. On songs like "Everybody is a Star", "Hot Fun in the Summertime", and others from the Sly & the Family Stone catalog, it was the voice of Rose Stone that carried the day. Fast forward to 2008, that voice is still there as is the message. In some ways this album is a perfect bookend to her brother Freddie Stone's 2002 solo album called "Everywhere You Are." Containing strong messages about personal behavior and it's impact on top of funky guitars, horns, drums and keyboards, along with a couple of nod's to the past of Sly & the Family Stone. This is a very tasty album of contemporary soul/funk.
My favorite song on the album is called "Sooner or Later (Family Stone)", with Rose & Freddie Stone on lead vocals, backed up by Cynthia Robinson & Jerry Martini on horns, Rusty Allen on bass, Greg Enrico on drums plus Rose & Freddie on keyboard & guitar respectively. As you can see from that line up, this song just might be the closest we get to a real (unlike the fall/winter BB Kings debacle) Sly & the Family Stone reunion.
On the next song, "Already Motivated" (the title cut) this spirit is continued where Lisa Stone (Rose's daughter) joins her, plus we also hear from Sylvester Stewart himself via a guitar sample. The message on the song "Already Motivated" is about "removing toxic people from your life, get on with your future you don't have time for the strife" and it's good advice, especially via Rose's powerful gospel soaked vocals. Overall this album is a seriously positive groove that will make you think about the past with a tear in your eye, and think about the future with a smile. The album ends appropriately with the autobiographical song "Press On", where Rose sings nostalgically about the past glories of her career, but she talks about "pressing on in the future" and doing so provides not just for herself, but also for the rest of us, sound advice for life.
Check out the official Rose Stone site at: http://www.rosestoneuniverse.com
Look for these songs to appear soon as "buzz cuts" on Nu Soul @ RadioIO.com
–Bob Davis
Open Letter to Sly Stone

The first thing that I want you all to know is that I did not write what you are about to read.
It comes to me from within the Stewart family camp.
My hope is that you will read it carefully. It confirms much of what many of you have been whispering to me, since the Sly Stone disaster at BB Kings in NYC on Tuesday November 20th.
Hopefully Sylvester Stewart will read this and absorb what is being said about him from inside of the Stewart family camp.
–Bob Davis (11/25/2007)
———————————————-
Way more than most of you know. After she has spent 6+ years of her life, blood, sweat, and tears to do all that was necessary for her brother (Sly Stone) to be able to make his comeback, rumor has it that he is trying to get his original band back together. On the surface, that might sound okay, but how do you forsake all that you know is right and just kick your own sister to the curb? How do you choose known slime over your sister who kept you safe? How do you willingly believe those lying about your sister, when it was your sister who made sure people kept their mouths off you?
How do you allow people to be around you that you know tried to kill your sister? How is that alright?
I mean, Lil' Sister is the only reason why anybody wanted to hear from Sly Stone again, at all. Her Buddy, Skyler Jett was there all the way and only had great things to say about Sly Stone. There would have been no rebirth of the Band to inspire you, had it not been for Vette and Skyler. I have personally watched them and the endless work they did to get this project off the ground! They did what everybody told them couldn't be done. Lil' Sister reintroduced Sly Stone to the world and to this generation. Lil' Sister invited Sly to accompany the Family Stone on their European Tour. Sly Stone is the reason why so many on the behind-the-scenes side of the business and promoters don't ever want to work with him again.
Agents and Promoters are using what's left of you up and they're going to take you for all you're worth—which is not much 'cause you lost your morals and values! Look around Man; can't you see it's not the same? This is not the 60's or the 70's anymore. Now we know what happened to the Funkiest Trio there's ever been—Lil' Sister.
Sly, you are a total contradiction to everything you've sung about. That foreign substance in your body has taken over your intelligent judgment and your clear thinking mental faculties. Where is the Family? Where is Lil' Sister? We want the REAL FAMILY! All the rest of this is fake! Those who matter made the distinction during and after the European Tour between The Family Stone and Sly Stone. They all loved the Family Stone immensely. The same certainly cannot be said about Sly. Sly, you started out singing about truth and honesty and bringing people together. Now you're doing the opposite, what's up Man? Is the end of this story really all a lie? Be the one we can say that he stood tall and proud because he lived what he sang about. Stand! In the end you'll still be you………one that's done all the things he set out to do. I'm sure you never set out to ruin what your parents built. You're the one who told us that blood is thicker than mud! Well act like it, Man! Now with all this backstabbing is crazy and just plain wrong………………all to support a habit that's going to put you in the ground that much sooner. Think of what you're doing to your children and grandchildren even. Wake up Man, before it's too late. I used to idolize you and told my children about you. You put out some great music. Now, you've sold out, Brother! We want Sly and the FAMILY Stone. What would your Mom and Dad think? I had the privilege of meeting your Mom and Dad and just from that brief meeting, I am certain they would never approve of this mess.
Please, we want Sly and the FAMILY Stone back. Bob Davis never spoke a truer word than when he said (paraphrasing) 'When the Stewart Family is in control of the character Sly Stone, we all smile! When the Family's not, we cry.'
Concert Review – Sly & the Family Stone(?) @ BB Kings in NYC (11/20/2007)
"Riot?"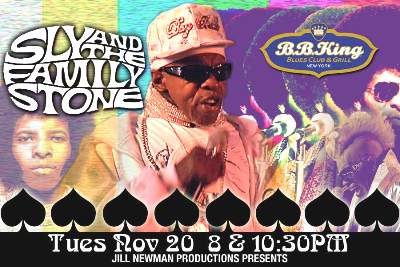 This review of last night's Sly & the Family Stone(?) show @ BB Kings in NYC comes from our friend Randall Grass. Read it and weep…
Hey, Bob,
Just got back from the Sly & The Family Stone "show" and thought I'd file you a report while my memory was still fresh….
BB King's was packed to the gills (no surprise); the opening act, Ayo, performed gamely, just singing and playing acoustic guitar on her Corinne-Bailey-Rae-meets-Tracy-Chapman songs; 70% of the people ignored her and were talking…it really wasn't a fair showcase for her and truly she needed some backing musicians to deliver the nuances of her album
After a moderate delay, Sly Stone began addressing the crowd via a remote microphone from offstage, not altogether audibly…and after a couple minutes walked onstage complete with Mohawk and white jump suit and wrap-around shades. He wasn't talking too directly into his mic and was at times kinda of mumbling…..but he spent the next few minutes bringing out the band members individually introducing them, including Jerry Martini and Rose's daughter Lisa ("remember Rose?") Sly said (crowd roars approval), "well, she's not here but her daughter is.). After several minutes of this with three or four band members yet to be introduced Sly said "well, we got two shows to do tonight so the rest of the band should just come out"–which they did, including Cynthia Robinson. Sly didn't even introduce her!
Sly then spent the next several minutes fiddling with his keyboards, trying to adjust something. More disconnected mumbling into the mic…the New York crowd was starting to pissed off and antsy ("play something!" somebody shouted). Finally, Sly counted things off and the band hit "Dance To The Music" which segued into "Everyday People". Sly didn't sing or play; he just ambled around and spent most of the time standing on the side of the stage, almost offstage. The next tune was "Sing A Simple Song"; same deal. At this point the band sounded like a real good Sly & The Family Stone tribute band that happened to include two original members.
Sly came back to the keyboards and said some more stuff ( I couldn't really hear him); it seemed as though either he was fucking with the audience in a Sly-esque way or else whatever psychological issues he has were messing with him. Overall it seemed as though he was trying to figure out if he really wanted to be there.
He spun around on his seat so that his back was to the audience and the band kicked into "I Want To Take You Higher"; they changed up the groove a little in a very hip way, Sly played a little and sang some key phrases; this was the first moment that it seemed like it was more than a tribute band.
The next tune (I may be forgetting a tune or two in this run-down) was "If You Want Me To Stay" and it was the first tune on which Sly truly sang the lead vocal. He also played a NASTY keyboard solo with a very weird distorted tone. Probably the high point of the show, for me.
I think the band played a short version of "Sex Machine" next. I think there was one more vocal tune–I forget…then Sly announced "I'll be right back…I gotta pee" and walked off stage. Lisa and the other singer went off-stage as well as the band jammed on an instrumental funk tune I didn't recognize.
The male singer signaled the crowd to cheer for Sly to come back, which they did. He reappeared and the band launched into a strange version of "Family Affair"….it began with almost a smooth jazz vibe! Sly sang most of the tune, a bit raggedly I must say. Then he said "I got to go 'cause I'm old" and headed off-stage again, only to be brought back for a short reprise of "I Want To Take You Higher" (just like in the old days–except in the old days they would encore "I Want To Take You Higher" to stretch it out and REALLY take everyone higher!)…and then he left for good.
The band did a nice version of "Thank You For Lettin' Me Be Mice Elf Again" and that was it.
Overall the band was real good and if Sly had been fully engaged it could have been a great show. To me the weak link was the bass player; he was a good player but didn't really have a Family Stone vibe…other than that, Lisa was killin' every time she opened her mouth…really good. If you check the order of songs, looking at the titles, there was a certain message being laid between the lines.
At $100 for a ticket, I felt ripped off. A shame.
If I had never seen Sly & The Family Stone three times in their prime maybe it would have been worth it just to glimpse a legend but since I did see them three times in the late Sixties, this just didn't do it for me….
Best,
Randall
Concert Review: Sly & the Family Stone in San Jose CA (7/7/07)
7/7/07 – must be our "lucky day"?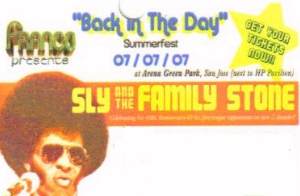 Sly & the Family Stone were scheduled to perform from 6:30 to 8 PM. (Franco had posted a schedule on his website that listed 15 to 30 minute breaks between acts. It took the sound crew longer than that to set up the stage for each act). Franco said that they would hurry to get Sly on the stage. At one point they started a 5 minute countdown on the screen. At 2 minutes, it had been reset to 5 minutes, and later was replaced by video of Sly at Woodstock. The crowd mostly stayed at their seats and slowly people started making their way to the stage until in was standing room only.
Vet Stewart/"Little Sister" & Sylvester Stewart/"Sly Stone" )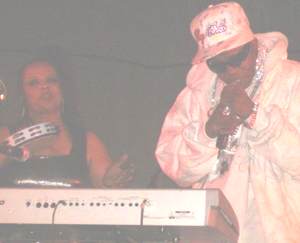 A few "fans" expressed their doubts that Sly was actually there, but were soon quieted by most of the crowd that heard them. Franco came to the stage to talk to the crowd that was becoming restless. He told about how he was thinking about who should headline the event. He said that Sly and the Family Stone popped into his head. He heard that Sly was back in the Bay Area and was surprised that Sly agreed when he pursued the idea. Franco said that he believed God gave him the idea. Shortly he introduced Sly and The Family Stone.
Sylvester Stewart/"Sly Stone" )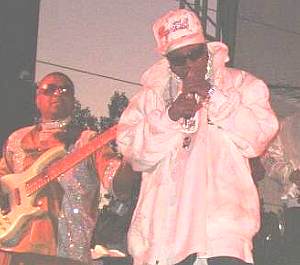 The band came out and started playing "Dance To The Music". There were problems with Lisa and Skyler's microphones. Vet did an excellent job as she carried the vocals while they worked on Skyler, then Lisa's mikes. Cynthia's mike was off when she sang her famous "All squares go home" line. The band then went into Everyday People then Hot Fun in the Summertime. Next Vet sang Little Sister's "You're The One", then their version of "Somebody's Watching You" with a great guitar solo by Tony Yates. Toward the end of the song, the crowd started chanting "Sly". When the song ended, Vet introduced her brother Sly Stone. The band started playing what I believe was a new song.
A figure wearing a white hoodie slowly walked out to the keyboard, sat down and began singing – but the mike was dead! He continued sing into the dead mike until the song ended. He then took Vet's, mike pulled down his hood, and started singing "If You want Me To Stay". At that point, everyone knew Sly was on stage! The crowd began cheering, even those who doubted him. Sly's voice was strong and unmistakable. The band then went into "Sing A Simple Song" and Sly started to rock from side to side as he sang and played keyboards. Then the band went into "I Want To Take You Higher". Sly got off his piano stool and started dancing and singing! Vet, Lisa and Skyler sang background as Sly handled the lead vocals. Sly headed to the right side of the stage. It appeared to me that he was heading out to the crowd. The band kept playing and singing for a couple minutes until Sly returned with Franco. Sly said that he wanted to play more but the cops wouldn't let him. Franco thanked everyone and the show was over. Parks in San Jose close at dusk and I believe that that the police may have been enforcing the law. They have been enforcing various laws in the downtown area recently due to problems at events and clubs downtown. I saw no problems or incidents during the event.
"Sly", Skyler & "Little Sister" )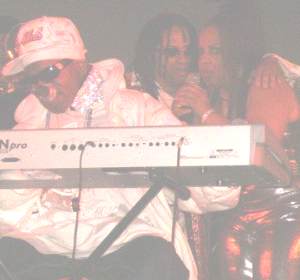 Here are my thoughts about Sly and The Family Stone's performance. They took the stage two hours after their scheduled start time, and 30 minutes after they were supposed to be finished. The sound crew was rushed to get the band onstage. Vet and the band dealt with the problems like professionals and worked their way through them. Sly seemed the least frustrated by them and kept his cool. Sly did not perform more than 20 minutes, but he seemed like he was just getting started and hadn't even broken a sweat. I saw his daughter Phunn in the wings at one point and think she was supposed to perform. Sly's movement did not seem impaired and was normal for a person his age. At one point he tripped over wire on the stage, and his reaction and reflexes seemed normal. I believe the band wanted to give a full length show since this was their only live performance before heading off to Europe. Plus it would have proven all the naysayers wrong. Despite all of the problems and brief performance, alot of the questions about Sly were answered. What I saw makes me feel we'll be hearing a lot more positive things about Sly. Hopefully Sly will perform again in the Bay Area after they return from Europe. I can't wait to hear reports of those shows.
Sly Lives!
–Jose Munoz
You Caught Me SMILIN (again)
Sly & his Tricycle courtesy of: Sly Stone Interview in Aug/2007 Issue of Vanity Fair: "Sly Stone's Higher Power" (click on the picture to view the interview)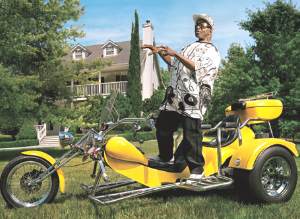 And as always, I really do have a need to smile…So I decided to visit the website known as: http://www.phattadatta.com
Despite anything else that might be going on, I know that taking a trip to www.phattadatta.com is always going to make me smile. That's because one of the best pieces that I have ever written has been posted there for the past year or so by our friend Mr. Sylvester Stewart.
I also know that a trip to www.phattadatta.com is going to make me smile because I know that there is going to be some new "Sly Stone" music posted by Mr. Sylvester Stewart. In this case there is a stooopid instrumental funk jam that I don't know the name of. Sylvester Stewart might not even know the name of it either. At first it sounds a little "country" and then it's got what sounds like some "crows" on top of a serious funky groove. It made me think of the "black crows" from the movie "Dumbo" caught up is a STANK groove.
The song made me smile immediately when I heard it and caused me to reload the page several times and listen to it again, to see if I could find any deeper meaning to it. Eventually I gave up searching for a "deeper meaning" and decided that it would be best for me to simply accept it for what it is.
I really should have known better. Trying to evaluate the thought process of the insane genius of Mr. Sylvester Stewart, manifested in the persona of "Sly Stone" is something that I gave up doing along time ago, and at this point I should have known better than to allow myself to be sucked into a mental exercise that I know will be fruitless in the end.
That's because "In the end YOU will still be YOU."
All that I really know is that "it will make me smile." And perhaps that is really what the "deep message" is all about?
There have been many articles and commentaries written (including my own) over the years which attempt to "explain Sly Stone." All of those attempts ultimately fail.
It really isn't as complicated as most folks set out to make it.
That's because they all ignore the most obvious answer.
Perhaps it's ignored because we would like to think that much bigger than the obvious.
We like complexity.
However in my mind this is basic stuff.
It's about Sylvester Stewart and his family. It's about a Black woman, named Vet Stewart who promised her parents that she would once again make the rest of the world a safe place for her big brother to function in. And she has proven that:
You really can make it if you try…
A very unconventional family, to the say the least.
But on the real side, a family that isn't much different than the one you & I belong to.
— It's about a larger than life character named "Sly Stone" that was created over 40 years ago, whose purpose was to "make us smile." And when the Stewart family is in control of the character known as "Sly Stone", it makes us smile.
— However when other people control the character known as "Sly Stone", it often makes us cry.
It really is that simple.
–You should check out the Vanity Fair article posted online at:
http://www.vanityfair.com/fame/features/2007/08/sly200708
–Also keep a close eye on USA Today, Entertainment Tonight and some other large media entities over the next few days if you are interested in the ongoing legacy of the Stewart family (and the 40 year old "Sly Stone").
–If you are in the vicinity of San Jose California, you should check out the Non-Profit Concert Fundraiser For Orphans To Be Held At Arena Green Park with Sly & The Family Stone (the one and only) onstage at the "Back In The Day" concert by Franco Presents headlining with The Average White Band, The Latin Sensations featuring Jorge Santana with original voices of Malo, El Chicano, Tierra & Sapo. Also Masada featuring Pete & Juan Escovedo.
–The concert in San Jose will kick off The Sly & The Family Stone 2007 mini-world tour which includes Italy, Switzerland, France, the UK, Spain etc.
You should check out all of these things and more if you are a person who is interested in the continuing legacy of the Stewart family in 2007 & beyond.
However, in addition to the above, I strongly advise you to also take a trip to the website known as:
http://www.phattadatta.com
Sylvester Stewart controls that website.
Therefore it is designed to make you smile…
And yes it is unconventional; it's even just a little bit mysterious.
– But it does provide the answer to the question, that I get asked all of the time.
– It's the question that hundreds of articles and interviews with "the wrong people" fail to answer.
– It's the answer to the question that thousands of people have asked me via email over the 10+ years that the Soul-Patrol website has been in existence.
WHAT EVER HAPPENED TO SLY STONE?
– Jerry Goldstein can't answer that question
– Jerry Martini can't answer that question
– Paul Curcio can't answer that question
– No promoter can answer that question
– No newspaper or magazine can answer that question
– No record company can answer that question
– And I can't answer that question
There is only ONE person who can answer that question: SYLVESTER STEWART
And he answers it at:
http://www.phattadatta.com
(accept it for what it is)
–Bob Davis
Concert Review – Family Stone and Sly Funk-Up Disneyland (1/2007)
Photo by Idella
(if any of you "culture bandits" steal it we will know where you got it from)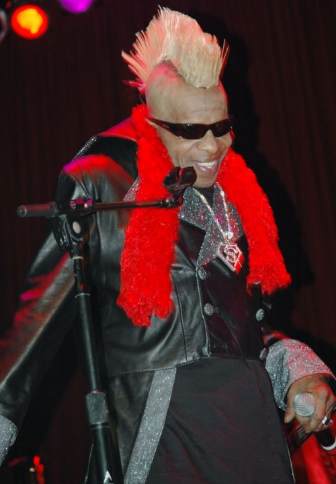 In August 2005, Jose and I traveled to the Knitting Factory in Hollywood to witness the Phunk Phamily Affair. While there, we met other Sly and the Family Stone fans Anthony, Duane, Kelvin, and Fred. Rumors were flying that Sly was there, but where? Well, I found him. He was upstairs giving his funk stamp of approval to the band he would later rename "The Family Stone". Much was written about him being there hiding in the trenches and not performing. Sly was there, just as the rest of us were, to see The Family Stone perform. I was happy just to get a glimpse of him.
Fast forward to January 13, 2007 at the House of Blues in Anaheim, CA, right next to Disneyland, The Magic Kingdom. And what a Magical night it was. Anthony, Duane, Kelvin, Fred (and their families and friends), and I met up around 8pm. We stood in line freezing (yes, it does get cold in Southern California) waiting for the doors to open. Once inside, I found Kelvin posted in front of the stage so I planted myself right next to him. The crowd was getting larger, the wait getting longer. It was already 10pm. Chants of "start the show" grew louder and louder as the crowd became restless.
At 10:35pm, the lights went down, and the immediate aroma of marijuana (medicinal, no doubt) permeated the room. As the curtains opened, to my surprise, there stood brothers Leslie and Melvin Wilson (best known as New Birth), as the emcees for the evening. I hoped they were going to sing but instead they introduced the band and quickly exited.
The Family Stone took the stage and immediately got the crowd funked up with "Dance to the Music", "Sing a Simple Song", and "Stand". They continued with "Family Affair" where Lisa Stone excelled on vocals, "Everybody is a Star", "Hot Fun in the Summertime", and one of my all-time favorites, "If You Want Me to Stay". Skyler Jett's vocals were just as flawless as they were in 2005. They proved that they are just as "Fresh", full of "Life" and "Fun" as the original Family Stone band.
Following was one of the best songs of the night, Little Sister's "Somebody's Watching You". Vet did the song true justice at the 2005 show but she surpassed herself this time. The band broke the song down to a slow, funky, sensual beat and Vet took that song ALL the way home. Next up was another Little Sister jam, "You're the One".
I believe that every musician and singer has what I call "their night". This night, musically, belonged to bassist Pete Yates. From the moment he took the stage, Pete showed us that he is a bassist to be reckoned with. When he took front stage and teased us with licks from "Thank You Falettinme Be Mice Elf Agin", the crowd went wild. Sparks of Larry Graham flowed through his fingers as he took the bass so low he was damn near under the stage.
As the band joined in and vocals followed, (Kelvin called it right earlier), out came Sly. Mr. Sylvester Stewart. Five feet in front of me but still untouchable. He looked at the crowd, smiled a bit sheepishly, and walked over and kissed Vet. Donned in black tennis shoes, black pants and tails, (both slightly bejeweled), a red scarf around his neck, blonde Mohawk perfectly coiffed, Sly stood center stage, mic in hand, and felt the admiration from the crowd. He thanked the audience falettinhimbehiselfagin. I, along with everybody else, was mesmerized.
Sly then walked back across the stage and brought out a young woman we learned was his daughter, Novena. Novi played a short classical piece on the keyboard and showed us she is her father's daughter. Sly walked her off stage and emerged with yet another daughter, Phunn. As he introduced her, he remarked that he "makes babies", laughed, and quickly headed for the keyboards. Phunn proved that she's a musical combination of her trumpet playing mother, Cynthia Robinson, and father. She performed a brief rap and let us know that "Sly Lives!". Next out was Vet's daughter, Toddy, who wowed us with her Stewart lineage voice. It was truly a Family Affair. The band continued playing and Sly gave us a taste on keyboards. He then sang a few bars of "thank you" and then it was off the stage. The masses chanted and yelled "WE WANT SLY, WE WANT SLY" and it wasn't until they said that Sly would be back that the crowd calmed down…somewhat.
Sly appeared on stage again during "I Want to Take You Higher". Again, the crowd went insane. Sly danced and pranced but most importantly, he looked happy. He was back in his element and enjoyed every second of it. He smiled, he laughed. He was full of spirit and exuded joy with each step he took. After Sly's brief appearance at the 2006 Grammy's, reports flourished that he was frail and in poor health. I wonder if these same naysayers will have as much enthusiasm and exuberance when they reach Sly's age of 62. I doubt it.
Sly flashed peace signs and that big ol' smile, and then he was gone. I turned to look at the cheering, racially mixed crowd of about 600, and they were in awe.
While the audience was still reeling over the historical moments they had just witnessed, Vet slowed things down and told us that the next song was in tribute to Dr. Martin Luther King, a song that Sly wrote – "Don't Call Me Nigger, Whitey". "Thank You for Talking to Me Africa" (which was incredibly filled with nasty funk), and "Babies Makin Babies" followed. These three songs were absent from their 2005 Hollywood show but I hope they keep them in future shows. They also offered a tribute to the late Godfather of Soul by playing James Brown's version of "Sex Machine". And then there were two.
As the band left the stage, brothers Pete and Tony Yates remained They dueled on bass and guitar, reminiscent of Victor and Regi Wooten, and left the crowd wanting more. They, then disappeared, too, and almost two hours later, it was all over.
There are truly no words that can express the wonderment and adoration that I felt when I saw Sly. Say what you may, but tears welled in my eyes when he came on stage. After the passing of James Brown, there was much talk about who the originator of funk was. Sly may or may not be the originator but he's certainly a true master, a Lord of Funk, if you will.
If The Family Stone ever comes your way, you need to be there. No promises that Sly will make an appearance, but you'd be remiss if you don't go. They give above and beyond 100% of raw, nasty funk that will leave you "hiiiiiiigher". And for those of you who didn't go to the show Saturday night because it was "too far" or "too cold", or because you said, "Sly won't be there so why should I go?", all I can say to you is "Que Sera, Sera".
–Sally
This next review comes from Soul-Patroller Duane
Family Stone and Sly Funk-Up Disneyland
It was an unusually chili evening in Southern California this past Saturday, January 13th..Wait.screw that. It was colder than a %$#@!!! mofo Saturday! Me, my daughter, brothers, nephew, the foxy Sally Foxen of Soul Patrol, and some of my fellas stood in line waiting for the doors to open so we could get out of the cold and into the warmth of some of that legendary Sly & The Family Stone (SATFS) music…funky soul music that could heat the coldest building; thaw the chilliest soul; and put dance in the pants for all those with the loose booty spirit. House of Blues (HOB) Anaheim….in the land of Disney – please let us in!
Once inside HOB, we discarded our coats to show the special SoulPatrol/Sly Stone t-shirts my brother Anthony had made for us all. We were quite the spectacle, and everyone wanted to know where they could purchase a t-shirt. I'm sure bro Anthony could have easily made big $$$$$$ for the t-shirts; people were asking to buy them right off our backs! When we hit the standing-room only stage area, Sally, Brother Kelvin, daughter Arinn, little sister Tracy, Anthony and I staked out spots near the stage. Fred, Chauncey, Clarence, Gary and Rhonda, both Big Tony and nephew Tony – they preferred to chill in the back of the standing-room-only venue and catch the action from afar. Eli and Debbie sat upstairs.
The buzz in the room was that Sly would definitely appear on stage (as opposed to the first Family Stone concert we all caught on August 15, 2005, at the Knitting Factory, and Sly sat upstage in his shiny motorcycle helmet.) Finally, at 10:45, the curtains opened, the crowd went insane, and we were on our way! There was Vet Stone (middle), Skyler Jett, and Lisa Stone (Rose's daughter) center stage front. To each side presided one of the tightest brother guitar/bass combos on the scene – bandleader Tony Yates on slinging guitar and bro Pete Yates thumping that baddass bass! To the rear was the horn section – SATFS original Cynthia Robinson hanging in the middle with her hot trumpet; and a sax man and trombone player book-ending her (Pat Rizzo, who played with Sly from 1972-75, did a couple of surprise sax solos.)
The party jumped off with "Dance to the Music" "Sing a Simple Song", "Everyday People" and "Stand." The band was in fine form and the place was going crazy with people dancing and singing along to the tunes. About 45 minutes into the show, during a break in the music, I think collectively we all knew something historic was about to happen. Sure enuff, Vet slid to the side of the stage and said "ladies and gentleman
– please welcome back the man whose music we are playing" – and out stepped a black leathered, dark sun-glassed Sly himself! Clad in black leather pants, black leather jacket, black and white tennis shoes, giant red boa swung around his neck, and that humongous blonde Mohawk – Sly danced on stage doing a funky penguin dance..the place went ballistic! The band jumped into a funky "Thanku FalettinMeBeMiceElfAgin" and Sly grabbed the mike and started singing the song. It was like seeing the tooth fairy/Howard Hughes/the Wizard of Oz/ and Arthur "Boo"Radley (and any other recluse you could think of) come to life- Sly was here in the flesh. And contrary to what others may write, the man was clearly enjoying himself – we weren't but 10 feet from him and could clearly see. Sly then introduced his two daughters, Nobi and Phunne (Cynthia and Sly's daughter), as Sly went to the synthesizer and played a slow funk that Phunne began rapping over.. "When I say Sly, you say Stone"..Sly++++Stone++++++Sly+++++++Stone++++++
Sly then danced off stage, with promises to return, and it was time for little sister Vet to take over. She played a funky tambourine as the band launched into a slow, haunting "Somebody's Watching You" and then a syncopated "You're the One." Vet and Lisa (who has a powerful voice and can shout with the best) then broke into a hambone contest and then the bassman hit those unmistakable bass chords to "If You Want Me to Stay" (great vocals by Skyler.) By the time "I Want to Take You Higher" rolled around, Sly danced back on stage taking us higher like back in the day….but after a few choruses, he headed off the stage.. Sly loved it, but I guess he wants to ease himself back into performing – for despite pleas of "WE WANT SLY" – Sly tugged at his heart area – smiled, said "thank you falettinme"- and was gone.
But the band wasn't quite done .not yet. Vet shouted "in honor of Dr. Martin Luther King- we would like to play this song that Sly wrote for him". And the band flew into a nasty, slow dirge of "Don't Call Me Nigger, Whitey" – which (PC and controversy aside) – everybody sang. "Thank You for Talking to Me Africa" and" Babies Makin Babies" were new songs that the band did not play at the Knitting Factory last year. The show ended with Vet "offering a salute to James Brown" with a torrid version of 'Sex Machine."
So that was it…it was well past midnight and we were all exhausted and satisfied. We all took pictures to remember the experience (funny how no cameras are allowed into a venue, but everybody has a camera phone?) My daughter Arinn gave me a kiss on the cheek and said how happy she was to experience an old-school concert with her Dad, uncles, aunt, and friends. But I kissed her back and told her the pleasure was all mine. Sly lives y'all, so stay tuned!!!
–Duane

6/24 – Concert Review – Family Stone Band in DC @ the Carter Baron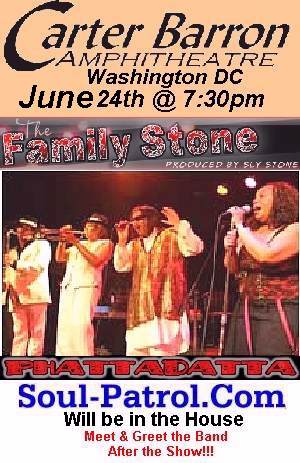 I arrived at the show late (at 9:30pm) to miss the opening song "Sex Machine" (not the James Brown one, the LONG FUNKY INSTRUMENTAL by Sly Stone)…I heard that the Family Stone blew the roof off the place with that one. "Dance to The Music" sounded so good it was like listening to the record…I was digging the vocals of Vet Stone, Skyler Jett and the other female vocalist (I can't remember her name now)! I love the funky horns…Cynthia Robinson was a bad MOFO on the trumpet and the trombonist & saxophonist were good, too!!!! The funky "Sing a Simple Song" featured some tight, tight drumming.
"Stand!", "Family Affair" and "Everyday People" were all good, and followed by the music of "In Time", featuring all musicians in a tight, funky groove…as good as Sly himself would want it!!
"Hot Fun in the Summertime" was fitting for the warm night (it was raining early and the rain stopped just when the show started).
"If You Want Me to Stay" featured some HOT solos by the trombonist and saxophonist. "Somebody's Watching You" started with a beautiful piano intro and featured Vet on lead vocals…the highlight was the lead guitar screeching and the ending (which was some nasty funk-rock stuff with heavy organ riffing)…OH, I CANNOT FORGOT THE KILLIN' DRUM SOLO!!! "Everybody is a Star" was nice, but better was the too-funky poppin' bass riffs that started and ended the song "Thank You Fallentime Be Mice Elf Agin"…Vet and the other vocals led the fans in singing the chorus…and we were too happy to oblige!!!
EVERY BEHIND WAS OUT OF ITS SEAT!! The song segued into "Thank You For Talking to Me Africa" and the bass was still SMOKIN' !!! "I Wanna Take You Higher" was a serious crowd-pleaser that brought the show to an end at 10:45pm.
Click here for more on the past, present and future of the Family Stone…
—Dr. Brookenstein

"You can make it if you try/Everybody is a star…."

There is an overall philosophy that is deeply embedded inside of the songs originally made famous by Sly and the Family Stone…
That philosophy speaks to the very heart of the human condition as we know it. It speaks to the potential that we all have as human beings to become better people. By becoming better people we help to uplift each other. And by uplifting each other we enhance the ability of human beings on this earth to achieve whatever we are seeking, to our highest potential..
This type of philosophy is completely out of step with the rest of the world in the year 2006. In fact to behave in this sort of manner in today's world could actually be dangerous to whatever your ambitions might be.
– Acting in this manner isn't going to bring a person fame or fortune.
– Acting in this manner won't bring you power or prestige.
What I observed yesterday in Washington DC were a whole bunch of different people acting in a manner that was completely out of touch and out of tune with the year 2006. I thought I was on a different planet and thought that I was dealing with a different race of people other than "humans".
So what happened yesterday in Washington, DC?
A lot of things both small and big all converged together to forge something that in the end has little to do with music and certainly has nothing to do with mainstream Amerikkkan society. Simply put there were a whole bunch of "small miracles" that occurred yesterday in Washington DC.
Does that mean all went well?
Certainly not….
For example, the piss poor local promotion of this event combined with the heavens literally opening up and dumping a torrential rainstorm inside of the Carter Baron Amphitheatre meant that only a relatively small number of people were on hand in person to witness the SUPER HELLIFIED STANK NASTY FUNK SHOW OF THE YEAR.
I'm not sure that I can really write about the totality of all of this right now. It all only just happened a few hours ago. I'm simply too close to it all and since I know that the good feeling isn't going to last, I'd rather just simply savor the feeling while it's still with me. So many good things happened that evoked so many good thoughts about our potential to be better people that it makes me quite sad indeed to know just how fleeting that feeling is going to be.
By the time tomorrow morning gets here it will be Monday, which means "back to work and business as usual….."
But for now I just want to keep this and I want to keep this all very close to my heart in the hopes that the events of yesterday will help to make me a better person.
I have to thank the Stewart family for allowing me to travel with them during this part of their very "public journey". Taking your family on a public journey isn't an easy thing. Just imagine if you had to take your family on a "public journey"?
The main question that I was asked in the days leading up to this event was…
"Is Sly Stone Going To Be There?…"
I told every single person who asked me that question the same exact thing.
NO
But you see I lied to each and every one of those people. Because Sly Stone was there. He was there bigtime. As Funk music fans, it's really a stupid question because we should know that Sly Stone is ALWAYS with us. He always has been and he always will be anytime music rooted in what he created in the late 1960's is played.
However there was a man named Sylvester Stewart sitting in California last night who tried to be part of the festivities last night. We ran into some technical difficulties that prevented that from happening.
Stay tuned….
One of the reasons why the philosophies contained within the songs of Sly and the Family Stone are so unpopular in the world of 2006, isn't because those philosophies aren't still valid. It's because in order to actually implement those philosophies it requires people to not only have faith in themselves, but also to have faith in other people.
In today's world people lack any "faith" whatsoever that they can make a difference.
Therefore they don't even "try".
And since they aren't willing to try.
They can never be a "star"…
I plan to keep on "trying"…I may never become a "star", but that's ok with me.
I just wanna take the journey, because being willing to take the journey is truly the only requirement…
There was probably a point in time when a "star" named Sly Stone stopped "trying", thus forcing people like myself and others to take this journey without him and we have continued. Last night in a band called "Family Stone" produced by someone named Sylvester Stewart came in and SMOKED Washington DC. with a 90 min. set of Sly and the Family Stone songs. That fact was at the center of the weekend of "small miracles" that I observed.
The lesson contained in all of this for me is not to simply pine away for the days gone by for the music and philosophies of artists from another time and place. It is much better to look towards the future of Funk music and it's culture, with the understanding that it does indeed have a future.
Yesterday in Washington DC entity known today as the "Family Stone" put everyone on notice that it has a place in the future of Funk music and they have ultimate confidence that they can make that happen. Yesterday in a wet and wild Washington DC summer thunderstorm, they proved that they have the ability to blow our minds, playing music that is 35 years old in a live concert setting.
Before this year is out they are going to prove that they can reach our minds playing BRAND NEW MUSIC produced by one of the still living geniuses of OUR music and culture. And when that happens, we shouldn't be surprised that the music is going touch us and change us.
We want and need to be touched in this manner by music.
The "Family Stone" have no need to become "stars" themselves. They have already been the biggest "stars" in the universe, long ago and far away. However they do have a need to make others "stars". Yesterday they made a whole bunch of other people including yours truly feel like a "star"…
"everybody is a star…."
How do you make other people into "stars"?
It's by showing them that….
"you can make it if you try…."
–Bob Davis
6-25-2006

Sly Stone @ the 2006 Grammy's:
Everybody Is A Star/Somebody's Watching You???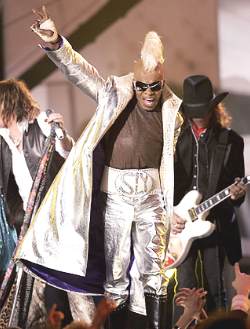 It must be pretty nice to be Sylvester Stewart. However it's gotta be pretty tough to be "Sly Stone". Happiness must be an elusive thing?
Jimi's image is frozen in time. To us he will always be 27 years old. In Amerikka, "image" is always the most important thing?
Sylvester Stewart is a 61 years old man. Untill last night, the image of "Sly Stone" has been "frozen in time". After last night, the "image" can no longer be the same.
Personally I thought that the two min. that "Sly Stone" was on stage was spectacular. Last night, he made a grand entrance and he made a grand exit.
He was the biggest FUNK STAR in the history of the universe. He still is. And he ALWAYS will be!!
In my universe, "it hurts too much to write about Sly". And now I realize why. Sly writes his own story, nobody else can really write his story.
Here in 2006, everybody wants a piece of "Sly". Hell, that's easy to understand why.
Sly said that… "EVERYBODY IS A STAR"
So people figure that if they can get close enough to him, that they will become a STAR as well.
Prince said…"BABY I'M A STAR"
So the philosophy changed. It became more "modern"….
I like "Sly's" way better.
Tonight every other person who was on that stage tonight with Sly became a STAR, merely because of their proximity to "Sly". They all knew that they were involved with history. And in the case of the younger artists who were onstage with him last night that "Sly Stone" made into a STAR last night, now knows that they have to go forward and be inspired to create great music. That's because simply being a STAR isn't good enough, you also have to create a legacy. "Sly Stone" created a legacy that inspires people to want to become better people and surely that must make him happy.
I think that the world is in terrible shape today. I think that people are horrible towards each other. I think we can all be better people. In fact, I think that we can all be "stars".
I wish that "Sly Stone's" image could be "frozen in time". However that wouldn't be realistic. The power contained in his music however is intact. And we saw evidence of that last night at the Grammy's. For two min. on TV last night he made everybody who watched him, into a star.
And surely, this morning Sylvester Stewart must be happy, to know that he accomplished that at the age of 61?
Bob Davis:
earthjuice@prodigy.net
CONCERT REVIEW: PHUNK PHAMILY AFFAIR IN LOS ANGELES (8/15/2005)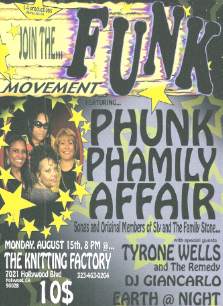 I received an e-mail from Bob Davis saying there was a show coming up in LA I'd be interested in seeing, and to give him a call. I thought it was strange because he didn't give any details like he usually does, so I immediately gave him a call. I told him I was curious, and asked who was going to be there. He said that Phunk Phamily Affair was going to perform. The band included Vet Stone of Little Sister, Cynthia Robinson from Sly & the Family Stone and Rose Stones daughter, Lisa Stone. He said that they played Sly's music and had Steve Reese & T. Watt's at the Soul-Patrol convention last year. This would be the first time Phunk Phamily Affair played in LA. He asked me if I'd like to go and do a review for Soul-Patrol. Being a fan of Sly, I couldn't say yes fast enough! I told him I'd even pay for my own ticket. Bob said he'd hook me up with Steve Reese, Vet's husband and a Sly historian. I was really hyped!
The Thursday before the show, I received a call from T. Watts, writer and research for
www.slyslilsis.com
He said to meet him at the club at 7:30 PM the night of the show. He said he would try to get me backstage to interview the band and take pictures. I was also supposed to meet up with Soul-Patroller Desi Hill and get a copy of his new CD so I could do a review of it. Now I was really hyped! The next day my cousin Sharon made a visit from out of town. She was the one who first turned me on to Sly's "Dance To the Music" album in 1968. After dinner, I told her that I wanted her to listen to something. I gave her headphones and played "Sex Machine" from my mp3 player. She screamed and said that she hadn't heard that song in years. That night we talked about Sly's music and what was going on in America at that time.
Sly had been a recording artist, producer and DJ before forming Sly & the Family Stone. Radio back then was all about the music. Many DJ's had the freedom to play new music they felt their listeners would like. When Sly was a DJ, he would play music from groups like the Beatles and Rolling Stones along with soul music on his radio show. Sly would use elements from gospel, rock, pop, soul, funk and jazz to create a new sound that would change the music scene forever. No one before had incorporated music from different genres into a sound that was so appealing to the public. The band was multiracial and preached unity, peace, and harmony. Their music and look influenced the funk of James Brown, the production techniques of Funkadelic, the costumes of The Jackson Five, the rock guitar of The Isley Brothers, the vocals of the Ohio Players, and the performances of Earth,Wind & Fire. I don't know if anyone will be able to influence a generation with their music like Sly did.
The day of the show I got a call from Sally telling me she's coming too, so we make plans to meet up before the show. We met at the Knitting Factory at 7:15 PM and start looking for T. Watts. I saw a couple of guys looking at us, so I asked if one of them were T. They said that they were fans there for the show. One guy saw Sally's Soul-Patrol sign, and asked if we were with Soul-Patrol because they were subscribers to the newsletter. We said yes and introduced ourselves. They were Kelvin and Paul and introduced us to two of their friends. Sally invited them to sit with us at the table reserved for Soul-Patrol. Then a guy approached us and said he was with a film crew there to tape the show. We were surprised because no one had mentioned it prior to the show! He asked us about Soul-Patrol and Sally told him about it. A few minutes later T. Watts came and introduced himself. He said the film crew had been following the band, filming a documentary called "On The Sly: In Search Of The Family Stone". They were hoping Sly would show up, but nobody knew if he would. The show would start at 8PM with Earth@Night and Tyrone Wells and The Remedy. He said that Phunk Phamily Affair would be on stage around 10 PM. Due to the filming, we wouldn't be allowed backstage, which was fine with us. He and a friend were going to eat dinner and be back, and we invited them to sit with us when they did. A camera crew came out and started talking to Kelvin and his friends, then asked if they would like to be interviewed for the film. They accepted without hesitation. We stayed near the entrance waiting to meet Desi Hill. I had printed his bio page from his web site so I'd have a picture of him. After a while, Sally called Bob to try to track him down. At 9 PM, we decided to go inside.
We went straight to our table and met up with Kelvin, Paul and their friends. A few minutes later T. Watts and his friend came in and sat with us. We chatted until the Phunk Phamily Affair came on. When they took the stage, we left our seats and went to the front of the stage. The band consisted of Vet Stone on vocals, Lisa Stone on vocals, Skyler Jett on vocals, Cynthia Robinson on trumpet, Tony Yates on guitar, PJ Yates on bass, Eric Moore on drums, Javance Butler on keyboards and two guys Johnnie Bamont and Shane Baird on saxophone and Javance Butler & Aaron Patterson on keyboards .. They started the show with "Sex Machine" which is my favorite Sly song! Tony Yates was great on guitar. Not only did he play Freddie Stones part flawlessly, he also did Sly's altered vocals at the same time. Tony's brother PJ played the blues bass line. The band had the crowd on their feet dancing to the music. One of the evening's highlights was "Thank You (Falletinme Be Mice Elf Again)". PJ Yates started the song with Larry Graham's classic bass line and the band screamed. He is one hell of a bass player and sang Larry's vocals great (PJ and his brother Tony remind me of Victor and Reggie Wooten). The horn section was tight and sounded just like the record. The vocals by Vet, Lisa and Skyler were excellent. Lisa Stone is an excellent singer and did a great job singing the vocals originally done by her mother. Another highlight was "I Want To Take You Higher". Tony Yates guitar solo blew away the audience, and Eric Moore's drum solo got applause from the crowd. About midway through the show I saw Desi Hill standing next to Sally. I asked her if it was him, and she said it was. Apparently he had walked right past us, eager to get into the show. A little while later Sally tapped me on the shoulder. She had a big grin on her face and pointed up to the second floor right above my head. SLY WAS THERE!!!!! He was wearing a white outfit and hat and was wearing sunglasses. He looked at me and smiled, and I was in heaven! It was like I was floating for the rest of the show.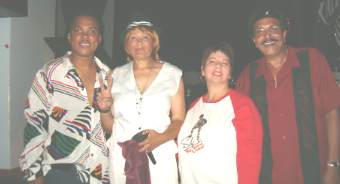 Soul-Patrollers @ the Phunk Phamily Affair show in LA on 8/15/05
(L-R): Recording artist Desi Hill, Cynthia on the Horn :), Sally and Jose Munoz
After the show, the band went backstage with the exception of Cynthia Robinson. She talked with the fans and took pictures. We asked her if she would take a picture with us and she graciously agreed. While we were talking, the movie's producer came by to thank Cynthia. After she left, he began talking to us. He asked us about Soul-Patrol and about Sly. After a few minutes, he excused himself and asked to wait for minute. He returned with a cameraman and asked if we would give him permission to film us for his documentary. We agreed and he started asking Sally, Desi and me about Sly Stone. We talked about Sly, his music, and what it was like during those times. We talked until they threw us out of the club, after asking us to leave after the third time. The producer was a 27 year old white kid. I asked him what made him decide to do a documentary about Sly. He said he was a film student in Washington and moved to LA. His first apartment was in Compton, and it was there he discovered Sly & The Family Stone's music. He said that they had been filming the movie on and off for two years and expected to finish next September. He said that they had to film some more interviews including George Clinton. He was planning to take the movie to the Sundance Film Festival where he expected it to win.
The day after the show I got a call from Steve Reese who provided some more details about the show. Sly and Vet had ridden custom motorcycles from Sly's house in Beverly Hills to the show. Sly hadn't appeared in public in 12 years. He said the film crew had been to the group last three shows getting footage for the documentary and interviewed everyone in the band. It was the first time they had seen Sly since they started filming two years ago. Steve also said that Sly was in the studio working on a new album for Vet. I can't wait for it to be released. I'm anxious to hear some new music by Sly. I asked him what was the official Sly web site, since there are two claiming to be the official site. He said that the only sites affiliated with the Stewart family are
www.phattadatta.com, named by Sly himself and Sly's Site.
www.slyslilsis.com
www.phunkphamilyaffair.com
www.stonecisum.com
If anyone would like to get on their mailing list they should go to
http://www.slyslilsis.com/contact.cfm
There's a new Sly & The Family Stone tribute album called "Different Strokes By Different Folks" produced by Sylvester Stewart. The album features remixes of classic songs featuring Chuck D, D'Angelo and Isaac Hayes, Buddy Guy and John Mayer, The Roots, John Legend and Joss Stone with Van Hunt, Big Boi featuring Sleepy Brown and Killer Mike, Will.I.Am, Steven Tyler with Robert Randolph, Maroon 5, Moby, Scar and the Wylde Bunch. It uses vocal and instrumental tracks from the original master recordings. It's really a great album with the artists sounding like they're performing Sly & The Family Stone (much much better than the discofied 1979 remix album "Ten Years Too Soon", which had no involvement by Sly). My favorites are "Dance To The Music", "Everyday People", "Family Affair", "Running Away" (great horn part at 3:05 into the song), "If You Want Me To Stay", "You Can Make It If You Try", "Sing A Simple Song" and "I Want To Take You Higher". I recommend this CD to all fans of Sly & The Family Stone. The CD is available exclusively at Starbucks for $14.99, along with "Higher", a hits compilation. The CD will hit conventional stores on September 27th with two additional tracks: "Don't Call Me Nigger, Whitey" with the Nappy Roots and Martin Luther and "Thank You Nation 1814" with Janet Jackson. In addition, Sly & The Family Stone's performance of "Thank You ("Thank You (Falletinme Be Mice Elf Again)")" on The Dick Cavett Show is available on DVD.
I'd like to thank Phunk Phamily Affair, Steve Reese, T. Watts and Bob Davis for letting us be a part of an historical night. It was a night celebrating the music of Sly & The Family Stone and the band was great! Thankfully the show was filmed and fans worldwide may get a chance to experience the show through the movie. And Sly, thank you! (Falletinme See Mice Elf Again).

HISTORY OF SLY AND THE FAMILY STONE BY STEVE REESE (from the 2004 Soul-Patrol East Coast Convention): It's Amazing, Family Affair, Under Dog, Precious Lord (Vet Stone–Heavenly Tones), Scat Swim, I cannot make it, Luv N Haight, Life and Death, Butter Milk, Can't Keep a God Man Down Freddie Stone), Deck of Cards (Sly), Babies Makin Babies, Dance To the Music, You caught me smiling, Are you Ready, Better thee than me, Fun, Run-in Away, Everywhere you are–Freddie Stone, Little Sister-Your the One Pt. 2, Life, Thankful N Thoughtful, Little Sister -Somebody's Watching You, Love City, Thank you for Talking to me Africa, Little Sister-Stanga, In Time, Stand, If you want me to stay, Don't call me N*gga Whitey, Right Now, Frisky, I want to take you Higher, Broadway, Skin I'm In, Sing a Simple Song, Under Dog, Everyday People, Time for Livin, You can Make it lf you try, Everybody is a Star, Take my Advice (Outake), Little Latin, Thank you Falettinme Be Myself, Life of Fortune and Fame, Radio Spot–Sly, Watermelon Man, If you were Blue, If it were Left up to Me, He's Alright (Vet Stone–Heavenly Tones), Lord Lord

Announcing the OFFICIAL:
SlysLilSis & Sly Stone Online Store!

| | | | |
| --- | --- | --- | --- |
| <> | <> | <> | <> |
Yes it does still HURT too much for me to talk about him, so I figured that instead of hearing from me, I thought that you might want to hear what the members of Sly and the Family Stone had to say for themselves…
 

HEY BROTHA, HOW COME YOU DON'T HAVE ANYTHING UP IN THIS FUNKY JOINT ABOUT SLY STONE?

There's A Riot Goin' On (1971)

 

Luv N' Haight

Brave & Strong

Just Like A Baby

(You Caught Me) Smilin'

Poet

Time

Family Affair

Spaced Cowboy

Africa Talks To You "The Asphalt Jungle"

Runnin' Away

There's A Riot Goin' On

Thank You For Talkin' To Me Africa

 

 

Just Like A Baby

 

Just like a baby,

Sometimes I cry.

Just like a baby,

I can feel it when

You lie to me.

Just like a baby

I'll try if I can

Just like a baby,

Just like a baby

Inside a little big man

Everything is new.

Just like a baby,

Come to find out

I'm a whole lot like

You, too

Just like a baby

See the thing it's growin',

Just like a baby

Blowin '.

 

 

Poet

 

My only weapon is my pen

And the frame of mind I'm in.

I'm a songwriter, A poet.

I'm a songwriter, A poet.

And the things I flash on Everyday

They all reflect In what I say.

I'm a songwriter I'm a poet

I'm a songwriter, Oh yeh a poet.

 

 

(You Caught me) Smilin'

 

You caught me smilin' again.

You caught me smilin' again.

Hangin' loose

'Cause you ain't used to seeing me turnin' on.

 

You caught me smilin' again.

You caught me smilin' again.

I'll be gone

And it won't take you long to climb a tree about me.

 

You caught me smilin' again.

You caught me smilin' again.

 

I'll be around to carry on!

 

Hey, you caught me smilin' again.

You caught me smilin' again.

In my pain I'll be sane to take your hand.

 

 

Runnin' Away

 

Running away

To get away,

Ha! Ha! Ha! Ha!

You're wearing out your shoes.

Look at you fooling you!

 

Making Blues Of day and night.

Hee! Hee! Hee! Hee!

You're stretching out your dues.

The shorter cut is quicker,

But . . . Ha! Ha! il l Hd Time k here to stay! Look at you fooling you!

 

The deeper in debt

The harder You bet, Hee! Hee! Hee! Hee!

Need more room to play! Look at you fooling you!

 

Another day

You're farther away.

Ha! Ha! Ha! Ha!

A lonpr trip back home!

 

 

Thank You For Talkin' To Me Africa

 

Lookin' at the devil, Grinnin' at his gun.

Fingers start shakin', I begin to run.

 

Bullets start chasin' I begin to stop.

We begin to wrestle I was on the top.want to

 

Thank you falettinme be mice elt…Agin.

I wanna thank you falettinme be mice elf…Agin.

 

Stiff all in the collar, Fluffy in the face.

Chit chat chatter tryin', I begin to run. Want to

 

Thank you for the party, I could never stay.

Many thangs is on my mind, Words in the way. Want to

 

Thank you falettinme be mice elf…Agin.

Thank you falettinme be mice elf…Agin.

 

Dance to the music, All nite long. Ev'ry day people, Sing a simple song.

 

Mama's so happy….Mama start to cry.

Papa still singin'….You can make it if you try.

I — want to

 

Thank you falettinme be mice elf…Agin.

Thank you falettinme be mice elf…Agin.

 

Flamin' eyes of people fear, Burnin' into you.

Many men are missin' much, Hatin' what they do.

 

Youth and Truth are makin' love,

Dig it for a starter.

Dyin' young is hard to take,

Sellin' out is harder.

I – – want to

 

Thank you falettinme be mice elf…Agin.

Thank you falettinme be mice elf…Agin.

 

This is a question that I get at least once/month from someone who has visited the P*Funk Review website.

I'd like to share with you my (thus far) unwritten response to that question…

BECAUSE IT HURTS TOO MUCH TO WRITE ABOUT SLY….

This is the man who wished for us all to be "Everyday People", for "Everybody To Be a Star" and for all of us to take a "Stand".

BECAUSE IT HURTS TOO MUCH TO WRITE ABOUT SLY…

The man "came, saw and conquered" he found a way, then tried to show us all the way. Not just his way, but the RIGHT WAY….

He challenged "Whitey's" to stop calling people "N**gers" and at the same time challenged "N**gers" to stop calling people "Whitey's".

BECAUSE IT HURTS TOO MUCH TO WRITE ABOUT SLY…

I guess in retrospect, Sly Stone could have ONLY happened in the late 1960's-early 1970's. At what other time in American History would anybody have even bothered to listen to his message? Certainly nobody is paying attention nowadays…:(

BECAUSE IT HURTS TOO MUCH TO WRITE ABOUT SLY…

Sly took chances, he stood right out in front, didn't pretend to be "color blind", the inertracial makeup of his band and the unifying FUNK of his music said what he wanted to say. And he said it with passion and conviction. Whenever you listened to, or saw Sly and the Family Stone, you knew that the message was REAL….

BECAUSE IT HURTS TOO MUCH TO WRITE ABOUT SLY…

Sly had the ability to be BOTH "mainstream and underground" at the same time……..he was a "crossover artist", but unlike the man with whom he will forever be compared to (Jimi Hendrix) he was able to "crossover", without losing the Black audience. Through his music he had the power to unify Black and White. Sly said that it would be a cool thing for the races to unite. And guess what, maybe the time was right because people believed him. And believed in his message of "empowerment thru unity".

BECAUSE IT HURTS TOO MUCH TO WRITE ABOUT SLY…

It's a difficult thing to try and read anything into the psyche of a person that you don't know on a personal level, but i would surmise that when Sly changed the nature of the conversation, ever so slightly towards what some of his inner feelings as a Black man might be (on the album "There's a Riot Going On") and his white audience REJECTED him, it must have been devastating for him.

BECAUSE IT HURTS TOO MUCH TO WRITE ABOUT SLY…

I believe that not only did Sly preach a message of unity, but that he also believed it it himself!! He had to wonder why his fans didn't seem to understand that just because he also needed to talk about the Black experience was, and how it impacted him, that it didn't mean that he had changed his message. He had only expanded upon it. You see, Sly knew what all of us know and that is you have to first "know thy self", before you can reach out to others.

BECAUSE IT HURTS TOO MUCH TO WRITE ABOUT SLY…

So why does it hurt?….Look at where we are now, here in 1999?…..How far have we come from those ideals that Sly was talking about?……Are we any closer to the implementation of those ideas?

So why does IT HURT TOO MUCH TO WRITE ABOUT SLY…?

Because it ALL really could have happened, just like Sly said it could, instead WE PHUCKED IT UP………….and somewhere someplace he is out there ……in tears thinking about what could have been!!

And EACH DAY, all of the rest of us "Everyday People", should shed a tear for the same reason he does.

–Bob Davis

"Heard Ya Missed me, Well now I'm BACK…."
–Sylvester Stewart

***Thank You SLY ….For Being YOURSELF***
Soul-Patrol….Sly and the Family Stone
Yes it does still HURT too much for me to talk about him, so I figured that instead of hearing from me, I thought that you might want to hear what the members of Sly and the Family Stone had to say for themselves…
Announcing the OFFICIAL:
SlysLilSis & Sly Stone Online Store!

| | | | |
| --- | --- | --- | --- |
| <> | <> | <> | <> |