Origins of Hip-Hop, Doo Wop & Be-Bop
Prior to, in the past, teens and young adults were entertained by older singers and musicians (especially in Blues and Soul music).  But in the case of Hip-Hop, Doo-Wop, and Be-Bop, we have entertainers who are the same age as their audiences who view them.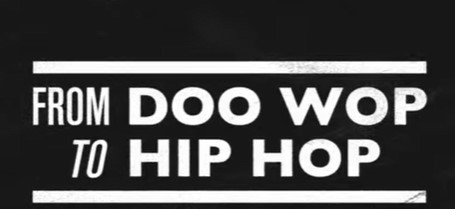 By By C Beerlahairoi Myers
There's a reason why Hip-Hop, Be Bop, and Doo-Wop all rhyme: These were grassroots pushback movements created by folks who came from the working class of mainstream society.
In the case of Hip-Hop, the artform evolved as a result of removing music programs from the public school system.
In Do Wop, while the American recording industry seemed interested in the opportunity to present Black music to its' mainstream; they also seem more determined to showcase the music according to their own proclivities. . .
Meaning, that even though Black artist now had America's major labels supporting them and even wider distribution; the artist's creative freedom was challenged by the record industry's ideas.
This new music challenged the range of America's studio musicians and its technician's ability to understand the cultural cues of another group of people—that is, in terms of producing the kind of rhythm, syncopation and/or "feel" the Black artist were trying to achieve for their audiences.
Many times, Black artist were subjected to "package deals" from major labels, in terms of who the studios used in their production.
Anyone who listened to Ray Charles, "I Can't Stop Loving You," and the subsequent introduction of the Raelettes, know exactly what I'm talking about. . .
Now, I'm not saying that such things are "thee" major cause of Doo-Wop and BeBop, but in the forties and fifties, the voice used as an instrument appeared in two major forms of Black music during the same era.
Those nonsensical sounds that many American mainstream people thought were randomly placed noises in Doo-Wop and Be-Bop, were words and sounds strategically placed by the creators of the style, to mimic the sounds of the bass, and other parts of the rhythm section or "bottom"—to achieve the "feel" the Black musicians wanted—even when there was other studio musicians sitting in and playing!
Even if they weren't playing the desired rhythm, the artist's background vocalists would fill the desired sound in. Check out Lionel Hampton's, Give Me Some Skin, and you'll see what I'm talking about. . .
While in the case of Jazz, after the Rag Time era; Classical music and its' dances were replaced by a growing new style of popular Black music which employed improvisation (although using Classical instruments) and a Swing-style syncopation, called Jazz by America's mainstream society.
Jazz became so popular, that many White groups performed it, and Classical music with its' Waltzes and Rumbas slowly faded, and the Jazz Era was created.
One might think that this change in scene would have allowed better conditions to evolve between Blacks and Whites in American society—but it didn't.
The Black population remained marginalized from the rest of American society, often with their civil rights often not being respected.
Often plagiarism and various forms of copyright infringements followed, and many Blacks had to rely on the fairness of American society to come to their rescue. . .
The early 1900s to 1960s were difficult times for Black musicians during the time they called, Segregation.
In the Cotton Club on 142nd St and Lenox Ave in Harlem from the 1920s to 1935, many of its Jazz performers were Black, but the audiences were all White.
Duke Ellington was the house band for the Cotton Club black then, and many of his own fellow band members weren't allowed to stop in to see his band perform. . .
Being exploited, disenfranchised, and depressed, they remounted and reached the charge confronting them; and average men (like you and I) could relate to the muscular movements made by these artists who are "born under punches".
These artists were bobbing and weaving, arriving at new conclusions; raising the artistic bar a tad higher, to avoid theft imposed by members from the society-at-large—this is especially significant; since most of Hip-Hop, Doo-Wop, and Be-Bop artists come from society's so-called underclass.
James Dizzy Gillespie and Charlie Yardbird Parker founded an impermeable sophisticated sound with the newly constructed Jazz called, Be-Bop: A sound that was difficult—if not impossible—to duplicate except—of course by other Boppers; As Be-Bop became a bastion of excellence for our performers for many, many years.
John Coltrane was one of Be-Bop's young disciples [as Louis Armstrong was for Jazz] as evidenced in the famous photo with Bird, Diz, Kenny Clarke and himself at the original location of Birdland.
Even today, with America's advances in music, it takes several musicians playing the same instrument, at times, to match the speed, eloquence and dexterity of Bird, Trane, or Bud Powell within their original compositions.
And all talented Be-Bop-pers on the Jazz scene, proclaim Thelonious Monk as "Be-Bop's high priest"—due to Monk's innovation, uniqueness in tone, and dexterity. . .
No one plays 'Round Midnight with the same tone, melodrama and melancholy as Monk: As a matter of fact, no one plays Monk tunes like Monk.
In Hip-Hop, Doo-Wop, and Be-Bop, the music they made (if it is an original composition and not standards), is derived from the environment the artist grew up in or frequented. Their tunes, bares titles that account for their exploits, experiences and journeys. And if you use just a little bit of your imagination, these kats can surely take you places. . .
Prior to, in the past, teens and young adults were entertained by older singers and musicians (especially in Blues and Soul music). But in the case of Hip-Hop, Doo-Wop, and Be-Bop, we have entertainers who are the same age as their audiences who view them.
In other words, the Jackson Five were around our age (especially Michael); but not O.C. Smith (Little Green Apples), Clarence Carter, Rufus Thomas or James Brown. . .
These were older people. So was Perry Como, Carmen McRae or Dean Martin. . .
With Doo-Wop, Be-Bop, and Hip-Hop, we felt these songs were for us; that we could perform this stuff ourselves. Many of us believed we could be stars. Many of us wanted to be exactly like our idols. . .
Amiri Baraka (previously called Leroi Jones) called Black folks, "Blues people" (the title of a book by the author).
Exploited and oppressed; just trying to make our way in the world, Blacks kept looking for that big break, to fit into mainstream American society.
And the beat goes on, just like our love: Everlasting. . .
We listen to each other, we have the same sentiments, we speak the same 'language' transmitted over ultra-high frequencies—like Lambert, Hendrix and Ross said, "We're Living-in Hi-Fi."
Some became Beatnik like folks—throwing rent parties heard the tune over the radio and had to have it; (whether it was an album, reel to reel, cassette, forty-five, cassette-single, wax remix, mp3 or streamed music).
They probably played it at the party—and it became "a graveyard smash"(for those who worked the night shift) or "Tha joint"—otherwise known as a hit. . .
Cool-i-o! As Be-Bop made its' debut in the 40s, with a kat named, "Dizzy" and another kat named Charlie, which all the hep-kats called him, "Bird."
This was Dionne Warwick's, "Message to Michael. . ."
A lot of 'dem kats wore tams and sported crazy goatees; like that kat named, Dizzy Gillespie and of course, Thelonious Monk.
Cory Daye, of the renowned Savannah Band, called these types of folks, "Bounced Back Gents."
Like I said folks, "Either you got it, or you don't"—"Suppression spawns creativity"—and since the sounds came from the "Blues people," it's the beauty for fans to fan those flames. . .
As James Brown flipped "Bewildered," with those Famous Flames of his; along with "Think," on Federal Records label.
These was rare gems, coming from Mr. Dynamite, "The Godfather of Soul," James Brown performing Doo-Wop in the 40s and 50s… And the best was yet to come.
There were tunes by the Spaniels from VeeJay Records of Chicago, being sung on every street corner in Philly, by the local neighborhood gents—in that slow bop-style from the vocal harmonies that many "boss" Doo-Wop tunes are made of.
Diana Ross, Smokey Robinson, and Otis Williams of the Temptations reigned Supreme on the streets of Detroit, the Motown. . . Just to name a few.
And when Diana sung about "tenement slums," in the song, "Love Child"—was that more than a figure of speech. . .
Who knows?
Humble beginnings, and stories shared between stars and fans, is the trademark for these kind of performers. . .
Music is a cultural icon.
We grow and develop from these stories.
In my youth, I learned a lot about life, from the pen of Curtis Mayfield, Smokey Robinson, Stevie Wonder and Bob Dylan. . .
That's what lyricist do. . .
It's called, "Penmanship".
The reason for communication, is to share notions and ideas with each other; that is, generally speaking, and specifically between us as a people; brought together under the same social conditions. . .
Culturally speaking, the purpose of communication is to aid each other in our understanding of the world around us.
Ethnically speaking, there's some slang, buzz words, and catchy phrases that entice us; bringing uniqueness to us; as a people, helping us know literally where WE are coming from. . . That's ancestral language.
When it comes down to music, the adaption of local customs, rhythms and sounds, plus tradition gets added on when we play music or spin a yarn (tell a tale, do a poem or sing a song).
Chronologically, this is where we historically tell where musical trends and styles are derived, which tells a lot about US as a people.
One of those things are growth and development, or evolution, for starters.
That's why I think it was right for Amiri Baraka to call Black folks, "Blues people."
Our chronicle as a group of people, is a people forcefully brought over to this country, for the purpose of exploitation and servitude by some nefarious elements, within the mainstream of American society.
These forces literally had our people, singing the blues.
Blues people expresses a people born under duress; that is, depression, oppression, and suppression, by these nefarious forces that be; which, amongst a lot of otherwise negative things, spawned plenty of our creativity and resourcefulness; to make something out of nothing.
Literally, to take those lemons handed to us and make lemonade.
Our aspirational element is redemption.
That is, an extraction of the underlying significance of the experience, placed within music and song, to do better and be thankful for the will and opportunity to be able to do so.
For the other elements of this world, Black music produced several musical styles which influenced the mainstream of American society; But essentially, it is only the two which forged several styles—the Inspirational and the Blues; with the elements of joyousness and waywardness; the recognition, redemption and reconciliation. . .
From earliest times, we borrowed from our previous styles to
create other new styles.
LL Cool J was very experimental in his approach; as was EPMD, Slick Rick and others; But so was James Brown, Little Richard, Louis Jordan, Miles Davis, Sly Stone, Mandrill, George Clinton, Prince, Michael Jackson and Rahsaan Roland Kirk; amongst several others. . .
Early Hip-Hop up until the Skilled-Era, utilized pieces and bits of previous hits from Rhythm & Blues, Blues, Doo-Wop, Jazz and Be-Bop (sometimes even gospel); which were within their own right, spectacular. . .
And by the way, who didn't sample James Brown?
Who are Kirk Franklin and Edwin Hawkins. . .
When James Brown and Little Richard toured the Black circuits, they played several styles of Black music within their sets; As did their predecessor, Louis Jordan — and even the Jackson Five. . .
VeeJay Records and Motown Records was built off of stuff like that; not to mention Stax, with Isaac Hayes and David Porter.
Most folks look at Ella's Fitzgerald as a marvelous Jazz singer proper; But when she began scatting and employing Vocalese and Jive; Ella was Be-Bop-ping.
Parker and Dizz, flirted with romantic elements from a foregone era, and Dizzy himself established the Afro-Cuban scene in America, with his samplings of African and Caribbean sounds.
Thelonious Monk and Bud Powell—both Stride pianists; dragged old-time Jazz elements into this new Be-Bop thing; reminding us that before Swing, there was Ragged-Time and Classical music, and neither Monk or Bud were shy of those elements or playing melodramatically.
And let me remind you, that within every serious Doo-Wop lead vocalist, is a singer who thinks he can croon.
These are all grassroots movements with Black music.
These artists appealed to our core ethnicity while confronting our situations at hand in real time.
Hip-Hop, Doo-Wop and Be-Bop mirrored the sentiments of the younger generations of their times concerning the world; Made by artist and band members which we trust—many were our age; which made us feel, we too, had a chance at stardom.
But the thing I liked most about these creative explosions in Black music is that it was done for us and by us, with almost total disregard for its marketability outside of our communities.
The result was it eventually did permeate out to the society at large (which I have no problem with whatsoever); but it was marketed for our sensitivities as a people and not just a creative strategy to make money from the society-at-large.
It's like the performers at "Minton's Playhouse," and "The Five Spot," who performed for other musicians and the marginalized Black audiences; as opposed to the Cotton Club and the Famous Birdland [named after Bird, Charlie Parker], where Black audiences were not allowed to enter to see their favorite artists perform.
Be-Bop, Doo-Wop, and Hip-Hop started out ethnically, and were defined upon reacting to restrictions placed upon our people by elements within the society-at-large.
Be-Bop, Doo-Wop, and Hip-Hop music spoke to its age groups. The music dared to be different, but it was also defined by us as culturally distinct; like Boys in the Hood, and Girls who loved them boys.
As King Pleasure sang: "When you see danger facing you, little boy, don't be scared."
In Hip-Hop and Be-Bop Vocalese & Jiving like, "Java-Jive" by the Ink Spots, "Give Me Some Skin" by Lionel Hampton or "Moody's Mood for Love" by King Pleasure, both music styles (Hip-Hop & Be-Bop) require that you "ride the beat."
What that means is, one's rhyming isn't just random and separate from the band's syncopation—it is in direct relationship to it.
Even if it is off beat, it is very consistently interlocking that pattern. . . And even though the rhyming is different between the two disciplines; syncopation to the beat, is part of both.
And let's not forget that Doo-Wop's background vocalists offer up their voices as exemplary instruments in relationship to the actual ones.
In Be-Bop, Lambert, Hendricks, and Ross' style of Vocalese, curbed and manipulated the inflections of their pronunciations of words to mimic sounds of the horns and woodwinds.
Each, entertaining us with witty, funny stories that illuminate how we live, our values and legacy for prosperity's sake; so that the world can get the story straight.