Irene Cara – RIP
What a shock. I reviewed her then new album (mid 2000's,) called "Irene Cara presents Hot Caramel." It was an excellent album. Highly recommended…..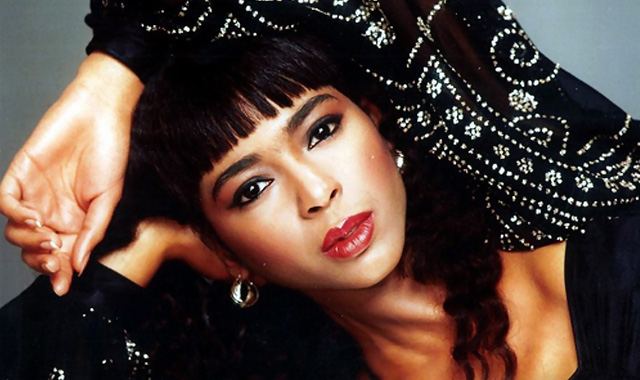 This note was posted on Twitter from Irene Cara's publicist, Judith A Moose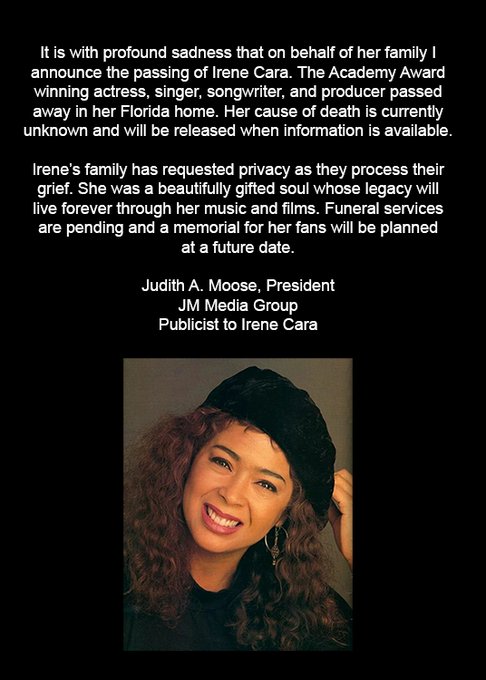 Irene Cara's Official Bio (from her website irenecara.com)
Being Honored by the entertainment industry with an
Being Honored by the entertainment industry with an Academy Award, two Grammy's, a Golden Globe, plus a nod from fans via a People's Choice won all within the same year might, for some, be considered the pinnacle of a performer's career. For actress/dancer/singer/songwriter Irene Cara, who garnered all of these awards for co-writing and performing What a Feeling, the title song from the motion picture blockbuster "Flashdance", it simply serves as an auspicious beginning to the productive years ahead.
First captivating audiences, specifically her family, sometime after her fifth birthday playing piano by ear, Irene soon moved into serious studies of music, acting, and dance. As a child, she began working professionally singing and dancing on Spanish television. She went on to appear in various theatrical shows both On and Off Broadway such as the Obie Award winning musical "The Me Nobody Knows" and "Maggie Flynn" starring Shirley Jones and Jack Cassidy.
FAME (Lyrics)
Baby, look at me and tell me what you see
You ain't seen the best of me yet
Give me time, I'll make you forget the rest
I got more in me and you can set it free
I can catch the moon in my hand
Don't you know who I am?
Remember my name
I'm gonna live forever
I'm gonna learn how to fly
(High)
I feel it coming together
People will see me and cry
I'm gonna make it to heaven
Light up the sky like a flame
(Fame)
I'm gonna live forever
Baby, remember my name
(Remember, remember, remember, remember)
(Remember, remember, remember, remember)
Baby, hold me tight, 'cause you can make it right
You can shoot me straight to the top
Give me love and take all I got to give
Baby I'll be tough, too much is not enough, no
I can ride your heart 'til it breaks
Oh, I got what it takes
I'm gonna live forever
I'm gonna learn how to fly
(High)
I feel it coming together
People will see me and cry
I'm gonna make it to heaven
Light up the sky like a flame
(Fame)
I'm gonna live forever
Baby, remember my name
(Remember, remember, remember, remember)
(Remember, remember, remember)
I'm gonna live forever
I'm gonna learn how to fly
(High)
I feel it coming together
People will see me and cry
I'm gonna make it to heaven
Light up the sky like a flame
(Fame)
I'm gonna live forever
Baby, remember my name
(Remember, remember, remember, remember)
(Remember, remember, remember, remember)
Remember my name
I'm gonna live forever
(Fame)
I'm gonna learn how to fly
(High)
I feel it coming together
(Fame)
People will see me and cry
(Remember my name)
I'm gonna make it to heaven
(Fame)
Light up the sky like a flame
(Fame)
Oh I'm gonna live forever
(Fame)
Baby, remember my name
I'm gonna live forever
(Fame)
I'm gonna learn how to fly
(High)
I feel it coming together
(Fame)
People will see me and cry
(Fame)
FAME (Lyrics)
Baby, look at me and tell me what you see You ain't seen the best of me yet Give me time, I'll make you forget the rest I got more in me and you can set it free I can catch the moon in my hand Don't you know who I am? Remember my name I'm gonna live forever I'm gonna learn how to fly (High) I feel it coming together People will see me and cry I'm gonna make it to heaven Light up the sky like a flame (Fame) I'm gonna live forever Baby, remember my name (Remember, remember, remember, remember) (Remember, remember, remember, remember) Baby, hold me tight, 'cause you can make it right You can shoot me straight to the top Give me love and take all I got to give Baby I'll be tough, too much is not enough, no I can ride your heart 'til it breaks Oh, I got what it takes I'm gonna live forever I'm gonna learn how to fly (High) I feel it coming together People will see me and cry I'm gonna make it to heaven Light up the sky like a flame (Fame) I'm gonna live forever Baby, remember my name (Remember, remember, remember, remember) (Remember, remember, remember) I'm gonna live forever I'm gonna learn how to fly (High) I feel it coming together People will see me and cry I'm gonna make it to heaven Light up the sky like a flame (Fame) I'm gonna live forever Baby, remember my name (Remember, remember, remember, remember) (Remember, remember, remember, remember) Remember my name I'm gonna live forever (Fame) I'm gonna learn how to fly (High) I feel it coming together (Fame) People will see me and cry (Remember my name) I'm gonna make it to heaven (Fame) Light up the sky like a flame (Fame) Oh I'm gonna live forever (Fame) Baby, remember my name I'm gonna live forever (Fame) I'm gonna learn how to fly (High) I feel it coming together (Fame) People will see me and cry (Fame)