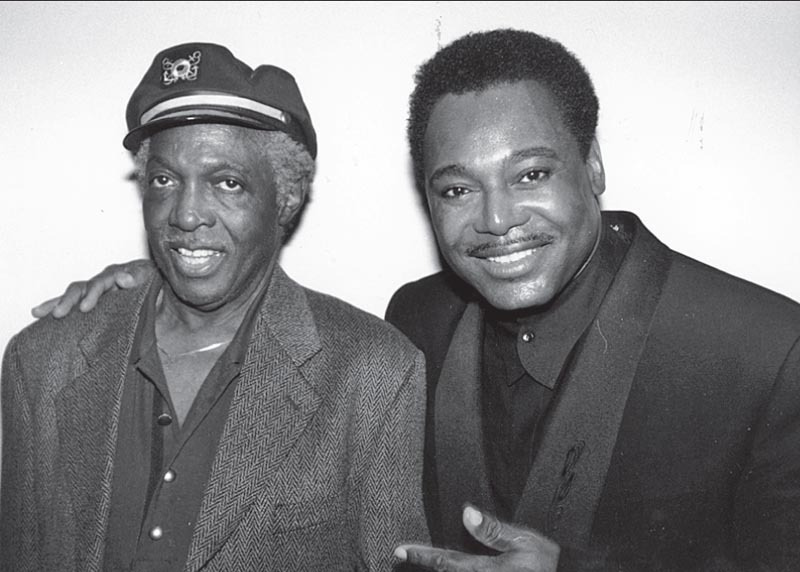 Jack McDuff Benefit at Showman's Cafe in NYC – 11/20/00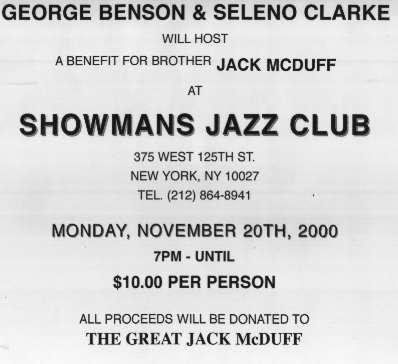 Last night my brother Mike and I attended this event, unfortunately I was only able to stay for about an hour and a half (you will find out why later)
Once again, my apologies to Rickey Vincent for the format of this review
THE MUSIC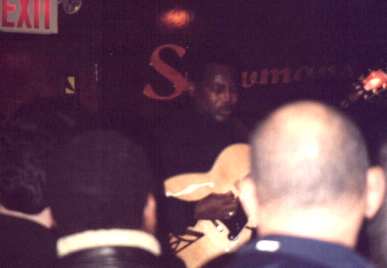 Ya know, people here on the internet talk a good game about Funk, but what is it really and how can you identify it?
Here it is, less than 12 hrs. since I left there and I can't even give you any kind of set listing except for a few songs
· Breezin
· This Masqurade
· My Favorite Things
· Assorted JAMMING from a bunch of tunes that I know in my head, but I can't name for you right now
All I can tell you was that it was one of the BADDEST SHOWS I HAVE EVER BEEN TO
Here is a list of the perfomers
· George Benson
· Seleno Clarke
· Joey DeFrancesco
· Larry Goldings
· Nathan Lucas
· Melvin Davis
· Tony Malone
· Kyle Koehler
· Joe Friedman
· Rob Bargad
· Radam Schwartz
· Wayne Henderson
· Anthony Nelson
· Vincent Seneri
· Ian McDonald
· Jerry Weldon
· Andrew Beals
· Joe Mahnarelli
· Micheal Ledonne
· David Lee Jones
· Gerald Brazel
· Jonathan Hartman
· Jimmy "Preacher" Robbins
· Karell Ruzika
· Joey Morant
· Tootsie Bean
· Max Schweiger
· Paul Bollenbach
· James Stewart
· Jean DuShon
Obviously Benson dominated the show, playing a few of his hits and, talking about the difference between "Harlem Crowds" and "Downtown Crowds", jamming with the other musicians and talking about how he started his career, at the age of 18, playing in Jack McDuff's band
THE PEOPLE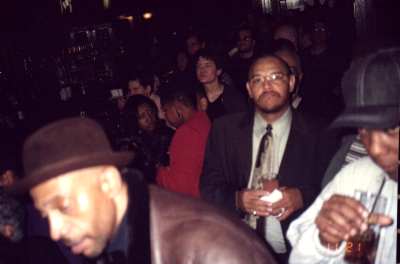 We got there around 8pm
We opened up the door of the Showmans Club, located on 125th St in the village of Harlem to enter…
The Showmans club is a very simple place
When you walk into the door, the first thing that you see, to your right is a very long bar with a mirror that runs the full length of the bar. To your left there is a wall that also runs the length of the bar
The distance between the mirrored wall on one side and the wall on the other side is about 10-12 feet.
At the far end of the bar is a small stage that is no more than 7X7 squared
This joint seats no more that about 25 people
As we entered, there was a sea of people inside.
I would estimate that there were well over 200 people inside
They were all there for the same reason I was, to pay tribute to one of the GREATEST organ players in history, Jack McDuff!!!!!!!!!!This was a SERIOUS "old school" Harlem Jazz crowd, mostly people in their mid 50's and up.

There was SERIOUS conversation going on, SERIOUS drinking going on and BLASTING in the background was some SERIOUS FUNK.
That's right, I said FUNK…
This was not cerebral mind expanding type of Jazz that people who write for Downbeat magazine or that "music critics" prefer.
This was the type of FUNK that the older people in the neighborhood that I grew up in would be playing on their record players when they had their "Saturday Night Fish Fry's". Hell this is the type of Jazz that (god forbid) you could even dance to if you wanted to
That's right, these were the REAL FUNKATEERS, people wearing pinky rings and stuff 🙂
One lady there said to me…
"Are You from Harlem"
I said ….NO, I live in New Jersey
She said: "That's ok baby, you can stay here…"
Every time a new performer came into the door they had to make their way to the back of the place thru the crowd to get to the bandstand I got my face CRUSHED up against the wall on the right side
THE ONE

Mike and I weren't sure of the start time of the event.
We met in midtown Manhattan
As we drove thru the streets of Manhattan, we joked about some of the places we passed that we remembered from when we had grown up, talked about some of the redevelopment going on in Harlem and about the continuing proliferation of poverty, on the RICHEST island in the world.
Once inside, we talked about the way that the people inside were bonded to each other, most seemed to know each other and at times it felt like we had crashed a party of.
The people inside were defiantly ON THE ONE with each other, brought together to salute a great musician who had impacted their lives. Perhaps even more so it was a community celebrating a Harlem music scene that barely exists anymore, that they have to wonder what the future holds.
As we left (we had to after an hour and a half, we couldn't breathe anymore) and walked to where the car was parked, Mike said" I gotta come back here again" and I said "yeah me too, this place is badd, as a matter of fact, they are having Gloria Lynne here tomorrow night.
We both looked at each other and laughed, knowing full well that neither one of us would be able to come back again the very next night.
However, we both agreed that when we went back we would do so together and maybe even bring our father, cuz "this was his kind of joint".
For me, that was the best part of the whole evening…
Jack McDuff Bio
Eugene McDuff (September 17, 1926 – January 23, 2001), known professionally as "Brother" Jack McDuff or "Captain" Jack McDuff, was an American jazz organist and organ trio bandleader who was most prominent during the hard bop and soul jazz era of the 1960s, often performing with an organ trio. He is also credited with giving guitarist George Benson his first break.
Born Eugene McDuffy in Champaign, Illinois, McDuff began playing bass, appearing in Joe Farrell's group. Encouraged by Willis Jackson in whose band he also played bass in the late 1950s, McDuff moved to the organ and began to attract the attention of Prestige while still with Jackson's group. McDuff soon became a bandleader, leading groups featuring a young George Benson on guitar, Red Holloway on tenor saxophone and Joe Dukes on drums.
He taught himself to play bass and piano, though he studied briefly in Cincinnati at New York Tech. McDuff played bass in a trio in the 1950s with Max Roach and Johnny Griffin, then switched to the Hammond B-3. Inspired by Jimmy Smith, then later by Richard "Groove" Holmes and Don Paterson musicians who, as he puts it, "swing hard, have good technique and feel good"-evolved a distinctive style characterized by thumping, staccato bass lines, intricate bebop licks and, overall, a more delicate and less voracious approach than Jimmy Smith.
In the late 1950s, he worked and recorded on Prestige with Willis "Gator Tail" Jackson, then in 1960 formed his own group, recording for the same label. Known for his good taste in guitarists, McDuff hired a young George Benson in 1963, and later brought on Grant Green, Pat Martino and Mark Whitfield. A prolific artist, McDuff has recorded more than 60 albums as a leader, including the jukebox hit single, "Rock Candy." His career took a downturn in the 1970s and 1980s, but recuperated when Hammond B-3 tyro Joey DeFrancesco revived interest in the instrument.
Despite health problems, McDuff continued working and recording throughout the 1980s and 1990s, and toured Japan with Atsuko Hashimoto in 2000.
McDuff also has recorded as a sideman over the years with Jimmy Witherspoon, David "Fathead" Newman, Joe Williams, Carmen McRae, Etta James, Eddie "Cleanhead" Vinson, Yusef Lateef, Kenny Burrell, Roland Kirk, Sonny Stitt, Gene Ammons, Houston Person and Phil Upchurch.
"Captain" Jack McDuff, as he later became known, died of heart failure at the age of 74 January, 2001 in Minneapolis, Minnesota.