The Real Jackie Wilson Story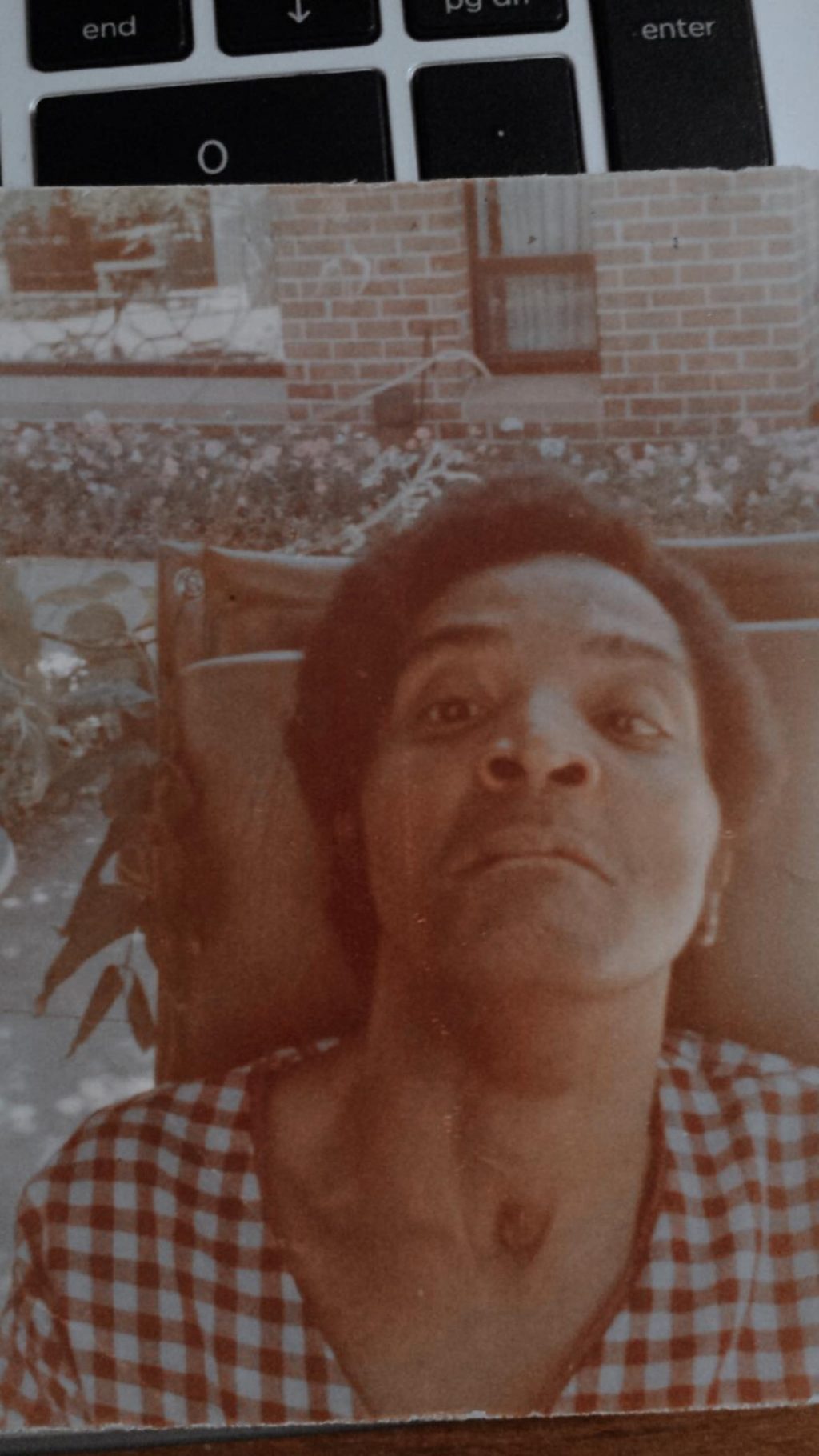 Editor's Note: The following article was not written by me. It was written by Joyce Moore. Joyce has been a good friend of mine and Soul-Patrol for almost 25 years. The story she tells here, has been told to me many times over the years, but till now to my knowledge she hasn't ever published it before, she makes the reasons why pretty clear in the piece. You have seen her name mentioned here on Soul-Patrol before, most likely in conjunction with her husband Sam Moore or her good friend Billy Preston. She is an outrageous, funny and most importantly honest person (probably to a fault.) If you ever meet her in person, you will find the experience to be most delightful. —Bob Davis
The Real Jackie Wilson Story
by Joyce Moore
On September 29, 1975, Wilson was on stage performing "Lonely Teardrops" when he collapsed at The Latin Casino the famed New Jersey nightclub.
All of the reports of what caused the collapse were wrong! He did not suffer a major heart attack or a stroke. The heart attack was caused when he got to Cherry Hill Mdical Center and an orderly pulled him out of the transport ambulance and pericardial thumped him in the chest throwing him into cardiac arrest! Jackie had a respiratory arrest of some sort and was responding in the ambulance on the way to the osteopathic hospital. What happened to him never should've happened to him!
Wilson wound up as a result in a coma, becoming conscious, fully conscious in early June, 1976.
The stories that he never recovered consciousness or any ability to communicate are lies, ball face lies, they were deliberate and purposeful because the purported owner of the record label he recorded for was being prosecuted by the United States Attorney in New Jersey for tax fraud and payola. It would have been catastrophic for Jackie to have been known to have made any recovery.
This photo was taken of Jackie in August,1977 at Medford please. You see he is not curled fetal! He has no oxygen assist! He is sitting up with no assistance, no head braces no nothing like that!
Yes he looks different but, he was very much alert very much aware. At the time he was getting therapy and he was making considerable progress.
The moment certain people discovered that that's what was happening they managed to get into a position to intervene and stop all of his therapy which included speech, physical and occupational therapy.
Jackie's death in January 1984 was grizzly! What happened to Jackie Wilson NEVER should have. I will never, I can never forget what I witnessed that I could not prevent! It has weighed heavy on my heart from that day to this.
But what made him collapse on stage?
He had eaten before he went on stage. We don't know and will never know if he had been slipped a little something something because he was being warned to keep his mouth shut. They never did a proper toxicology study because they did not make the connection between his collapse and what was going on with Nat and the United States. For that matter, Jackie had a history of collapsing/passing out on stage which never led to the drama that happened. When he fell, he fell backwards not forwards and he caught his head on the sharp corner of the grand piano which caused a small sub dural hematoma.  But it was definitely a respiratory arrest.  There was a problem with the oxygen tank at the Latin it didn't function immediately, so a nurse ran up from the audience onto the stage and did CPR until the paramedics came.  Jackie was not cyanotic; his nail beds were reactive and flushed properly they had not turn blue. his eyes were responsive to light and in the ambulance, he was moaning and groaning and starting to come around when the damn orderly whose first name was Jim and was being paid around $3.50 an hour as a butt washer, pulled him out of the back of the ambulance without getting a transport report and took his fist balled it up and slammed him right in the chest which threw him into the cardiac arrest.
Jack was overheated and he may have had something come up his airway from what he had eaten. They never did a proper assessment of exactly what caused the collapse and as I say they never did a proper toxicology study when they brought them in or subsequently into the hospital because nobody thought there was anything "unusual" in his system.  He was taking antibiotics because he had a touch of the flu which very easily could've been a contributory factor but the leather was tight fit to his body and he was sweating and he had no way to actually vent the sweat so it could've been some crazy combination of stuff including a possible warning… sadly we will never really know but it definitely was not a massive heart attack and it definitely was not a stroke. I know this for an absolute absolute surety nothing that would have put him into the coma and or caused brain damage knocking his motor skills out. I was there I held him on the table At Hahnemann hospital when he had one of the first phono echocardiogram. And it was very clear his heart was not severely damaged he did not suffer a massive heart attack there was some lower left wall damage from what happened but nowhere near anything sufficient to have done to him what occurred it was no doubt malpractice after the precordial stamp when they pulled them in to the treatment bay and gave him both vasopressors and epinephrine and shocked him not paying attention to where his neck and head were when they were doing it… That much I have been able to verify all those years ago and have been living with that ever since angry hurt and at times in fear of my life!
Was Race a factor at all?
There was no racism in my opinion towards Jackie. If there was any the not quite yet "widow"  might have played the race card at me because I was the "white woman" but, as far as Jackie went it was incompetence, stupidity, negligence a lot of money changing hands after it happened and probably the most important was the cover up for the malpractice at CHMC which was an Osteopathic Hospital that was owned by most of the wealthy men in the Cherry Hill New Jersey area at the time, including one of the judges in Jackie's case.
Is the Story of Jackie Wilson being Beaten in the Hospital True?
No that was an orderly at a Pennsauken Nursing Home that took the arm from the hospital style chair they used to put Jackie in to sit up and hit him in the face I have photos of it I reported it immediately and within a day got Jackie transferred out of that hell hole back to Cherry Hill medical center and ultimately finally transferred tomorrow's hall health and rehabilitation center in Lawrenceville near Princeton. His therapy was stopped because he was making enough progress and it was documented sufficiently that he had in and out communication that he could comprehend that his motor skills were starting to come back…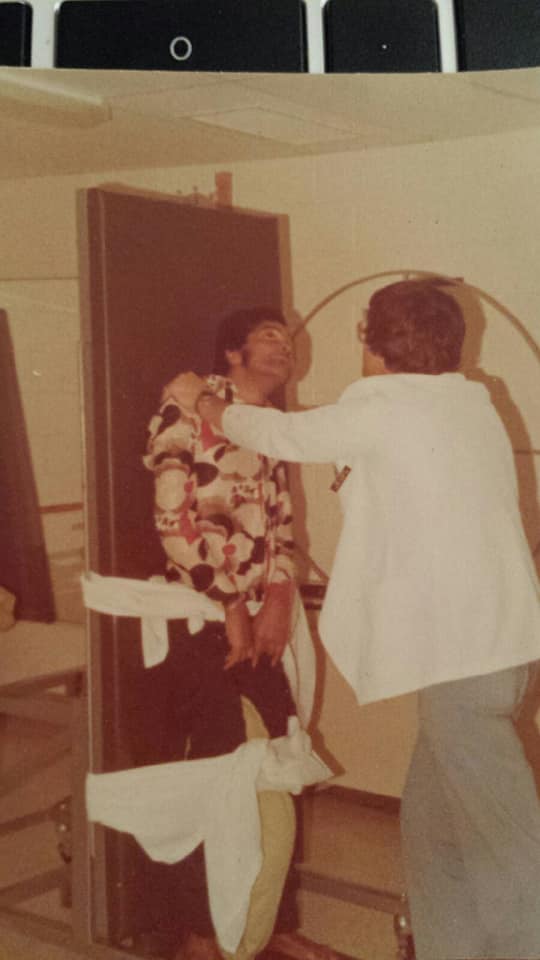 Here's a picture of him tied to the tilt table standing bearing weight on his feet which A critical step in getting him able to stand and walk again. Somewhere I've got pictures of Jackie between the balance bars with braces on both legs and he was standing, and he was starting to re-learn to put 1 foot in front of the other to take steps. That was putting certain people who were being prosecuted and his dear darling Estranged but actually divorced wife in great jeopardy of exposure and they had to stop, and they had to threaten me and they had to get me the hell out and away!
What about his Wife?
Once the "wife" who actually it was discovered wasn't still married to Jackie had arrest warrants out for him for non-support the nine (9) years between what he believed were the divorce papers he signed and this collapse.  She had made it impossible for Jackie to set foot in the state of New York more importantly the city of New York so he could confront Nat who he knew, had ripped him off for thousands and thousands of dollars and he could not perform on any New York-based television shows or make any appearances in New York because of it. What she did to Jackie, what she allowed to happen to Jackie after she became his "guardian" like I say a bunch of money changed hands to put her in position… Jackie's death was a slow torturous painful death. I have the medical account of his tortured death because of Harlean's care and treatment of Jackie. She was so so deliberate and hateful of Jackie. Perhaps her karma was dying so she couldn't play act the bereaved widow before Nats son paid the money to have a star placed on the Hollywood Walk of Fame with Jackie's name on it… I can't really say given what I know that the star was really intended to "honor" Jack. He deserved the star in spite of whatever motive or motivation so I'm glad that there is one on The Hollywood Walk of Fame.
What else about Harleen?
She was fully in association and cooperation with Nat. They had been lovers or chippy buddies.
She was "installed" as the guardian to make sure Jackie never recovered!
She didn't need to sue anyone oh and by the way the million dollars one of them was the life insurance policy that Nat had on Jackie's life and when Jacci collapsed Nat actually called Carl Davis in Chicago at the Brunswick offices and told him to go ahead and build a studio that he had $1 million because Jackie was dead that was the morning after the collapse! Take the rest of it and figure it out.
I could never say these things while Harlean and Nat were living and I still may not be 100% safe now
Will You Ever Write a Book?
I have one probably 2/3 of the way done and it just is mental torture because it comes back like it was today not 40 years ago, I've got to finish it and I'm motivated now because of all of this.