Jimi Hendrix's 50th Memorial Celebration in Seattle's Central District and Beyond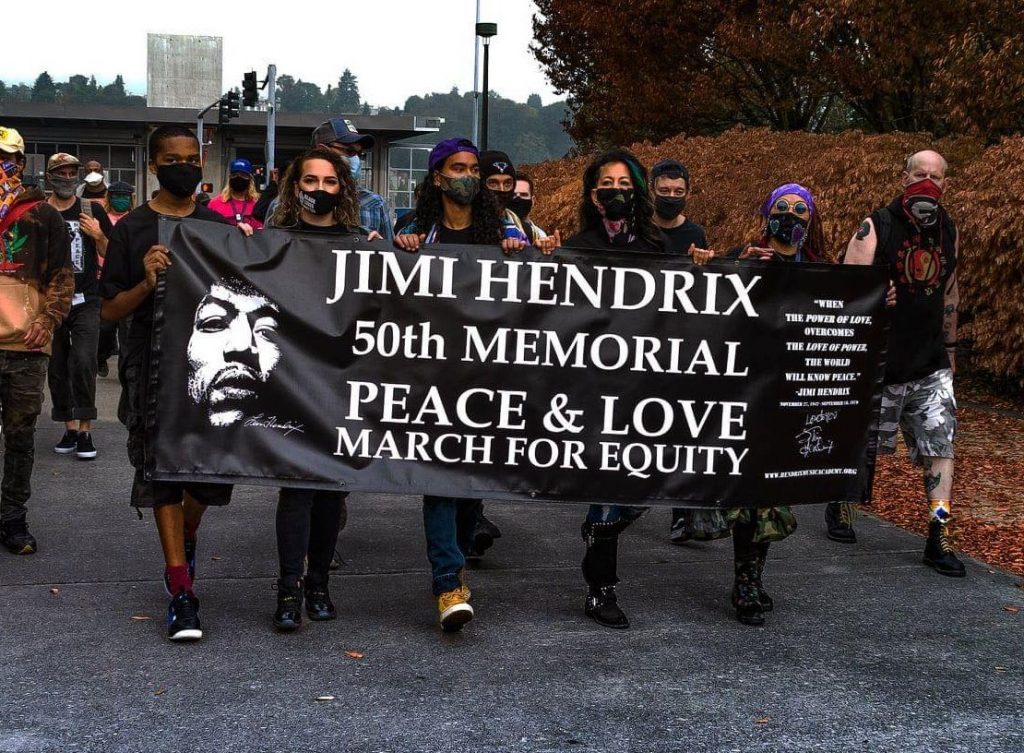 By Cory Washington
As a historian, I am always keenly aware of important observances, anniversaries, and memorials concerning historical events of significance to me. One such event that I had marked on my mental calendar for the last 10 years, just came and went, the 50th memorial of the untimely death of Jimi Hendrix. Friday, September 18th, 1970 marked 50 years of not having Jimi Hendrix's physical presence on this earth. It does not even feel like 50 years, because his impact and imprint are so ubiquitous. It feels like he is still among the living.
I knew that I wanted to be in Seattle for that weekend and made plans far in advance to be there. As a bonus, Jimi's niece, Tina Hendrix, Leon's daughter, was holding a three-day festival in Jimi's honor. This took place at the Jimi Hendrix Park in Jimi's old stomping grounds of Seattle's Central District. I was able to attend all three days, although it rained profusely on Friday and parts of Saturday. Despite the rain and challenges of a global pandemic, the show went on, and overall, it was a memorable event.
On Friday, they featured the main musical guests of Juma Sultan, Marcus Machado, Randy Hansen, and Jimi's little brother, Leon Hendrix. On Saturday, things were geared towards the youth, as multiple hip hop and R&B acts took the stage. On Sunday, it was a mix of acts that featured folk, rock, rap, and R&B. In addition to the music, there was also an African fashion show on Friday , which combined African drumming and dancing. All of these events, combined with sprinkles of mask compliance drama, made for a riveting three days in Jimi's park.
I was able to sell my latest Jimi Hendrix book Jimi Hendrix Black Legacy and met quite a few interesting people. I met a lady that wanted to write a book on the black hippies of Seattle, as well as a young brother that wanted to produce a Jimi Hendrix documentary. Both of them brought my books and I pledged my support for both of their endeavors. I also went to Jimi's old high school, Garfield, and donated a book to the Media Center . Although there were no kids there, I was able to meet up with the media specialist and a coach, which also resulted in a photo op.
Before all of the festivities, I was able to visit Jimi's elaborate grave site on Thursday. I had been there at least three or four times before, so it was more of a reflex at this point. For some strange reason I never really felt that his body was on the premises, but rather, the whole setup was something for us to remember him via all the imagery on the marble , which includes his pictures and lyrics. I tried not to dwell on the fact that I know he was murdered, but it did creep into my mind every now and then.
All in all, I thoroughly enjoyed my trip to Seattle, as I got to take in wisdom and knowledge from Juma Sultan (Woodstock percussionist), one of Jimi's friends through thick and thin. We hung out for four days straight. A special highlight of my trip was getting to see some of Leon's drawings of his brother at his daughter Tina's house. That weekend, I also met Maishah Hendrix and her son. Maishah helped Tina to organize the event and was a calming influence on the whole weekend. It was great to see the Hendrix family come together to pay tribute to Jimi. Another connection that I was excited to make was with Marcus Machado. He is a great young musical talent out of New York City, influenced by Jimi. Ever since I have discovered his music, I've enjoyed everything I've heard. He made the trip with his sister and musical collaborator, Vicky Casis.
That is really what events like this are all about, meeting like-minded people influenced by Jimi, connecting with them, and enjoying great music. In essence, that is what Jimi was all about. He connects so many people through his music and life, which is one of the many facets that make him such a powerful force. Here is to the next 50 years of his influence !!!