Joe Jackson – The C.E.O of the Jackson Five (Summer 2004)
His name and face are one of the most famous in the history of Black music. Because he isn't a performer, I think that is quite amazing.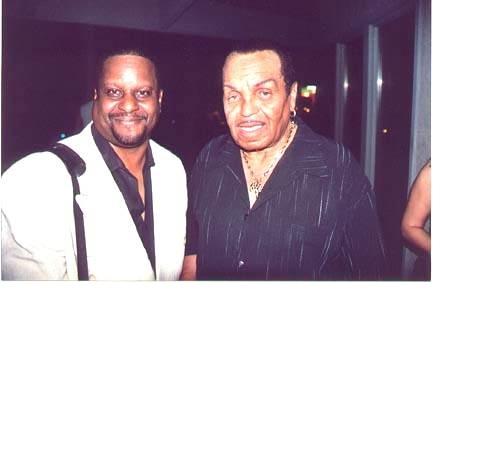 Bob Davis & Joe Jackson in Las Vegas (2004)

I just wanted to share with all of you one of the most exciting moments I have ever had in doing this website. I had the good fortune of being invited to the birthday party of Mr. Joseph Jackson, the patriarch of the Jackson clan and one of the true living legends of Black music. I am pleased to report that Mr. Jackson is a member of Soul-Patrol and has been following the overall progress we have been making here for several years. I was quite honored (and also pleasantly surprised) to have been included in this special event.
I'd like to thank Mr. Jackson and his entire extended family that made it possible for me to attend and also for the treatment I received in Las Vegas during my stay.
In my mind Joe Jackson represents yet another one of our Black heroes that has been maligned by the mass media. He has accomplished much for his family and for OUR culture, by creating something based on his own vision that has stood the test of time thus far and will continue to do so well into the future.
Whatever you may think of the mass media's depiction of the individual members of the Jackson family over the past 20 years, please DO NOT FORGET that it was the single-minded vision of this man that created an entertainment entity that is one of the most important in the history of Black culture. That is an accomplishment that even the mass media can't destroy…
Bob Davis
8/2004
Joe Jackson is a person that everyone knows. Or at least they think they do.
I have been fortunate in that I have been able to actually get to know Mr. Jackson. He's a big fan of the Soul-Patrol.com website and whenever he travels east, he usually contacts me and invites me to "hang out." He has done this several times and I haven't written about it till now, simply because I wasn't really sure that I wanted to share these experiences. I wanted to keep them to myself.
His name and face are one of the most famous in the history of Black music. Because he isn't a performer, I think that is quite amazing.
I had never thought much about Joe Jackson till I watched the Jackson Five TV movie. Of course, I knew who he was right from the beginning of my knowledge of the Jackson Five. I had also been aware of all of the negative things that have been written about him in the mainstream press over the years. And just like most people I thought that those things were true.
However, my view of Joe Jackson began to change when I watched the Jackson Five TV movie. Joe Jackson (as portrayed by Lawrence Hilton-Jacobs) came across to me as a very different type of person than what the mainstream press had depicted him as. In the TV movie, Joe Jackson came across to me as a person that cared deeply about his family. He came across as a Black father who really wasn't much different than the hundreds of "real life" Black fathers that I have known during my life. However, there was one thing that made Joe Jackson very different than any other Black father that I knew. Joe Jackson had a vision for his family. Most fathers have a vision for their family, however in addition to having a vision, Joe Jackson also had a plan, and he executed that plan.
Black Americans might just be the most creative people on the face of the earth. Just look at all of the things we have created, and the proof is there. However, one of our "dirty little secrets" is that we know that for every successful creative endeavor that we purse, there are a thousand more that were great ideas, but were never implemented. For all our genius, we are terrible at following through on good ideas. In some ways we are proud of our "lack of follow thru." (This is a notion that is closely related to the fact that we often view "CP Time" as a positive attribute.)
One of the ways that Black American "pride" in "lack of follow thru" is manifested is what is commonly called "crabs in a barrel." This is the odd habit that Black Americans have of attempting to "sabotage" the efforts of other Black Americans who seemingly have a good plan for how they are going to move forward. The idea is to pull those who are trying to "escape from the barrel", back into it. Then once successful in pulling that person who was trying to escape "back into the barrel" (by sabotaging their efforts), the message becomes something along the lines of; "see I told you that you needed to just stay in your place."
Black Americans discuss this topic all the time, behind closed doors. In fact, they even admit their complicity in this activity. However, the behavior never seems to change. It's almost as if we have been programmed to do whatever we can to insure the failure of other Black Americans.
Joe Jackson accomplished something for his family that most Black Americans can only dream of. He had a vision and a plan that would make his family rich & famous beyond belief. He was a steelworker, that lived in the ghetto, with too many mouths to feed. It would end up as a story of the ultimate American Dream, tarnished by the aura of a nightmare.
I have no doubt that along the way, there were many "crabs" trying to pull him and his family "back into the barrel." What makes Joe Jackson different is that he found a way to overcome this. And this is what I learned from watching the Jackson Five TV movie.
What I have learned from talking with him in person over the course of the past few years is that in many ways, even today there are still many "crabs" trying to pull him and his family, "back into the barrel."
The first time I met Joe Jackson he shook my hand and then hugged me. The first thing he said to me was "let me know if they are still trying to cut your lines, I'll come and I'll bring my shotgun with me." I smiled and said; "one of these days I may need to take you up on that offer, sir…"
Today whenever he calls me on the phone, he always starts off the conversation by saying the same thing. He wants to make sure that I am aware that there are other Black folks out there who would love to see Soul-Patrol.com fail, but more importantly, he is also letting me know that he's "got my back", should I ever need to call upon him.
This is a man who truly understands the "crabs in the barrel."
As you talk with Joe Jackson and as he begins to feel comfortable with you, the familiar public veneer disappears and what appears is the "steelworker." Joe Jackson hasn't forgotten where he has come from. He is soft spoken, yet confident. If there is a problem (large or small), he's got a solution. He is a practical man, who is focused on the details of making sure that everyone's needs are accommodated and that whatever the "big picture" may be is attained.
This is a "skill set" that I recognize from my many years of Fortune 500 management training. It's called "project management." You take a situation and constantly subdivide it into its component pieces and then manage each one of the pieces. If you determine that one of the pieces is too large to manage effectively, then you subdivide it into even smaller pieces such that all pieces can be effectively managed by whomever is in charge, to the greatest benefit of all the people that have a "stake" in the outcome. In corporate project management, all these things are written down in a document called a "project plan."
When you observe Joe Jackson up close and if you can recognize the skill set as he performs it, you can recognize that he is able to do all of the "project management tasks" (resource management, task management, time management, stakeholder management) inside of his head. Once you see this, it becomes obvious how he was able to implement his vision for his family. I have known many great project managers in my years of "corporate life", however I have yet to see one who is able to create and execute a project plan as effectively as Joe Jackson.
And for his vision to become a reality, he would have had to be able to operate in this manner, else he and his family would have been "pulled back into the barrel" by the other "crabs."
Sometimes people get the terms "management" and "leadership" mixed up. They think that they are the same thing, they are closely related, but they aren't the same thing.
"Management" is about "process."
"Leadership" is about "control."
Great managers can become great leaders if they are in control of situations. When they aren't in "control", they can still "manage", but they can't "lead."
Sometimes we can see both qualities in a single individual.
I have no doubt that for Joe Jackson to accomplish what he did during the first portion of the career of the Jackson Five, he had to be a great manager and a great leader, especially in dealing with the "crabs."
Ultimately Joe Jackson probably reached the point where he was unable to "lead" his family anymore, simply because he could no longer "control" them. This is what happens in all families, kids grow up and they no longer want to be "led." When this happens, we as parents have to hope that we have taught our children enough about "management", so that they will be equipped to "lead themselves." What was different for Joe Jackson and his family is that all of this was played out right in front of a very un-forgiving public eye.
I have more to say about Joe Jackson.
But I'm tired of writing right now, so I'll stop here.
I just "hung out" with him a few days ago, and I wanted to put down a few thoughts and give you all "some food for thought."
–Bob Davis
earthjuice@prodigy.net …
JOE JACKSON BIO
by Dianne Washington
Joseph Walter Jackson (July 26, 1928 – June 27, 2018) was an American talent manager and patriarch of the Jackson family of entertainers. He was inducted into the Rhythm and Blues Music Hall of Fame in 2014.
Joseph Walter Jackson was born in Fountain Hill, Arkansas to Crystal Lee (née King; May 1907 – November 4, 1992) and Samuel Joseph Jackson (April 4, 1893 – October 31, 1993) on July 26, 1928. His father was a teacher. According to the Arkansas Black Hall of Fame and Katherine Jackson's book My Family, The Jacksons, his year of birth was 1929. He was the eldest of five children. His great-grandfather, July "Jack" Gale, was a US Army scout; he was also claimed to be an Indigenous American medicine man.
Jackson recalled from his early childhood that his father was domineering and strict, and he described himself in his memoir The Jacksons as a "lonely child that had only few friends". After his parents separated when he was twelve, his mother, two brothers, and sister moved to East Chicago, Indiana, a suburb outside Chicago in Northwest Indiana, while he moved with his father to Oakland, California. When he was 18, his father remarried, and he moved to East Chicago to live with his mother, two brothers, and sister. He soon got a job in East Chicago at Inland Steel Company but did not finish high school. While in East Chicago, he began to pursue his dreams of becoming a boxer and found success with the Golden Gloves program. While he was preparing for a professional boxing career, he met 17-year-old Katherine Scruse, who also lived in East Chicago and attended Washington High School. Joe was married to another woman, but was divorced in less than a year before he started dating Katherine.
Joseph and Katherine were married on November 5, 1949; in January 1950, they purchased a small two-bedroom home on 2300 Jackson Street near East Chicago in Gary, Indiana. Their first child, Maureen Reillette "Rebbie" Jackson, was born four months later on May 29, 1950, in the Jackson house. Still employed at Inland Steel, Jackson left his hopes of becoming a professional boxer in order to support his family, and began working there as a full-time crane operator. He later took a second part-time job at American Foundries in East Chicago. In the meantime, his wife Katherine tended to their growing family. During the late 1950s, she began working part-time at Sears in Gary. Joseph and Katherine went on to raise ten children, as their son Brandon Jackson (Marlon's twin) died just after he was born.
During the early 1950s, Jackson briefly performed with his younger brother Luther Jackson in their own blues band The Falcons, playing guitar. Despite their efforts, The Falcons did not get a recording deal and subsequently broke up after one of their members, Thornton "Pookie" Hudson, founded his own band in 1952. That band became a successful doo-wop group named The Spaniels.
In the early 1960s, Joe Jackson began pushing his sons in a musical direction after they began playing around with his musical instruments while he was at work. He then first started working with his three eldest sons Jackie, Tito, and Jermaine. Younger sons Marlon and Michael were eventually put into the band; youngest brother Randy was too young to join at the time. Joseph began enforcing long and intense rehearsals for his sons. At first, the group went under the name The Jackson Brothers. Following the inclusion of Marlon and Michael in the group, their name was changed to The Jackson 5. After a couple of years performing in local talent contests and high school functions, The Jackson 5 got a color TV set after the judges awarded them second place. Joseph booked them in more professional venues, including in Chicago, and they eventually landed a gig at the Apollo Theater in New York City. On November 21, 1967, The Jackson 5 were signed by Joe Jackson to their first record contract with Gordon Keith, owner and first president of Steeltown Records in Gary, Indiana. The group's first single "Big Boy," with Michael as the lead singer, was released by Steeltown on January 31, 1968. "Big Boy" did not become a hit but because the brothers actually had a single released, they became local celebrities in Gary after it received some airplay on local Gary radio stations. Within the year, Jackson helped to land his sons an audition for Motown Records. The Jackson 5 received a record contract with Motown in March 1969.
Shortly after, Joe Jackson moved his family to the Los Angeles area and sat in on every recording session the group made for Motown. The group received nationwide attention after their first single for Motown, "I Want You Back", hit No. 1 following its release on October 7, 1969, and included on their first album, Diana Ross Presents The Jackson 5, in December 1969. The group saw the release of their first three albums and their first four singles, "I Want You Back" (1969), "ABC" (1970), "The Love You Save" (1970), and "I'll Be There" (1970), reach No. 1 in the US within 10 months. In 1974, wanting to reassert his control, Jackson had his family, including daughters Rebbie, La Toya, and Janet, perform at casinos and resorts in the Las Vegas area, inspired by the success of fellow family act The Osmonds.
Joseph had also formed his own record label 'Ivory Tower International Records' and signed artists under his management in which they toured internationally with The Jackson 5 as opening acts in 1974. In 1975, the group left Motown Records and signed a contract with Epic Records, with the exception of Jermaine, who remained at Motown as a solo artist. Jermaine was replaced in the group by brother Randy. Michael also had a separate deal with Epic to release solo albums.
Unbeknownst to Joe Jackson or the group, Motown president Berry Gordy had copyrighted the group's name The Jackson 5. This came to light as the group was signing its new contract with Epic Records and Gordy refused to allow them to use the name The Jackson 5 with their new label. The group renamed themselves The Jacksons. In 1978, Joseph's youngest son Randy released his solo single "How Can I Be Sure" on Joseph's record label. In 1982, Joseph established Janet Jackson's career as an actress and as a recording artist while managing her. He financed the recording of Janet's first demo and arranged a recording contract for her with A&M Records.
On June 22, 2018, TMZ reported that Jackson was hospitalized in Las Vegas in the final stages of terminal pancreatic cancer. He died at a hospice in Las Vegas at 3:30 a.m. (PDT) on June 27, two days after the ninth anniversary of his son Michael's death. He was surrounded by his wife and surviving children.
On July 2, 2018, Jackson was interred at Forest Lawn Memorial Park in Glendale near Los Angeles, the same Southern California cemetery as his son Michael, who was buried there in 2009.