Little Richard: I Am Everything Review (Lisa Cortés, Director)
Little Richard was the first baller and shot caller of Rock & Roll, and Lisa Cortés so brilliantly assembled so many, many of the people who helped diversified the King's court, which developed and enriched his style of music.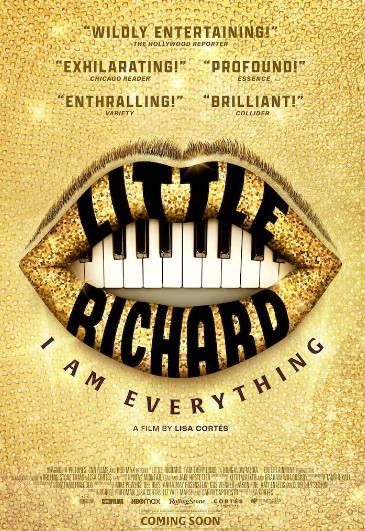 EDITOR'S NOTE: Just a few side notes I jotted down while watching via CNN…
Rich in first person history. Rich in thoughtful commentary. Nice to see something this good about Black music in the mainstream.
It would be an excellent starting point for anybody interested in understanding the origin story of rock n roll.
And that Little Richard is the "Super Hero" of this particular "origin story.'
This documentary couldn't be shown in a Florida High School in 2023.
It's too pro Black. It's too pro LBTQ. (For the Florida governor)
My guess is that he would prefer the people of Florida be exposed to the "Pat Boone" remix?
–Bob Davis
Little Richard: I Am Everything Review (Lisa Cortés, Director)
By C. Beerlahairoi Myers
One thing to be said about Little Richard is, "uninhibited and bold"—complex, and very much himself. Definitely, religious and very outspoken. He came from a conservative religious town of Macon, Georgia. Not arrogant but sure of himself.
He faced hard times, inside and out of his home—in the very segregated and racist South; but Richard was determined to be comfortable in his personal and world view.
They say that "Art imitates life and life imitates art." And if this is so, then Little Richard incorporated the elements of oppression, contradictions, and outrageousness within his music.
His father preached the gospel, with his mother present, then ran a club later during each week. They may have lived some contradiction but were conservative in their religious beliefs. Richard incorporated this too with all his hair, makeup, and pencil-thin moustache!
Now, the impression some of the commentators give, is that Little Richard was presenting his sexuality; and wantonness as a part of his music; but I disagree.
Little Richard incorporated his experiences and told it though his songs. There's a certain outrageousness and subsequent rebelliousness to being boxed in, and Richard expressed that through his music; but Richard was expressing himself openly as he performed.
All singers talk of love and sexuality in their performances, and Richard was no exception; but he never was explicit in his finish product. Even the commentators who raise the issue, stated that lyrics were "coded."
Little Richard took you to the area, but he was clever enough not to cloud his audience's vision, with his personal way: He spoke of sexual fun, in general.
We all come into the world a little lopsided, with a little discovery and work to do—and categories to do it in: All teeter-tottering between saint and sinner. . . He had "the word," and he had to work it out; and since he was a musician and performer—it was live and on stage. . .
Despite the "agenda" of some of the film's chosen commentators, Director Lisa Cortés was quite even-handed in her approach on how Little Richard's life story was illustrated. I think Lisa's story was honest and thorough in her approach. Nonetheless, Little Richard's story was pretty honest, straightforward and complicated.
Scientists do not "prove their hypotheses," they guess, experiment—then observe objectively.
And if you watch this documentary, despite creating a new, up-tempo style of Black music [from which the society-at-large called "Race Music"] which Little Richard included the Blues-Boogie, right along with Gospel rifts calling it, Rock & Roll; Richard with all his flamboyance, never lost his reverence for God as he worked it out; Bible in hand.
He let it all hang out and he had fun; but he wasn't pushing "his sexual agenda," way of life or defining himself according to sexual terms—Richard was working it out: Just a loving man who likes to have fun, and Richard's brand of Rock & Roll—reflects just that.
Richard's "Uncle John" in Long, Tall Sally was some ethnic and epic storytelling: John might have been a real character… And you know we're all suckers for a story….
Little Richard was the first baller and shot caller of Rock & Roll, and Lisa Cortés so brilliantly assembled so many, many of the people who helped diversified the King's court, which developed and enriched his style of music.
It was quite the spectacle. Fredara Hadley, ethnomusicologist at Julliard stands at center of helping to tell it, and Lisa Cortés certainly didn't miss a lick presenting it: She allowed the people to all have their say.
From Elvis Presley to the Beatles, Mick Jagger, David Bowie, Prince, and those who participate in Glamor Rock; they all have to pay homage to the King!
From the pompadour style of Billy Wright, to the influence of guitarist, Sister Rosetta Tharpe when Richard sang, "Strange Things Happening"—to Esquerita teaching Richard to play piano, Marion Williams wails, or Lloyd Price getting him to do the demo which led to New Orleans and his first hit, "Tutti-Fruitti (1955) and his song for the film, The Girl Can't Help It, which made it over to Europe; Little Richard collected all his life experiences into one big historical tapestry he called, Rock & Roll.
And despite his relations with the pretty Lee Angel, or marriage to Ernestine and some members of the Gay community feeling he turned his back on them; Richard preached love and had his own testimony.
Thanks for telling the true story, Lisa Cortés; despite all odds.
Editorial: Acknowledgment of some GREAT Music Journalism
DEAR READER:
NOTE…I FULLY REALIZE THAT THIS IS LIKELY THE WRONG PLATFORM FOR THIS TOPIC & THAT BECAUSE JUST WHAT THE TOPIC IS, IT KEEPS SHIFTING AND NOT ALWAYS !00 PERCENT CLEAR, THAT SOME OF YOU MIGHT GET LOST, IM WILLING TO TAKE THAT RISK AND HOPE THAT YOU AS A READER, CONSUMES THE INFORMATION THAT THESE VARIOUS JOURNALISTS ARE TRYING TO PRESENT TO YOU. TRUST ME YALL, THIS IS BRILIANT JOURNALISM….
1. According to the American Press Institute website, "the purpose and importance of journalism is to inform society with the information they need to live their lives. Information that they need to make decisions about different things."
2. Now go to this website and check out the very best piece of "MUSIC JOURNALISM" that I have encountered in a VERY LONG TIME…
3. I SEE U, Episode 82: Sorry Y'all… It Wasn't Elvis
Academy Award®-nominated, Emmy-winning producer and film director, Lisa Cortès, provides fresh perspective and analysis about her latest documentary that uncovers surprising revelations about musical legend, Little Richard.
EDDIE ROBINSON | POSTED ON APRIL 14, 2023, 3:36 PM (LAST UPDATED: APRIL 15, 2023, 10:09 AM)