Concert Review – Living Colour Full Band FREE LIVE On Stage Webcast (10/24 at 8pm est)
Wow, what an online show that I was fortunate to see last night. The online concert was free to the public, with the consideration to tip the band and venue.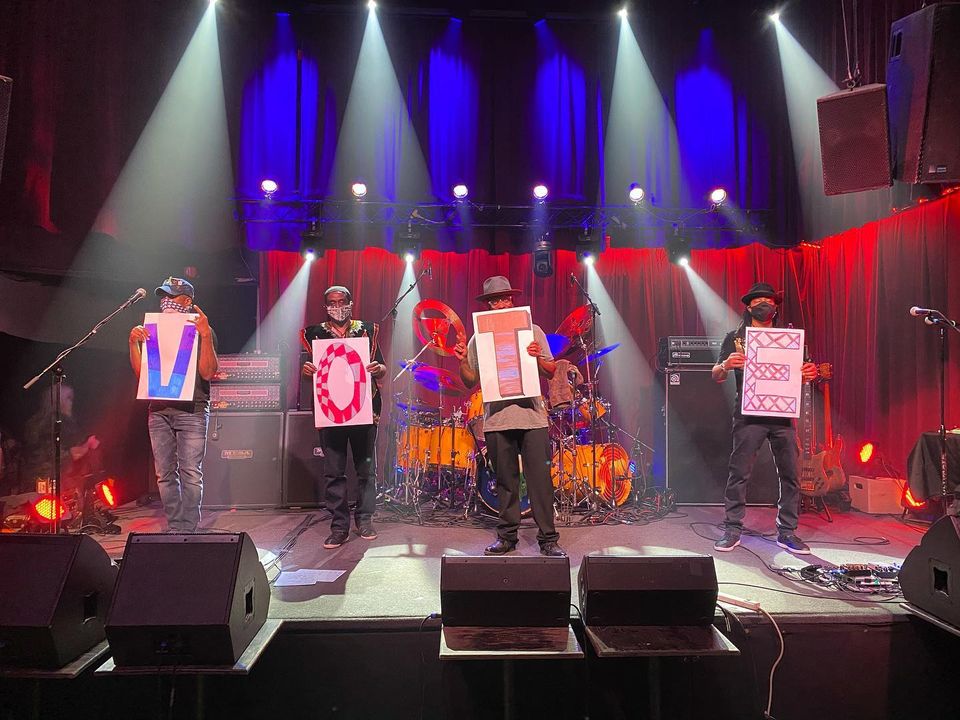 History Lesson – Vernon Reid
In Africa, music is not an art form as much as it is a means of communication.
A Negro has got no name. Quite often, the words of the song are meaningless.
A Negro has got no name We are wearing the name of our master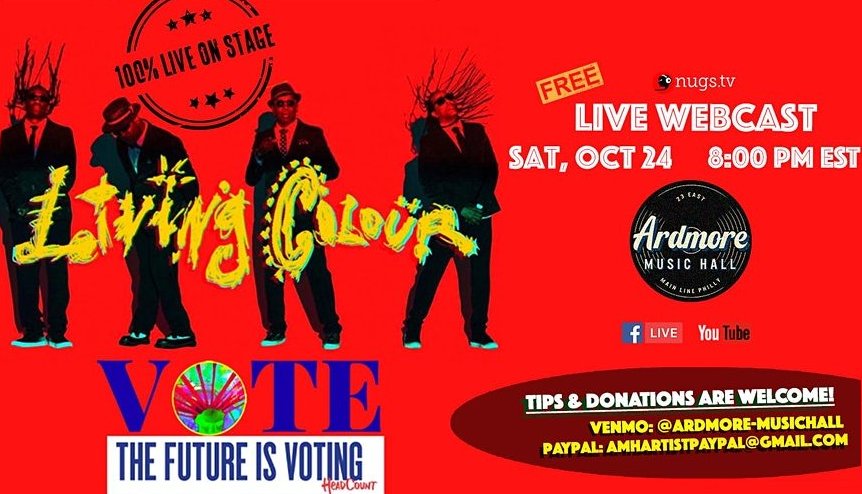 Wow, what a show that I was fortunate to see last night. The online concert was free to the public, with the consideration to tip the band and venue. The last time I witness Living Colour live was September 3rd, 2017, when they played at City Winery in Chicago. ( and they rocked the place) What I witness tonight was a online live streaming concert, that took place at the Ardmore Music Hall, in Ardmore PA. This was more that just a live streaming concert. This was a concert with a important message. "Vote", The Future Is Voting – Headcount, since we're only 10 days away from Election Day.
This was first time that Vernon, Corey, Will and Doug have seen each other since March, when the pandemic shut down practically everything. The band definitely hasn't missed a step. Lead singer Corey Glover steps to the microphone and says "Welcome to a evening of Jazz." Corey chats with the small crowd in attendance and says "Let's get rid of them", and adds "There's one way, "VOTE ! "
The band kicks off their set with "Middle Man", from their debut album "Vivid", and continues from there. Ranging from their extensive catalog of 30+ years, a unique mixture of rock, funk ,hip-hop, reggae, grooves, the band hasn't missed a step. Corey and Vernon were joking around with each other during the first set, and a sample of the Amos and Andy character Kingfish blurs out "The Judge Is High As A Georgia Peach." lol Corey was dressed quite dapper, during the both sets.
The second set, the band picks up where they left off, and rocked some more. It was pleasure seeing they can still turn a party out, even with the conditions of watching a band perform live during crisis of the pandemic. Most importantly, the message from the band was to vote. Special thanks to Ardmore Music Hall, and of course Living Colour.
Here's the setlist from their performance: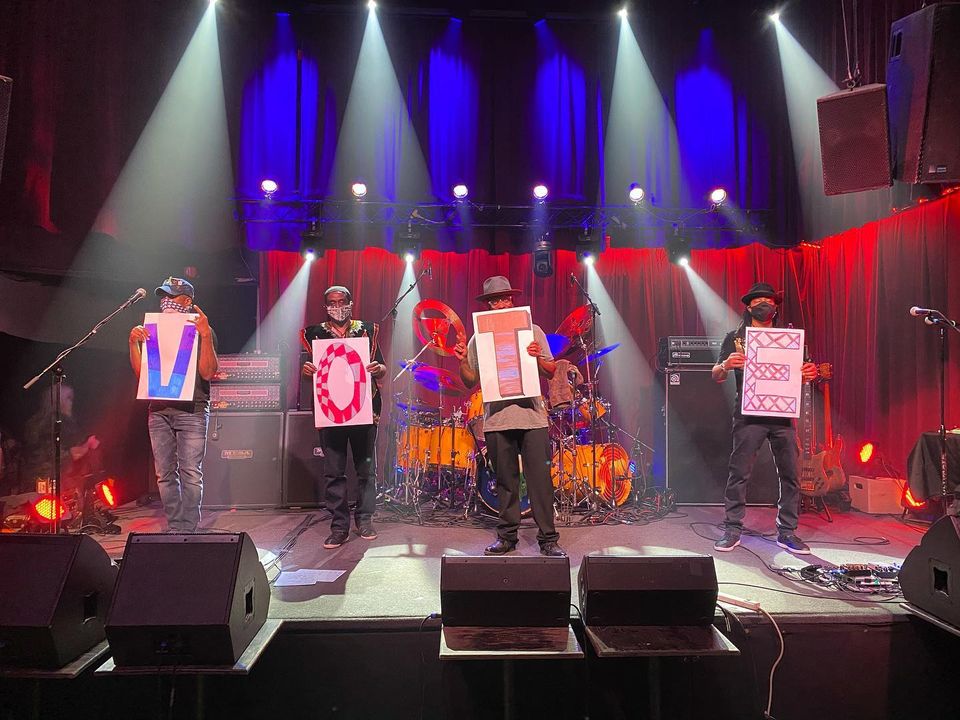 First Set
Middle Man
The Wall
Freedom Of Expression (F.O.X.)
This Little Pig
Open Letter To A Landlord
This Is The Life
(Bassist Doug Wimbish played a bass solo that consisted of the Sam Cooke classic, "Bring It On Home To Me" )
Love Rears Its Ugly Head
Type
Time's Up
James Brown's Sex Machine, with the lyrical message to "Get On Up, And Vote"
Second Set
Sacred Ground
Pride
Funny Vibe
Desperate People
Auslander
Memories Can't Wait
Which Way To America
Cult Of Personality
Solace Of You
–Gary Tyson: Host of wgfmradio.com – Saturday 4-7pm (ct) called "45s, Albums and CDs"
Editors Notes:
I also attended this show. One of the things that I love most in life is seeing a live show. There is something that I get from seeing an artist perform live that no studio recording, regardless of how well its done can duplicate. Each performance is both unique and spontaneous. Not to mention the "shared experience," with the other folks that also saw the show.
If it's an artist I have already seen before and enjoyed, there is always that possibility that they are going to out do themselves and I will get to witness something that is quite historic! Have you ever seen the groundbreaking Black Rock/Funk band Living Colour before? Their groundbreaking songs and videos from the 1980's eMpTV era, was a big reason why I was able to make it thru the "musical cesspool" of the late 1980's with my sanity 😊
Maybe you remember Living Colour from that time frame as well? Maybe you dug their videos on eMpTV as well? If you do you will remember how they exploded on the scene and literally changed how Black music was viewed in the mainstream, shocked the world and therefore changed American Culture!
I have had the good fortune to see the band perform live on many occasions in both NYC & Philly (Heck I even got to see them open for the Rolling Stones in 1988,) since that time and although they always "turn the sucka out," I am happy for this next opportunity to see them once more.
This time however it was different.
it was from the comfort of my own home. I didn't have to drive to NYC or to Philly. I didn't have to buy any gas, pay any tolls, buy any overpriced drinks, or pay for parking. I didn't have to buy my wife a new outfit (she is a Living Colour fan also) or pay for an overpriced "dinner for two," before the show.
I figure that I easily saved at least $200 (if this show had been in Philly,) $300 (if this show had been in NYC!)
And guess what, Living Colour is still Living Colour and of course the still kick azz. This is the future yall (EMBRASE IT) — Bob Davis